This hot pepper relish is the perfect way to preserve the spicy goodness of just about any kind of pepper — mild or fiery.
During the summer months, I typically have a lot of different hot pepper plants producing. If I need to add a bit of heat to a dish, I can just pop out to the garden and harvest a pepper or two.
But I still like to have access to that flavor in the off-season. That's where this fermented hot pepper relish comes in!
With just three ingredients, it's easy to make and it keeps in the fridge for months.
---
The Handcrafted Pantry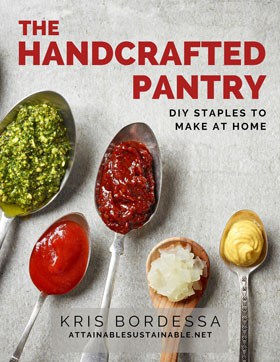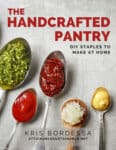 Ready to DIY your pantry with healthier ingredients? Check out my ebook, The Handcrafted Pantry! Filled with delicious recipes for some of your favorite condiments, snacks, and toppings, it's the guide you need to start skipping packaged products and embrace homemade.
---
How to ferment hot pepper relish
The easiest way to do the chopping is with a food processor. Just wash the peppers, remove the stem end, and put the whole peppers in the bowl of the food processor.
5 Easy Steps to Transform Your Pantry!
Ready to switch from store bought to homemade? Let me help you make some changes! Grab my FREE five-part guide to getting started.
You can see that I've used a variety of hot peppers; pretty much whatever I had on the plants in the garden.
Add the garlic cloves, too. No sense fiddling around with crushing those. The food processor will do the work!
Using a pulsing method, chop peppers (and garlic) until they're about a quarter of an inch across.
If you do not have a food processor, get out a knife and start chopping. Again, aim for a quarter-inch dice. Hand chopping means you'll have more opportunity to burn yourself with the juice of the peppers, so use caution and avoid touching your face.
Transfer chopped vegetables to a quart-size jar and add the salt. Screw the lid on and shake to combine.
Fermenting the hot pepper relish
The next step is setting the relish up to ferment. That means pressing the hot pepper mix tightly into the jar, so there are no air pockets. We use the end of a large dowel to pound the vegetables down into the jar. You could also use a wooden pounder made specially for this task.
Smash the peppers with repeated downstrokes. The peppers will begin to release their juices; be mindful of the possibility of splashing hot pepper juice into your eyes.
The volume of the peppers will be reduced to nearly half. Press the veggies down until they're submerged in their own liquid.
Place a weight on top of the relish, holding it below the surface of the liquid. You're trying to prevent any exposure to air.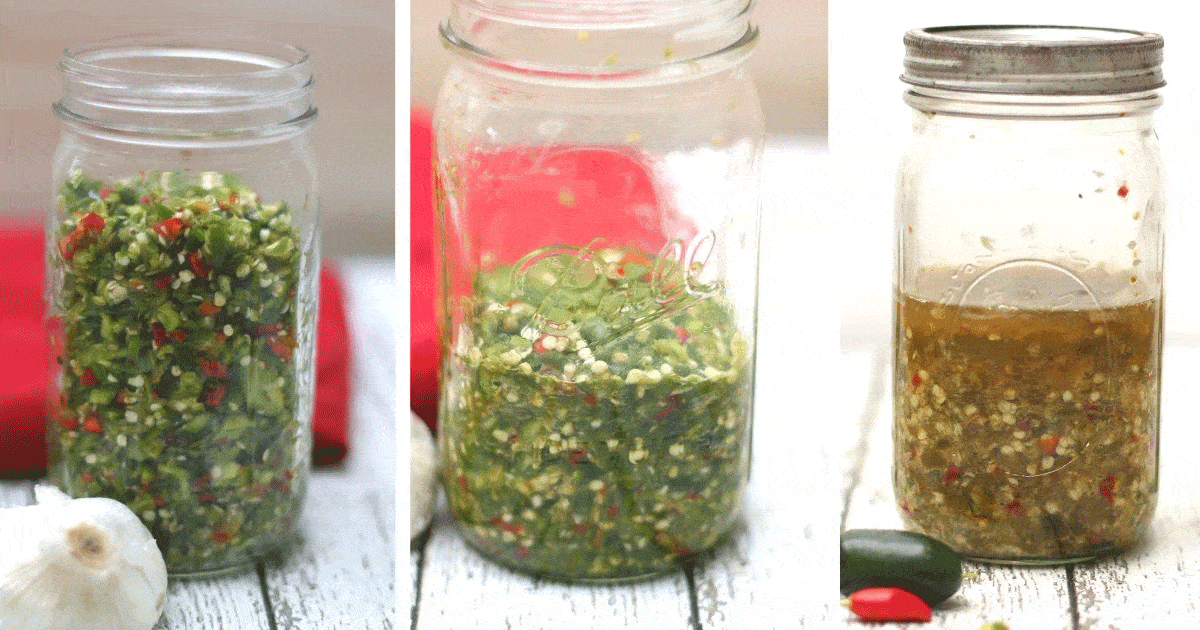 Set the jar on the counter at room temperature for several days. Loosen the lid daily to allow any built up pressure to release.
I've found that this isn't a very active ferment. While sauerkraut will bubble like crazy and often overflow, this relish just quietly did its thing. After several days, check the odor and flavor of the hot pepper relish. It should be a bit tangy. If you don't feel that it's ready, let it sit on the counter for a couple more days.
Refrigerate the fermented hot pepper relish. It should last in the fridge for 6 months or more.
More recipes for fermentation:
If you loved this recipe (and the idea of adding more probiotics to your diet!) there's so much more exploring to do!
These spicy fermented snap peas are a delicious addition to a salad, chop them in small bits and add to your deviled eggs, or serve them alongside a cold beer.
Try these fermented carrots with garam masala seasoning for something different.
Turn the heat up even more with this banana pepper hot sauce.
Try fermenting cauliflower to serve with your favorite sandwich.
★ Did you make this hot pepper relish? Don't forget to give it a star rating below! ★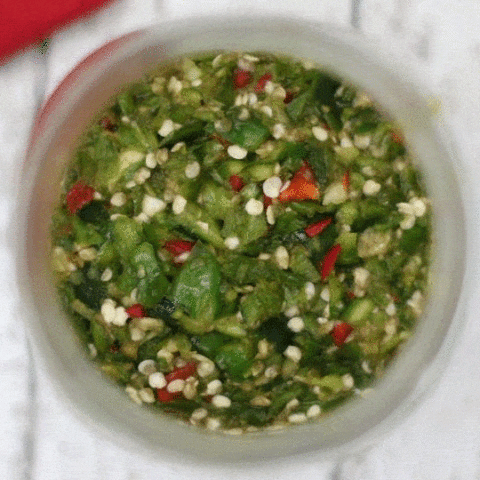 Fermented Hot Pepper Relish
Fermentation Time:
4 days
Total Time:
4 days
20 minutes
Make up a batch of this easy fermented hot pepper relish so you'll always have your favorite spicy flavor on hand.
Ingredients
1 pound mixed hot peppers
2 cloves garlic
1-1/4 teaspoon salt
Instructions
Wash and dry peppers. Remove stems
Chop peppers and garlic into a quarter-inch dice by hand or use a food processor.
Transfer chopped peppers to a quart sized jar.
Add salt to jar. Place the lid on the jar and shake to combine.
Use dowel or wooden pounder to smash peppers until softened and juicy.
Press peppers down into the jar and use a weight to hold the mixture down. The liquid should rise above the solids so that they are completely submerged.
Cover with a fermenting lid or a regular lid, screwed on loosely.
Sit at room temperature for 4-5 days.
Notes
Use about 2 teaspoons of this hot pepper sauce to replace one hot pepper in recipes.
Nutrition Information:
Yield:

96
Serving Size:

1
Amount Per Serving:
Calories:

2
Total Fat:

0g
Saturated Fat:

0g
Trans Fat:

0g
Unsaturated Fat:

0g
Cholesterol:

0mg
Sodium:

89mg
Carbohydrates:

0g
Fiber:

0g
Sugar:

0g
Protein:

0g