These easy fermented carrots can be made with or without the spices. Once fermented, they last for months and can be used to stir into potato salad, soups, or served alongside your lunchtime sandwich.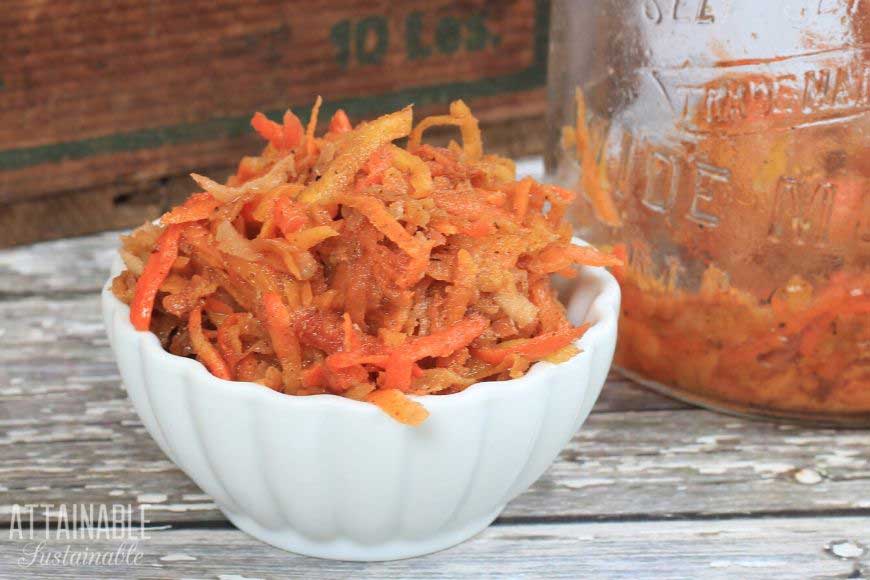 We have a couple of favorite things to ferment around here. It seems like there's always a jar of sauerkraut on the countertop. But fermented carrots are new for me.
For fun, I decided to add garam masala spice to the shredded carrots. If you like the flavor of garam masala, you'll love these! I've been using these flavorful carrots to rev up recipes. I added some to a coleslaw recipe for guests and everyone loved it. My son stirs them into hot broth, making kind of an instant soup. And of course, you can add a spoonful to your dinner salad.
---
The Handcrafted Pantry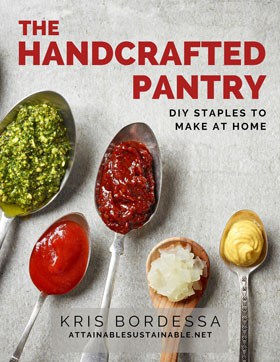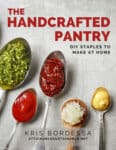 Ready to DIY your pantry with healthier ingredients? Check out my ebook, The Handcrafted Pantry! Filled with delicious recipes for some of your favorite condiments, snacks, and toppings, it's the guide you need to start skipping packaged products and embrace homemade.
---
How to ferment carrots
Whether you grow your own carrots (I used a combination of rainbow carrots, as you can see) or pick them up from the farmers market, you'll start by washing and then shredding the carrots. There's no need to peel them, but you can if that's your preference. You'll mix the carrots with salt and garam masala (though the spices are optional) then pack them into a jar until they are covered in their own juices.
It's a simple thing, but it's essential that the food you're fermenting remain completely submerged under the brine.
Municipal tap water
contains chlorine, which can inhibit fermentation, so be sure to use filtered water or distilled water instead. A
Berkey water filter
provides clean water that's free of toxins. Great for making your drinking water free of chemicals, but perfect for fermentation, too.
Allowing the carrots to sit at room temperature creates lactic acid and the probiotics that make fermented foods so good for us. Depending on the temperature, it will take a week or so for a finished product. The only thing you need to do during the fermenting process, though, is burp the jar. That means you'll unscrew the lid to allow the gasses to release.
5 Easy Steps to Transform Your Pantry!
Ready to switch from store bought to homemade? Let me help you make some changes! Grab my FREE five-part guide to getting started.
When the fermented carrots have taken on a nice tang, put the jar in the refrigerator and use them as desired.
Got lots of carrots to preserve? Here's how I freeze carrots.
More recipes for fermentation:
If you loved this recipe (and the idea of adding more probiotics to your diet!) there's so much more exploring to do!
These spicy fermented snap peas are a delicious addition to a salad, chop them in small bits and add to your deviled eggs, or serve them alongside a cold beer.
Try fermenting cauliflower to serve with your favorite sandwich.
Turn up the heat with a fermented hot pepper relish or a banana pepper hot sauce.
★ Did you make these fermented carrots? Don't forget to give them a star rating below! ★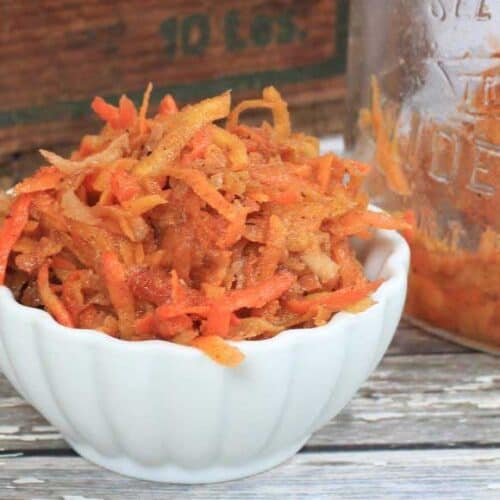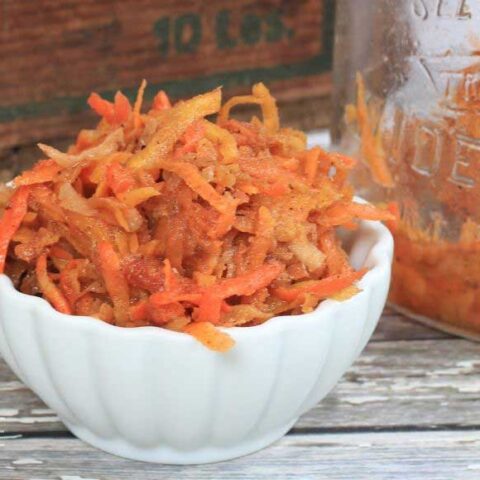 Lacto-Fermented Carrots
Fermenting time (hands off):
5 days
Total Time:
5 days
15 minutes
These shredded carrots are flavored with Garam Masala spices, making them great for adding a little extra pop of flavor to your favorite recipes.
Ingredients
4 cups carrots, shredded
1 to 3 teaspoons garam masala, (optional)
Instructions
Shred carrots by hand or with a food processor.
Combine shredded carrots, salt, and garam masala in a bowl and mix thoroughly.
Transfer mixture to a quart-sized jar. Use the end of a dowel or wooden spoon to mash the carrots into the jar, pushing them down until they're covered by juices. It will not look like you have much juice. When you smash the carrots down into the jar, you'll be surprised.
Place one or two glass weights on top of the carrots. If they are not entirely covered by juices, top them off with a bit of filtered water. It's essential that the carrots are completely submerged.
If you have a fermenting lid, use that to cover the jar. If not, you have two options. Cover the jar with a tightly woven piece of cloth and a rubber band (cheesecloth is not a good option here), or screw on a regular jar lid. If you opt for the jar lid, you'll need to loosen it daily to release any gasses that build up.
Fermenting the carrots
Let sit at room temperature for a several days or a week, then refrigerate.
Notes
Use less garam masala if you plan to eat these fermented carrots straight from the jar. If you'd like to have these on hand for adding to salads and other recipes, use the larger amount.
This recipe does not require that you use mason jars. Any recycled jar will do.
Nutrition Information:
Yield:

16
Serving Size:

1 grams
Amount Per Serving:
Calories:

14
Total Fat:

1g
Saturated Fat:

1g
Unsaturated Fat:

0g
Sodium:

458mg
Carbohydrates:

3g
Fiber:

1g
Sugar:

2g
Protein:

1g