When cauliflower is in season, consider preserving some using the lacto-fermentation method. This fermented cauliflower recipe preserves the florets as tasty and crunchy little tidbits packed with probiotics.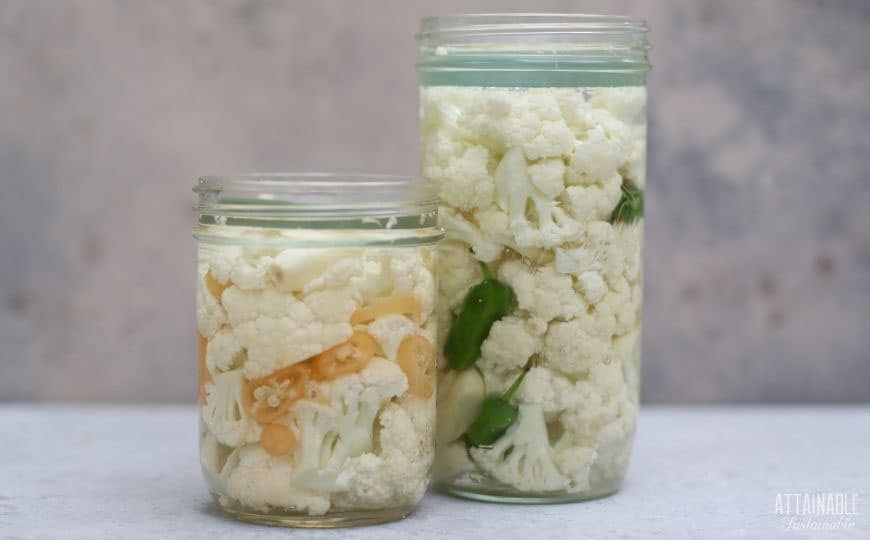 ---
The Handcrafted Pantry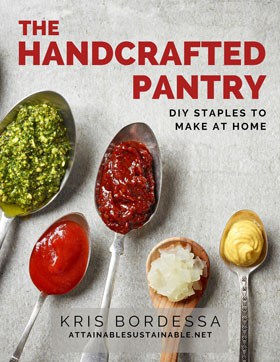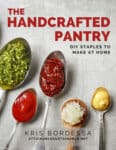 Ready to DIY your pantry with healthier ingredients? Check out my ebook, The Handcrafted Pantry! Filled with delicious recipes for some of your favorite condiments, snacks, and toppings, it's the guide you need to start skipping packaged products and embrace homemade.
---
My first attempt at lacto-fermentation?
It didn't go so well. First, the whole idea of letting fresh food sit out on the counter until it ferments goes against everything I've ever been taught about cooking. But beyond that, I was trying to cobble together a system that left me with a moldy, uh, buggy mess that ended up in the compost.
It's a simple thing, but it's essential that the food you're trying to ferment remain completely submerged under the brine. Mine did not. Thus, the big ole fat fail.
That was two or three years ago.
The little glass weights that hold ingredients under the brine are a key to my success, these days.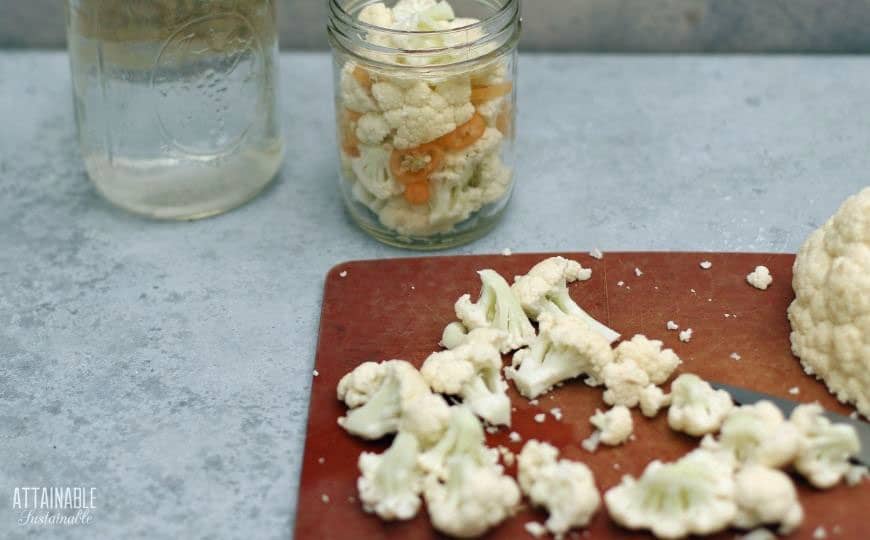 5 Easy Steps to Transform Your Pantry!
Ready to switch from store bought to homemade? Let me help you make some changes! Grab my FREE five-part guide to getting started.
Fermented cauliflower recipe
It took me 25 minutes, start to finish, to assemble three pints of cauliflower. Then, of course, there's the fermentation time, but you don't need to do much during that other than check the jars for
Whether you grow your own cauliflower or pick it up from the produce section, you'll start by cutting the cauliflower into manageable pieces and giving them a good rinse.
You can use any kind of hot pepper. You'll see here that I've used a couple of different ones. You can slice them – or not! You can also SKIP the peppers (and garlic) entirely, if you prefer.
Once your fresh produce is ready, it's a simple matter of packing the fresh cauliflower, peppers, and garlic into jars and covering it with a salt brine. Really, this fermented cauliflower recipe couldn't be easier!
Municipal tap water
contains chlorine, which can inhibit fermentation, so be sure to use filtered or distilled water instead. A
Berkey water filter
provides clean water that's free of toxins. Great for making your drinking water free of chemicals, but perfect for fermentation, too.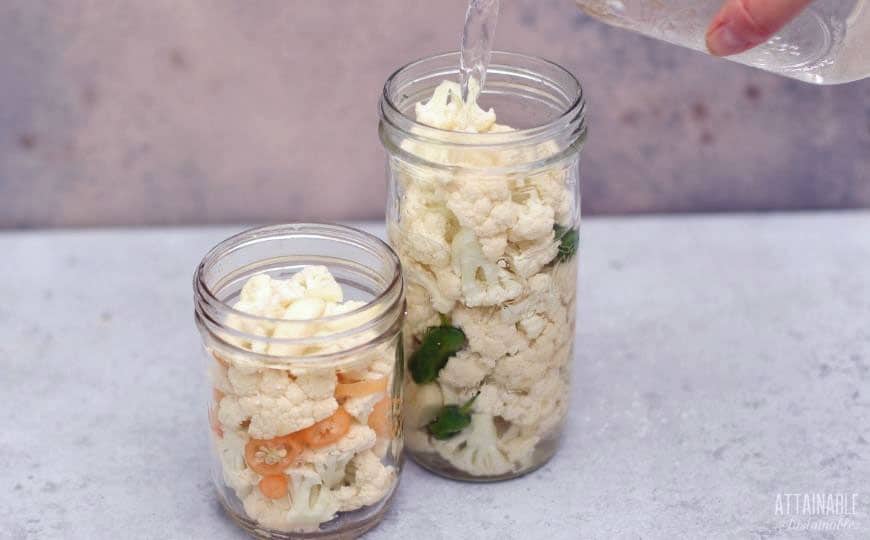 Set the cauliflower in an out of the way place to ferment. Active bubbling can cause the brine to overflow, so it's a good idea to place the jars on a tray to capture liquid.
In a warm room, fermentation will take about 3 to 5 days. In a cooler room it will likely take longer. The best way to test is with a taste!
Pull out a small piece of cauliflower and see if it's tangy and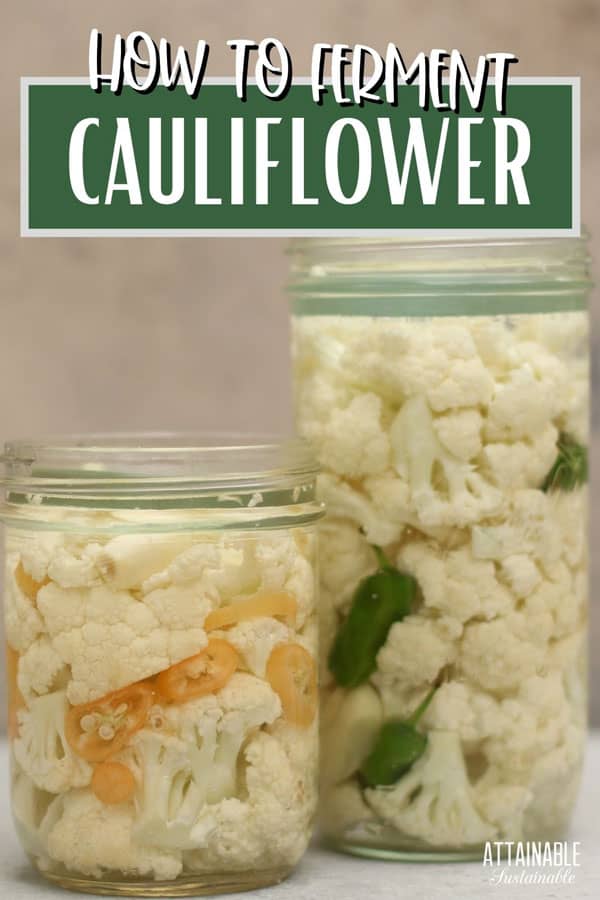 More recipes for fermentation:
If you loved this recipe (and the idea of adding more probiotics to your diet!) there's so much more exploring to do!
These spicy fermented snap peas are a delicious addition to a salad, chop them in small bits and add to your deviled eggs, or serve them alongside a cold beer.
Try these fermented carrots with garam masala seasoning for something different.
Turn up the heat with a fermented hot pepper relish or a banana pepper hot sauce.
★ Did you make this lacto-fermented cauliflower recipe? Don't forget to give it a star rating below! ★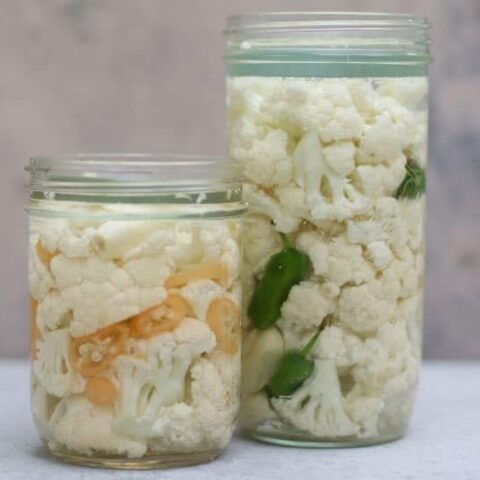 Lacto-Fermented Cauliflower Recipe
Total Time:
5 days
25 minutes
These crunchy cauliflower bites are excellent for snacking and pack a probiotic punch. Serve this fermented cauliflower on a crudite platter, alongside a sandwich, or straight out of the jar.
Ingredients
4 cups non-chlorinated water, see recipe notes
1 head of cauliflower
3  hot peppers (optional)
3  cloves garlic (optional)
Instructions
Wash 3 pint-sized jars (or one quart and one pint). Even if they were clean in the cupboard - you want to be sure to avoid unwanted bacteria.
Mix water and salt to make brine. Set aside, stirring occasionally until salt is dissolved.
Place one pepper and one garlic clove in each pint-sized jar. Use them whole or slice them if you like.
Cut cauliflower into bite sized pieces and divide between jars.
Pour brine over cauliflower to cover. (If you don't have quite enough brine, you can add water to top off each jar.)
Place glass weight on top of the cauliflower to assure it's submerged under the brine. Seal jar with an airlock system or screw a lid on loosely.
Set in an out of the way place to ferment for 3-5 days. (There's potential for these to overflow a little, so set fermenting jars in a pan of some sort to catch drips.)
Test the cauliflower after a few days; if you're happy with the level of fermentation, screw on a lid and refrigerate. Not quite ready? Leave out on the counter for another day or two. Be sure to use a clean utensil to remove cauliflower — using fingers could contaminate the brine.
Notes
Water: Municipal tap water contains chlorine, which can inhibit fermentation. Use spring or distilled water instead.
Salt: Salt with iodine or anti-caking agents can inhibit fermentation.
Brine: Four cups of brine is enough for approximately three pint jars of cauliflower.
It's critical that the veggies remain completely submerged in the brine. Glass weights are great for this!
Nutrition Information:
Yield:

15
Serving Size:

1 grams
Amount Per Serving:
Calories:

11
Unsaturated Fat:

0g
Sodium:

942mg
Carbohydrates:

2g
Sugar:

1g
Originally published in 2015; this post has been updated. It was originally sponsored by Fermentools.