This fermented banana pepper sauce makes a spicy condiment packed full of flavor and probiotics. Better yet? This banana pepper recipe is a snap to make!
If you love spicy ferments, be sure to check out this fermented pepper relish, too!
Contributed by Shannon Stonger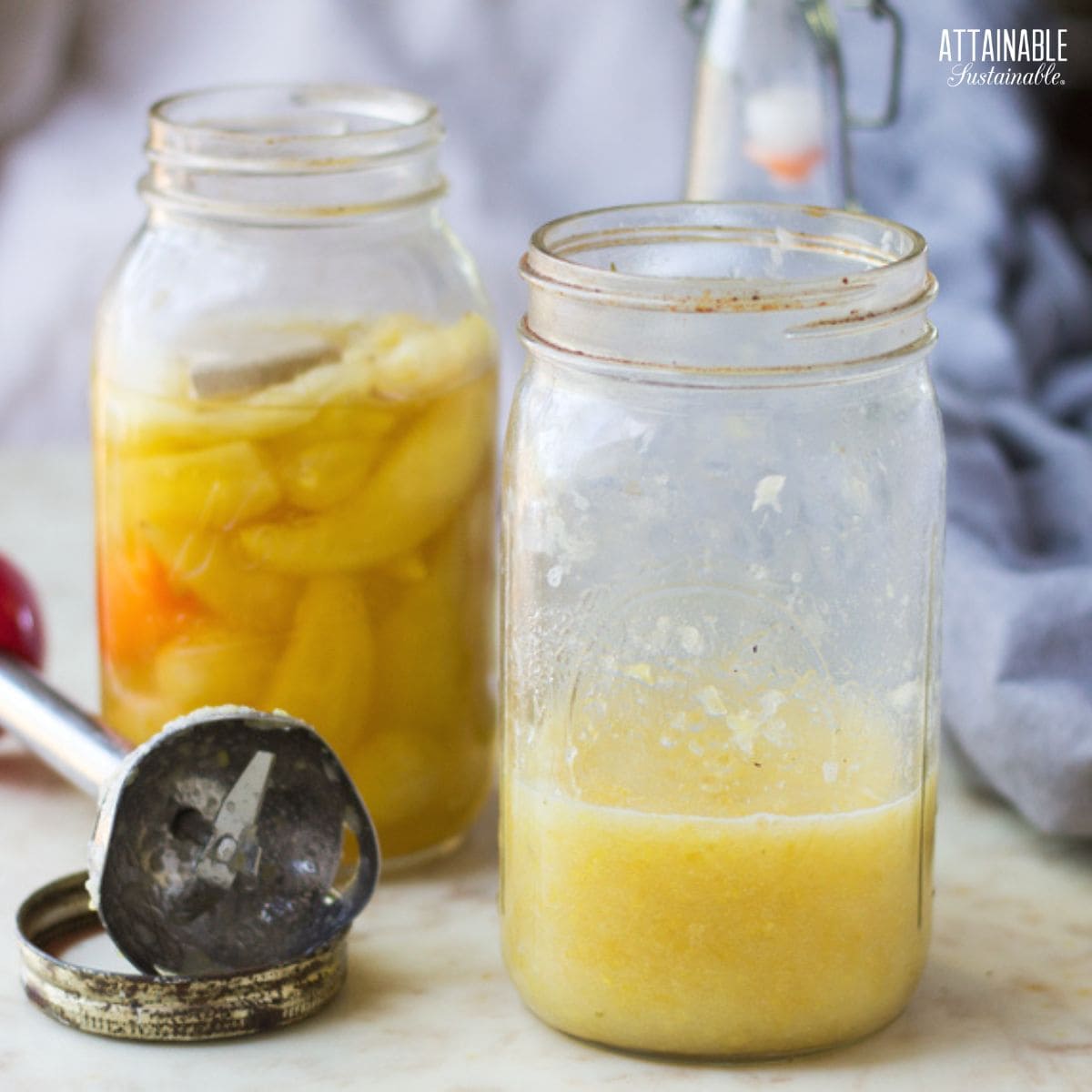 I have had two jars filled with good food sitting on my counter for eleven months now and neither of them has gone bad. These jars were filled last September with some organic hot banana peppers I had purchased in season and wanted to preserve.
Easy Fermentation
With very little effort and zero heating or freezing of the food, they practically preserved themselves with this easy fermented banana pepper sauce.
And now that I am getting ready to fill more jars with vegetables, salt, and water, it's time for them to reach their final destination – fermented hot sauce!
5 Easy Steps to Transform Your Pantry!
Ready to switch from store bought to homemade? Let me help you make some changes! Grab my FREE five-part guide to getting started.
Fermentation, as I go on and on about in my book, is probably the easiest, safest, healthiest way to put up your harvest. Not to mention the fact that fermentation makes the best, most nuanced hot sauce, in my opinion.
The aging of the banana peppers, the melding of the flavors, the lactic tang of the brine all come together in wonderful harmony.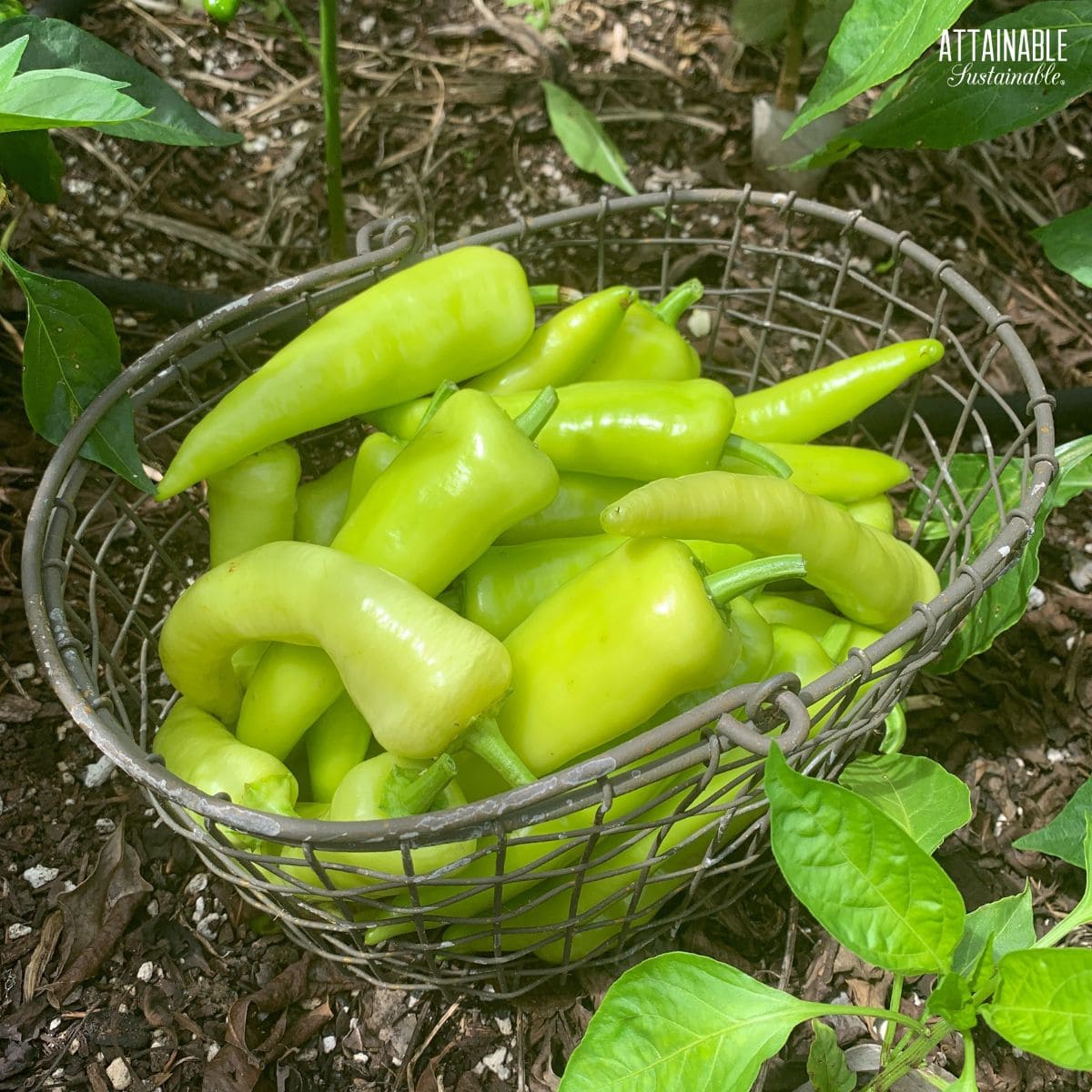 Ingredients
Banana peppers — While this recipe will work with any type of banana pepper – or any type of pepper at all! – if you want this to be a hot sauce, be sure to choose hot banana peppers.
Fresh garlic — The addition of a couple of garlic cloves to this ferment provides the pungent flavor we love.
Sea salt — Opt for sea salt here, or another natural salt without any additives like iodine or anti-caking agents. Table salt often has anti-caking agents that can interfere with the fermentation.
Municipal tap water
contains chlorine, which can inhibit fermentation, so be sure to use filtered water or distilled water instead. A
Berkey water filter
provides clean water that's free of toxins. Great for making your drinking water free of chemicals, but perfect for fermentation, too.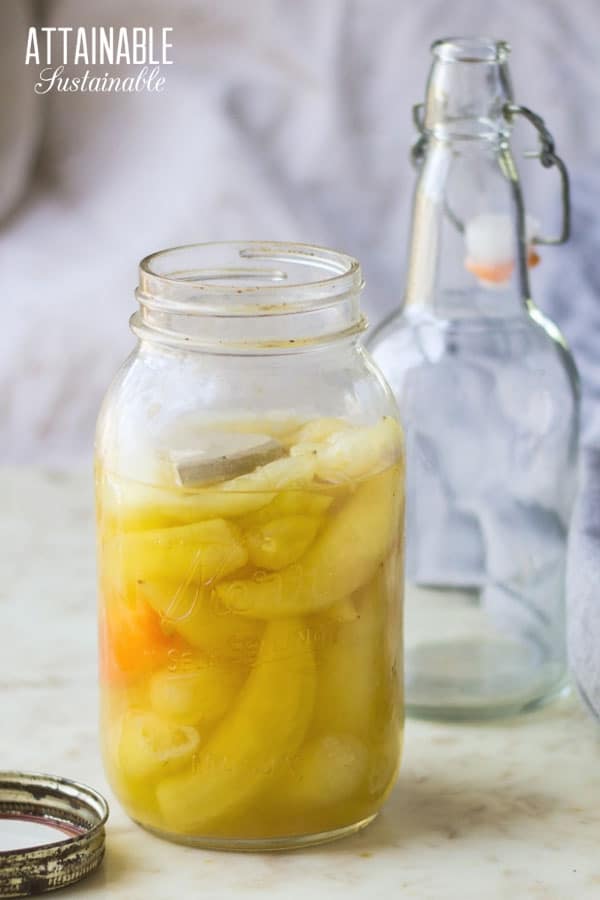 Making this Fermented Hot Sauce
Wash and dry fresh banana peppers. Pack the peppers and garlic into a quart-size jar until 80% full. Note that this recipe can be made in upcycled jars; no need to tie up your canning jars with this recipe!
Add the salt to the peppers and then fill with filtered water to completely submerge the vegetables.
Use a fermentation weight to hold the peppers below the level of the brine. Cover with an airlock or lid.
Allow the jar to sit at room temperature for four weeks, burping the jar daily for the first two week to release the carbon dioxide that develops.
Once fully aged and tangy, transfer the peppers, garlic, and 1/3 of the brine to a blender and process until smooth.
The Handcrafted Pantry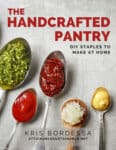 Ready to DIY your pantry with healthier ingredients? Check out my ebook, The Handcrafted Pantry! Filled with delicious recipes for some of your favorite condiments, snacks, and toppings, it's the guide you need to start skipping packaged products and embrace homemade.
It's almost too good to be true. But it's not. It's real and it's easy, and it's filled with enzymes and probiotics to boot. And don't just toss the brine when you are done blending your hot sauce. There are plenty of uses for that too!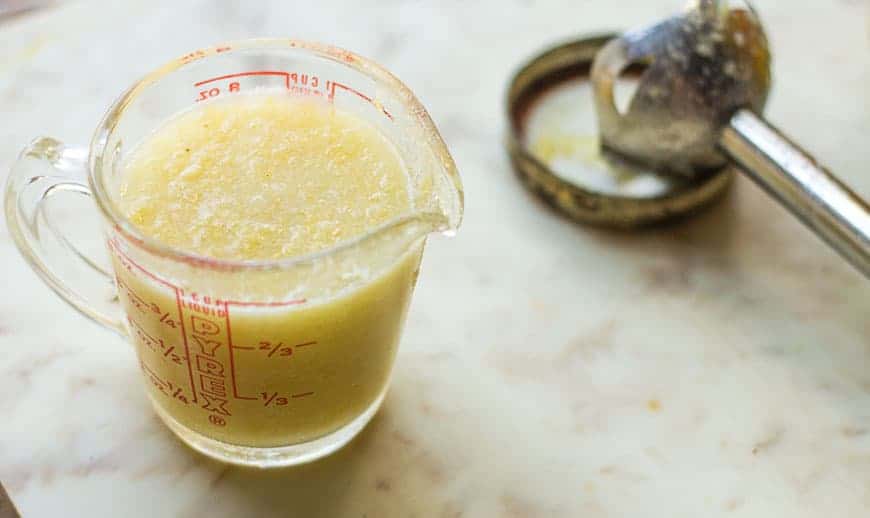 Storing this Banana Pepper Sauce
One the sauce is ready, store it in a flip top bottle in the refrigerator. Use this banana pepper hot sauce liberally to flavor your favorite dishes.
And make note to plant some banana peppers in your garden next year so you can make this recipe again!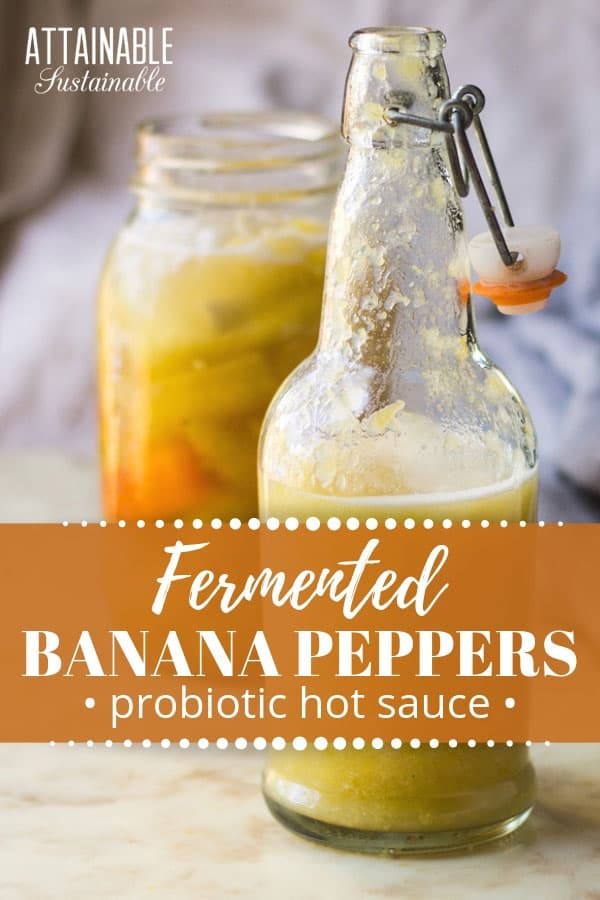 ★ Did you make this banana pepper sauce? Don't forget to give it a star rating below!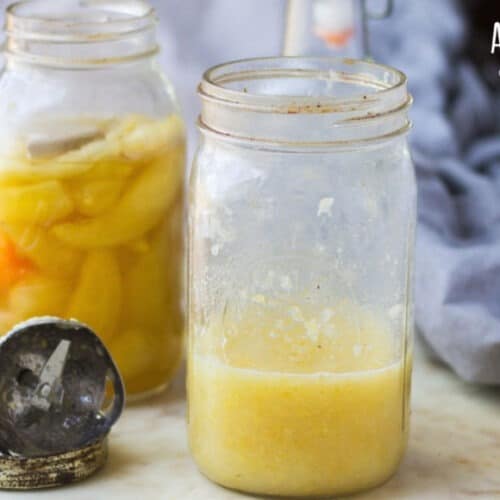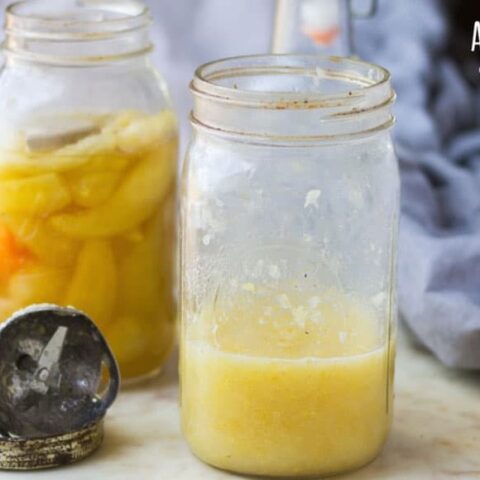 Banana Pepper Recipe: Fermented Hot Sauce
Make this spicy hot sauce from your garden fresh peppers for some probiotic -- spicy -- goodness in your diet!
Ingredients
scant quart of hot banana peppers, stems removed
2 garlic cloves, peeled
chlorine-free water as needed
Instructions
Pack the peppers and garlic into a quart jar until 80% full. Add the salt to the peppers and then pour over the water to completely submerge the vegetables. Use a fermentation weight or homemade alternative to weigh the peppers down to below the level of the brine.
Seal the jar with a canning lid and ring or an airlock and leave to ferment at room temperature for at least four weeks. During this time if you haven't used an airlock, you will need to "burp" your jar daily for the first two weeks in order to release the carbon dioxide produced by the fermentation process.
After four weeks the peppers should be tangy and fully aged and fermented. They will keep for months in cold storage - a cellar or refrigerator - or even at room temperature.
When you are ready to prepare the hot sauce, simply place the peppers, garlic, and 1/3 of the brine from the jar into a blender. Blend, adding more brine as needed to achieve the proper consistency. You can also blend it in a wide-mouth canning jar if you have an immersion blender. Taste and add salt or apple cider vinegar if you feel it needs some extra kick.
The hot sauce should then keep for weeks refrigerated or on the table.
Nutrition Information:
Yield:

12
Serving Size:

1 grams
Amount Per Serving:
Calories:

22
Unsaturated Fat:

0g
Sodium:

91mg
Carbohydrates:

4g
Fiber:

2g
Sugar:

1g
Protein:

1g
Originally contributed in August 2107 by Shannon Stonger; this post has been updated.
More Recipes for Fermentation:
If you loved this recipe (and the idea of adding more probiotics to your diet!) there's so much more exploring to do!
These spicy fermented snap peas are a delicious addition to a salad, chop them in small bits and add to your deviled eggs, or serve them alongside a cold beer.
Try these fermented carrots with garam masala seasoning for something different.
Try fermenting cauliflower to serve with your favorite sandwich.