This fermented banana pepper hot sauce is packed full of flavor and probiotics. Better yet? It's a snap to make!
I have had two jars filled with good food sitting on my counter for eleven months now and neither of them has gone bad. These jars were filled last September with some organic hot banana peppers I had purchased in season and wanted to preserve.
With very little effort and zero heating or freezing of the food, they practically preserved themselves.
And now that I am getting ready to fill more jars with vegetables, salt, and water, it's time for them to reach their final destination – fermented hot sauce!
This post may contain affiliate links; I'll earn a small commission if you choose to make a purchase.
Easy fermentation
Fermentation, as I go on and on about in my book, is probably the easiest, safest, healthiest way to put up your harvest.
Not to mention the fact that fermentation makes the best, most nuanced hot sauce, in my opinion.
The aging of the peppers, the melding of the flavors, the lactic tang of the brine all come together in wonderful harmony.
It's almost too good to be true. But it's not. It's real and it's easy, and it's filled with enzymes and probiotics to boot.
And don't just toss the brine when you are done blending your hot sauce. There are plenty of uses for that too!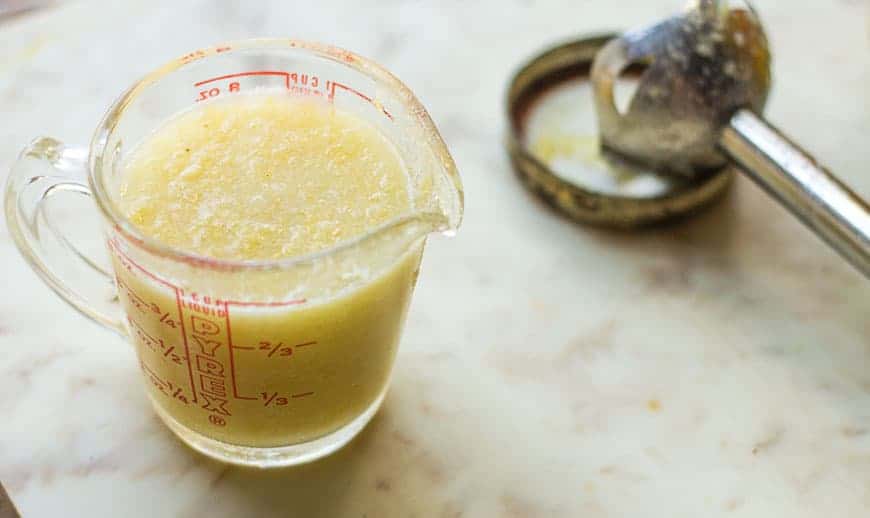 One you're sauce is ready, store it in a flip top bottle (like this) in the refrigerator.
Use it liberally to flavor your favorite dishes.
★ Did you make this recipe? Don't forget to give it a star rating below!
Fermented Banana Pepper Hot Sauce Recipe
Make this spicy hot sauce from your garden fresh peppers for some probiotic -- spicy -- goodness in your diet!
Ingredients
scant quart of hot banana peppers

stems removed

2

garlic cloves

peeled

water as needed

2.5

T.

sea salt
Instructions
Pack the peppers and garlic into a quart jar until 80% full. Add the salt to the peppers and then pour over the water to completely submerge the vegetables. Use a fermentation weight or homemade alternative to weigh the peppers down to below the level of the brine.

Seal the jar with a canning lid and ring or an airlock and leave to ferment at room temperature for at least four weeks. During this time if you haven't used an airlock, you will need to "burp" your jar daily for the first two weeks in order to release the carbon dioxide produced by the fermentation process.

After four weeks the peppers should be tangy and fully aged and fermented. They will keep for months in cold storage - a cellar or refrigerator - or even at room temperature.

When you are ready to prepare the hot sauce, simply place the peppers, garlic, and 1/3 of the brine from the jar into a blender. Blend, adding more brine as needed to achieve the proper consistency. You can also blend it in a wide-mouth canning jar if you have an immersion blender. Taste and add salt or apple cider vinegar if you feel it needs some extra kick.

The hot sauce should then keep for weeks refrigerated or on the table.