Seed saving is something I have done kind of intermittently in the past, but I'm trying to do more of it. With so many questionable seed sources these days, I think it's a good idea. Saving seeds from our favorite vegetables allows me to maintain a continuous supply of heirloom seeds for my own use, plus I can share or trade the seeds with others, keeping these plants in cultivation.
I've successfully saved seeds from veggies like basil, daikon, lettuce, and radish, as well as flower seeds like zinnia, marigold, and nasturtium. The technique varies a bit from veggie to veggie, but allowing one or two plants to go to seed is a good idea if you'd like to save some money on seeds and continue to have a steady source of seeds to plant.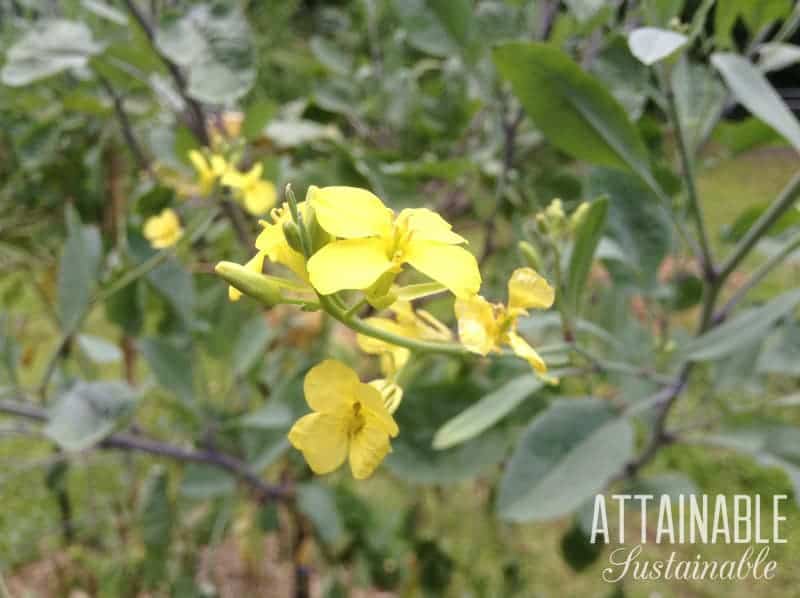 What does that mean, though, letting veggies go to seed?
It means that you're allowing the plant to complete its life cycle rather than harvesting before it has a chance to do so. A vegetable plant's sole purpose is to regenerate. Most of them do so by creating seed to perpetuate the life cycle, but we often harvest vegetables before they have a chance go to seed.
This post may contain affiliate links; I'll earn a small commission if you choose to make a purchase.
Saving seeds from your garden
If you're interested in saving seeds from some of your garden plants, note that heirloom seeds or open-pollinated seeds will "come true" from year to year. In other words, you'll end up with a plant with the same characteristics from year to year.
Reader Favorites from Attainable Sustainable
This is not true with hybrid seeds. Hybrid seeds may very well sprout, but certain qualities that may have been valuable in the first generation might be lost in subsequent generations.
How to save seeds
With plants like tomatoes and peppers, the seeds are visible inside the fruit, the part that we eat. (Here's how to save tomato seeds.) But other vegetables — lettuce, for instance, or kale — is grown for its leaves. As we harvest the leaves to use in salads, we don't see seeds. At least right away. Instead of pulling that radish or lettuce for lunch, leave it in the ground and allow it to flower. For root crops and greens, the flowers are typically followed by pods.
As some plants mature, they send up a central flower stalk. (At this point, it's a good idea to stop harvesting leaves from the plant as they'll likely be bitter.) Each of the flowers on that stalk will turn into a seed pod. Left to its own devices, the seeds will drop and scatter in the wind, often popping up the next spring.
When the pods get fat and look like they're starting to dry out, pull the plant and let the seed pods thoroughly dry. Hang them in the eaves or tuck them into a container. Just be sure to put them someplace where they'll stay cool and dry.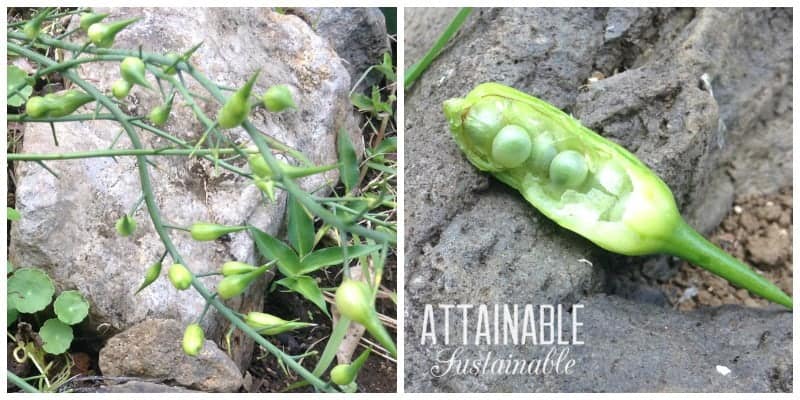 Once the pods are thoroughly dried out, break them open to reveal the next generation of seeds.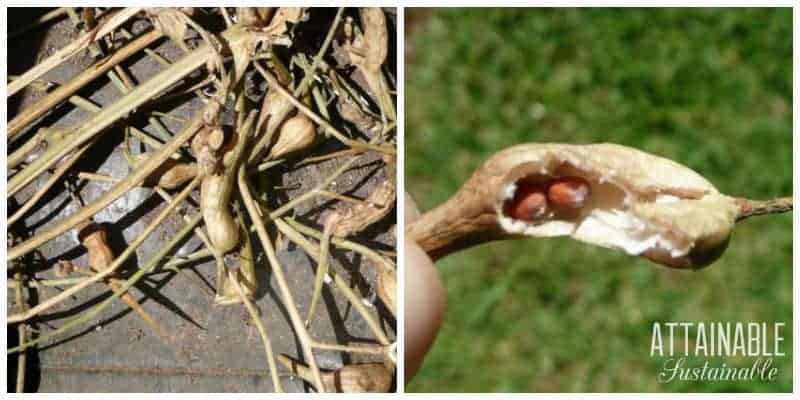 When saving seeds from plants that produce fruit (rather than leaves or edible roots), the seeds are inside the fruit itself.
Think about peas and green beans. Shelling peas have fully formed peas — seeds — inside. Green beans are most tender when harvested young, but left to mature, those green beans will produce seeds. Those seeds will look suspiciously like the green bean seeds you planted.
Pumpkins, cucumbers, and squash have visible seeds inside. If you intend to save seeds from these crops, allow the fruit to mature completely. This will allow the seeds to mature.
To save these seeds, separate them from the pods or the flesh of the vegetable and allow them to dry.
Related: Saving basil seeds

Seed saving success: Store seeds properly
Once you've gathered and dried seeds from your garden, you'll need to store them so they remain viable. Package them in recycled junk mail envelopes or put them in a glass jar with a desiccant packet to keep moisture at bay. Store saved seeds in a cool, dry place until it's time to plant again next season.
Have you done any seed saving? What have you had the most luck with?