This post may include affiliate links. If you make a purchase, I'll earn a small fee at no extra expense to you.
It's a hardy plant, Swiss chard. It's less finicky in the garden than spinach and milder in flavor than kale. Even apartment dwellers can grow a pot of chard and that pot of chard will provide food for months. In past years, I've harvested chard from one planting for an entire summer season. Swiss chard recipes are in high demand around here when it's abundant, so I've compiled some good ones for you here, along with information on growing and harvesting chard.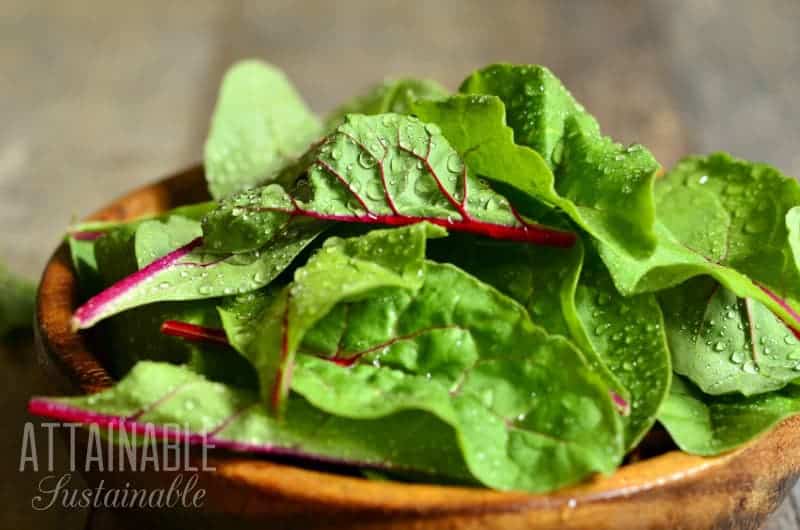 Growing Swiss Chard
Okay, this is what I want you to do: go get some Swiss chard seeds. And a pot. It doesn't have to be a fancy pot, or a very big one. (The one you see below is about 12″ in diameter and came from a garage sale.) Fill the pot with soil. Bury five or six Swiss chard seeds – spaced equally – under half an inch of soil. Sprinkle with water daily. The first sprouts should appear within a week. You'll likely need to water the pot daily, depending upon your weather. It couldn't be easier.
And here's a bonus: Swiss chard is beautiful. Really, really beautiful. So it makes a great addition to flower beds, making for an edible flower garden that will sneak past your homeowners association.
Swiss chard is a biennial, which means that it will often provide a second year of growth for you with no extra work. If your chard plant goes to seed, you'll need to start fresh, since the greens turn bitter. [Here's a whole list of other plants pretty enough to fool your homeowners association.]
Even novice gardeners can handle growing Swiss chard. Go on now. Get your hands dirty!
How to harvest Swiss Chard
When leaves reach about 4-6″ tall, you can start harvesting what farmers market growers call "baby chard." You'll do so by cutting off just a few of the outer leaves on each plant, allowing the plants to continue producing. As the plants get more robust, you can harvest more leaves – just make sure to always leave at least several leaves growing on each plant. Use scissors to cut leaf stems near the base of each plant.
Easy Ways to Use Swiss Chard
Saute the greens as you would spinach.
Chiffonade and stir several leaves into an egg scramble or frittata.
Cook the stems like asparagus.
Add to fresh green salads.
Add a few leaves to your morning fruit smoothie.
Chop the chard finely and add to soups or marinara sauce.
Dice the raw stalks and add to tuna salad instead of celery.
Swiss Chard Recipes
Need more Swiss chard recipes? Consider using Swiss chard in recipes that call for kale. It will do just fine.