This post may include affiliate links. If you make a purchase, I'll earn a small fee at no extra expense to you.
If harvesting lettuce is in your near future — especially if you're growing lettuce for the first time — it's time for us to talk. You know how when you go to the store you can choose a head of romaine or butter lettuce? Put that notion right out of your head. Now that you're growing your own lettuce, you want that work to pay off. What happens when you pull a head of lettuce from the ground roots and all? You eat a salad, sure. But more importantly, that particular lettuce plant has come to the end of the road. It will no longer provide lovely greens for your family.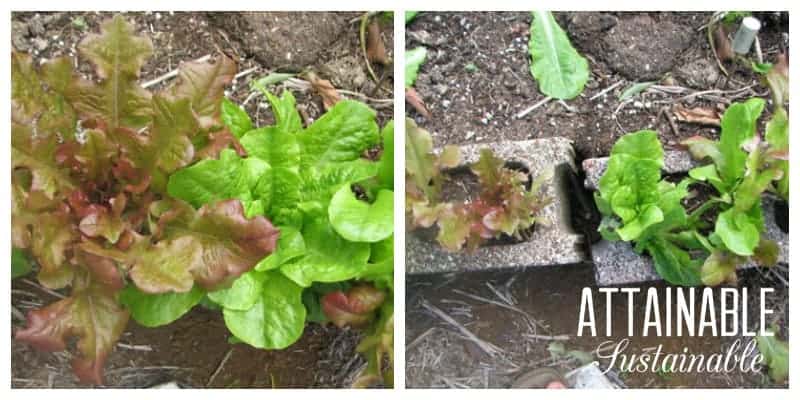 There's a better way, people!
Instead of pulling the entire plant, thus ending the fresh salads, use scissors to cut off the outer leaves near the base of the plant. Leave the inner leaves intact and the entire plant will continue to grow. I've been harvesting my lettuce this way for a month and will continue to do so until the plant goes to seed. Unless you're aiming for beautiful heads of lettuce, your lettuce can be a "cut and come again" crop.
The photo on the left (above) is what my lettuce looked like before a harvest. The photo on the right is after harvesting. Within a week, it will look like that first picture again. (Note: These photos were taken before I became aware of the controversy about planting in cement blocks like this.) I snipped off those lovely outer leaves, made a beautiful salad, and those same plants will feed us again soon.
This is a great method for harvesting lettuce for anyone who puts work into a garden (might as well get the most bang for your buck, right?) but it's an especially good tip for urban gardeners who don't have a lot of space. Make those container gardens work for you!