Container vegetable gardening is a great solution for people who have limited yard space. It's also a way to bypass poor soil conditions. AND it's one of the best ways to embrace vegetable gardening for beginners. Here's what you need to know to choose the right containers for your urban garden — and what to put in them!
No matter what kind of garden you grow, planting some of your veggies in hanging baskets has some surprising benefits! (Spoiler: Fewer pests!)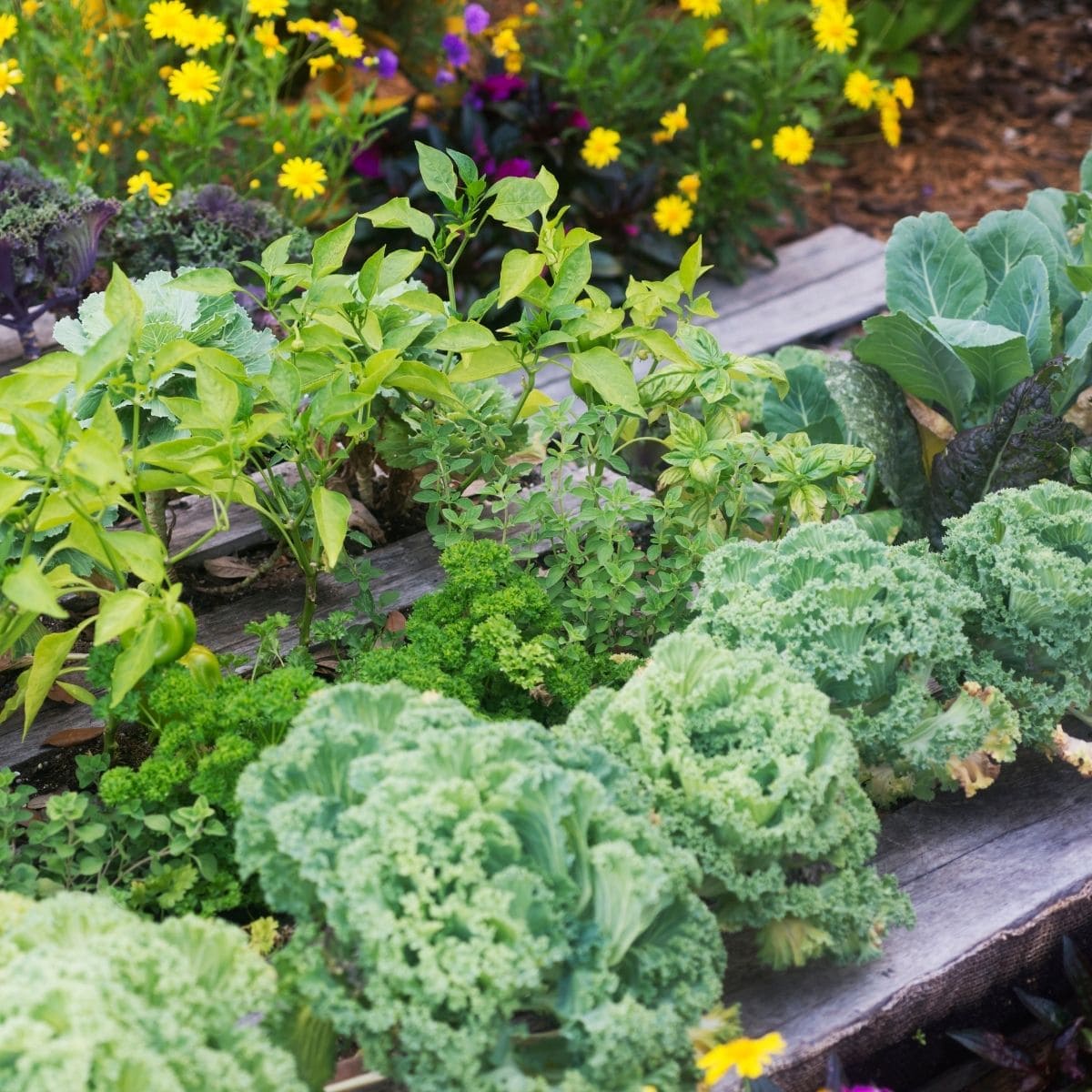 Growing food in the backyard is really one the biggest efforts you can make toward a more self-reliant lifestyle. And it's hard to deny the flavor that comes from freshly grown produce.
Container Vegetable Gardening for Beginners
Whether you're a beginning gardener or one with lots of experience but short on space to grow a garden (hello, downsizing!), container gardening is a wonderful way to make the most of your area and get growing. It's the perfect way to start small and gain experience before you dive into larger gardens, too.
I'll cover choosing inexpensive garden containers for your urban garden as well as the best size and some of the best vegetables for container gardening below.
Growing Vegetables in Containers
If you're starting a container garden on a limited budget, you're probably searching for ideas for cheap containers in which to grow your vegetables. Good news! There are plenty of options that will cost little or nothing to get started with container gardens.
Grow Some Greens!
Ready to grow fresh greens, no matter WHERE you live? Sign up for my
FREE quick-start guide and start growing some of your own food!
Let's talk first about what a container needs in order to be used as a planter for growing vegetables (or flowers!).
It needs to be the right size for the plant you intend to grow. Go here to download a pdf cheat sheet for container sizes.
Proper drainage. If the container doesn't have a drainage hole, you'll need to create at least one. This prevents too-soggy soil.
What will you grow?
When choosing a container, the first step is determining what you'd like to grow.
Different types of vegetables require different sized containers.
A large tomato plant requires a much bigger area for its roots to grow than a small lettuce plant. Even for small plants, your container should be no less than 4" deep in order to give the roots enough space.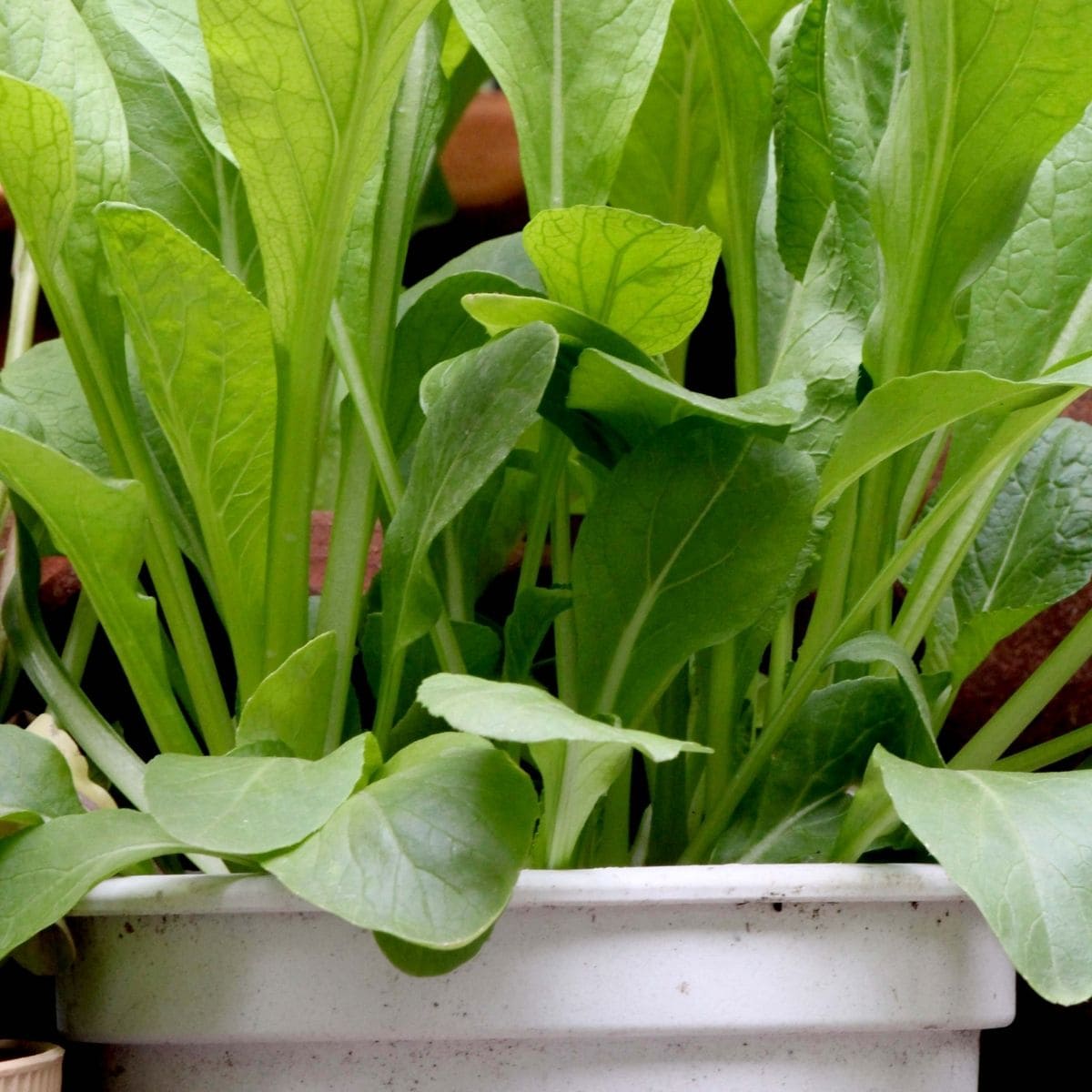 Inexpensive containers
When it comes to containers in which to grow vegetables there are plenty of options to consider, some purely utilitarian and some pretty enough to share space on your patio.
Free is about as inexpensive as you can get, and there are plenty of options for garden pots in this category, as well as a few that are relatively inexpensive and long lasting.
From smaller containers that are suited to growing salad greens to large ones that can host a tomato plant or summer squash, think creatively about how to source garden containers that fit your budget.
Garage sales and thrift stores are a great resource for finding potential planters — both those that are meant to be used for planting and clever containers to upcycle.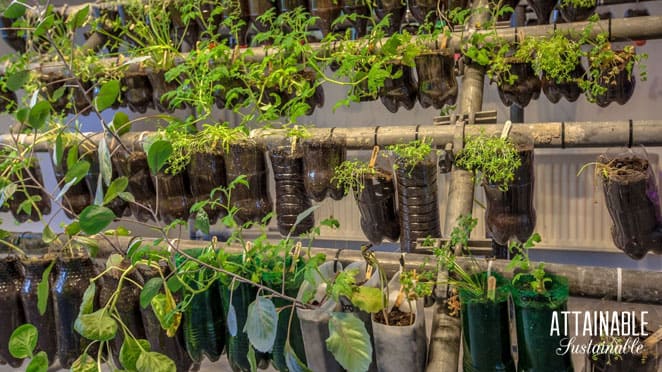 Upcycled food containers
Large coffee cans, milk jugs, and other large food and drink containers are suitable for growing small, leafy crops like lettuce, bok choy, or arugula.
While you can utilize a lot of different upcycled containers, try not to go smaller than gallon-sized containers for the best results. Even small plants need a sufficient amount of soil for their roots!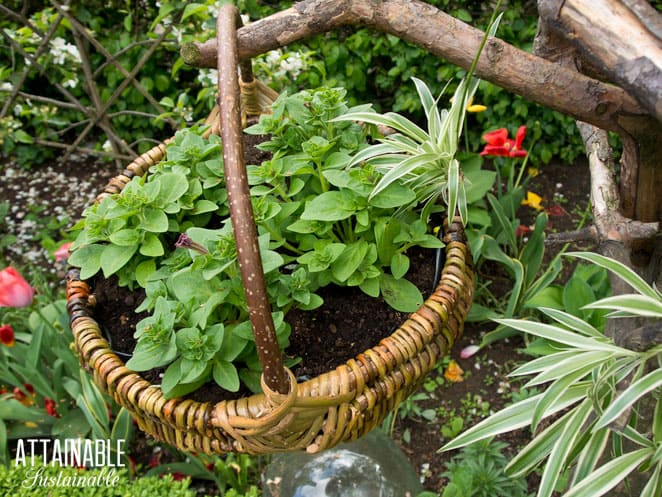 Baskets
Baskets come in a wide variety of shapes, sizes, and materials. These won't last as long as other options, but they're cute and will get you growing quickly. No need to worry about creating drainage holes with this option, either.
Kitchenware
Old colanders are sized right for salad greens and they come complete with plenty of drainage! Colanders with handles work well as hanging baskets, too.
Large metal pots become unusable for cooking when they crack or spring a leak, but they're perfect for planting in.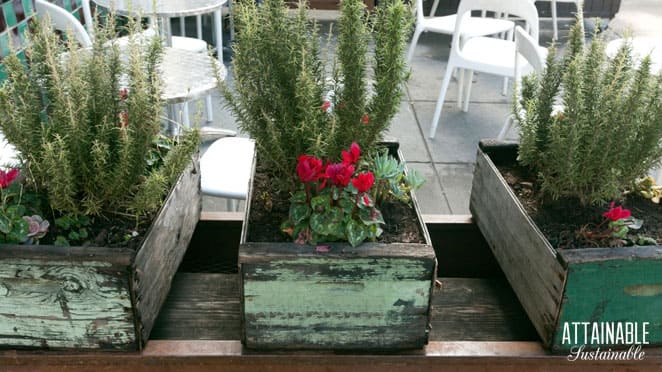 Boxes
Wooden boxes in various sizes work well. Hit up a local winery or liquor store to see if they receive any of their wine in wooden boxes. Or try Costco! They may be happy to pass some along.
Drill a few holes in the bottom for drainage and you can start planting. Even old dresser drawers are can be salvaged for planting some vegetables.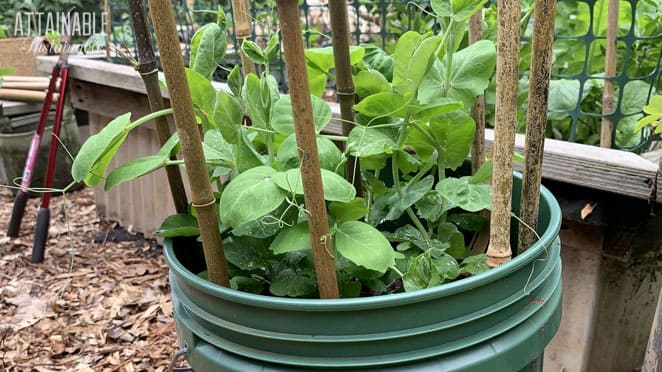 Buckets
Five gallon buckets are a nice size for planting, providing a good amount of root space for crops like peppers, peas, tomatoes, and carrots. Both plastic and metal buckets will work for growing vegetables, just be sure that they didn't previously contain anything toxic.
Good sources for free or inexpensive plastic buckets include bakeries and delis that often get ingredients delivered this way, as well as friends who buy cat litter in large plastic buckets.
You can even use buckets for a DIY upside-down tomato planter.

Natural materials
Scour the natural areas around your home for possibilities! Hollowed out logs can be turned into a garden container by adding soil. They'll slowly decompose over the years, but they're an inexpensive garden container to get you growing.
Wheelbarrows
When an old wheelbarrow rusts through and is no longer functional for moving materials, give it a little extra life by filling it with vegetable plants.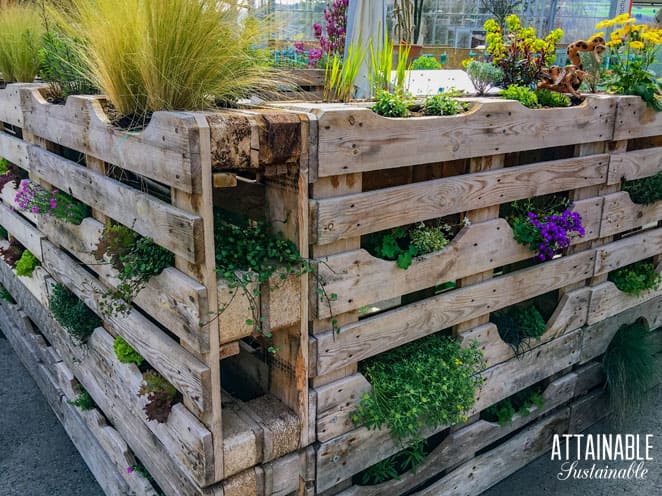 Pallets
Pallets are readily available for free and can be used individually as either an upright or flat planter. You'll need to use some landscape fabric to create planting spaces to retain the soil. Multiple pallets can be used to create a four-sided raised bed planter.
Nursery pots
Plastic nursery pots come in a wide range of sizes and are often easy to find for free. Once a landscaper has planted a shrub or tree, that container is of little use to them. They're often happy to find someone who will take them off their hands.
These containers may not be as pretty as fancier garden pots, but they're completely functional and do exactly what they're meant to do: grow plants!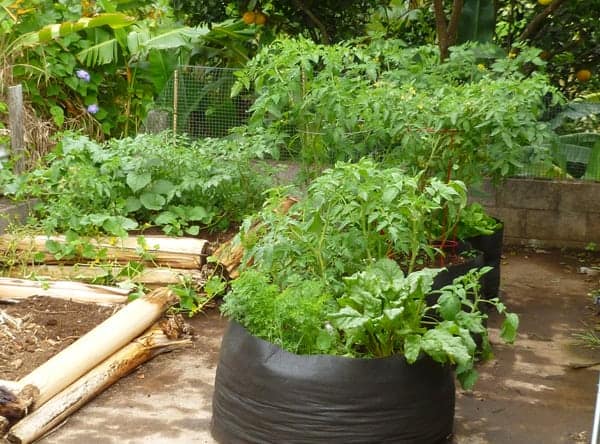 Containers that require a bit of investment
In addition to the plentiful cheap garden containers listed above, there are also some more expensive options that can make a container garden pretty enough for the front yard.
Fabric pots
An option that's fairly new to the gardening scene and relatively inexpensive are fabric grow bags. I find that vegetables do well in them. Again, these come in many sizes, from a 2-gallon size up to a 100-gallon size for a quite large container garden. These pots are made of a sturdy, breathable fabric that feels somewhat like felt.
This is beneficial because when planted in containers, plant roots grow toward the sides of the pot. In a hard-sided container, roots begin to circle when they reach the edge going around and around the perimeter and becoming root bound. With fabric pots, when the roots reach the outer edge, they dry out and die off.
It may sound like a bad thing, but it's not! When those roots die off, it causes the plant to send out lateral roots that are efficient at absorbing nutrients for a healthy, sturdy plant. The porosity of the fabric also allows the roots access to oxygen.
These containers will last in the garden for years. I've had several large 50-gallon fabric pots for close to a decade now.
Glazed ceramic containers
These are made from clay and finished with a non-porous glaze. This glaze helps with moisture retention, meaning they don't dry out quite as quickly as unfinished terra cotta pots.
These containers are often used as a focal point in landscapes, filled with blooming flowers or a single small tree. There's no reason, though, that you can't fill yours with food! Planted with an assortment of pretty vegetables and flowers, glazed pots like these can absolutely hold their own as a beautiful addition to a patio or front yard garden.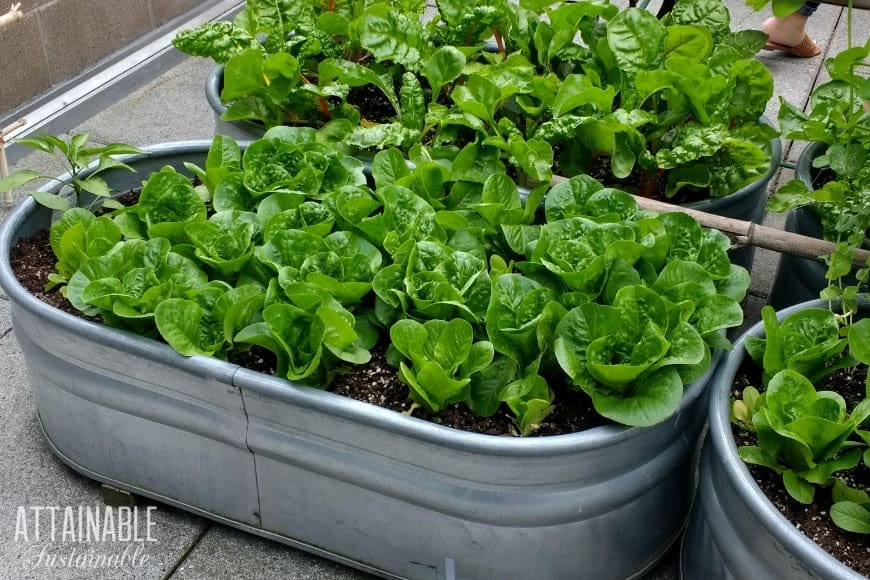 Feed troughs and tubs
Galvanized containers are all the rage right now in the gardening world and they're certainly very functional. Not quite as good looking are sturdy plastic stock tanks. Both materials come in a variety of sizes, from oversized buckets to big containers that will hold an entire pickup truck load of soil. The larger options really could be considered a raised garden bed.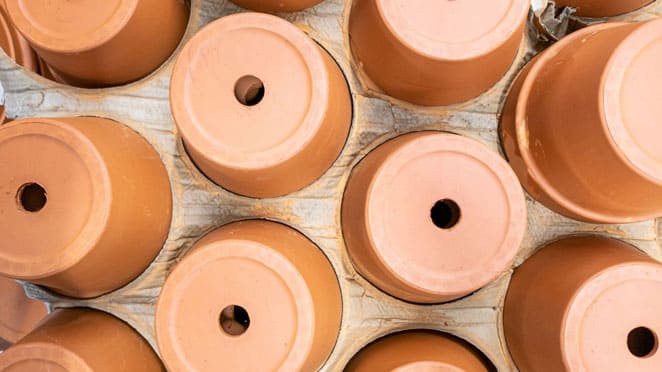 Make sure the pot has proper drainage
No matter what type of container you opt to use, drainage is critical. Without a drainage hole — or several — water can sit inside the bottom of a pot. This causes plant roots to rot. Most ready-made planters come with a drainage hole, but be sure to check. I've been surprised sometimes to pick up a glazed planter only to find that it didn't have that all important drainage hole.
If the vessel you use doesn't have a drainage hole, which is often the case with upcycled containers, you'll need to create one. For thin metal containers, use a large nail and a hammer to pound several holes in the bottom. For sturdy plastic containers or heavier duty metal, use a drill to create a drainage hole. If you use a smaller bit, make several holes; if you have a larger bit, like a 1/2" size, one or two holes should suffice.
Now let's talk about the size of the garden containers you choose and what types of vegetables grow well in each.
Growing Vegetables in Pots for Beginners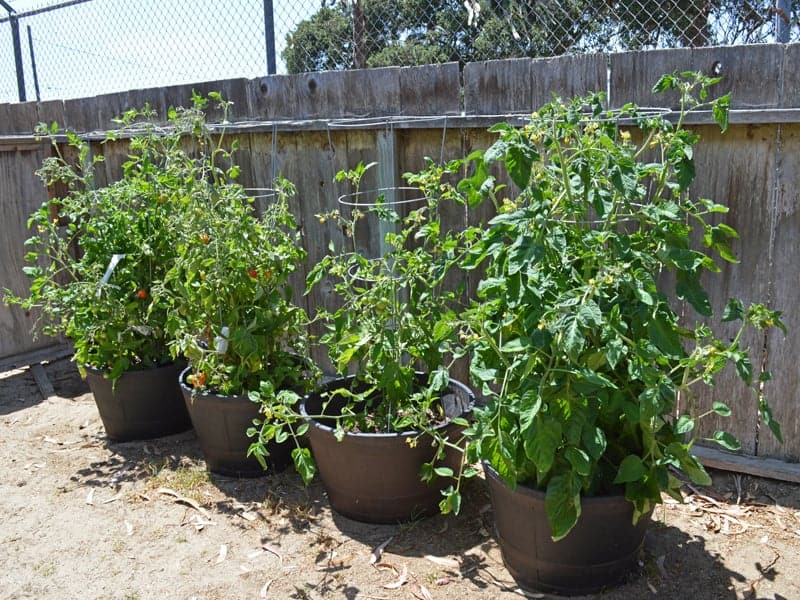 Large vegetable container – 18″ to 22″
Large planters are best for single vegetables that need a lot of root space. These garden containers allow space for cages or a trellis, too.
Best vegetables (and fruit!) for big containers:
Vine cucumbers
String peas
Big containers are also great for planting multiple varieties of smaller vegetables that don't need the entire pot to grow. You can often plant 2-3 "medium" plants and 4-6 "small" plants together in a large container. (See "medium containers" and small containers" below for specific plant recommendations.)
Medium Garden Containers – 10″ to 18″
Medium-sized garden pots are perfect for compact vegetables or those of the bush variety. If you're growing root crops like carrots or beets, make sure that in addition to width you're providing plenty of depth. With carrots, you can opt for varieties that grow just a couple inches long.
Best vegetables to grow in medium sized containers:

Small Containers – 6″ to 10″
Small garden containers are ideal for vegetables that don't require much space, as well as some herbs. That said,
Best crops for small containers:
Arugula
Spinach
Cabbage
Green onion
Radishes
A hanging container garden
When you can't plant at ground level, consider planting above! Some plants actually do better when they're not lying on the ground and with vertical gardening you can utilize the space, freeing up the ground surface for plants that need it. A hanging vegetable container garden helps combat pests, too.
Tip: Hanging doesn't have to mean high. Use long ropes or chains so the plants are within easy reach.
Best Plants for Hanging Containers: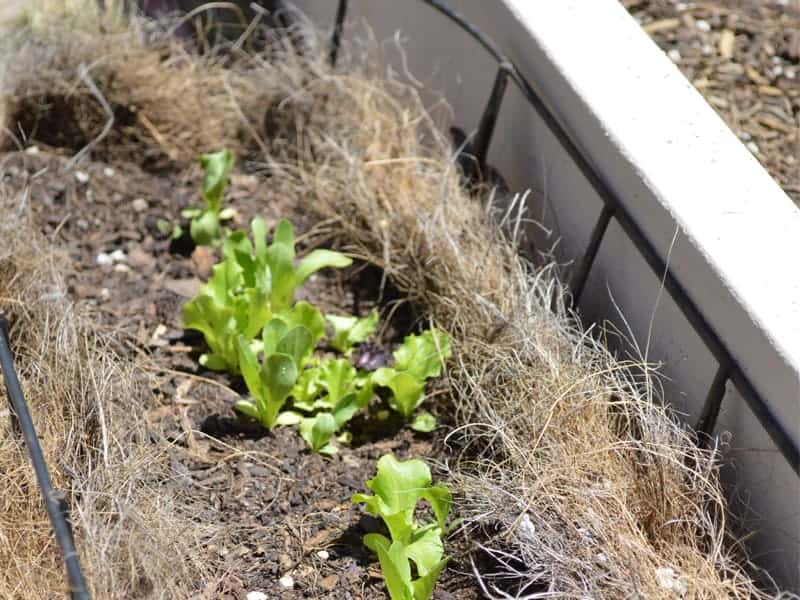 Window boxes
Despite the name, window boxes don't have to sit just by a window and they can hold more than just flowers.
Some boxes fit over railings or can be hung on the side of a fence, turning those lost areas into a little container garden to grow vegetables. Plants that tend to keep to themselves, don't need much root space, and/or grow up are best for window boxes.
Best vegetables for window boxes:
Beets
Strawberries
Green beans
Radishes
Green onion
Celery
Herbs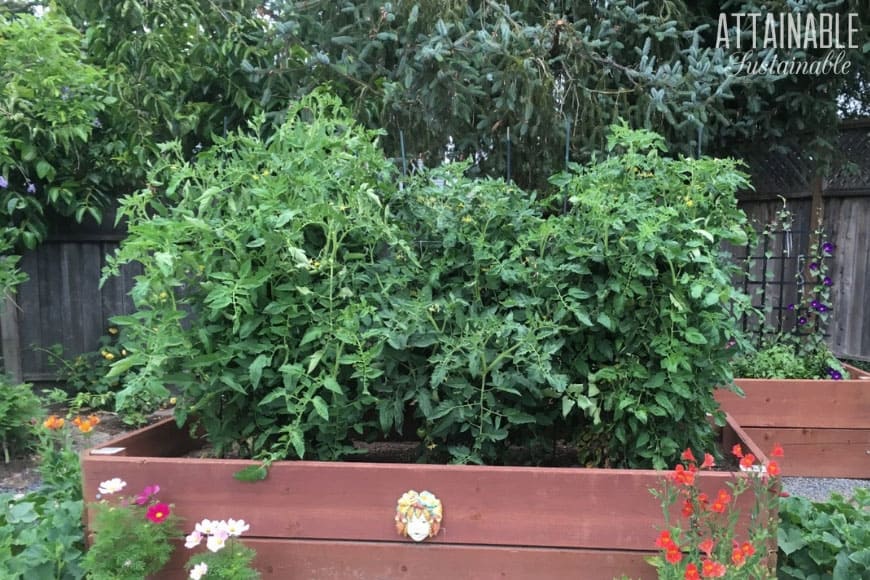 Raised garden beds
The biggest "container" of the bunch, raised beds are an easy way to work around the limitation that are problematic for many renters: no-permanent structures. You can build a raised bed for under $15 and it's perfect for plants that like to roam.
Best Plants for Garden Beds:
Zucchini
Squash
Pumpkin
Watermelon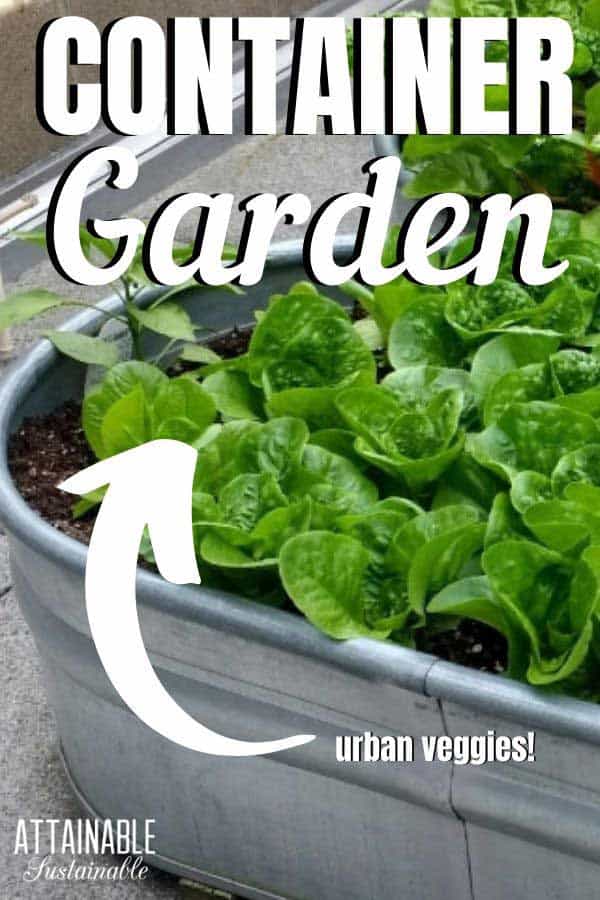 This post was originally contributed by Tiffany at Don't Waste the Crumbs back in 2015. It was been completely and updated to include more information about container vegetable gardening, choosing vegetables, and more.