Container vegetable gardening is a great solution for people who have limited yard space. It's also a way to bypass poor soil conditions. Here's what you need to know to choose the right containers for your urban garden. 
Be sure to check out these easy vegetable crops, too — many work well in container gardens!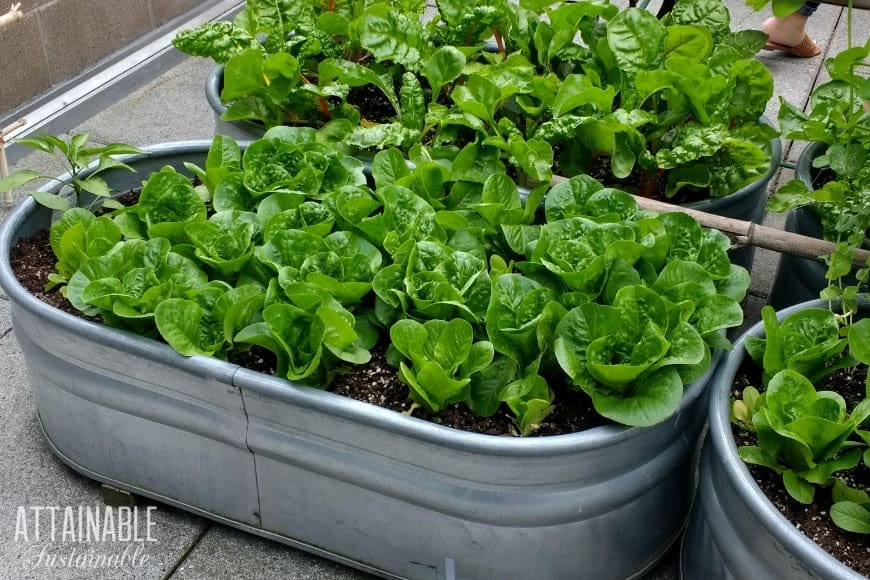 This is a guest post from Tiffany at Don't Waste the Crumbs.
---
The Edible Front Yard Garden
Does your homeowners association prevent you from growing food in the front yard? What if they never even KNEW? My ebook, The Edible Front Yard Garden will show you how!
Plant a 5-Gallon Garden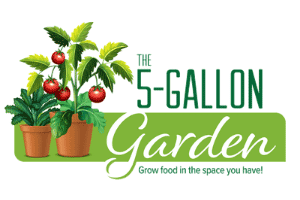 Limited on space? Don't let that keep you from growing some of your own food! In my 5-Gallon Garden course, I'll show you how to grow food in the space you have! Learn more about it here.
---
Sometimes it feels like my home doesn't want me to have a garden. We rent a townhouse (so no permanent structures) in California (with severe drought) and have a backyard comprised of sand (i.e. no soil). We solved the last two issues by re-using house water for the garden and employing dozens of ways to naturally fertilize store-bought dirt for free.
Growing a vegetable garden in a rented, urban setting though, requires a bit of resourcefulness. How can we have a bountiful garden to off-set our small grocery budget when we can't even dig up the yard? Enter garden containers!
Growing Vegetables in Pots for Beginners
A container garden was the first thought to come to mind, but we felt limited to a small handful of plants that grow well in containers. Fortunately, we were wrong! With a bit of creativity, you can have a flourishing garden in all sorts of containers. The key to growing vegetables in containers is knowing which containers are best for which plants.
Grow Some Greens!
Ready to grow fresh greens, no matter WHERE you live? Sign up for my
FREE quick-start guide and start growing some of your own food!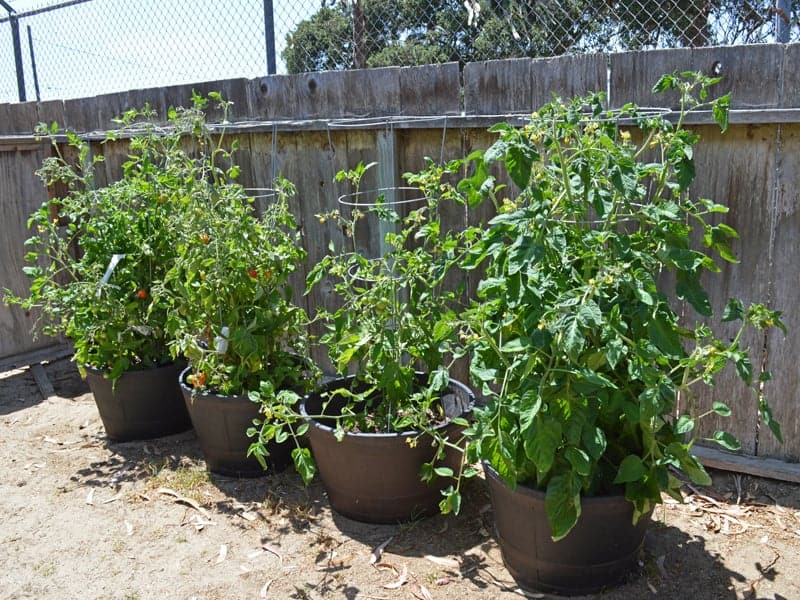 Large vegetable container – 18″  to 22″
This is what most people think of when they think of vegetable container gardening. These large planters are best for single vegetables that need a lot of root space, cages, or a trellis.
Best Plants for Big Containers:
Vine cucumbers
Pole beans
String peas
Big containers are also great for planting multiple varieties of smaller vegetables that don't need the entire pot to grow. You can often plant 2-3 "medium" plants and 4-6 "small" plants together in a large container. (See "medium containers" and small containers" below for specific plant recommendations.)
Tip: Kris has had great success with large grow bags for her vegetable container gardening.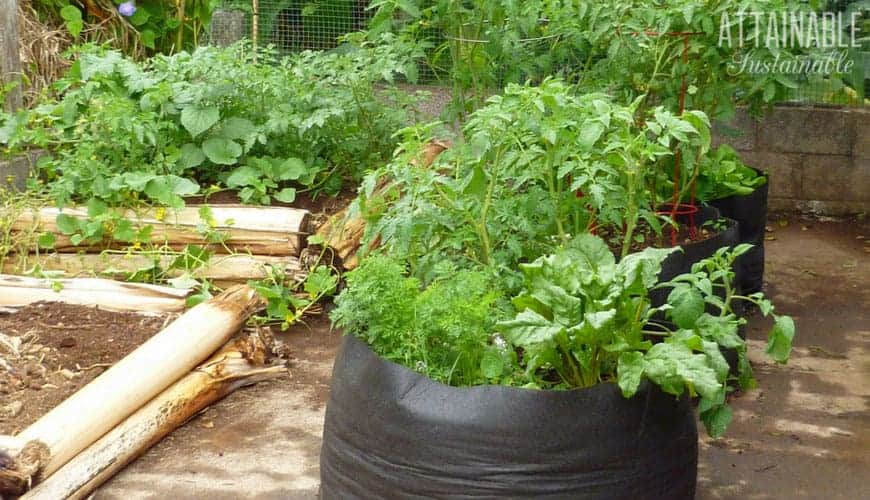 Medium Garden Containers – 10″  to 18″
A bit less cumbersome than big containers, medium-sized pots and are perfect for compact vegetables or those of the bush variety.
Best Plants for Medium Containers:
Bush beans
Spinach
Beets
Broccoli
Cabbage
Eggplant
Peas
Celery
Small Containers – 6″  to 10″
Although they don't seem to offer much growing room, small garden containers are ideal for vegetables that don't require much space, as well as some herbs:
Best Plants for Small Containers:
A hanging container garden
When you can't plant at ground level, consider planting above! Some plants actually do better when they're not lying on the ground and with vertical gardening you can utilize the space, freeing up the ground surface for plants that need it. A hanging vegetable container garden helps combat pests, too.
Tip: Hanging doesn't have to mean high. Use longer ropes so the plants are within reach.
Best Plants for Hanging Containers: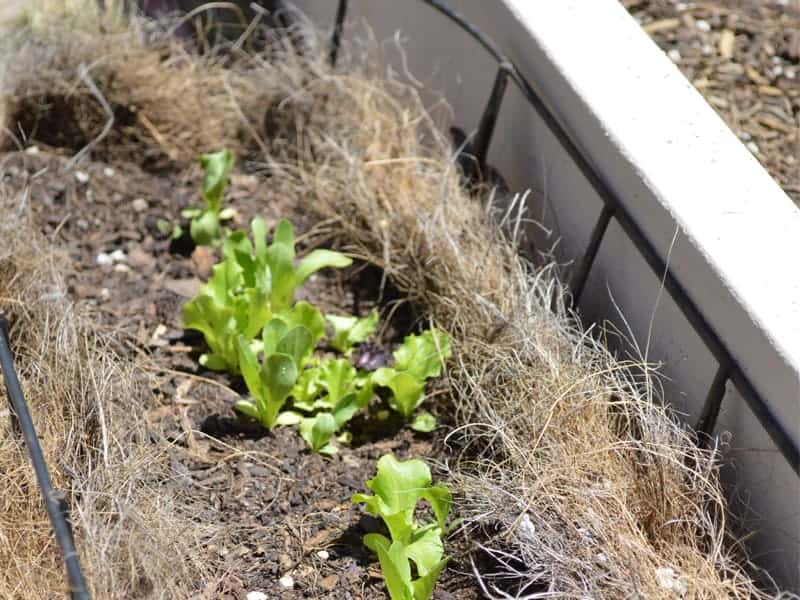 Window boxes
Despite the name, window boxes don't have to sit just by a window and they can hold more than just flowers. Some boxes fit over railings or can be hung on the side of a fence, turning those lost areas into a little container garden to grow vegetables. Plants that tend to keep to themselves, don't need much root space, and/or grow up are best for window boxes.
Best Plants for Window Boxes:
Beets
Strawberries
Green beans
Radishes
Green onion
Celery
Herbs
Related: How to: Growing Blueberries in Containers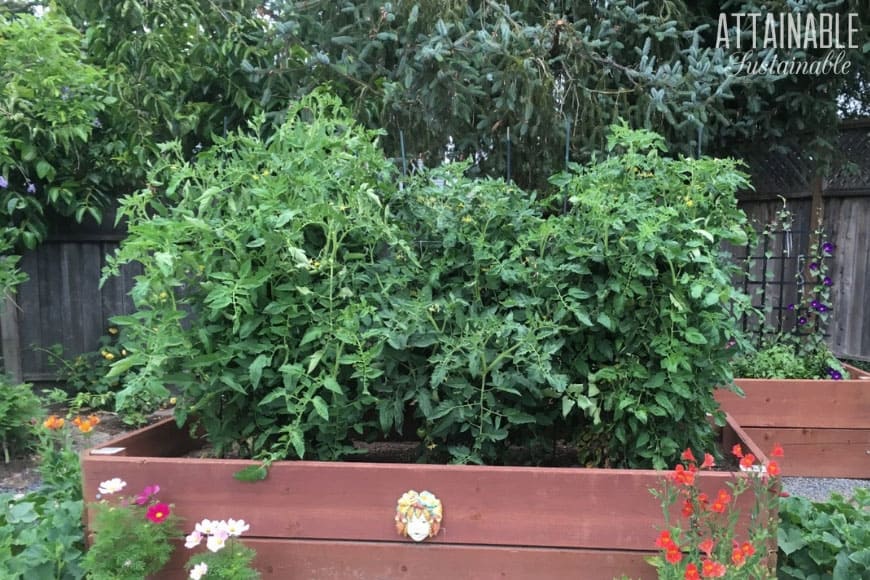 Raised garden beds
The biggest "container" of the bunch, raised garden beds are an easy way to work around the limitation that are problematic for many renters: no-permanent structures. You can build a raised bed for under $15 and it's perfect for plants that like to roam.
Best Plants for Garden Beds:
Zucchini
Squash
Pumpkin
Watermelon
Tip: Maximize the space within your garden bed with urban square foot gardening.
General tips for choosing a container for a vegetable garden
Err on the large side; the bigger the pot the better. More pot means a better yield.
Be sure your container has a drainage hole – especially important if you're recycling containers that might not already have a drainage hole.
Instead of wondering what to plant in your container, start with what you want to grow and find a container that works.
Ask friends what works for them – you can learn a lot from their experience!
It might take a bit of creativity to grow a container garden, but with a little bit of planning you can still have an amazing harvest!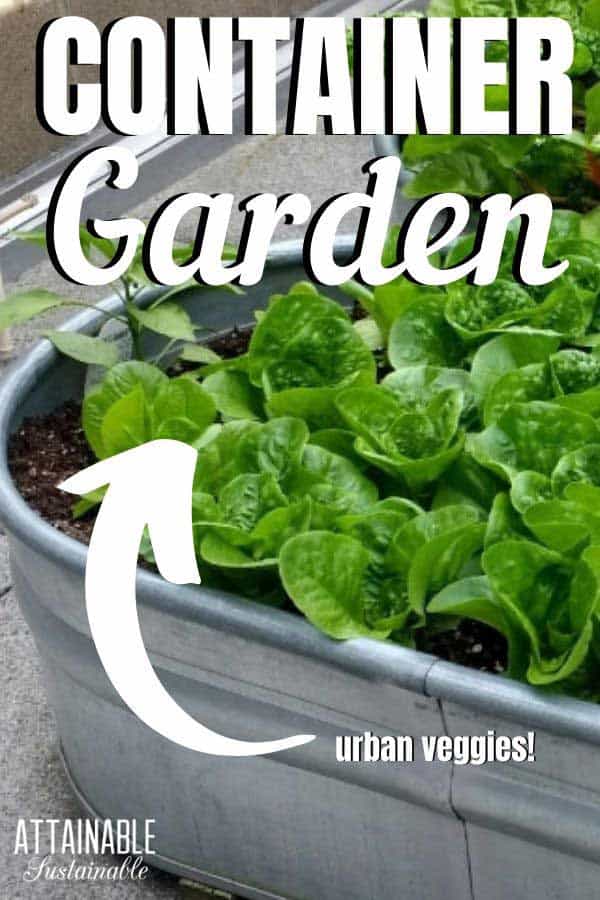 Tiffany is passionate about feeding her family real food and living healthier lives, without going broke in the process! She shares her enthusiasm for affording real food on a budget, and documents her baby-sized strides at Don't Waste the Crumbs.
Originally published in June 2015; this post has been updated.