Large grow bags — essentially "instant" raised beds — are easy, ready-to-fill planters that have some great benefits for the urban garden. They're easy to transport, since they fold up compactly, and plants thrive in them.
Check out this post on growing vegetables in pots, too!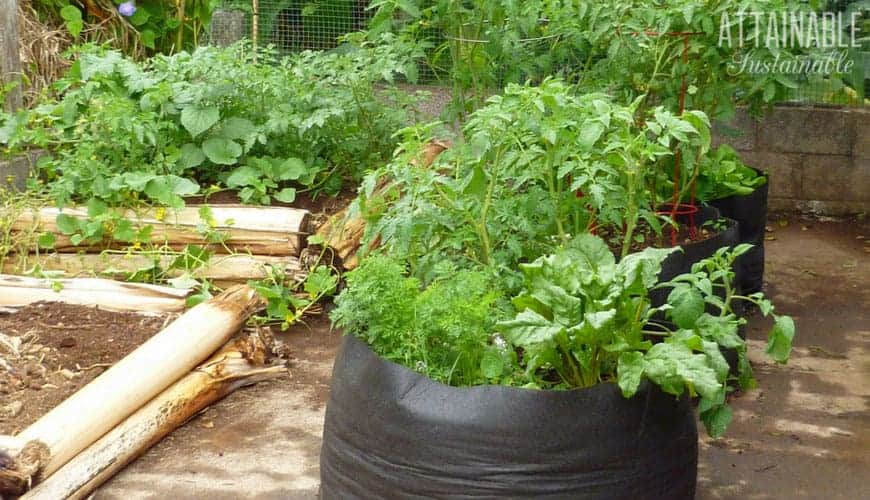 Our former residence—a large lot in town—was steep and shady.
It was not conducive to gardening at all and certainly not a place where we could plant a nice level garden without a whole bunch of work and wall building. I tucked plants into every sunny spot available in my initial attempt at urban gardening, but I was just not content with that. I wanted to GROW THINGS!
The only really sunny spot in the yard was the driveway. And let's face it: A garden is much more important than having a place to park! (No, really. There were other places to park. Though there might have been a little bit of eye-rolling by some of the other drivers in the household.)
Raised beds on the concrete made perfect sense to me, so I started exploring my options for a creative urban garden. I made a few beds out of banana stumps, and those worked fine but we just weren't harvesting bananas fast enough to create as many beds as I wanted. Plus, they were destined for the compost pile after just one season.
Grow Some Greens!
Ready to grow fresh greens, no matter WHERE you live? Sign up for my
FREE quick-start guide and start growing some of your own food!
Related: Small garden ideas: Get the Most Bang for your Buck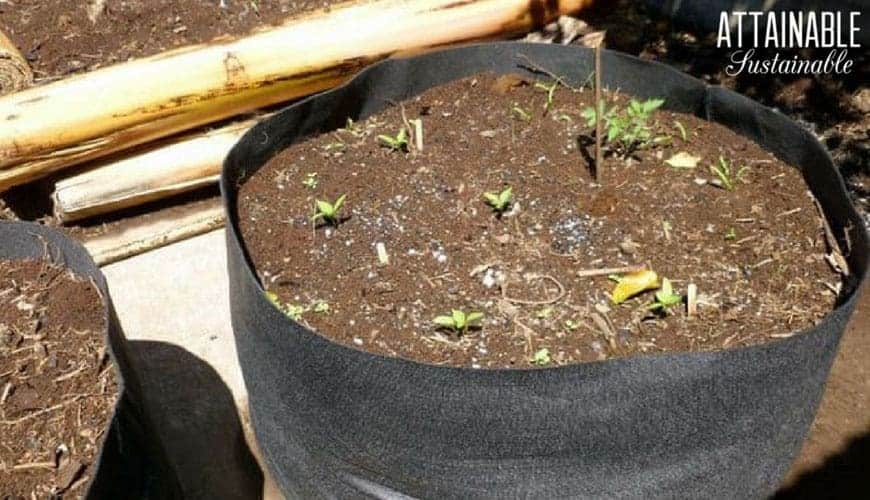 ---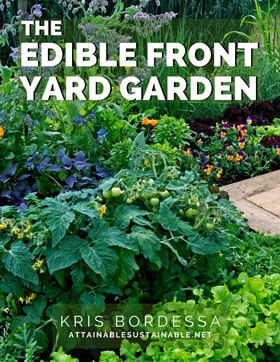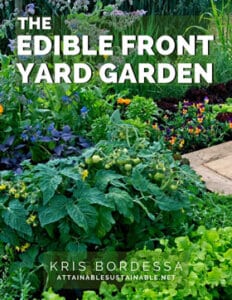 The Edible Front Yard Garden
Does your homeowners association prevent you from growing food in the front yard? What if they never even KNEW? My ebook, The Edible Front Yard Garden will show you how!
---
Grow bags
I debated using wood, but knew they'd rot relatively quickly in our humid climate — and that they'd be expensive. But I ended up going in a totally different direction. I got three large grow bags, filled them with good soil, and went to town planting seeds. [My first grow bags were the SmartPot brand.]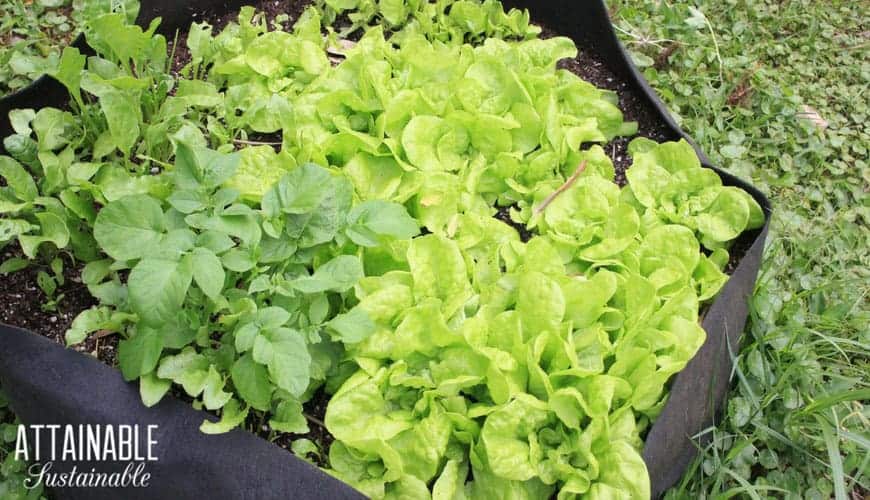 And look! They worked beautifully. After fighting our limitations for a couple of years, I finally had a very successful—if small—crop from my driveway garden.
The biggest question I've had from people is about the material of the grow bags. The grow bags are made of a BPA-free fabric. And the porosity of the fabric allows for air root pruning. Which is kind of a fancy way of saying that plants grown in these pots don't get root bound like plants grown in hard-sided containers.
Related: Growing blueberries in containers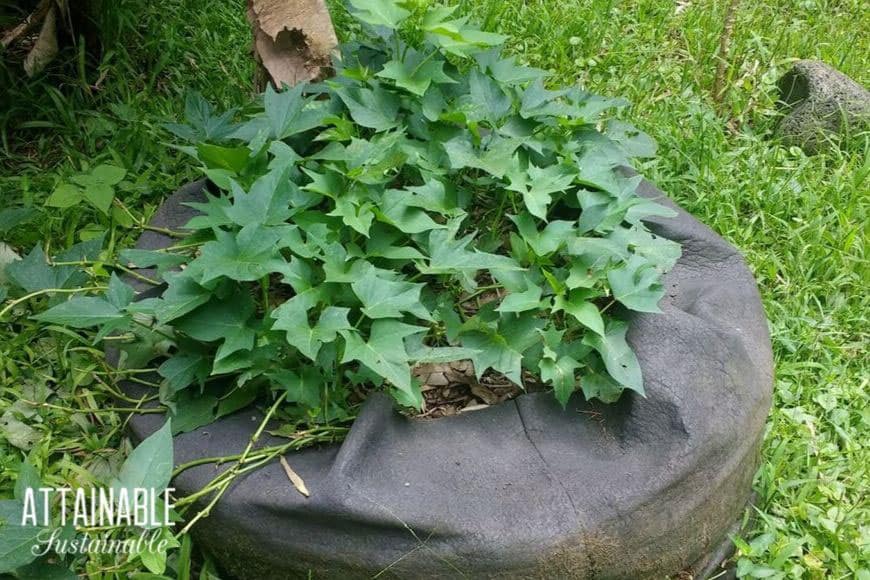 Reviewing various grow bags
Smart Pots
These grow bags can tend to slouch a bit over time, as you can see above. I'm into my fifth year with these pots, though, and they're still holding up well. (I have sweet potato vines in them at the moment.) While I opted for large 100 gallon fabric grow bags, Smart Pots come in a variety of sizes. The smaller ones would be great for apartment dwellers or those with limited space for growing food.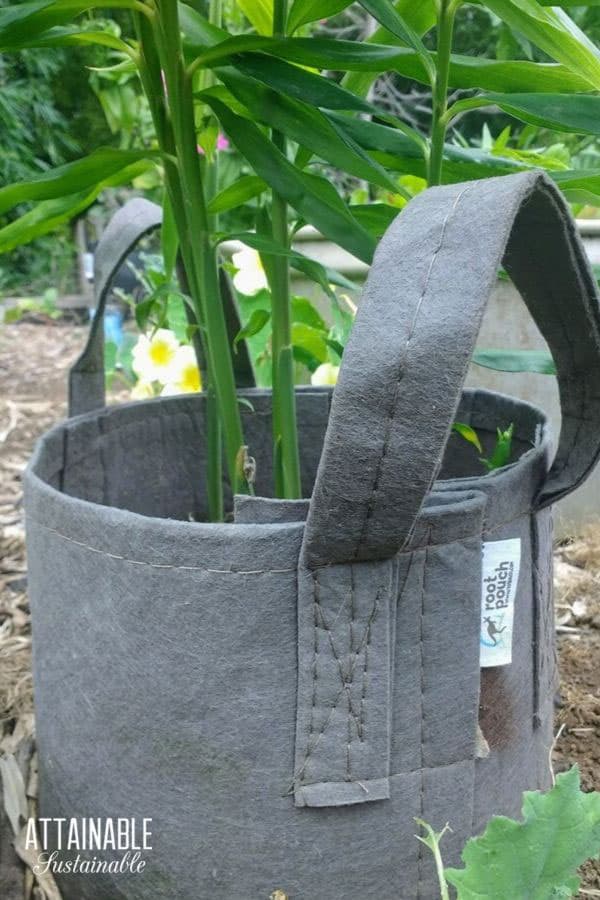 Root Pouch
These reusable fabric bags come in a variety of sizes, from 3 gallons to 30 gallons, and an assortment of colors. So, not quite as large as the Smart Pots I started with, but perfectly suitable for growing vegetables. These grow bags are made with handles, which is awfully handy. It makes them easier to move around as necessary. They don't slouch like the Smart Pots, thanks to a stiff, hemmed edge. I have both green and brown grow bags from this brand, and while the color has faded, they're still nice looking after a year in my garden with various crops.
These grow bags seem to be available on a limited basis, but Gardener's Edge has a nice selection.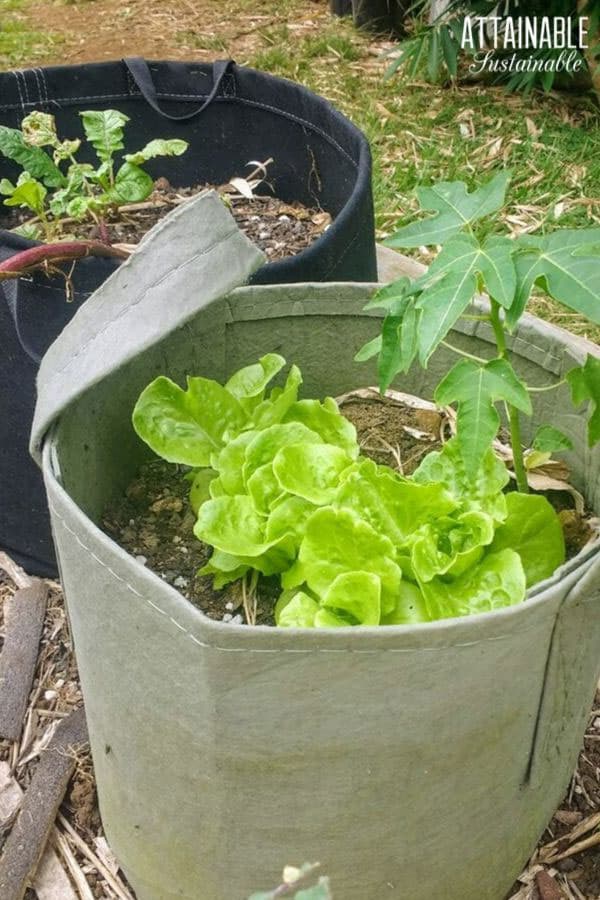 Geopot
This brand is available at my local hardware store in a black fabric that has hardly faded. Like the Root Pouch, this brand is slouch free. It does not have handles, though. (That's it in the background in the above image.)
Bloembagz
I love the innovative ways Bloembagz is using fabric for planters, such as their over-the-railing bags that make use of every inch of space. I was excited to give the strawberry grow bag from Bloembagz a try. While it works and the strawberries are doing okay, the light green fabric isn't super attractive, what with the mildew and moldiness on its exterior. Would this be a problem in drier climates? I don't know.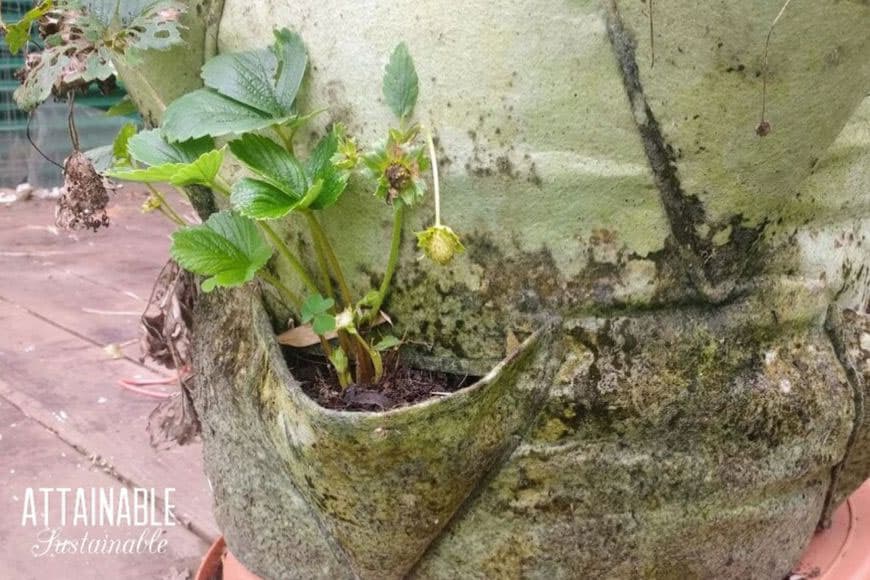 Originally published in August 2014; this post has been updated.