Here in Hawaii, and in other warm climates, growing sweet potatoes is like growing weeds. Trimmed vines tossed aside will root and eventually form an edible tuber. The wilder areas of my yard are graced with purple sweet potato plants that have emerged from my compost. (Though admittedly, growing sweet potatoes like this doesn't really net a big crop.) Growing sweet potatoes in pots might be a more reasonable option if you live in a different climate.
But it's not just the tubers that are edible; be sure to read about growing sweet potato vines for off-season greens!
Even if you live in a region with a shorter growing season than mine, you can harvest sweet potatoes. They need a minimum of 90 days between planting and frost. The trick to growing sweet potatoes is to start early so you'll be ready to get them in the ground as soon as your soil is warm enough. With a little forethought, home gardeners can easily enjoy the flavor of sweet potatoes grown right in the backyard.
I'll be honest: I'm new to growing sweet potatoes. My family has never really loved them, so it just didn't seem worth the effort. Then I discovered the Okinawan purple sweet potato plant (center of photo, above). Not only is it the best tasting sweet potato I've had, it's the prettiest. Look at that purple!
Here's something to consider about adding sweet potatoes to your garden: They are a calorie-dense vegetable. Here's why that matters.
Growing sweet potatoes – start with slips
Sweet potatoes are planted from slips, or live cuttings. You can start growing your own sweet potato slips so they'll be ready for spring planting, even when it's too cold to do any outdoor gardening.
Start by picking up a sweet potato from the grocery store. Choose organic if it's available; some conventionally-grown potatoes are treated to prevent sprouting. Push three toothpicks into the sweet potato, spaced equally. Put the sweet potato into a recycled jar filled with water and set in a bright location.
This will look a lot like a grammar school science project. 
The potato will start sending roots down into the water within a few weeks. Soon you'll see green shoots start to emerge from the upper portion of the sweet potato. These are the beginnings of your summer sweet potato crop!
Planting sweet potatoes
Sweet potatoes prefer well-drained soil. Sandy soil works well. I've also had good luck with planting sweet potatoes in loose wood chips or mulch. They seem to like the loose growing medium and swift drainage.
When your soil reaches about 50 degrees F, it's time to plant sweet potatoes. Cut 10″ to 12″ lengths of sweet potato vine from your "seed" potato. Trim leaves from the lower portion of the slip, leaving a couple of leaves at the tip for photosynthesis. Plant each slip 6″ to 8″ deep, making sure that at least two leaf nodes are completely buried. I met one grower who actually plants a little bouquet of five of these slips per hole. Others plant just one. Both methods seem to work.
If your region is really late in warming up, you can start rooting your slips indoors in pots filled with potting soil following those same steps. Keep the soil most but not wet. When warm weather finally arrives, you'll have rooted cuttings to move out into the garden.
Related: Growing Turmeric + Turmeric Recipes for Healthy Meals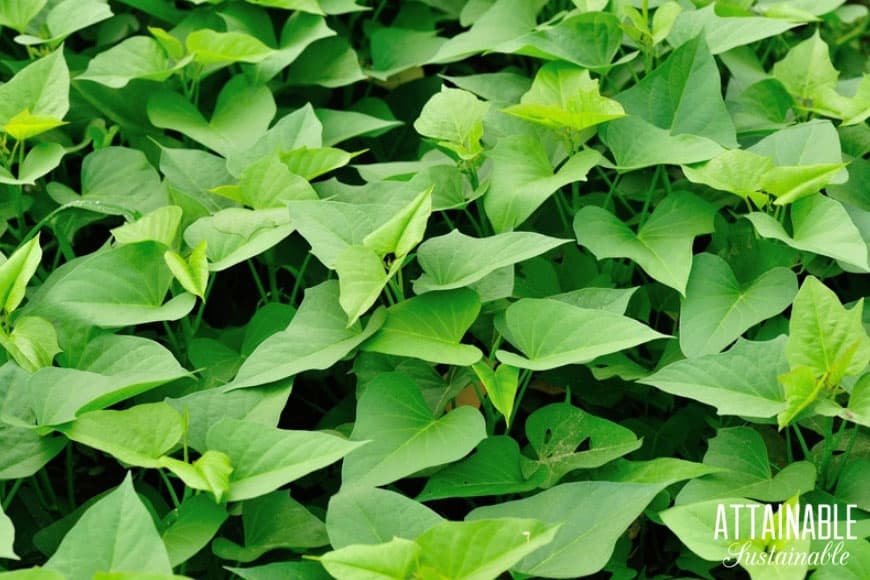 Growing sweet potatoes in pots
I've had good luck growing sweet potatoes in pots and raised beds. In particular, they've done well in grow bags. Sweet potatoes grow by forming tubers along their roots. Those roots can extend a good way from where you originally planted the sweet potato slips.
Growing sweet potatoes in pots allows you to keep them contained to a specific area. This also allows for harvesting without having to dig up a large area in the garden.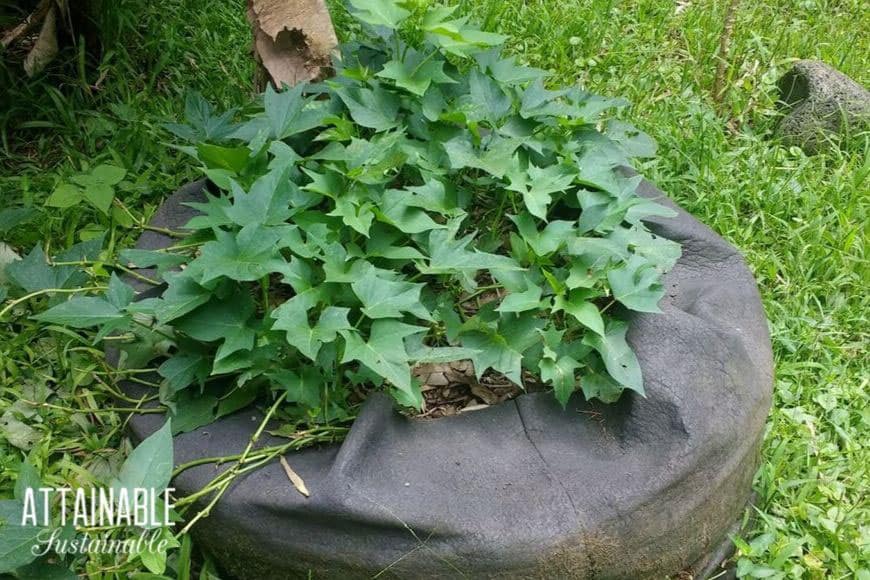 When are sweet potatoes ready to harvest?
I've been that when the sweet potato plants begin to flower, it's time to harvest. I'm not one to contradict an expert gardener, but I've planted quite a few crops of sweet potatoes and I've only seen them flower occasionally. I'm not sure that this is the best indicator! Instead, I suggest that you mark your calendar. Your sweet potatoes should be ready to harvest about three months after you planted them.
A purple sweet potato plant
One of the more common varieties of sweet potato here is the Okinawan purple sweet potato. They are just stunning. We talked about this variety awhile back on Facebook and lots of people asked where to find them so they could give them a try.
I just discovered that Hawaii Veggie Farm ships Okinawan purple sweet potatoes by the box. I've never ordered from them, so I can't give you any feedback on the company itself, but it might be a fun way to try something new in your garden!