The sweet potato vine is an unexpected bonus when you're growing sweet potatoes — sweet potato leaves are edible! And even if you don't plan to grow them in your garden, sweet potato greens can be grown inside as an edible houseplant.
For another unexpected edible green, get to know purslane!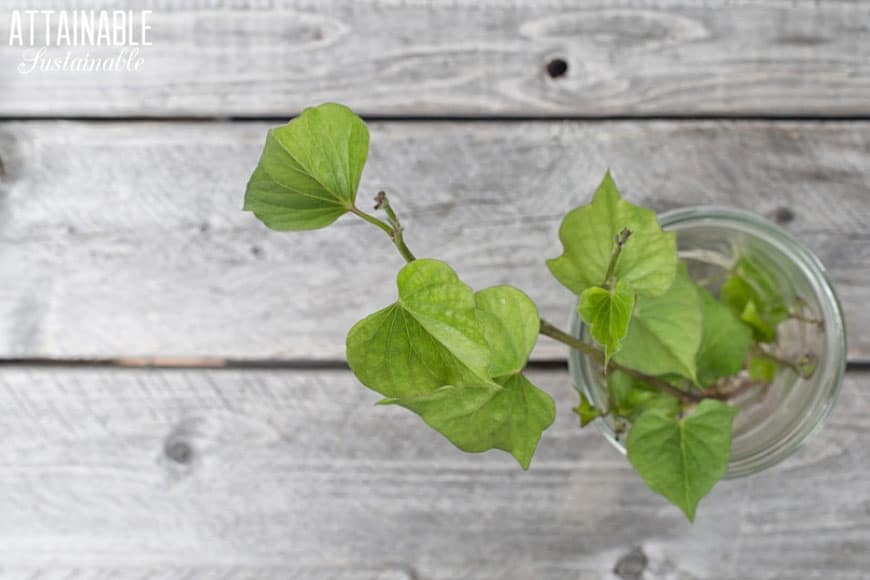 Even if you don't plan to grow sweet potato tubers in your garden, the leaves can be a valuable source of nutrition, especially during the cold months of winter.
They sprout easily indoors and a happy sweet potato plant will produce leaves throughout the winter. Bonus? If you have a plant growing for the sweet potato leaves, you'll have slips at the ready for planting in the garden!
---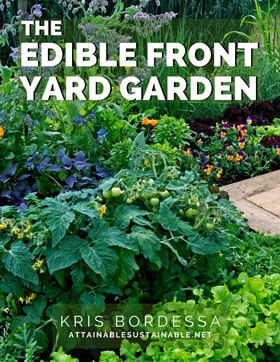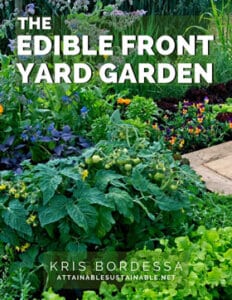 The Edible Front Yard Garden
Does your homeowners association prevent you from growing food in the front yard? What if they never even KNEW? My ebook, The Edible Front Yard Garden will show you how!
---
Grow an edible sweet potato vine by sprouting
You might remember doing this in school. It's still just as easy. Choose an organic sweet potato at the store (non-organic potatoes are often treated with a chemical to prevent sprouting).
Insert several toothpicks around the center of the spud. Set the sweet potato inside a jar filled with water. The bottom of the potato should remain in water.
Grow Some Greens!
Ready to grow fresh greens, no matter WHERE you live? Sign up for my
FREE quick-start guide and start growing some of your own food!
It will start sending out roots in a couple of weeks. Once there are a fair number of roots, watch for green sprouts emerging from the dry side of the potato.
Those are the sweet potato leaves. They can also be used to generate sweet potato plants. (They're often called 'slips' in garden-ese.) While you can use the leaves directly from a sweet potato sprouted in water, it won't produce as long as a plant potted in soil will.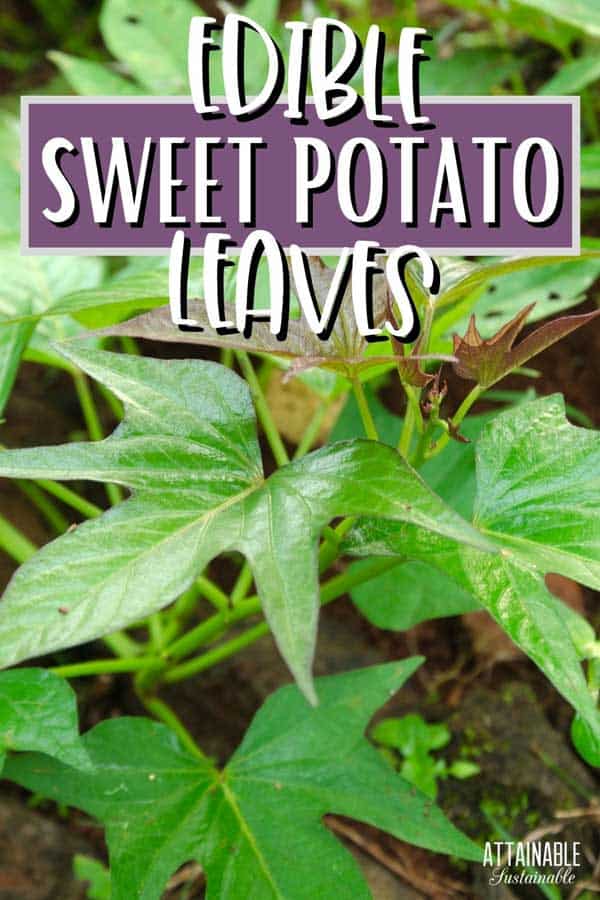 How to grow a sweet potato vine in a pot
To grow an edible sweet potato vine in a pot, you can transplant your sprouted sweet potato (see video) or create a number of potted plants by starting with slips. To grow from slips, cut 10″ to 12″ lengths of sweet potato vine from your "seed" potato. Trim leaves from the lower portion of the slip, leaving a couple of leaves at the tip for photosynthesis.
You can either plant these directly into a pot of soil or allow them to root in water first. If you plant directly into the soil, you'll need to maintain steady moisture. If you choose to root them in water, watch for the emerging roots. Once they're a few inches long, transplant into a container of good soil in bunches of three. This method can be used for a winter crop of greens, but it's essentially how they should be planted out in your garden for a root crop, too.
Set your potted sweet potato by a sunny, warm window and it will produce plenty of vines. Now you have an edible houseplant! You can eat the leaves cooked or raw.
Sweet potato leaves in the kitchen
As an ingredient, sweet potato greens are a bit obscure. It's not something you see in many recipes, but there are a few out there!
Important:
Don't confuse sweet potatoes with your standard baked potato!
Sweet potatoes (Ipomoea batatas) belong to the Convolvulaceae family. Their leaves are edible.
Regular Russet-type potatoes belong to the Solanaceae, or nightshade, family. Their leaves are not edible and can make you sick.
Originally published March, 2014; this post has been updated.