Identifying the common purslane weed — and intentionally growing purslane — is one of the easiest ways to harvest early spring greens. But until recently, I had no idea that purslane weed was edible.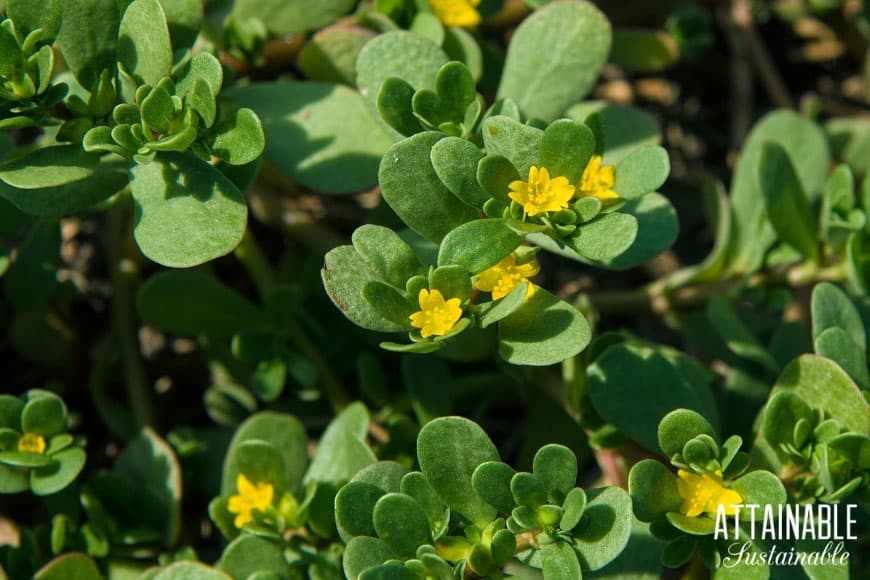 Here's how it looked before my enlightenment:
In early spring I'd prepare my garden beds, plant seeds of lettuce, spinach, Swiss chard, and bok choy, wait for them to sprout, hope the snails and snails didn't get them, curse this thriving purslane weed that was growing rampantly, and pull them all out.
The plant itself — common purslane (Portulaca oleracea) — is very pretty. It's low growing and not overly aggressive, with teardrop shaped leaves – but it just didn't belong there, in my garden. Sure, now it seems silly.
---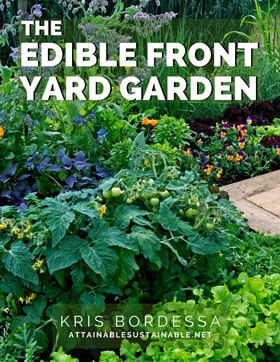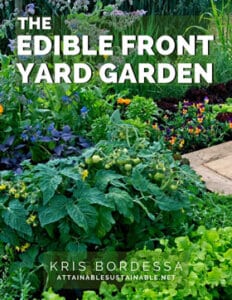 The Edible Front Yard Garden
Does your homeowners association prevent you from growing food in the front yard? What if they never even KNEW? My ebook, The Edible Front Yard Garden will show you how!
---
Foraging for common purslane weed
Turns out, people savvier than me forage for common purslane in the springtime, seeking it out as a local addition to their meal plan. And here I was, pulling it out and tossing it into the compost. If you've been wanting to try your hand at foraging for some wild edibles, purslane is a really easy place to start since it's very easy to identify.
While you're harvesting purslane for your dinner table, be sure to dig a couple of plants out by the root so you can begin growing purslane in your own yard.
Grow Some Greens!
Ready to grow fresh greens, no matter WHERE you live? Sign up for my
FREE quick-start guide and start growing some of your own food!
Related: Eating Flowers: Perk Up Your Salads
Related: Homesteading in the City
Growing purslane
I have to admit I felt a little silly transplanting purslane from my neighbor's yard into my own. And yet, it made perfect sense now that I knew that purslane is edible. Purslane will grow almost anywhere, popping up in dry, rocky driveways or fertile garden beds. It's an annual that reseeds itself every year, and seeds are known to be viable for up to 40 years!
My transplanted purslane is now thriving, mingling freely with beets and tomatillos. (It spreads and stays low, so it acts as a living mulch, too, keeping down the weeds.)
Using common purslane
Choose young plants and tender new shoots for the best flavor. Purslane can be eaten raw or cooked as a green. Try adding it to sandwiches, salads, and smoothies.
The leaves are somewhat succulent with a mild flavor. (Not fuzzy and offensive on the tongue like uncooked dandelion greens, another spring green that people commonly forage for.) Purslane flowers are a bright yellow.
Purslane benefits
Growing purslane — or foraging for it — it good for your health! Common purslane is high in alpha-linolenic acid (ALA), an omega-3 fatty acid generally found in vegetables. It's also high in vitamins A, C and E, and in dietary minerals such as iron, magnesium, calcium, potassium and manganese.
Related: How to Ethically Forage for Edible Plants
Originally published in March, 2013.