Deciding what to feed chickens is one of the first things you'll need to do when you bring a flock home. Are you trying to avoid corn or soy? Want to feed them organically to avoid GMOs? No matter what your preference is I suspect you'd like to know how to feed your chickens without breaking the bank!
I've kept backyard chickens for nearly twenty years and consider myself fairly successful at it. We get eggs. But feeding chickens commercially produced chicken feed can get expensive quickly! Over the years I've figured out what to feed chickens — how to feed chickens — in order to keep costs down.
There's a lot of talk among chicken folks about feeding chickens the "right" foods. A high protein diet. Balanced nutrition. Yadda yadda. Don't get me wrong — I want my girls to be full and happy. But I submit this crazy notion: The idea of a perfect diet for chickens is likely the by-product of production farmers looking for the highest egg-laying yield.
The standard chicken diet generally includes:
Lay pellets — A nutritionally balanced feed pressed into bite sized pellets
Lay crumble — The same type of feed, but in smaller "crumbled" pieces. (I suspect this product was invented when producers noticed the waste left behind when making pellets…)
Scratch — A combination of cracked grains such as corn, barley, oat, or wheat
Purchasing all of the feed your hens need, though, can expensive!
What to feed chickens when you're on a budget
If eggs are your bread and butter, you want to get as many as you can out of your chickens and it's probably worth the expense for a perfectly nutritionally balanced food. I think backyard farmers and urban chicken keepers have a bit more flexibility. Instead of paying high-dollar for the most nutritionally balanced feed (that for many of us is imported from a distance) we can be creative in how to feed chickens for less.
Take a Peek Inside My Book!
Get a free excerpt from my book, Attainable Sustainable: The Lost Art of Self-Reliant Living! You'll also get my free weekly newsletter, complete with recipes, gardening tips, and a little peek at what's going on around here — both the zany and the mundane.
After all, the feral chickens that are so prolific here seem to be doing just fine on what Mother Nature provides. I give you—in no particular order—some of the alternative food sources we use for our girls.
Compost
I've written before about putting my girls to work in the compost pile, but I didn't focus solely on its value as a food source.
Added to a compost pile inside the chicken pen, our kitchen and yard waste quickly becomes host to a wide variety of protein-rich tidbits for the chickens: Worms, pill bugs, larvae, centipedes, and cockroaches infiltrate the compost, helping to break it down and unwittingly volunteering to be lunch.
My hens will jump into the compost to poke through what's available on top, but to get to the really good bugs I use a pitchfork to turn the pile a bit or scoop some out. Let the buffet begin.

Related: Your Guide to Using and Safely Storing Fresh Eggs
Bugs
Speaking of cockroaches (yes, gross, but I live in Hawaii — they're a fact of life) I've accidentally discovered a number of ways to trap them. Taking it a step further, I trap them on purpose to feed to the chickens. They are a favored treat.
Got cockroaches? Here's what you do: Stack several egg cartons or small garden pots and set them in a bucket. Tuck the bucket out of the way for awhile. When you need a little something to feed the girls, pull the egg cartons or pots out and separate them right in the pen. Cockroaches will scatter and the chickens will be all over them. Another trick for adding bugs to your hens' diet? Keep a piece of plywood in the pen, flat on the ground. After several weeks or so, flip it over and voila! Dinner!
If you're eradicating beetles in your garden, they're another great "extra" to feed your girls.
Feed your chickens kitchen scraps
There are some scraps that my hens love, others they won't touch. (Scroll down for more on just what chickens can eat.) This seems to be quite variable from flock to flock, so you'll just have to pay attention to see what your backyard chickens eat and what they pass by. I try to give them just the things they'll eat, to avoid a bunch of kitchen waste in their pen that will only serve to attract rats.
Before you decide that your hens won't eat certain scraps, though, do as Laura at Bit of Earth Farm does, and try cooking them. While chickens won't eat raw potato peels, they will devour those that are cooked.
One thing I will address here is the fact that I do give my chickens meat scraps. Even chicken. I know it sounds nasty to some people, but when I'm done simmering a turkey or chicken carcass for broth, it goes straight out to the hens. And they thank me.
Related: Building a Chicken Run: How to Extend Your Space with Pallets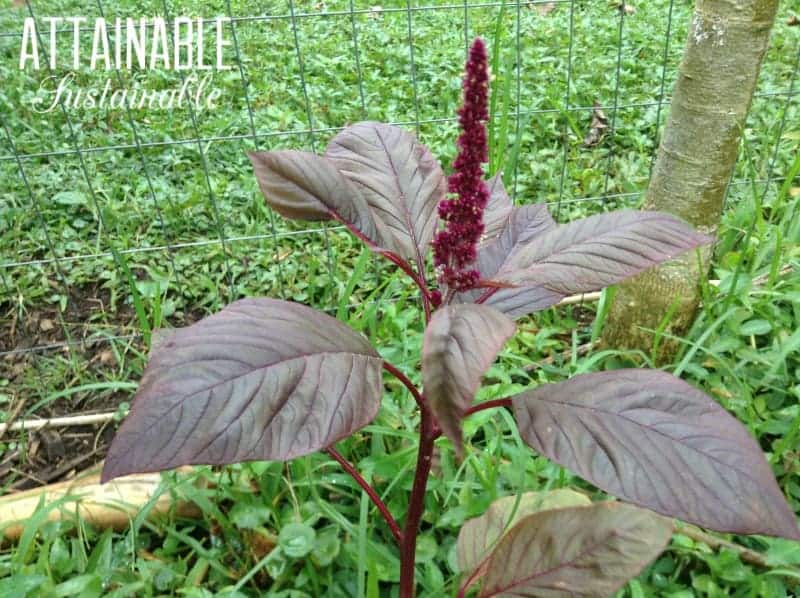 Growing grain to feed chickens
I'm not talking about fields of wheat here. (Though if you have fields of wheat, I suspect you've got some pretty happy hens.) I've grown amaranth on the borders of my garden as a supplement to my hens' feed in the past, and I just started more seeds. I scored some sorghum seed at my local seed exchange to experiment with, too.
I don't have silos full of grain by any means, but growing grain on site allows me to cut off seed heads as they mature and toss them to my backyard chickens. It helps me to vary the menu in the coop and cuts down on the amount of imported chicken feed I need.
Go here to learn more about growing grain — even in a small garden.
Grow a garden for your backyard chickens
You can pick up a packet of seeds for about $3. Let's say that packet contains 30 seeds. That's ten cents per seed. Depending on the crop, that ten-cent investment could net you many pounds of produce grown on site. Assuming you've got space to plant a little extra for your feathered friends, this makes so much sense. Here's a list of garden plants to feed your chickens without making a run to the feed store.
Related: Chicken Supplies: Must-Have Chicken Gear to Keep in the Coop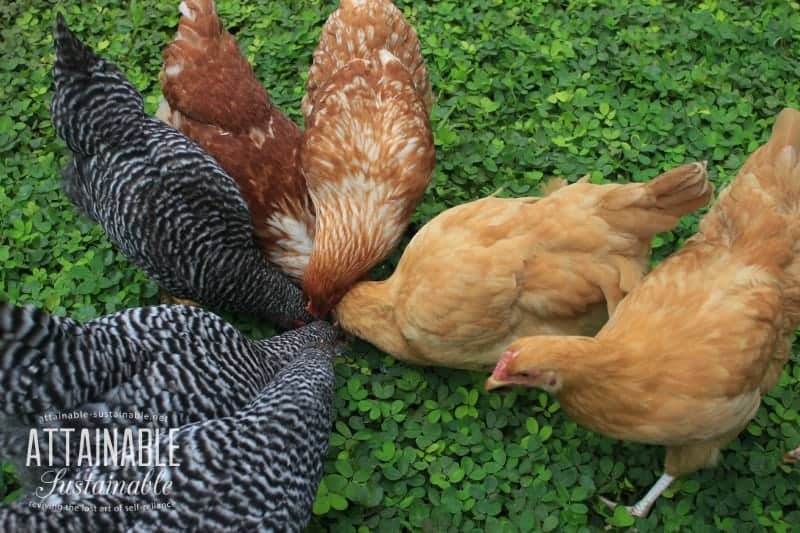 Veggies from other growers
If you have a favorite farmer who grows organically, let them know you have chickens. If they're not using their culled veggies themselves, they might be happy to share. We scored several large bags of too-far-gone broccoli at the farmers market awhile back. Happy, happy all around!
Worms
Set up a $5 vermicomposter right inside the chicken pen and let the worms handle the kitchen scraps your hens won't eat. Once the worms start reproducing at a steady rate, scoop out a handful of worms and toss them to the girls.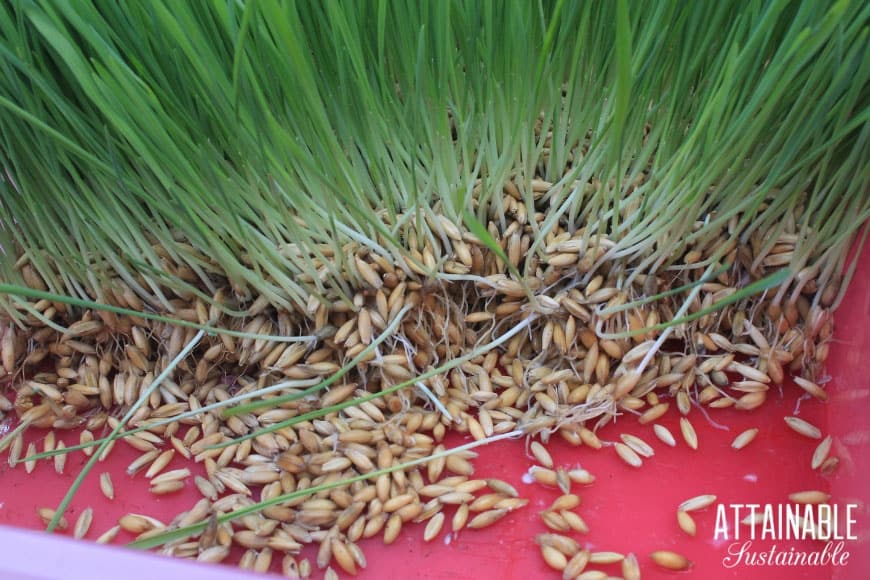 Fodder for feeding chickens
One of the best reasons for sprouting grains into fodder is that it helps stretch your animal feed expense. Fifty pounds of whole grain can be transformed into as much as 300 pounds of fodder simply by sprouting it. Sprouting grains increases their nutritional content and boosts protein content slightly.
Feeding chickens eggshells
While not really a food source, a lot of people buy oyster shells to boost their flock's calcium. Eggshells will do the same thing for free. No, giving the eggshells back to the hens will not encourage them to peck at their eggs. I've been doing this for years and have had only one hen who insisted on pecking her eggs open. Just crush the shells into pieces and feed them back to your flock. Trust me. They won't recognize them as eggs.
Some commonly asked questions about what chickens can eat
Chickens can eat a lot of the same things you and I eat. Dinner and cooking scraps always go out to our hens. But people often ask about specific items. Here then, are answers to some of those common questions.
Can chickens eat blueberries?
Yes they can. They love them. I can't imagine having enough excess blueberries that I'd feed them to my hens, but if you do, go for it!
Want to learn more about raising chickens in your backyard?
You can see all of my posts about
raising chickens
here.
Can chickens eat strawberries?
Yes. Given the chance to free range in a garden, they will happily devour your strawberry crop. Instead of letting this happen, I recommend feeding your chickens the strawberry stems and hulls after you've eaten the berry itself. Or feed them the trimmings after making this strawberry compote. They'll be thrilled.
Can chickens eat apples?
Yes. Toss them apple cores or an entire apple and they'll peck away at it. Maybe you question whether or not chickens can eat apples because apple seeds (or pips) have been rumored to have cyanide in them. I've tossed apple cores to my hens for 20+ years and never had a problem.
Can chickens eat bananas?
Absolutely! And they love them. We often have an abundance of bananas here and feeding chickens bananas is a great way for us to supplement their diet. They'll devour overripe bananas. I usually peel the bananas before feeding them to the chickens.
Can chickens eat tomatoes?
Yes. And again, set loose in the garden, they'll ruin every tomato in reach. If your crop is abundant, chickens will definitely eat the tomatoes that you don't. In fact, I like to plant cherry tomatoes on the outside of the chicken run, threading the plant in and out of the fence. As the tomatoes ripen and drop, the chickens will gobble them right up.
Can chickens eat pineapple?
Chickens can eat pineapple — it certainly won't hurt them — but I've found that my hens don't particularly care for it. Yours might. Try tossing the pineapple skins to your chickens to see if they'll peck off any remaining fruit.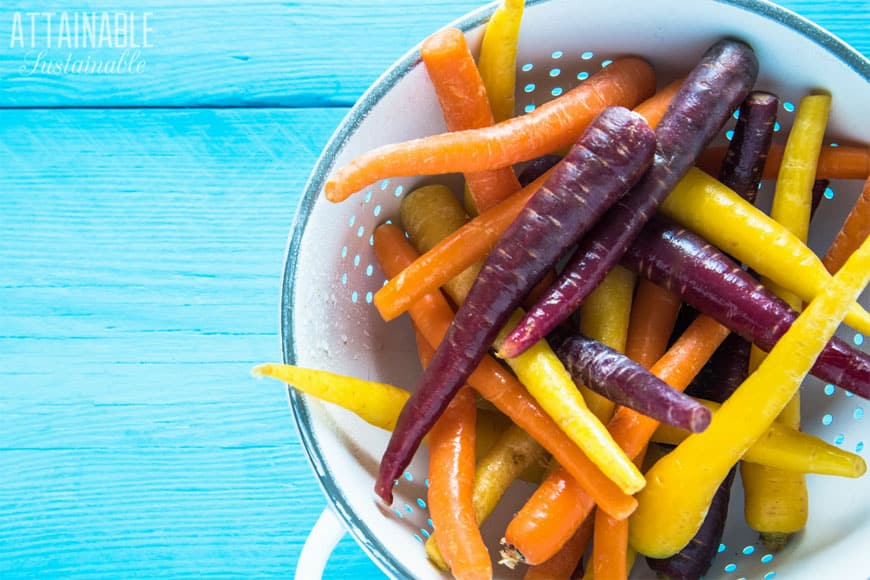 Can chickens eat celery? Or onions? Or carrots?
Yes, yes, yes. They can. But in my experience, they don't really love veggies raw. My chickens will eat celery (and onions and carrots) when cooked. These items in leftover soup make them happy. And yes, I do actually cook food for my hens on occasion. Potato peels, carrot trimmings, and pumpkin rinds are a couple of items that get turned into chicken food by cooking. Instead of sending them to the compost pile, I put them in a lidded casserole dish with a bit of water and bake them in the oven when I'm cooking something else. Once cooled, the chickens will eat them.
Can chickens eat avocados?
This is a tricky one. Avocado comes up on the what not to feed chickens list quite frequently. But I can tell you that I live in a place where wild avocados drop to the ground and feral chickens eat them daily with no problem. I do toss overripe avocados and avocado peels to my chickens. They tend to peck the flesh out of the skin and leave the skin behind. Avocados are not their favorite thing to eat, but I've not found them to be detrimental to their health.
Can chickens eat meat?
They can, and they love it. I mean, knock down your neighbors to get at it kind of love it. That said, this is an ethical question for some. Personally, I do feed my chickens meat, but I know other people who feel like this crosses a line (especially when feeding leftover chicken scraps).
What not to feed chickens
This is a short list, really, and much of it is common sense.
Do not feed chickens things like candy and junk food. It might not kill them, but it's not healthy.
Do not feed chickens moldy or rotten food. Overripe fruits and veggies are fine, but avoid giving them food that's really gone south.
As an aside, I've found that chickens are pretty savvy and simply won't eat the things that they don't like or might make them sick.
Hints & Tips for Keeping Chickens in Your Backyard
First published September 2014.