DIY grazing boxes make for happy grass fed chickens. They're a great way to save on the cost of raising backyard chickens (and other poultry)! Here's how to make your own.
And think about planting a chicken garden for your girls, too!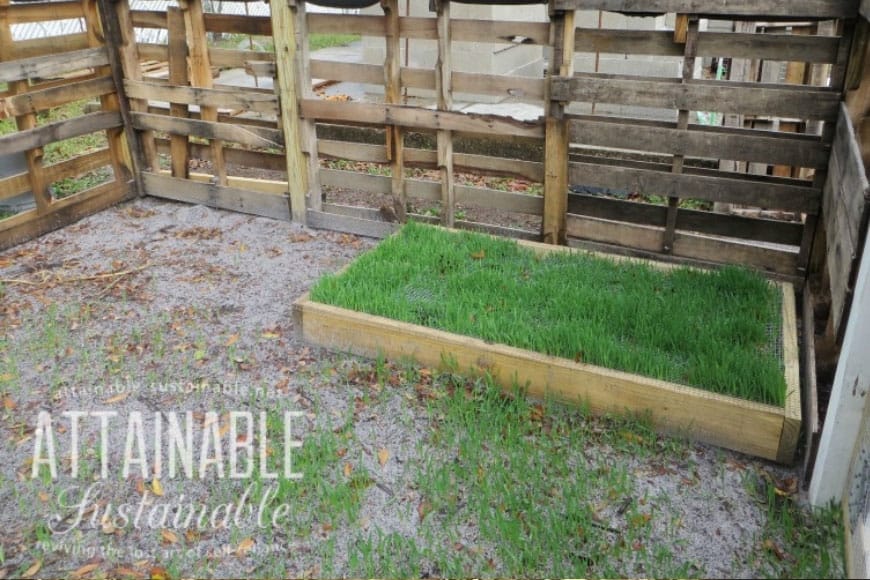 In light of our continuous efforts to save money and still enjoy fresh grass fed eggs, we decided to implement grazing boxes as part of our backyard chicken adventure. Since we extended our chicken run with free pallets, we have extra room for these grazing boxes.
What are grazing boxes?
Just what they sound like: boxes that chickens graze on. The boxes are essentially planters protected with hardware cloth. The seeds—grains and greens—sprout, eventually growing taller than the hardware cloth which allows the chickens to peck at the fresh buffet. Voila — a salad bar that is protected from ferocious scratchy claws that tear up everything.
Happy chickens. Happy chicken people.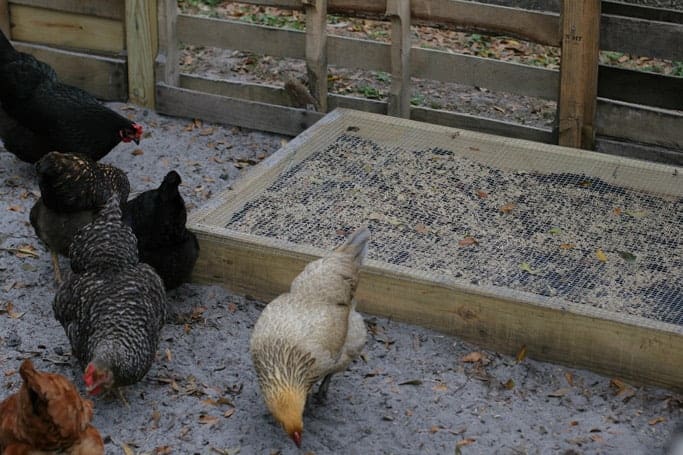 Take a Peek Inside My Book!
Get a free excerpt from my book, Attainable Sustainable: The Lost Art of Self-Reliant Living! You'll also get my free weekly newsletter, complete with recipes, gardening tips, and a little peek at what's going on around here — both the zany and the mundane.
DIY grazing boxes for happy hens
Materials (makes one 3′ x 5′ box):
2 – 2′ x 6′ x 10′ (if you don't want to use pressure treated wood, use southern yellow pine)
1/2 inch hardware cloth (3′ x 10′ roll)
galvanized poultry staples
screws; 2-1/2″ (we used Primeguard Exterior Screws by Grip Rite)
hammer
screw gun
tape measure
pencil
speed square, optional (used to make sure your line is straight before cutting)
circular saw (to cut your lumber)
metal snips (for cutting the hardware cloth)
dirt/compost to fill box
grains/grass seeds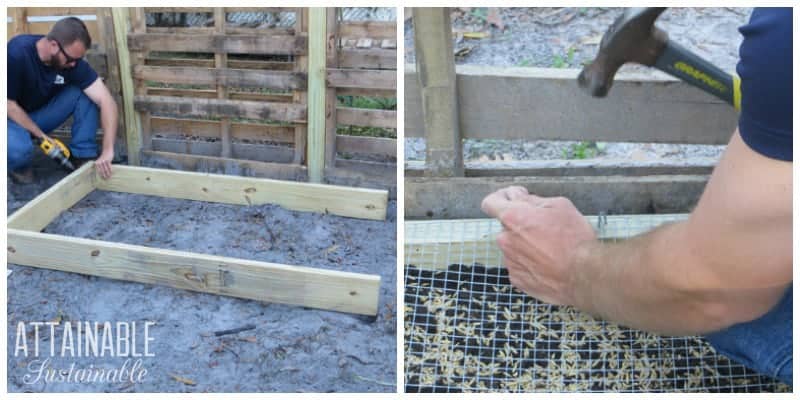 Put together your grazing box
To make the box, cut both boards in half. This will leave you with two 5′ lengths and two 3′ lengths.
Take one 3′ length and one 5'length and screw the ends together to start your DIY grazing box. Butt the end of the 5′ piece against the 3′ piece. This ensures your hardware cloth will fit over the top of your box. Once you have attached the 3′ length to the 5′ length, it should look like an L. Now attach the second 5′ section to your first 3′ section and screw it together .
Attach the final 3′ section. While putting the box together, it's always nice to have an extra set of hands to help push against the wood while another person is screwing.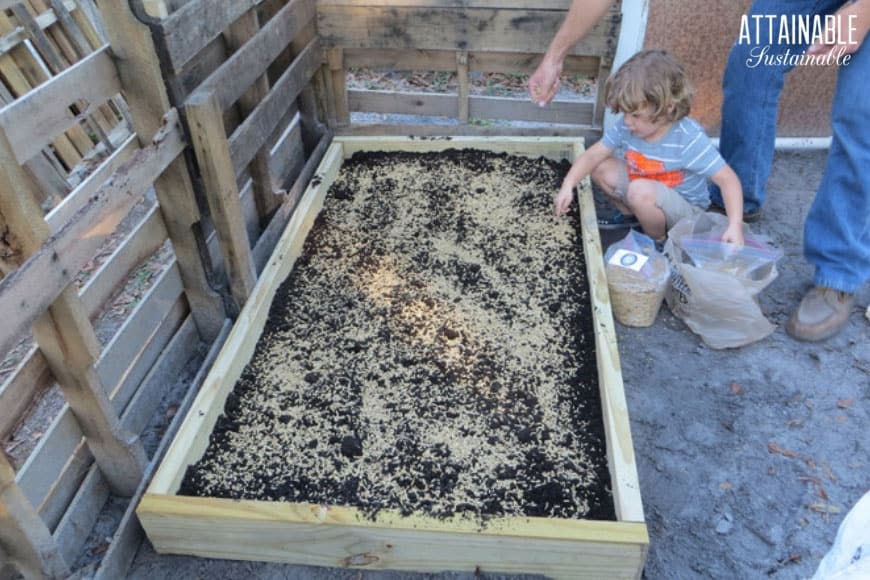 Planting the grazing boxes
Now that your box is complete, fill it with dirt/compost to within an inch of the top of the box. Liberally spread your grains/seeds on the soil and lightly rake them in. You can use regular grass seeds, oat, wheat, barley… pretty much any grain that you'd sprout for yourself.
Lay the hardware cloth on top of the box. Please note that on the ends of the hardware cloth there is a smooth side and rough side. Make sure the rough side is faced down so your chickens can't scrape their feet on it.
Starting at one end, tap in staples with your hammer. Continue to roll the hardware cloth down the length of the box, stapling as you go. Keep the hardware cloth centered and tight so it fits evenly. Once you have secured your staples on the hardware cloth, cut the end of the hardware cloth using metal snips. Try to cut the end so it stays flush with the end of the wood instead of draping over.
If there is any overlap of hardware cloth down the sides, use your hammer to tap the hardware cloth into the wood so it's not sticking out. Give your seeds a good watering twice a day and within a week you'll start to see growth!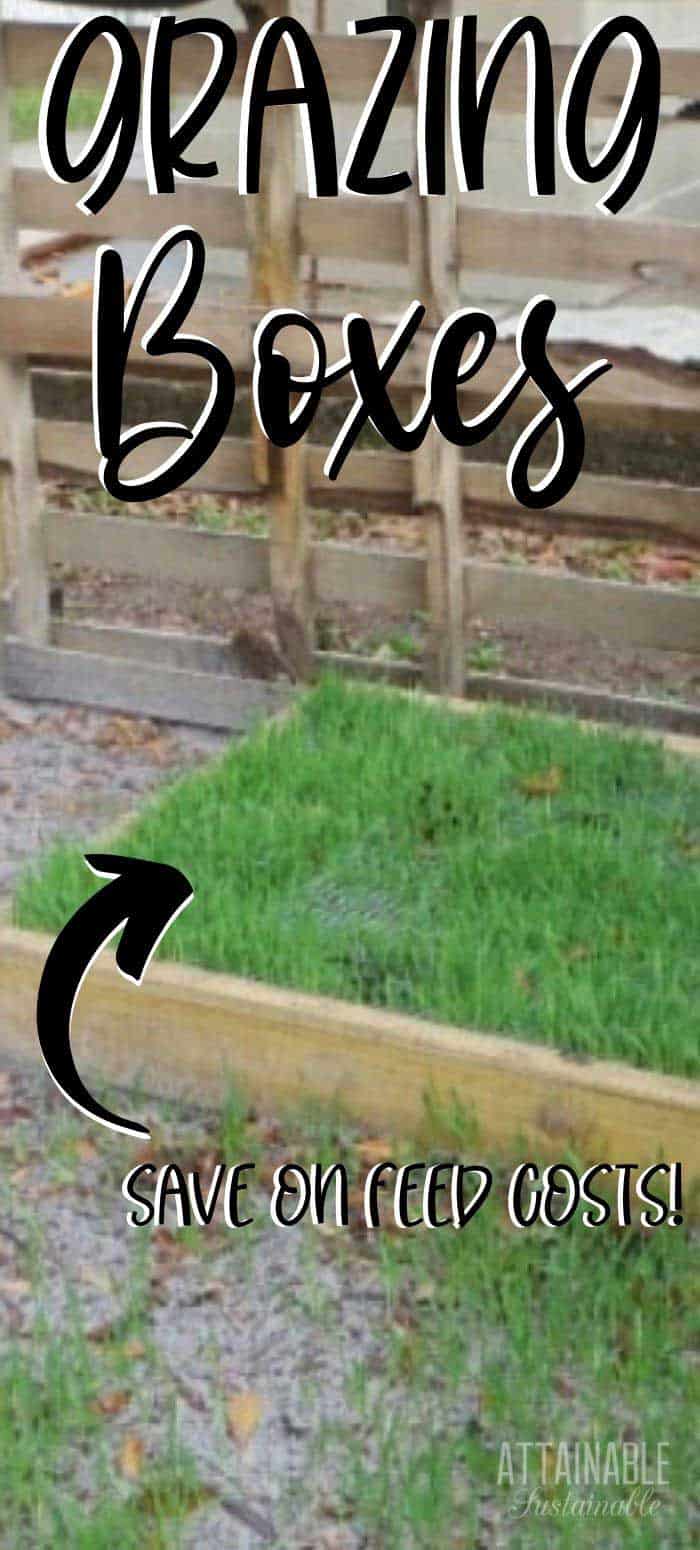 Hints & Tips for Keeping Chickens in Your Backyard
Originally published in March 2015; this post has been updated.