Discover how to grow bean sprouts right in your kitchen. It will save you a bundle, plus it's a great way to have some freshly harvested produce year round.
Growing sprouts at home is easy to do! (And a perfect activity for apartment dwellers who want to grow some of their own food.)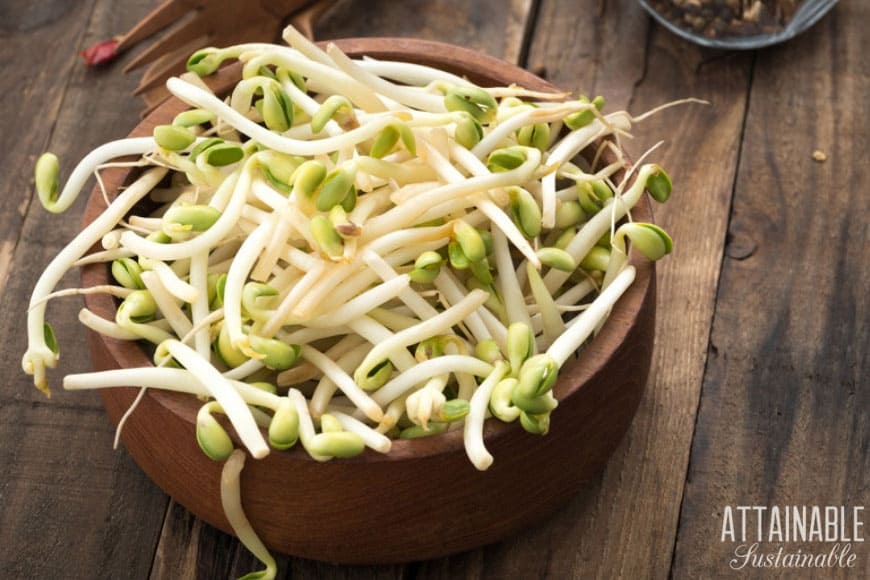 This post may contain affiliate links; I'll earn a small commission if you choose to make a purchase.
Jump to:
Reader Favorites from Attainable Sustainable
Changing the way we think
The grocery stores near me sell two kinds of sprouts. Alfalfa sprouts and mung bean sprouts.
The alfalfa sprouts come in a plastic clam shell. The mung bean sprouts are tied together with two elastic bands and come in a plastic bag that says, "Product of China."
In the summer when my garden is vibrant I don't even look at the packages of sprouts, but in the winter, I'm tempted.
Then I remember how easy it is to grow bean sprouts and I wonder, "Who buys those things?"
Growing your own sprouts is economical, fast, and better for the environment.
Sprouting your beans is also better for you. Growing mung beans is a good place for beginners to start. Learning how to grow bean sprouts will open the door to many tasty experiments.
Related: How to grow lettuce indoors in the winter
How to grow bean sprouts (and other sprouts!)
You can sprout mung beans on your kitchen counter in as little as four days. Sprouting lentils is just as easy.
While using a fancy automatic sprouter can make the job mindless, you don't need any special equipment to be successful. You can start growing sprouts in a mason jar or a cotton bag.
Once you've learned how to grow bean sprouts, you'll be able to sprout a variety of different beans, all winter long.
They are crunchy, nutritious, and rich in antioxidants.
Why sprout lentils and mung beans?
Beans contain indigestible proteins that are difficult to digest. They need to be soaked and cooked in order to make them digestible.
Unsprouted, they are starchy and contain lectins. Lectins are implicated in food allergies, auto-immune disease, and inflammation. But lectins are removed from food through sprouting or fermentation.
When beans are sprouted they become as easy to digest as other vegetables. They increase in vitamins, antioxidants, and enzymes, too.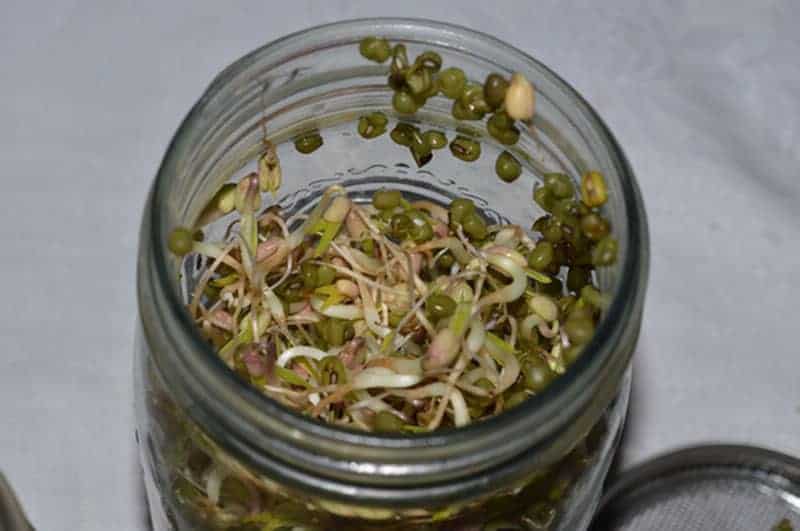 Related: Growing organic broccoli sprouts
Different types of beans for sprouting
Mung beans (above) are tiny green beans. It's amazing how big the sprouts can grow when you consider how very tiny the seed is.
Two tablespoons of seed is enough to grow four cups of sprouts. They are a powerhouse of flavor and nutrition.
Lentils come in a variety of sizes and colors. The smallest sizes are best for sprouting lentils.
They seem to sprout faster than green lentils. The red lentils often used in Indian cooking are split and won't sprout, so avoid those.
(Lentils are not technically a bean, but they're sprouted the same way.)
Related: Growing Lentil Sprouts
Step by step: How to grow bean sprouts in a mason jar
You don't need to buy special sprouting seeds to successfully sprout beans – but make sure your seeds are organic. Organic seeds will be chemical free, non-irradiated, and GMO-free.
Wash a wide mouth mason jar and rinse it well to remove any soap residue.
Prepare a piece of window screen to fit your wide mouth mason jar. I use polyester window screen on my sprouting jars, drawing a circle on the screen using the mouth of the jar as my pattern. I cut around the circle. Then my sprouting screen is ready to use. If you don't have spare window screen laying around your kitchen, you can get specially made sprouting screens from Amazon. This one will fit a wide mouth jar and is BPA-free.
Place two tablespoons of bean seeds in your one-quart mason jar.
Place the screened lid on the mason jar.
Fill the jar ½ full with cold water. Let the mung beans soak overnight.
Rinse the mung beans in the morning and turn the jar upside down to drain.
Rinse and drain your bean seeds twice a day for 4 to 6 days. The mung beans are ready to eat when the white sprout is at least 1.5 cm long. At this length the lectins in the bean are converted into digestible proteins. You can grow the sprouts longer if you wish. I like to grow them until they are about three inches long. It takes about five days for them to get that long.
If the sprouts are exposed to light while they are growing the leaf tip will turn green on days 5 and 6. If the sprouts are kept in the dark, they will remain white, like the bean sprouts from China. I like my bean sprouts to be a bit green.
How long does each one take to sprout?
Mung beans and sprouting lentils grow faster than some other beans.
Each one is ready when the leaf sprout is about 1.5 cm or ½ an inch long. For mung beans and small lentils this takes four days.
You can leave the sprouts to grow longer, but don't stop the sprouting process too soon.
How to store your bean sprouts
Any time after day four, replace the screened lid with a normal mason jar lid and place your sprouts in the fridge.
Rinse them once a day to prevent them from drying out. Eat them within a week.
Related: How to grow popcorn microgreens
Cooking with bean sprouts
You can enjoy your sprouts lightly steamed. Bean sprouts are perfect to add to rice dishes or stir fries.
Add bean sprouts to your cooked dish just before serving. I turn off the heat, add a lid, and let the residual heat steam the beans, while I'm putting the rest of the food on the table.
They will remain tender crisp and maintain their high antioxidant levels, when steamed this way.
Are bean sprouts safe to eat raw?
You can eat bean sprouts raw, too. The indigestible starches in beans become digestible in the sprouting process and they become as easy to digest as other vegetables.
Try them raw in salads, as a topping for sandwiches, or as a snack food. You can even add bean sprouts to your smoothies.
Bean sprouts are a nutritious and inexpensive way to increase your vegetable intake in winter, when fresh vegetables are more expensive.
Once you've tried growing bean sprouts you'll never be tempted to buy those imported pale bean sprouts again.
This post about growing sprouts was originally published in November, 2015. Last updated, December 2018.