Years ago — and I do mean years ago — my friend Jody raved about something she called popcorn sprouts. Technically, growing seeds in small amounts of soil like this is growing microgreens, but I digress.
Jody just raved and I put them on my list of things to try, and then life happened.
Aside: If you live in or visit North Carolina, check out Jody's Charlotte on the Cheap and Triangle on the Cheap.
Growing microgreens from organic popcorn seeds
Here's what prompted me to finally try growing these popcorn sprouts: Chris's post about growing microgreens and my current lack of fresh greens from the garden.
This post may contain affiliate links; I'll earn a small commission if you choose to make a purchase.
And I'm here to tell you that Jody was right. They are tasty! They're a bit sweet and have a very subtle taste of sweet corn.
Reader Favorites from Attainable Sustainable
Grow Your Own Organic Popcorn Microgreens
You'll need: 
a recycled plastic salad container
potting soil
organic popcorn
Directions:
Fill container with about 2″ of potting soil. Scatter popcorn over the soil. In this case, don't worry about overcrowding the seeds. You want the seeds to be in a pretty solid single layer on top of the soil, as pictured below.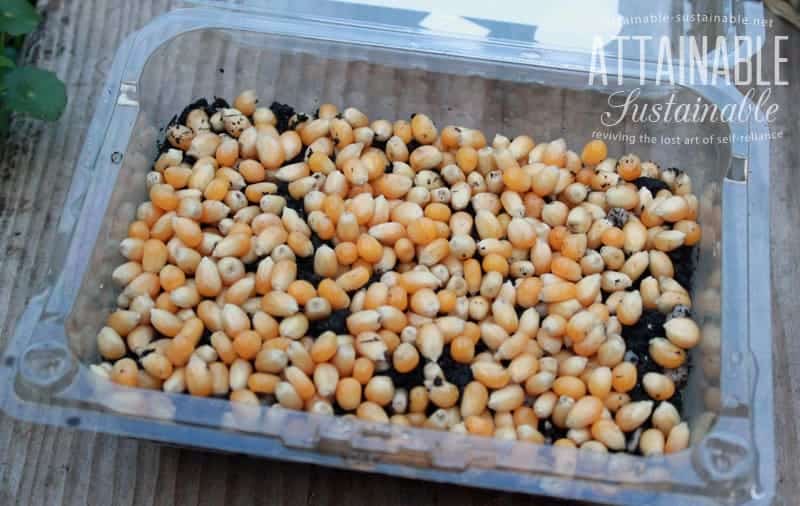 Cover popcorn with a layer of potting soil about 1″ thick. Water thoroughly and close the plastic lid. This helps to retain moisture until seeds sprout.
Related: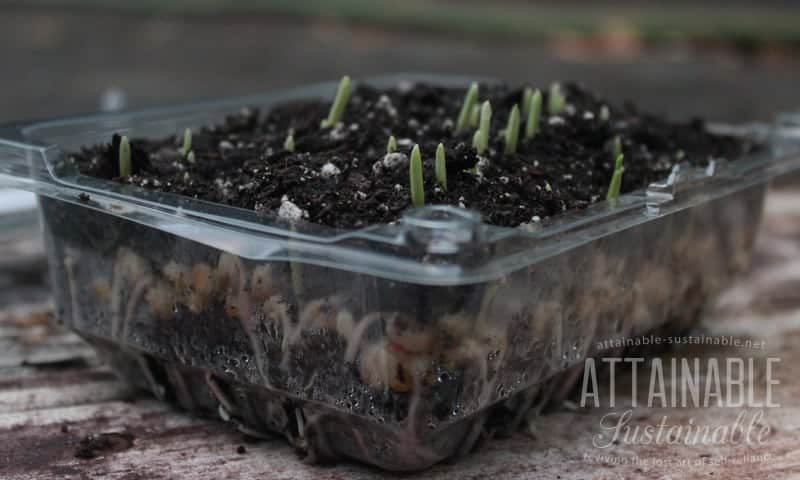 Place in a sunny window, being sure to use a drainage container underneath it to capture moisture.
Watch the growing microgreens carefully and water as needed to keep the soil damp but not overly wet.
In two or three days you'll see tiny corn sprouts starting to appear. At this point, you'll want to open the lid to give the growing microgreens room to grow.
In another couple of days, the popcorn sprouts will be 2-3″ tall and ready to harvest. Don't let them get much taller than that, or they'll lose their sweetness.
To harvest, simply use scissors to snip them off at the base. And surprise! Those seeds will push out a second harvest in another couple of days.
Use these popcorn microgreens as you would any other microgreen: Add to salads, sandwiches, and wraps. Or do like I did and just snack on them plain.
You can grow microgreens year-round, but they have a special appeal during the winter months when fresh greens from the garden are a bit sparse.