Organic broccoli sprouts are great on salads and in sandwiches, and they are very easy to grow in your kitchen. Here's how to grow broccoli sprouts at home for year-round fresh greens.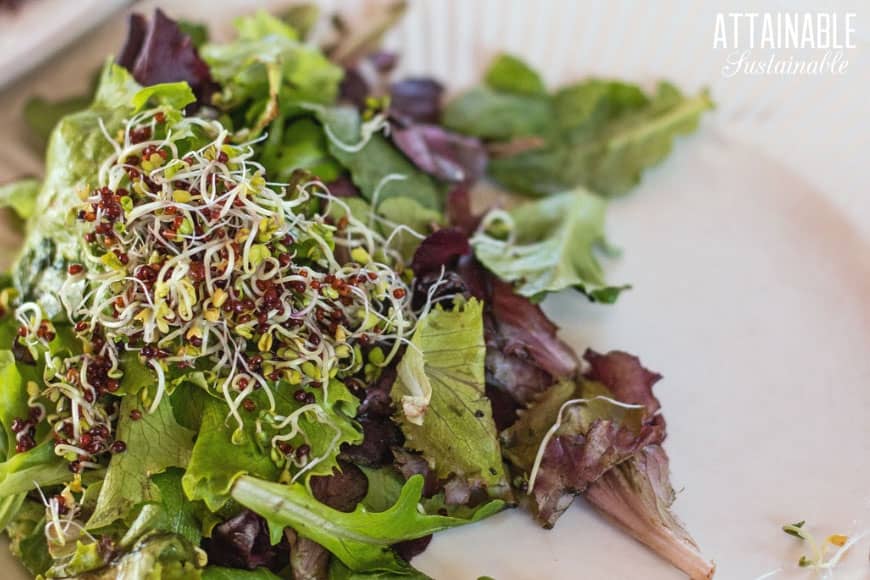 Sprouting is a simple way to grow food in your own kitchen without even a small pot of dirt.
This post may contain affiliate links; I'll earn a small commission if you choose to make a purchase.
Sprouts are generally considered one of the foods highest in enzymes and are chock full of many vitamins and minerals, depending on the seed you are sprouting.
Reader Favorites from Attainable Sustainable
Organic broccoli sprouts, in particular, have come into focus as a particularly nutritious seed to sprout.
Cruciferous vegetables are generally considered a category of vegetables good for detoxification but the sprouts of broccoli are said to contain even higher quantities of the sulfur compounds that detoxify your body than the whole vegetable.
Basic Sprouting Primer
If you've planted a garden, you've grown sprouts.
The process requires quite the same parameters of moisture and warmth to create delicious, homegrown sprouts. Instead of planting directly in soil, though, you simply use water.
The first few days of sprouting can be done with or without daylight.
But after a few days you will see little tails and then tiny little leaves beginning to emerge.
That is when you want to get your sprouts into indirect sunlight to green them up and allow them a bit of time to make chlorophyll.
To determine how much seed to start with, you must decide how large you wish to grow the sprouts.
The younger you consume them, some health experts say, the better. In that case, three tablespoons works well.
If you want them to grow long and leafy, use two tablespoons and give them a couple of extra days of growth.
Related: Get Fresh: How to Grow Microgreens Indoors for Year-Round Salads
How to grow broccoli sprouts
Equipment
1 quart mason jar
A sprouting screen (or make one as described here)
1 canning ring
2-3 tablespoons of organic broccoli sprouting seeds
water
Directions
Place your sprouting seeds into the bottom of the quart jar. Cover with water up to the two-cup measure, place the sprouting screen and canning ring on the jar, and leave to soak at 60-80 degrees for 8-12 hours.
After the soaking period, simply turn the jar over your sink or wherever you wish to drain the water and allow the water to drain out. Then add more water to cover the seeds by one-half inch and swirl around to rinse the seeds. Drain this water out as well.
You will now be leaving your sprouts to drain in a bowl.
The moisture from the soaking and rinsing will be enough to get the process started.
Leave the jar tilted downward in a bowl at a 45 degree angle to drain any remaining water off.
After 12 hours, repeat the rinsing process as stated above and place the jar back into the bowl to drain and rest for another 12 hours.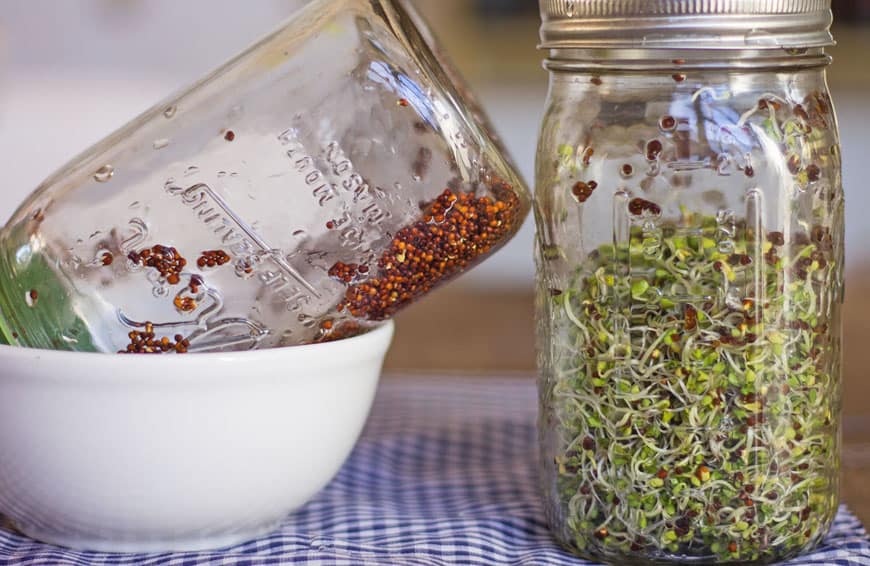 Related: How to grow popcorn microgreens
Repeat the 12 hour cycle of rinsing, draining, and resting, until you begin to see sprouts forming.
This usually takes three days, depending on the temperature of your kitchen.
(If your kitchen is 85 degrees or above, you may want to rinse once at mid-day as well to avoid any fermentation.)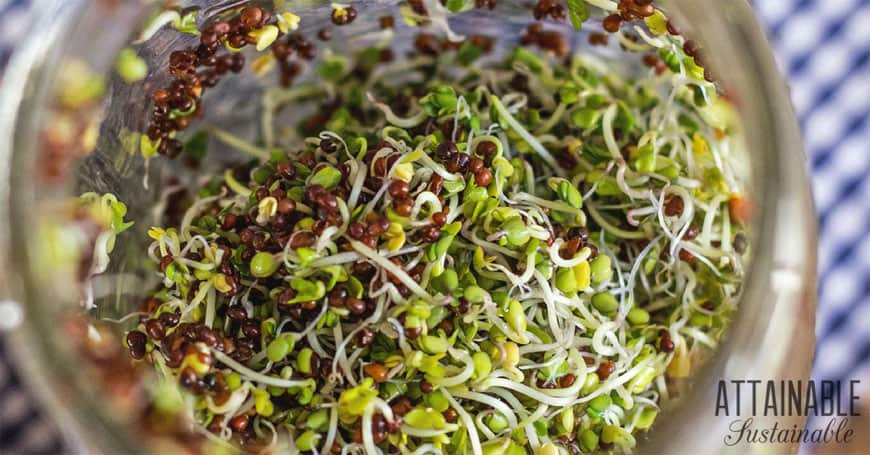 Related: How to grow lettuce indoors in the winter
Once sprouts begin to form, move the sprout jar into indirect sunlight and continue the rinsing/draining/resting cycle until the broccoli sprouts have reached the desired size.
Consume the organic broccoli sprouts immediately or refrigerate for several days before consuming.
How to use your organic broccoli sprouts
Now that you know how to grow broccoli sprouts right in your kitchen, you'll need to explore ways to use them. Here are some ideas for you!
Add them to green salad.
Top a sandwich.
Put them in wraps.
Add them to smoothies.
Mix into tuna or chicken salad.
Put some on your avocado toast.