An indoor herb garden makes fresh flavor convenient throughout the winter; growing herbs indoors also a good option year round for apartment or condo dwellers who would like to grow just a bit of their food. A windowsill herb garden brings in a little bit of the outdoors.
Learn how to grow lettuce indoors, too, for fresh salad.
Deep in January and February, between the snow, ice, cold temperatures and grey days, it can feel like spring will never come. To help brighten the long days, there is nothing better than the fresh scent (and flavor) of herbs grown right in your home.

---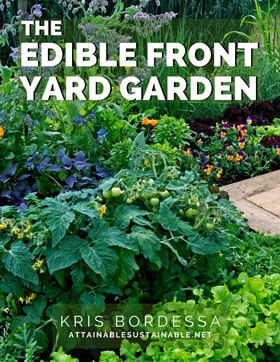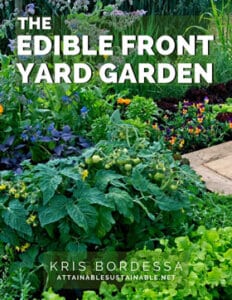 The Edible Front Yard Garden
Does your homeowners association prevent you from growing food in the front yard? What if they never even KNEW? My ebook, The Edible Front Yard Garden will show you how!
---
Growing an indoor herb garden
Growing herbs on a bright windowsill is not just convenient when preparing home cooked meals throughout the winter months in cooler climates; it's also a good option year round for apartment or condo dwellers.
With plenty of light, water, and good soil, the right herbs will thrive as a windowsill herb garden.
Situating your windowsill herb garden
Herbs, like most other plants, need ample sunlight. Find a place in your home that receives at least six hours of sunlight daily. A south or southwest facing window often works best for an indoor herb garden, but be sure that the herbs do not touch the window pane as it can easily retain the cool temperatures from outside. If an east facing window gets adequate sunlight feel free to use it. And, if all else falls, artificial lighting can work as well, so long as it is placed very close to the plant.
Grow Some Greens!
Ready to grow fresh greens, no matter WHERE you live? Sign up for my
FREE quick-start guide and start growing some of your own food!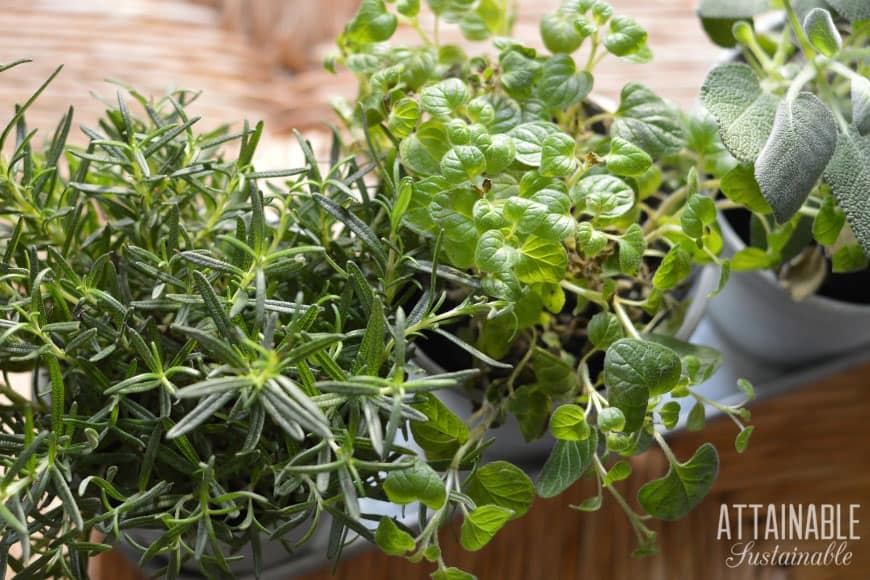 Related: Herbs to Grow for Culinary and Medicinal Use
Choosing soil for growing herbs indoors
To grow well, your indoor herb garden needs light, well-draining soil. Potting soil is better than dirt from the garden; you don't want to bring soil-borne pests and disease indoors.
Watering herbs
Herbs do not like too much water because it can cause the roots to rot, but at the same time, herbs need water to survive. Use your fingers to test the dampness of the soil. It should be damp but not soaked. To help maintain the right amount of moisture for your windowsill herb garden, make sure the container the herbs are in has good drainage.
Many pots have holes in the bottom to help drain water. If yours doesn't, you'll need to make some. To save your windowsill, use a a saucer or pan under the container. Remove any excess water that accumulates in the saucers so that the herbs are not sitting in water.
Also, be aware that most herbs will be fine at the temperature in your home during the winter, but having the heat on can make the soil dry out quickly.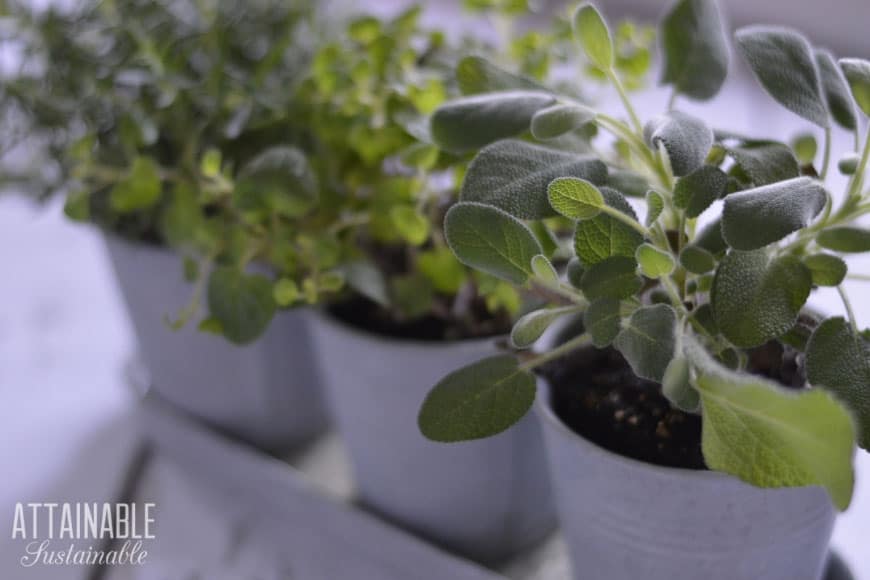 The right herbs for the indoor herb garden
Herbs that do well indoors in containers are things like basil, parsley, rosemary, thyme, sage, mint, dill, and chives.
Know that basil, dill, and chives will go to seed in a few months as they are annuals and will need to be replanted. Herbs that you commonly use in your kitchen are a good place to start with your indoor herb garden. Next, decide if you would like to start them from seed or opt for plants.
Starting from seed is cheaper, but it will need more attention and time. Plant the seeds in a small container with damp potting soil at the depth recommended on the seed packet. Keep the seeds and soil warm and make sure they retain their moisture until seedlings pop up, then water daily. As the seeds grow, you may need to move them to a larger container.
If using starter plants, carefully remove the plant from its original container and fan out the roots. Place into a container that is at least six inches deep with good drainage and a bit of potting soil at the bottom. Add potting soil to the container to ensure it's full, and press gently around the base of the plant. Water so that the soil and plant settle into the container.
Stevia is a perennial herb in warm climates. Plant some in a container during the warm months and bring it inside to overwinter.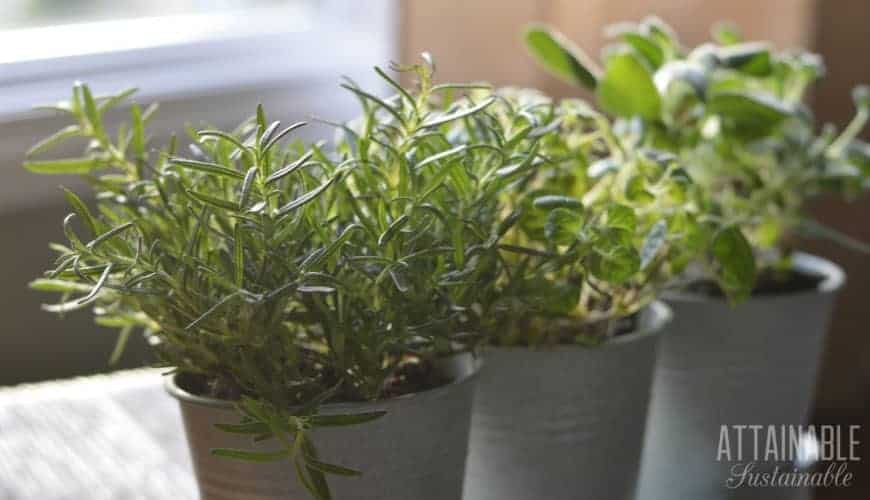 Related: Get Fresh: How to Grow Microgreens Indoors for Year-Round Salads
Using your fresh herbs
Use kitchen scissors or small garden shears to snip sprigs from your indoor herb garden as you need them for cooking or if you notice that they are looking leggy. Herbs actually look better and are healthier if you keep them trimmed, so enjoy them often.
(And, before you know it will be spring again!)
Originally published, January 2016; this post has been updated.