Chives are a member of the onion family that also include leeks and garlic. Chive plants have a perennial nature and can be a tasty addition to vegetable, herb and flower gardens. Sound good? Consider growing chives in your veggie or herb garden!
If you love harvesting your own herbs, thyme is another easy one to grow at home.
Contributed by Jodi Torpey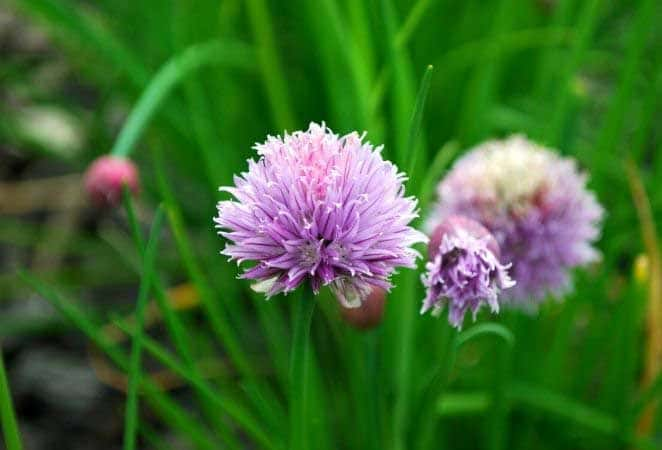 All about Chives
The long green leaves and purple flowers are rich in vitamins A and C and offer a delicate oniony flavor to cooking.
This herb can also be planted in perennial flower beds like an ornamental because of its tidy clumps of green leaves and purple flowers in late spring to early summer. An added bonus is that the flowers attract beneficial insects to the garden.
Chives are adaptable plants that can grow just about anywhere, including in container gardens. Once established, clumps of chives will return each spring, sometimes as the first greens that show up in the garden.
Grow Some Greens!
Ready to grow fresh greens, no matter WHERE you live? Sign up for my
FREE quick-start guide and start growing some of your own food!
Chives can be planted from seeds either started indoors or directly sown in the garden. If starting indoors, plant chives seeds early in the season so they'll be ready to transplant in spring. Sow in seed trays and then plant outside in groups of three or four seedlings so they'll grow in small clumps.
If planting outside, be patient. Seeds take about 2-3 weeks to germinate. Sow seeds in clusters of several seeds about ¼ inch deep and 1inch apart. Keep seeds moist. When plants get several inches tall, thin to about 8 inches apart. Use the thinnings on salads or replant in another spot.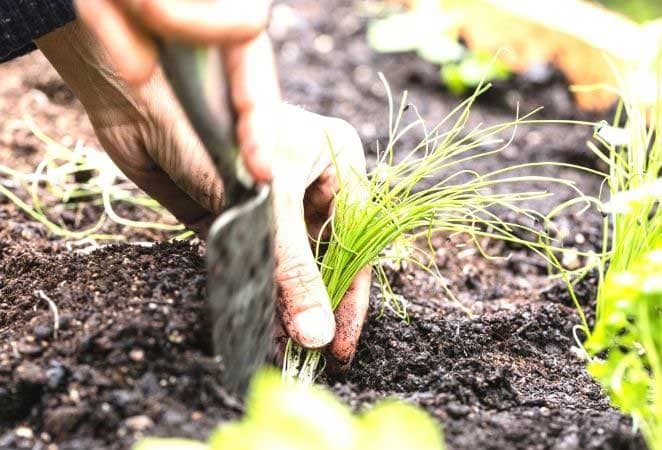 Chives can also be planted as transplants from the garden center. Plant in moist soil and keep the soil evenly moist while plants are growing.
Plant chives with parsley, chervil, and tarragon to grow the classic French culinary fines herbes combination.
---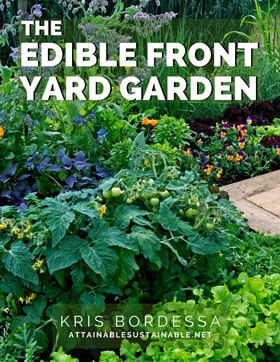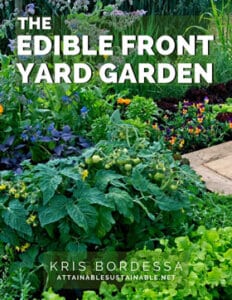 The Edible Front Yard Garden
Does your homeowners association prevent you from growing food in the front yard? What if they never even KNEW? My ebook, The Edible Front Yard Garden will show you how!
---
Chive Types
There are four common species of chives, each with a different flavor profile.
Common chives (Allium schoenoprasum) are the most familiar of the chives, often grown for their attractive 10 to 12-inch green leaves and pink-purple balls of flowers.
Giant Siberian chives (Allium ledebourianum) stand out in the garden because they can grow to 2 feet tall. Also called wild onion, this species of chives blooms in late summer with large 2-inch pink-purple flowers. Some gardeners plant these chives as a bedding or border plant because deer seem to resist them.
Garlic chives (Allium tuberosum), also called Chinese chives, have star-like white flowers and are often eaten as a vegetable. Garlic chives grow to about 24 inches tall with flat, grass-like leaves. These chives have a tendency to spread through the garden, either a good or annoying habit depending on the gardener's perspective. To prevent unwanted spreading, remove flower heads before plants go to seed.
Siberian garlic chives (Allium nutans) are often called blue chives for their lovely blue-green leaves. Siberian garlic chives are native to western and central Siberia. They have a strong onion-garlic flavor. Flowers bloom in mid-summer and grow on tall stalks among the large chive leaves.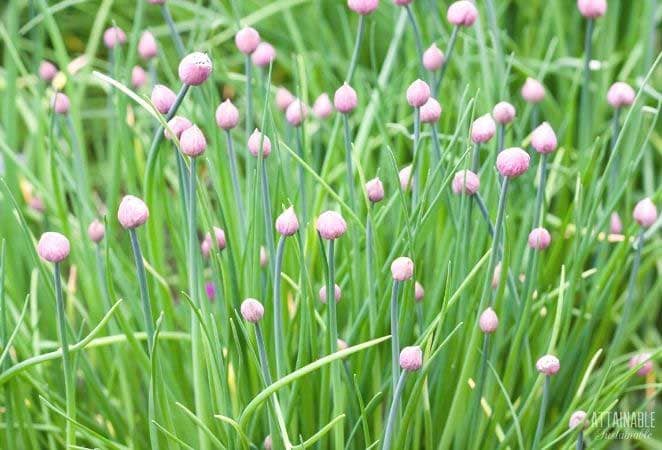 Requirements for growing chives
Light requirements
Locate an open and sunny spot in the vegetable garden, flower garden or patio garden. Amend the soil with organic matter, such as a good quality compost. The soil needs to be rich and well-draining, but should be able to hold some moisture.
Water and soil requirements
Chives are one of the easiest herbs to maintain. Simply keep the soil moist and fertilize once or twice in summer with a general-purpose liquid soluble fertilizer.
Controlling insect pests and plant diseases
Chives are an almost carefree herb. They are easy to grow and have few, if any insect pest or disease problems, unlike its onion cousins. The flowers attract beneficial insects.
The key to growing healthy chives is to keep the soil moist and dig and divide clumps every few years. Clip back leaves to keep new growth throughout the season.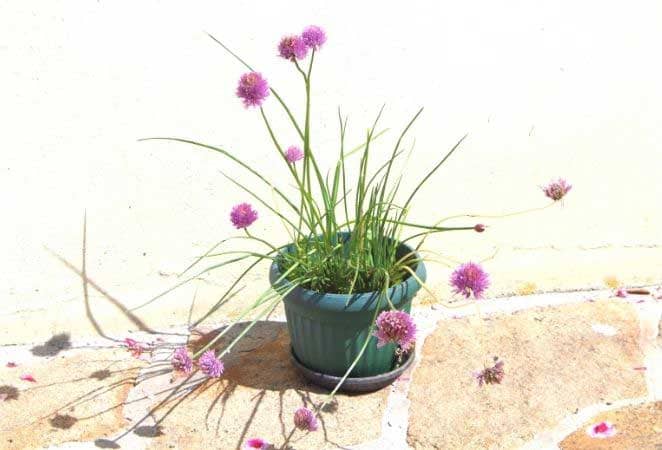 Growing chives in pots
Chives grow well in containers and you may need to plant them only once. Each season, new leaves will start to grow, even in cold-weather regions when leaves die back in winter.
Plant chives in a large container filled with potting soil. Ensure there are holes in the container bottom for water to drain. Dig in a slow-release fertilizer with the potting soil and plant chives as deep as the plants were in their containers.
Water plants in and keep soil moist as plants become established in the container.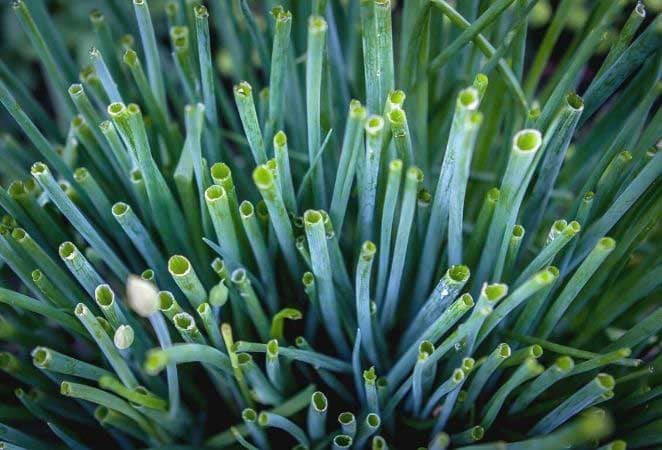 How to harvest chives
The long thin green leaves can start to be snipped when they're about 6-8 inches long.
Continue clipping the leaves at their base as needed. Purple clover-like flowers will form on the plants in late spring through summer. The flowers can also be clipped and eaten.
After chives bloom, cut the entire plant back to about 2-3 inches tall and it will start to sprout tender new leaves. The cutting can be done two or three times through the growing season and fresh chives will regrow from the base of the plant.
How to use Chives in the Kitchen
Use chives as a flavoring or a garnish, including the many-petaled balls of purple flowers. Chop the fresh leaves and use at the end of cooking time as heat diminishes taste and color.
Chives are excellent used as a finishing touch to omelets, sprinkled on baked potatoes, tossed with olive oil and used on steamed vegetables.
Add chives to liquid for poaching fish, chop into potato salad, or mix into plain yogurt and cream cheese. Chives make a good addition to any recipe that needs a slight onion flavor.
A popular use for fresh chives among kitchen-gardeners is to whip chopped leaves into soft butter to make a flavorful compound butter. Roll the mixture, wrap in plastic and freeze. Slice portions to use in cooking throughout the year.
The purple flowers have a deeper onion taste that adds color and flavor to fresh green salads as an edible garnish.
To preserve chives, cut, store in plastic containers and freeze.
Propagating chives
Divide established clumps of chives every three or four years in either spring or fall. Replant to grow a larger garden of chives. Each leaf blade will have a small bulb and root attached to its end that can be planted to start another clump of chives.