Potato salad is a favorite around here. It's an easy (and inexpensive!) dish for potlucks, it's great for picnics, and always a favorite side dish when we barbecue. This red potato salad with avocado is no exception.
This broccoli salad with cranberries is another delicious addition to picnics.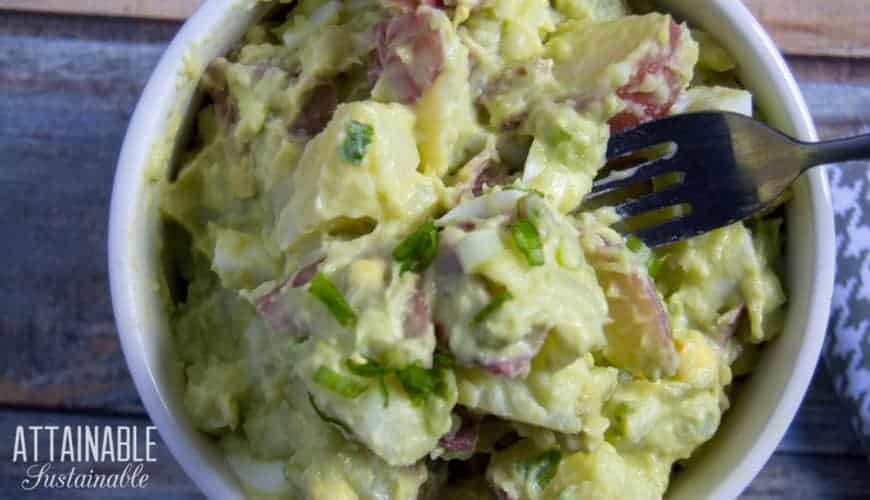 Red Skinned Potato Salad with Avocado and Egg
At certain times of year, we have a mighty abundance of avocados. Our own trees aren't producing yet — they're only a few years old — but generous neighbors and friends share the abundance. (Much like you might be used to sharing zucchini from your own garden!)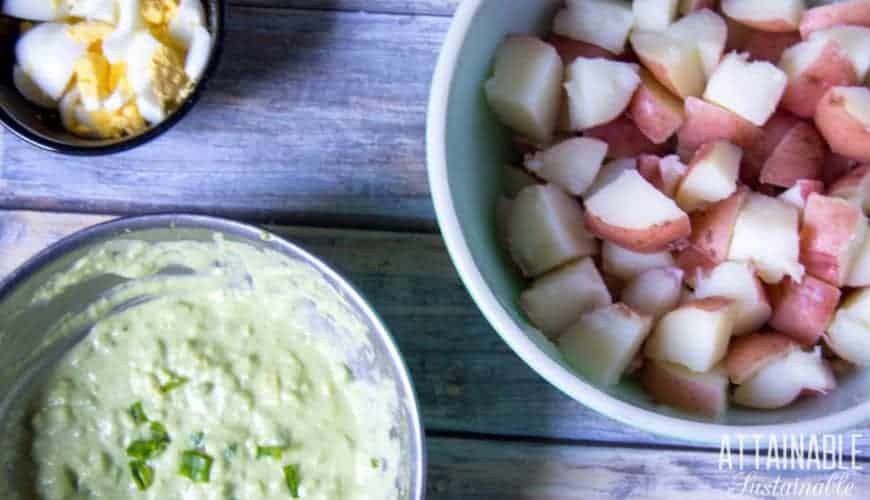 Related: How to Freeze Avocado
Adding avocado to this red potato salad when our kitchen counter is covered with ripening avos? Kind of a no-brainer.
5 Easy Steps to Transform Your Pantry!
Ready to switch from store bought to homemade? Let me help you make some changes! Grab my FREE five-part guide to getting started.
The addition of avocado gives this side dish salad a dose of healthy fat and a creamy texture.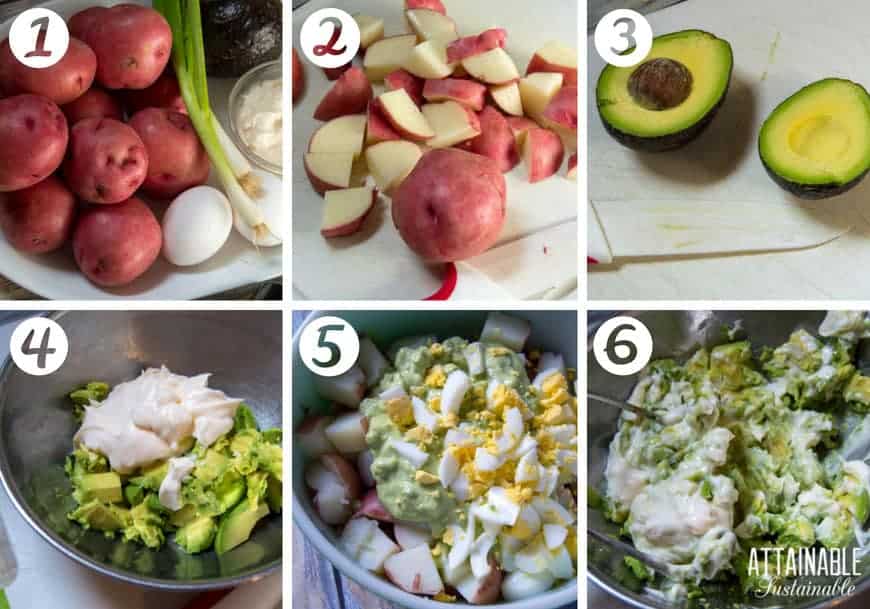 Related: How to Make the Best Fried Red Potatoes
Why red potatoes?
I love red potato salad for the flavor, but a certain part of me loves using red potatoes because they're easy. Because red potatoes have much thinner skin than Russet potatoes, you can prepare this potato salad without peeling the potatoes. (And okay, I admit – I like it because I can grow my own potatoes here!)
Between being able to skip peeling the potatoes and my super-not-so-secret method of cooking the eggs with the potatoes, this red potato salad recipe comes together quickly. Homemade food, fast!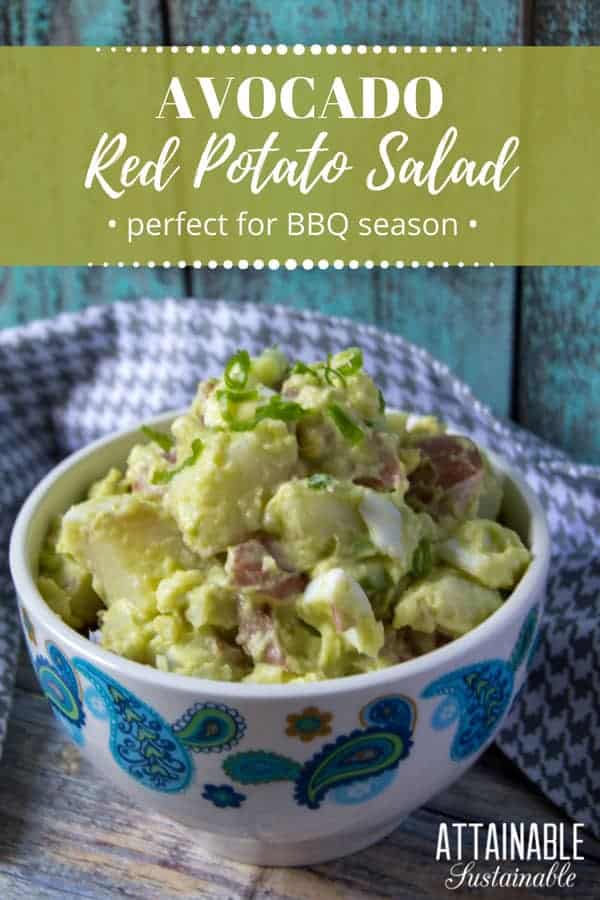 ★ Did you make this red potato salad recipe? Don't forget to give it a star rating below!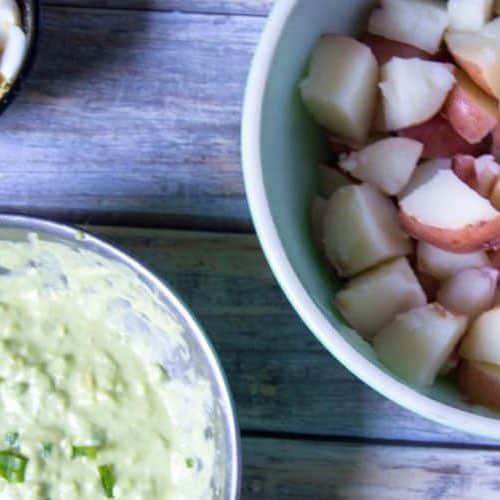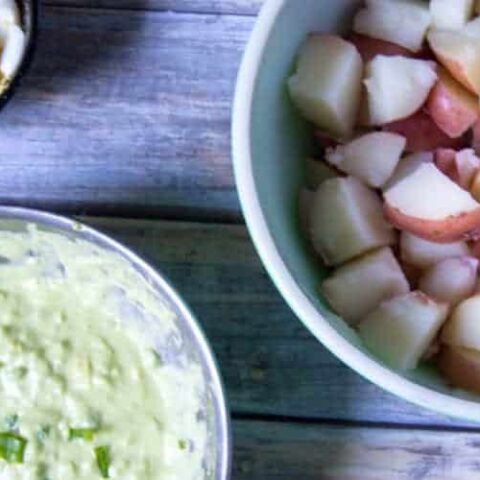 Red Potato Salad with Avocado and Egg
This red potato salad is the perfect side dish for barbecue fare and great for taking along on picnics.
Ingredients
2 lbs red skinned potatoes
1 avocado
2 eggs
1 scallion, chopped
Instructions
Wash potatoes and chop into bite-sized cubes.
Put potatoes in a large pot and cover with cold water. Bring to a boil.
When water begins to boil, add eggs to the pot. Boil for 12-14 min, or until potatoes are tender. (Test with a fork.) Remove eggs; crack the eggshells and set eggs in a bowl of cold water.
Drain potatoes in colander and allow to cool.
Mix avocado and mayo in a large bowl using a potato masher or a fork.
Add scallions, garlic, salt, and pepper.
Peel and chop eggs, and add them to the dressing.
Add cooled potatoes, tossing all ingredient until potatoes are well-coated.
Serve immediately or refrigerate.
Nutrition Information:
Yield:

4
Serving Size:

1 grams
Amount Per Serving:
Calories:

473
Total Fat:

30g
Saturated Fat:

5g
Unsaturated Fat:

0g
Cholesterol:

93mg
Sodium:

836mg
Carbohydrates:

43g
Fiber:

7g
Sugar:

3g
Protein:

8g