Potato salad is a favorite around here. It's an easy (and inexpensive!) dish for potlucks, it's great for picnics, and always a favorite side dish when we barbecue. This red skin potato salad with avocado is no exception.
This broccoli salad with cranberries is another delicious addition to picnics.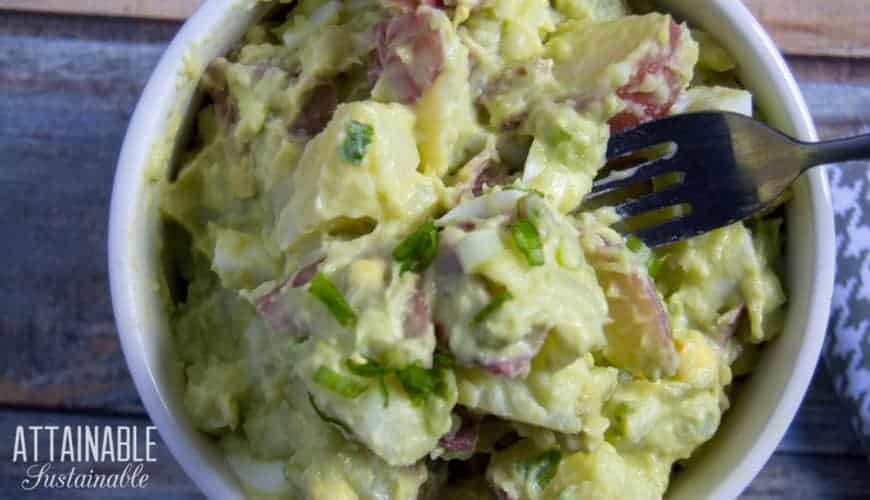 The Handcrafted Pantry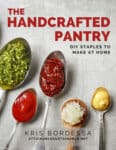 Ready to DIY your pantry with healthier ingredients? Check out my ebook, The Handcrafted Pantry! Filled with delicious recipes for some of your favorite condiments, snacks, and toppings, it's the guide you need to start skipping packaged products and embrace homemade.
Red Skinned Potato Salad with Avocado and Egg
At certain times of year, we have a mighty abundance of avocados. Our own trees aren't producing yet — they're only a few years old — but generous neighbors and friends share the abundance. (Much like you might be used to sharing zucchini from your own garden!)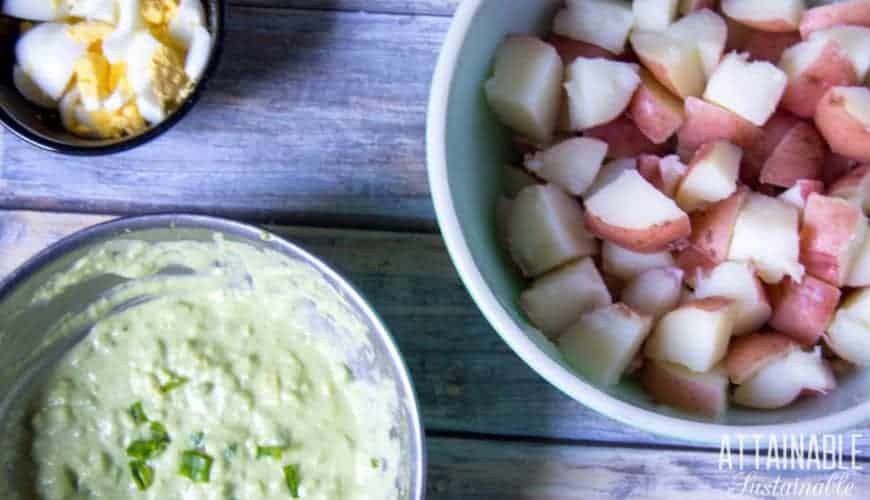 Related: How to Freeze Avocado
5 Easy Steps to Transform Your Pantry!
Ready to switch from store bought to homemade? Let me help you make some changes! Grab my FREE five-part guide to getting started.
Adding avocado to this red potato salad when our kitchen counter is covered with ripening avos? Kind of a no-brainer.
The addition of avocado gives this side dish salad a dose of healthy fat and a creamy texture.
Ingredients
Red potatoes — I love using red potatoes because they're easy. Because red potatoes have much thinner skin than Russet potatoes, you can prepare this potato salad without peeling the potatoes. (And okay, I admit – I like it because I can grow my own potatoes here!)
Eggs — Fresh eggs, store bought, use what you have readily available. Also try my super-not-so-secret method of cooking the eggs with the potatoes!
Avocado — This is a great way to add healthy fats, and I can also use less mayo by adding an avocado.
Mayonnaise – As you'd guess, mayo is the base for this recipe. Use your favorite brand or try your hand and making my 60-second homemade mayonnaise.
How to Make Red Skin Potato Salad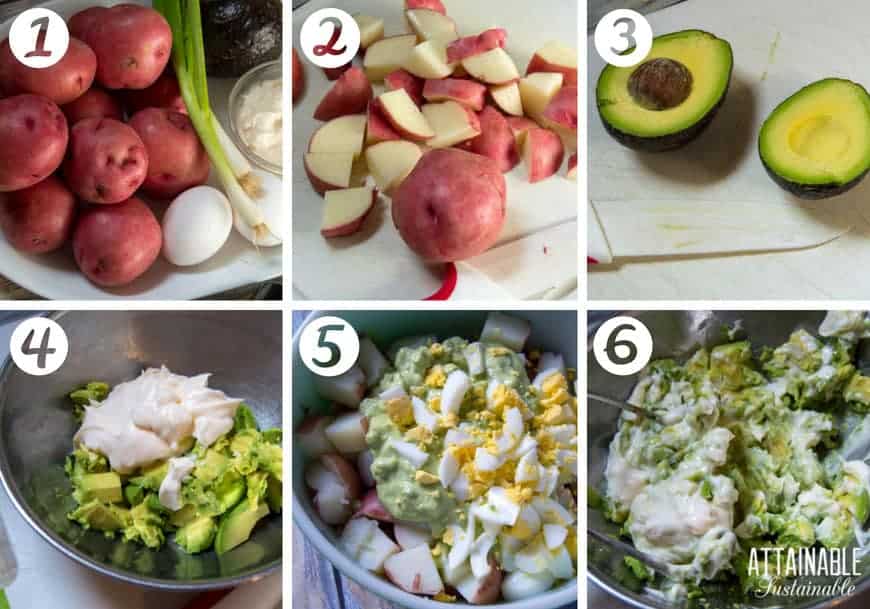 Related: How to Make the Best Fried Red Potatoes
Wash potatoes and chop – remember, no need to peel!
Cover the potatoes with water in a pot and bring to a boil. Add eggs to the pot. Boil for 12-14 min, or until potatoes are form-tender. Set the eggs in cool water.
Drain potatoes and cool.
Mash avocado and mix in the mayo and seasonings.
Peel and chop eggs, and add them to the dressing.
Add cooled potatoes, tossing all ingredient until potatoes are well-coated.
Serve immediately or refrigerate.
FAQs
Do I need to use red potatoes?
Again, these are my favorite because there's no need to peel. The peels are thin and also add a lot of fun color to the salad. If you only have other varieties on hand, of course they will work! You can get away without peeling Yukon gold potatoes, but if you only have Russet you will definitely want to peel before dicing.
What can I use in place of mayo?
You can try Greek yogurt or sour cream or any combination of them. These are all great choices. I prefer to stick with full-fat with any of these, but you can adapt to your needs. You can even find vegan options of all of these dairy-products if you are dairy free. Just keep in mind we do add egg here so you will want to leave that out if a guest is truly vegan and not just dairy-free.
Do I need to refrigerate the potatoes before assembling?
Just make sure your potatoes have cooled to the touch before mixing your salad. If you are serving right away, some people really enjoy the warm potato salad! You don't want the potatoes too hot though or they will melt the sauce and it won't be the right texture. You can of course also chill the potatoes and assemble everything cold later. It's so simple to make this – just ensure you keep it refrigerated and follow food safety guidelines when leaving a dish out at a picnic.
Storing Potato Salad
Keep covered and in the fridge, or in a cooler with ice if traveling to a potluck or picnic. Once out of the cold, you won't want to leave it out any longer than two hours. You can also nestle the bowl inside a bowl of ice to keep the potato salad cold.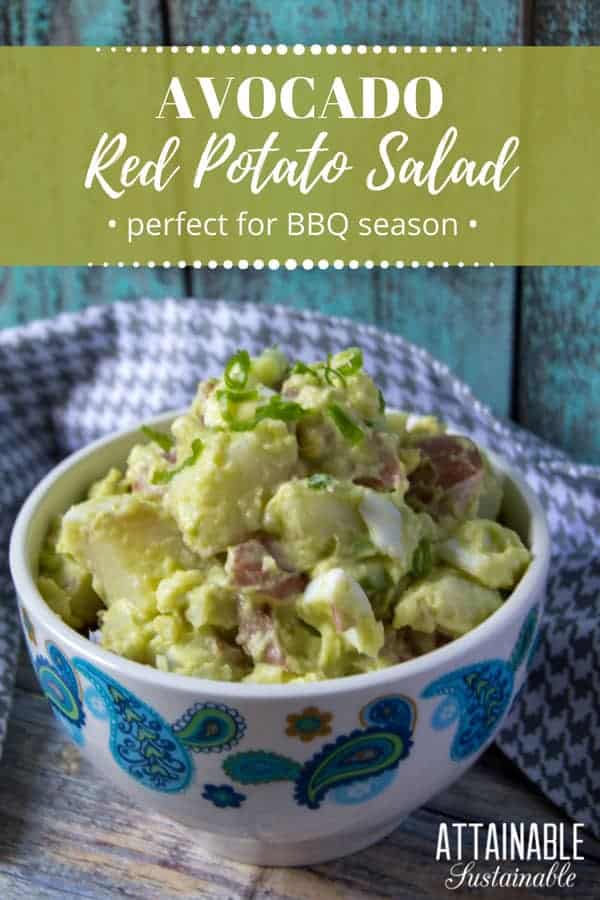 ★ Did you make this red potato salad recipe? Don't forget to give it a star rating below!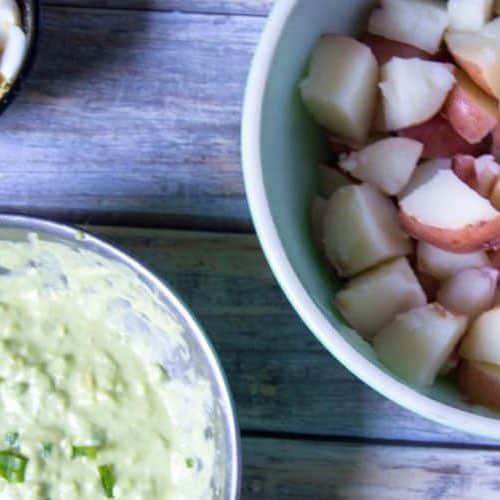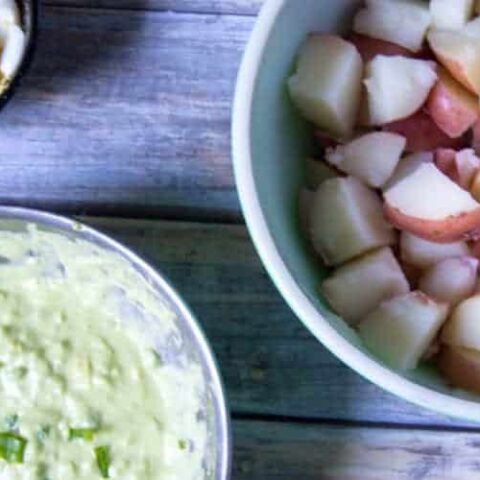 Red Potato Salad with Avocado and Egg
This red potato salad is the perfect side dish for barbecue fare and great for taking along on picnics.
Ingredients
2 lbs red skinned potatoes
1 avocado
2 eggs
1 scallion, chopped
Instructions
Wash potatoes and chop into bite-sized cubes.
Put potatoes in a large pot and cover with cold water. Bring to a boil.
When water begins to boil, add eggs to the pot. Boil for 12-14 min, or until potatoes are tender. (Test with a fork.) Remove eggs; crack the eggshells and set eggs in a bowl of cold water.
Drain potatoes in colander and allow to cool.
Mix avocado and mayo in a large bowl using a potato masher or a fork.
Add scallions, garlic, salt, and pepper.
Peel and chop eggs, and add them to the dressing.
Add cooled potatoes, tossing all ingredient until potatoes are well-coated.
Serve immediately or refrigerate.
Nutrition Information:
Yield:

4
Serving Size:

1 grams
Amount Per Serving:
Calories:

473
Total Fat:

30g
Saturated Fat:

5g
Unsaturated Fat:

0g
Cholesterol:

93mg
Sodium:

836mg
Carbohydrates:

43g
Fiber:

7g
Sugar:

3g
Protein:

8g