Here's what you'll find in this post: My favorite method for making fried red potatoes. Crispy, crunchy on the outside, creamy inside. Trust me when I say these are the best fried red potatoes. Simple and easy, that's how we like our meals.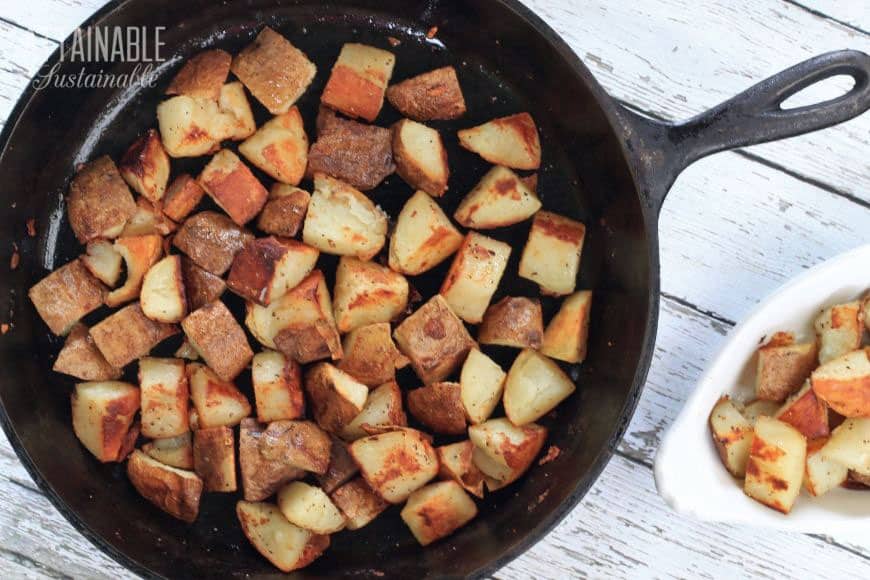 Many years ago my husband announced that he'd be happy to eat potatoes at least once a day. The man loves potatoes. Baked, fried, in a potato salad, as hash browns, you name it. We eat potatoes regularly in some form or another. Happily, potatoes are inexpensive to buy. Even better? We've had good luck growing potatoes here.
Making the best fried red potatoes
I have several little tricks I want to share with you.
Number one: Start with partially cooked potatoes. There are two ways you can do this. You can cook the red potatoes in an electric pressure cooker (like the Instant Pot) or you can bake them in the oven.
Pre-cook the red potatoes until they're just beginning to soften. Don't overcook them. In the Instant Pot, it takes about five minutes on manual. In the oven, 30-40 minutes. This will, of course, depend on the size of the potatoes. If you can plan ahead, it will be easier to cube the potatoes once they've had a chance to cool down.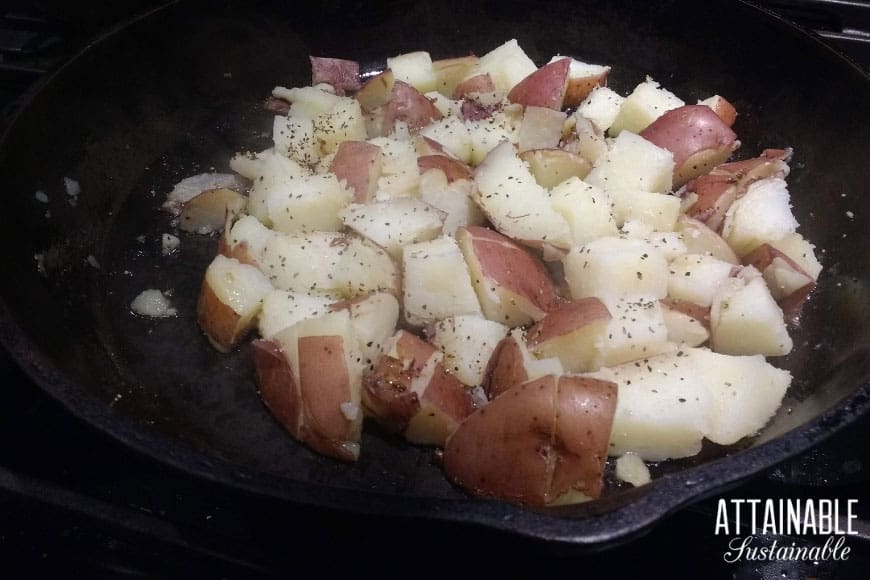 5 Easy Steps to Transform Your Pantry!
Ready to switch from store bought to homemade? Let me help you make some changes! Grab my FREE five-part guide to getting started.
Number two: Don't even think about putting the potatoes in the frying pan until it's HOT. I use my cast iron pan for this. Faithfully. If you don't yet have a cast iron pan, you can get by with what you have, I'm sure, but you should really consider keeping your eyes open at garage sales for cast iron. They're the best!
Number three: You want fried red potatoes that are browned and crispy without getting stuck to the pan? As soon as you transfer the potatoes to hot pan, shake the pan. Like you're making old-school popcorn. And then do it again. And again in another minute. This causes the red potatoes to form a cooked "skin" if you will, preventing them from sticking to the pan.
Number four: Walk away. Well, not really. You're probably cooking other dishes to go with these fried red potatoes. But don't mess with them. Let the potatoes cook on high for about ten minutes. No stirring, no flipping. This creates a nicely browned crust on each little potato cube.
★ Did you make these fried red potatoes? Don't forget to give them a star rating below! ★
Fried Red Potatoes
If you want your fried red potatoes to be a bit creamy on the inside, with a crispy, crunchy, browned outside, here's the secret & what you need to know.
Ingredients
5-6 whole red potatoes
3-4 tablespoons avocado oil
Instructions
Pre-Cook the Red Potatoes
In the Instant Pot: Put about a cup of water in the bottom of the pot. Set a wire rack inside and place red potatoes on the rack. Close and seal the lid, then cook on STEAM for 5 minutes.
In the oven: Place red potatoes directly on the oven rack. Turn oven on to 350 and bake for 30-40 minutes. Test with a fork; remove potatoes from the oven when a fork can pierce the potatoes somewhat easily.
Frying the Red Potatoes
Set cast iron frying pan on high heat to warm.
Cut potatoes into 1/2 - 3/4 inch cubes.
Pour oil into frying pan, allowing it to heat up for a minute or so.
Slide cubed potatoes into the hot frying pan. Use caution as the oil may splatter.
Shake frying pan back and forth so the potatoes slide in the oil. Repeat several times. Sprinkle with salt and pepper.
Allow potatoes to cook for about 10 minutes without disturbing them, then use a spatula to flip them. Cook for another 10 minutes, or until red potatoes are fried to a crispiness you like.
Nutrition Information:
Yield:

3
Serving Size:

1 grams
Amount Per Serving:
Calories:

125
Total Fat:

14g
Saturated Fat:

1g
Unsaturated Fat:

0g
Sodium:

387mg