Avocados are one of the perks of living in Hawaii. There are so many varieties of avocados that they are ripe and available for many months of the year. But we still like to have avocados during those months when they're not readily available. Freezing avocados is the ticket, but let me give you some pointers. I learned these things the hard way — here's how to freeze avocados the easy way.
It took some experimenting with how to preserve avocados to get it just right!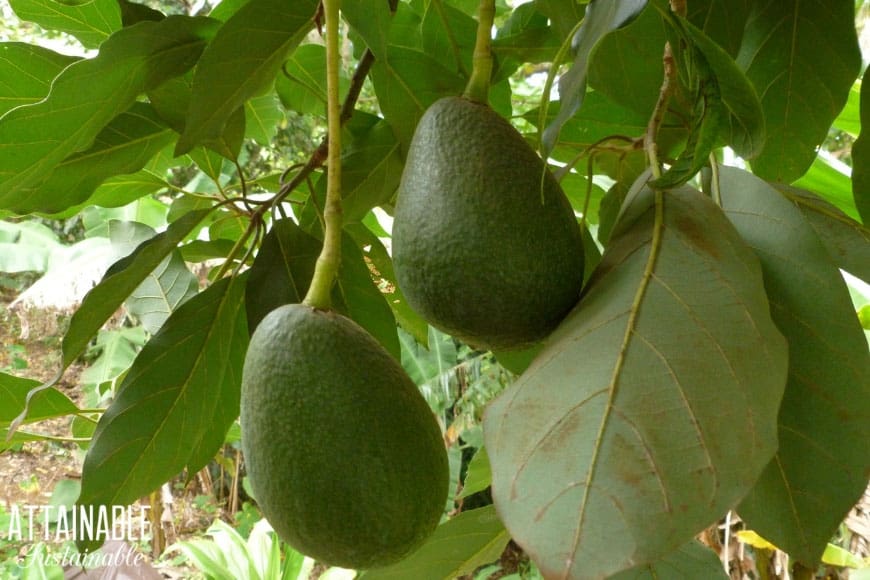 This post may contain affiliate links; I'll earn a small commission if you choose to make a purchase.
People often ask, "can you freeze avocados?"
The answer is a resounding, "Yes! You can freeze avocados." Actually, I suppose you can freeze just about anything — the question is how various items hold up to being frozen. Freezing avocados is an easy way to preserve these healthy fruits. (Yes, avocados are a fruit — more specifically a berry. How crazy is that?)
Here's the deal with frozen avocados, though. They are hard as a rock when frozen.
We like to add fresh avocado to our fruit smoothies, and fresh avocado blends up beautifully in a smoothie.
Frozen avocados? It sounds like running nails through the blender. If you're planning on freezing avocados for use in smoothies as we do, your mantra should be: Plan ahead. Get the frozen avocados out of the freezer 20-30 minutes before you plan on making your breakfast smoothie.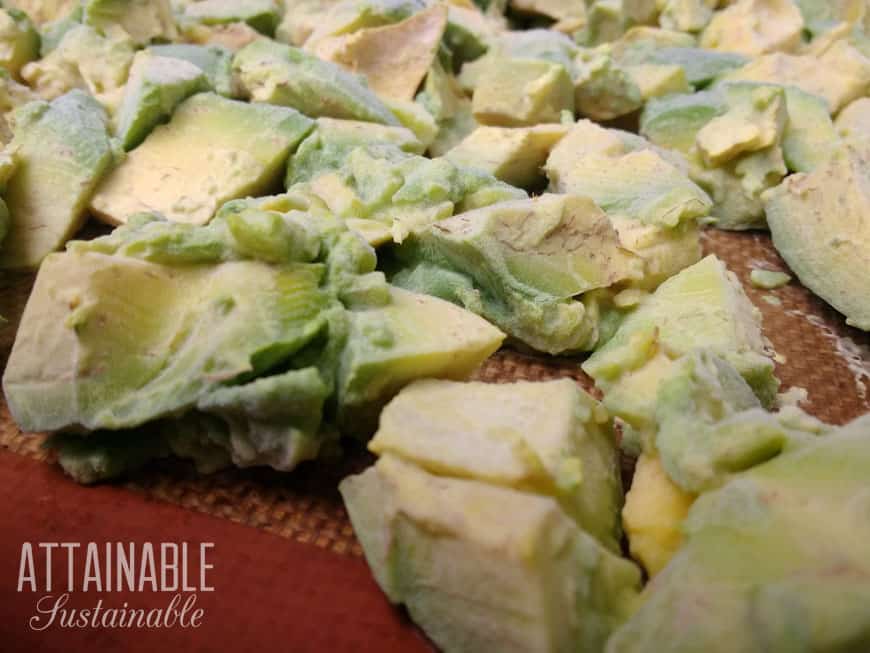 How to freeze avocados
Because they get so hard, there are a couple of things to avoid when freezing avocados.
Think about portion size. Do not (and I mean do not) freeze avocados in a portion that's larger than you'll be able to use in one recipe thinking that you'll just pull out what you need. Those pieces of avocado will become one solid mass that will not come apart. Trust me on this.
If you'll use 1/2 cup of avocado at a time, freezing avocado in half-cup portions will save you a huge headache and possibly a broken knife.
Freezing avocados without the headache
Instead of piling all of the avocado into one container, spread avocado chunks on a cookie sheet lined with a Silpat. The Silpat is key here. Freezing avocados directly on the cookie sheet will result in avocados quite frozen to the cookie sheet. Spread them thinly; it's okay if they touch, but be sure to leave a lot of gaps between the chunks of avocado.
And for what it's worth, those chunks of avocado don't have to be pretty!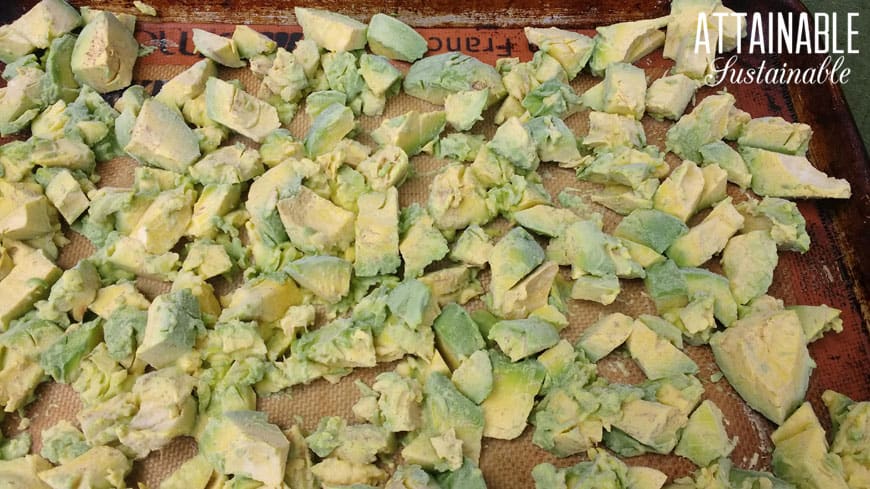 Freeze the avocados on the cookie sheet overnight. Once frozen, use the Silpat to lift the avocados, bending it over and breaking the avocados into somewhat separate chunks. Fill a freezer container with these manageable-sized chunks so that you can easily add to smoothies. Because they're already frozen, the chunks won't freeze solidly to each other when you put them in a container.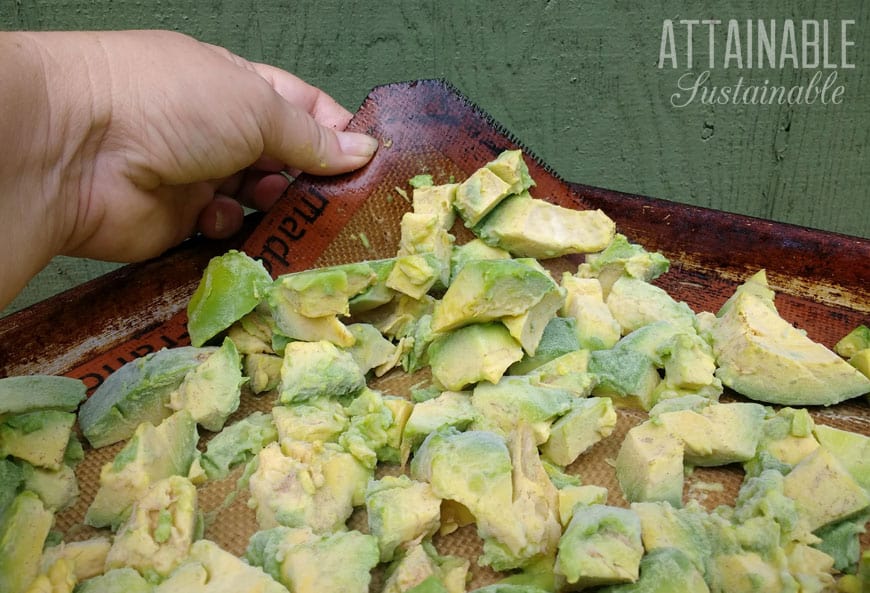 I do not bother adding lemon juice to prevent browning when freezing avocados like this.
How to freeze avocados for other uses
The frozen chunks of avocado will work in recipes besides smoothies. Just let them thaw completely before you try to add them.
If you'd like — and this might be better for people who are limited on freezer space — you can mash the avocados and freeze them in ice cube trays. Again, once frozen, transfer to a freezer container for longer term storage.
Related: How to Freeze Foods Without Using Plastic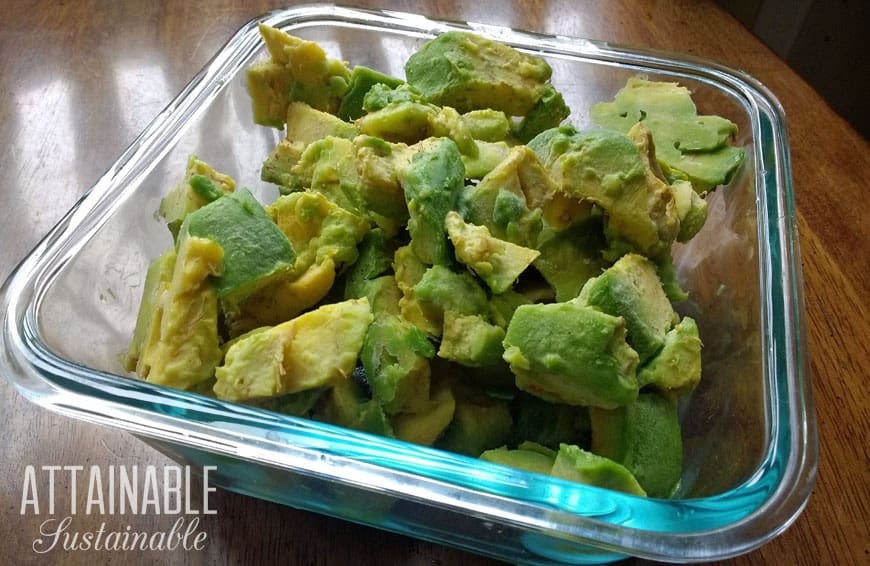 Using your frozen avocados
Freezing avocados — whether in chunks or as guacamole — is an easy way to preserve them. With a stash of avocados in the freezer, you're all set to make these avocado deviled eggs or this red potato salad with avocado and eggs, too!
Can you freeze guacamole?
Yes. Make up a batch of your favorite guacamole and freeze it in suitably sized containers. You can freeze guacamole in containers like this because you'll be letting it thaw completely before you use it.
Add tomatoes to your guacamole (if you use them) after it's thawed. The frozen tomatoes will water down the guacamole and mess with the texture.
If you don't normally add lemon or lime juice to your guacamole, stir a bit in before freezing it to help prevent browning.
To use, simply thaw out. Serve with chips as an appetizer or with these homemade refried beans.