Preserving food in the freezer is one of the easiest ways to extends its shelf life. Whether you're using the freezer storage method for your garden harvest, meal prepping, or parceling out leftovers, it's a time and money saver. But what if you're also working on a greener household? Check out these ideas for how to freeze food without plastic. 
Freezing is a great way to preserve avocados when you have a lot.
Non-plastic freezer storage
In recent memory, the consumers' go-to for freezing foods has been plastic. But now that we've discovered that BPA (bisphenol-A) comes with certain health risks (and now, whoops! its replacement, BPS, might be even more damaging!) lots of people are looking for BPA-free alternatives.
It's a big stumbling block for people like me who want to preserve our garden bounty. I freeze vegetables like green beans; their acid content is too low for easy water bath canning. And I like to freeze soup stock and pre-made meals without the potential health risks of plastic.
How to store food without plastic
There are a number of containers that work well to store food without plastic, but first lets talk tactics. You want the concept of freezer storage to make your life easier, not more cumbersome!
Freeze individual servings. Freeze items like muffins individually. Parcel out leftovers into serving sizes.
Freeze in measured amounts. Measure the exact amount of pumpkin puree you use in your favorite recipe. When it's time to cook, you can pull out just what you need.
Flash-freeze items before sending them to freezer storage. Spread small items like berries and avocado chunks on a cookie sheet. Freeze until solid, then transfer to a freezer container. This prevents them from freezing into a solid mass, allowing you to easily grab what you need instead of having to deal with a solid chunk of frozen food.
Mark foods with the date when you put them into freezer storage. Use the "first in, first out" rule of thumb. Choose the food that's been in the freezer longest when you're deciding what to make for dinner.
Take a Peek Inside My Book!
Get a free excerpt from my book, Attainable Sustainable: The Lost Art of Self-Reliant Living! You'll also get my free weekly newsletter, complete with recipes, gardening tips, and a little peek at what's going on around here — both the zany and the mundane.
Store food without plastic
Whether you want to store food without plastic for environmental reasons or you're concerned about possible health implications of freezing food in plastic, these ideas will get you well on the way.
How to freeze meat without freezer bags
Butcher paper was the standard for freezer storage when I was growing up. Meat from the butcher came wrapped in bright white paper and went straight into the freezer. When using butcher paper at home, double wrap products to extend their freezer life. Items wrapped in butcher paper should be used within 2-3 months, or you'll have freezer burn.
Butcher paper is good for freezing cuts of meat, but it's also good for wrapping other foods you freeze.
Wait what is freezer burn?
Freezer burn is often visible on frozen foods as discolored or whitish areas that look a bit dry. Ice crystals on food is another indicator. You may see it on portions of food where the packaging has torn, allowing air to reach the frozen food.
Essentially, freezer burn is dehydration. You'll see it on the surfaces of frozen food that has been exposed to air. (This is why it's important to seal food well before sending it to the freezer.) Food that has freezer burn is still edible, though the flavor may be somewhat altered. Freezer burn is not poisonous or dangerous! It's simply a loss of moisture.
Aluminum foil
When wrapping pre-made meals (think: burritos) or meats, aluminum foil can be a good option to freeze food without plastic. If you don't want it to touch food directly (it can react with certain foods, like tomato-based recipes). To avoid this, wrap items in a layer of wax paper first, followed by aluminum foil.
If you're being especially careful to eliminate toxins, opt for a soy based wax paper (regular wax paper is made with paraffin, which is a by-product of petroleum). The downside of aluminum foil is that it can't be easily recycled.
Related: Why I Don't Recommend Recycling Plastic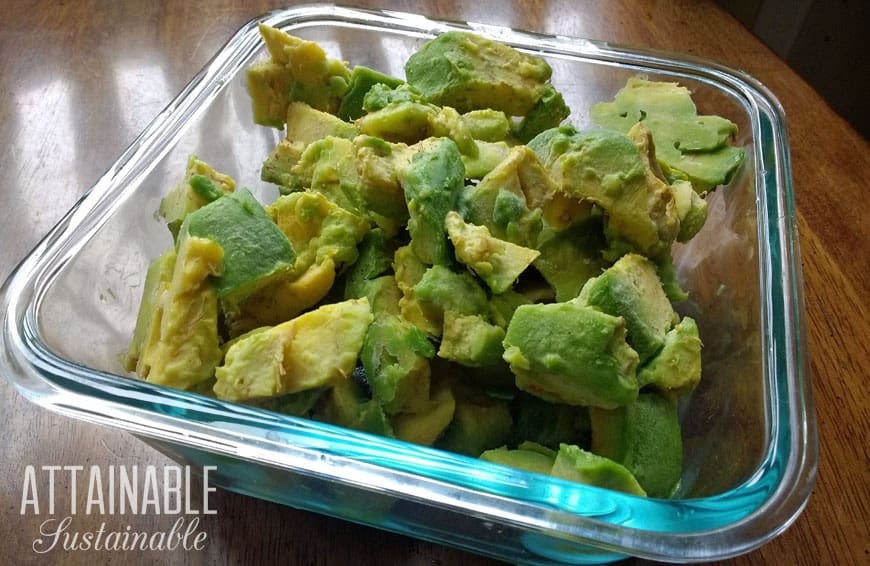 Glass storage containers
These glass containers are oven safe, plus they're good for both refrigerator and freezer storage. Other glass containers that I use for freezing have hard plastic lids that are beginning to crack; I'm having a heck of a time finding replacements. The flexible silicone on these containers seems to hold up better (at least so far).
Another bonus when freezing leftovers in bpa-free glass containers? You can reheat right in those dishes in most cases. Simply thaw the frozen container and cook as usual. This is a great way to store meals like lasagna and chili.
BPA-free glass jars
When I tell people that I regularly store food in glass canning jars, it often results in disbelief as they're sure the glass will shatter. I've had some breakage, but honestly? I think that was my fault. I shouldn't have used the narrow mouth jars with shoulders. Go here for a complete tutorial on freezing food in Mason jars with no breakage.
When freezing in glass canning jars, you'll want to use straight-sided wide mouth jars that say specifically that they're for canning or freezing and be sure to leave enough head space for expansion of liquid items. I've also had good luck with recycling glass peanut butter jars. They're straight sided and the glass is fairly thick, making them a good option to store food without plastic in the freezer.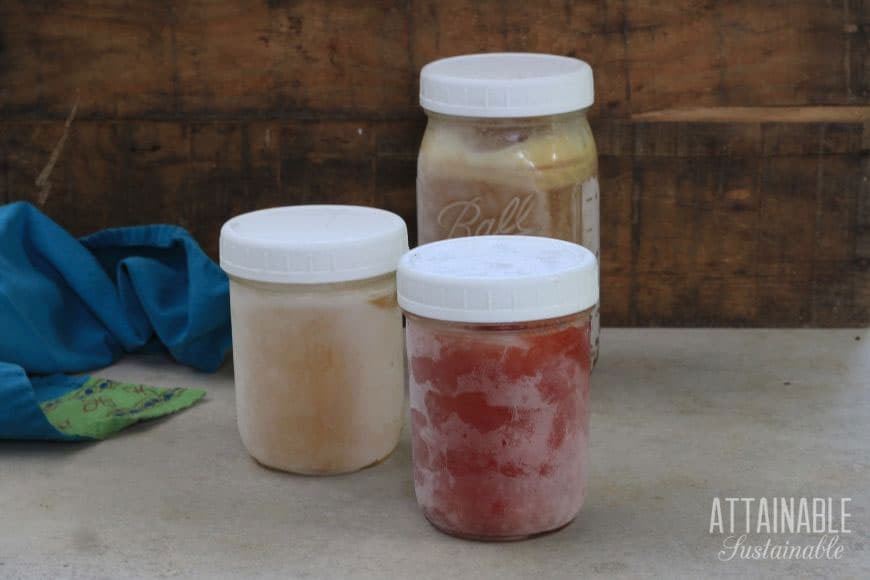 Consider steel to freeze food without plastic
Stainless steel containers work for the freezer and there's less risk of breakage than with glass. A reader commented that she invested in some steel steam table pans to freeze in. They stack well, are reusable, and come in a variety of sizes.
Recycled milk cartons and aseptic packaging
We've all filled a recycled half gallon milk carton with water to make ice blocks, right? They're also great for freezing soups and stocks. Waxed cartons and aseptic packaging (think: commercially made soups and broth) are waterproof and allow for a bit of expansion as they freeze. Just make sure you have some freezer tape on hand to seal the containers.
(Yes, there's an element of plastic here, but aseptic packages are bpa-free. And if you're diverting items from the landfill, I say it's a better option that buying new plastic bags.)
Muffin tins
If I want to freeze food items in small portions without plastic, I'll fill muffin tins and freeze them. Once frozen, I thaw slightly, pop them out, and wrap in wax paper and foil. For larger meals, use the same method with freezer safe containers. Be sure to use containers with angled sides so the frozen food will slide out easily.
Related: Freezer Waffle Recipe for a Quick, Easy Breakfast

Related:  DIY Freezer Garlic Bread (Without the Icky Ingredients)
Nature's skin is perfect for freezing without plastic
This isn't practical for most things, but you can stick some produce directly in the freezer without any sort of container. I do this regularly with tomatoes and bananas. Just toss them in the freezer and voila! When you're ready to use them in cooking, thaw them out and the skin slips right off. It's one of the easiest ways to store food without plastic.
Becci commented:
I have had luck putting bell peppers directly in the freezer as well. They mush up when thawed, but are perfect for soups when consistancy doesn't matter as much.
Cooking for a baby?
If you are the parent of a baby and making your own baby food, rejoice! Check out these freezer safe glass storage containers that are perfectly sized for baby food. Alas, these aren't exactly inexpensive options to store food without plastic. Life Without Plastic has some great bpa-free storage options, but again, not cheap.
When you do freeze food in plastic
If you do use large freezer bags for storing some items, here's a trick for using fewer of these bags. Store the empty bags in the freezer. Any remaining food particles will remain frozen, and you can use them again for similar food items. This method works well for storing bread, waffles, and even frozen berries.
I'd love to hear your suggestions for plastic-free freezer storage, especially if you're of a certain age and remember freezing before plastic – what did you use??