This white vegetarian zucchini lasagna recipe is cheesy goodness at its best. A perfect way to take advantage of prolific zucchini in season!
Have plenty of zucchini? My zucchini hamburger relish is a family favorite!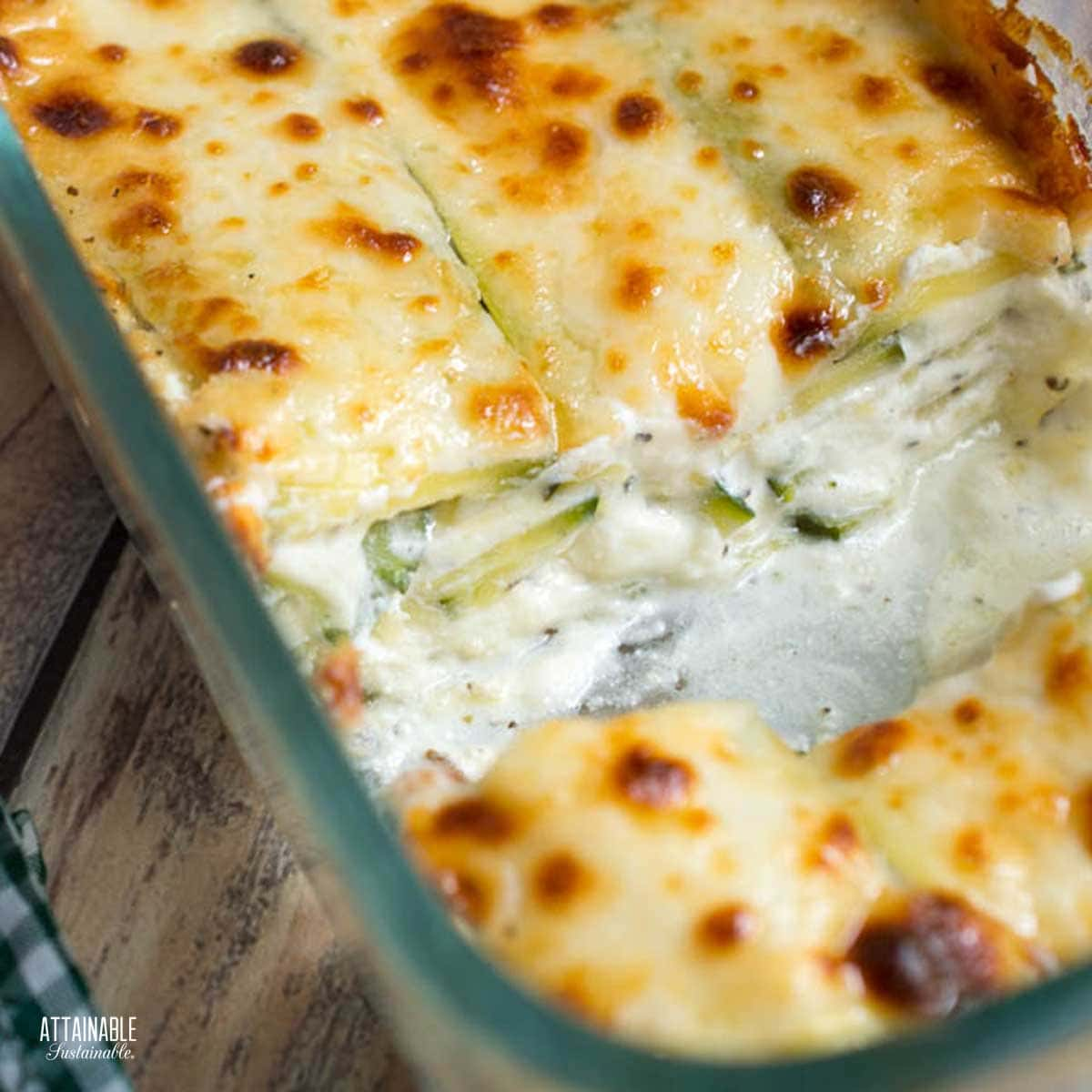 On a gluten free diet? Cutting carbs? This zucchini lasagna recipe is your ticket to an easy meal without the usual wheat lasagna noodles. It's also a tomato free meal, for those who are cutting out nightshades.
And if your garden is producing a glut of fresh zucchini, using zucchini in place of packaged lasagna noodles just makes sense. (Double the zucchini goodness and serve up this chocolate zucchini bread for dessert!)
Comfort food at its best, it's easy to put together from a few real food ingredients.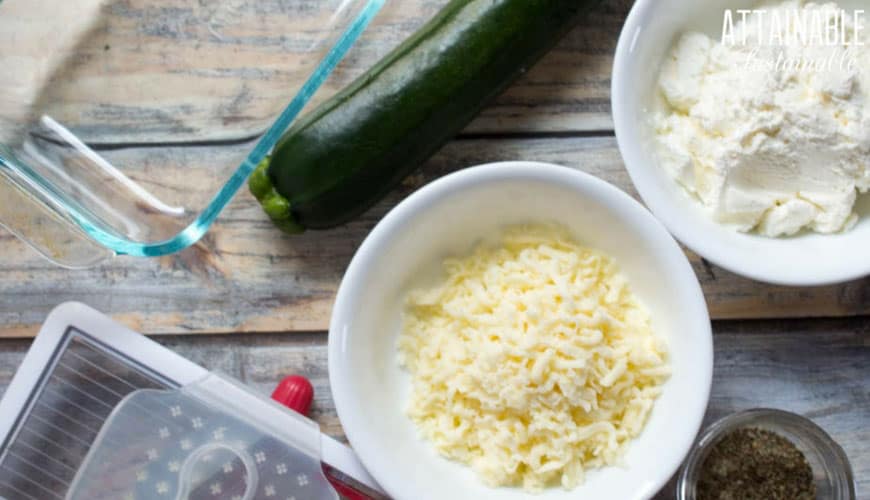 5 Easy Steps to Transform Your Pantry!
Ready to switch from store bought to homemade? Let me help you make some changes! Grab my FREE five-part guide to getting started.
Ingredients for White Zucchini Lasagna
Zucchini — Grab one fresh from the garden or stop at the store. Green zucchini is the most readily available, but if you have golden yellow summer squash, that will work just fine. Use a mandoline or sharp knife to slice the squash into thin zucchini noodles.
Ricotta — This creamy cheese is a must-have classic. Use your favorite brand, or try your hand at making homemade ricotta cheese.
Mozzarella cheese — All white cheese here in this amazing recipe! This Italian cheese is available in part-skim or whole milk options. Either is fine. (Optionally, serve with a little parmesan cheese for sprinkling on top.)
Garlic — Take the time to grate a fresh clove for the best flavor.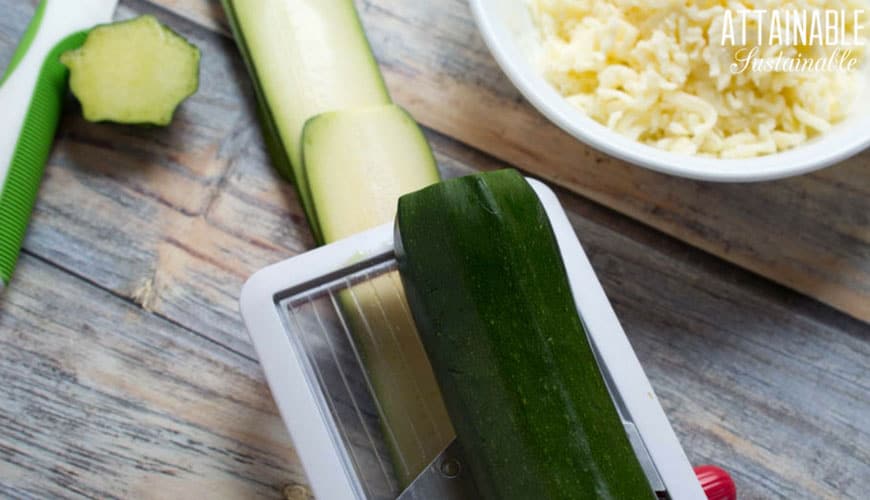 Making This Zucchini Lasagna Recipe
Start with garden fresh zucchini, add a couple of different cheeses and spices and bam! Dinner in under an hour.
You can slice the zucchini with a knife, but a mandoline slicer makes nice, uniform slices to use in this zucchini lasagna recipe. If you use a knife, just aim for slices that are 1/8″ thick.
Removing some of the moisture from the zucchini before assembling this zucchini lasagne recipe is a good idea, though you can get by without this step if you're in a time crunch.
To do so, set slices of zucchini on a clean, dry kitchen towel and sprinkle with just a bit of salt. The salt pulls the moisture from the zucchini, and in turn, will prevent the zucchini lasagna from being too "sloppy." After about 20 minutes, pat the zucchini dry and begin assembly.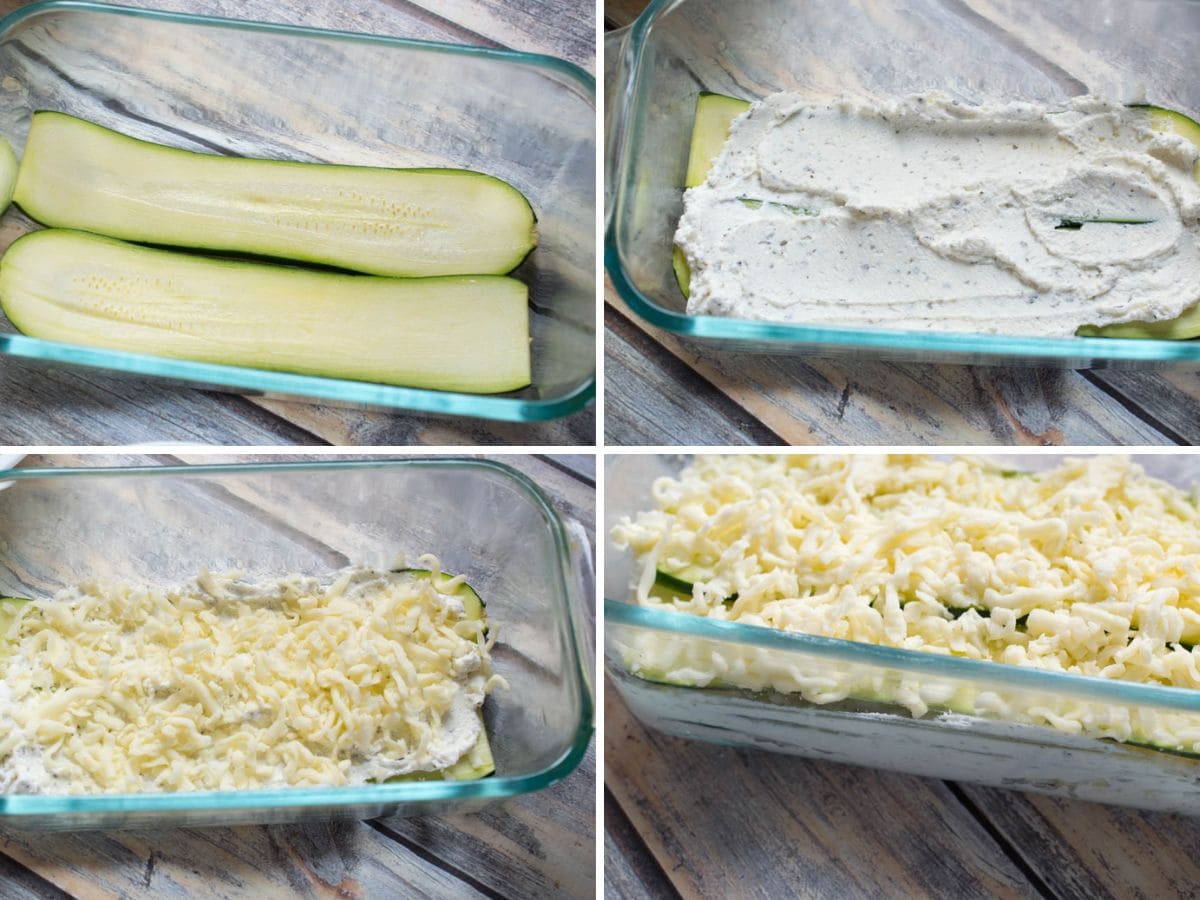 Layer the zucchini slices with ricotta cheese and shredded mozzarella. Be sure to end with a layer of mozzarella so you'll get that nice, browned top. (This recipe is made in a loaf pan. Feel free to double the ingredients and bake in an 8″ x 8″ baking dish.)
Serve this zucchini lasagna recipe with a salad or your favorite fresh veggie for a hearty vegetarian meal. If you're feeling fancy, garnish it with a sprig of fresh basil.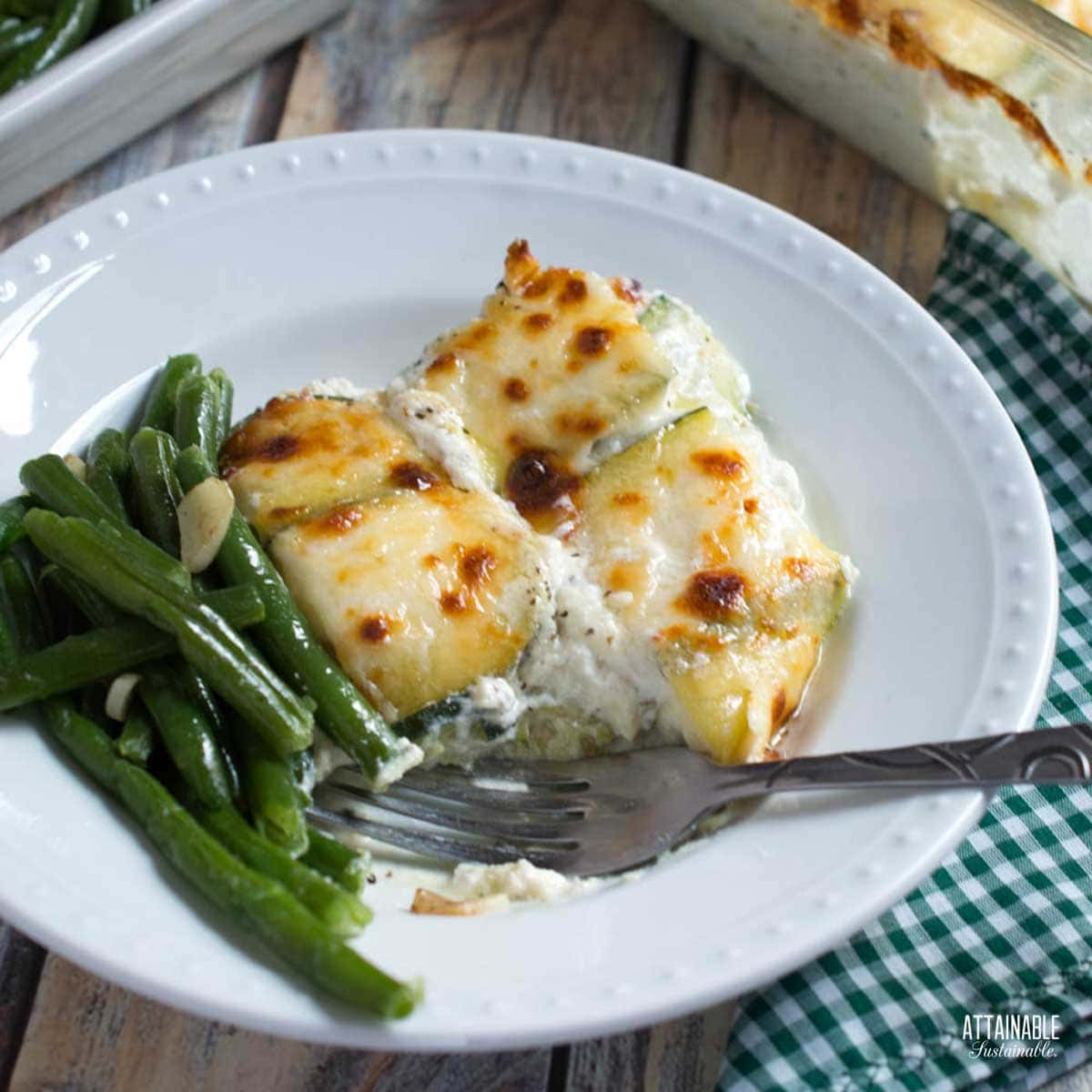 FAQs
Do I need to salt the zucchini ahead of time?
Yes, this step is truly necessary. The salt helps draw the water out! Otherwise it would come out during baking and have nowhere to go, and you'll end up with a watery, soggy mess on your hands (and the bottom of the oven!). I promise it doesn't make the final dish taste salty.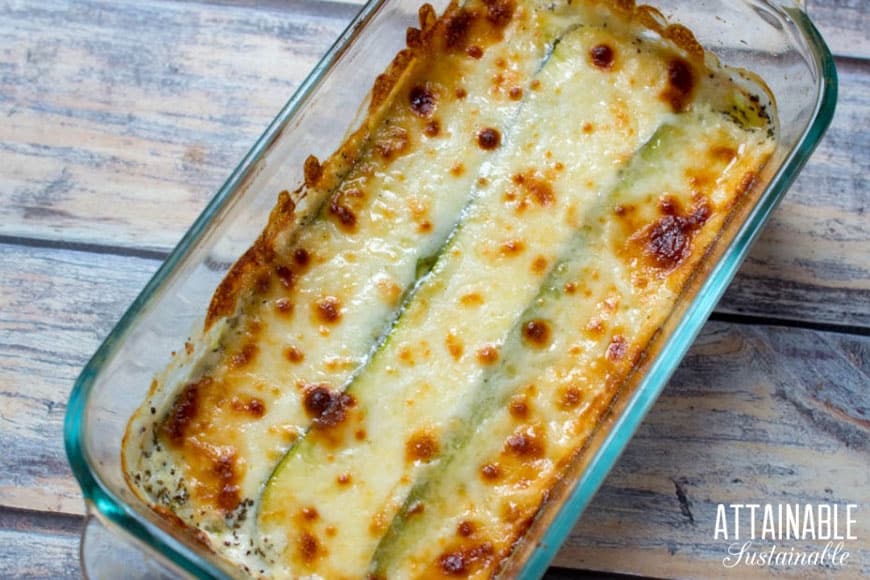 Can I use pasta?
If you aren't gluten-free and just want a classic lasagna, feel free to cook up some dried lasagna noodles to use in place of zucchini. You might need about 12, but it depends on your pan size. Definitely use regular noodles that you cook and cool. There isn't enough liquid in this recipe to use the no-boil type.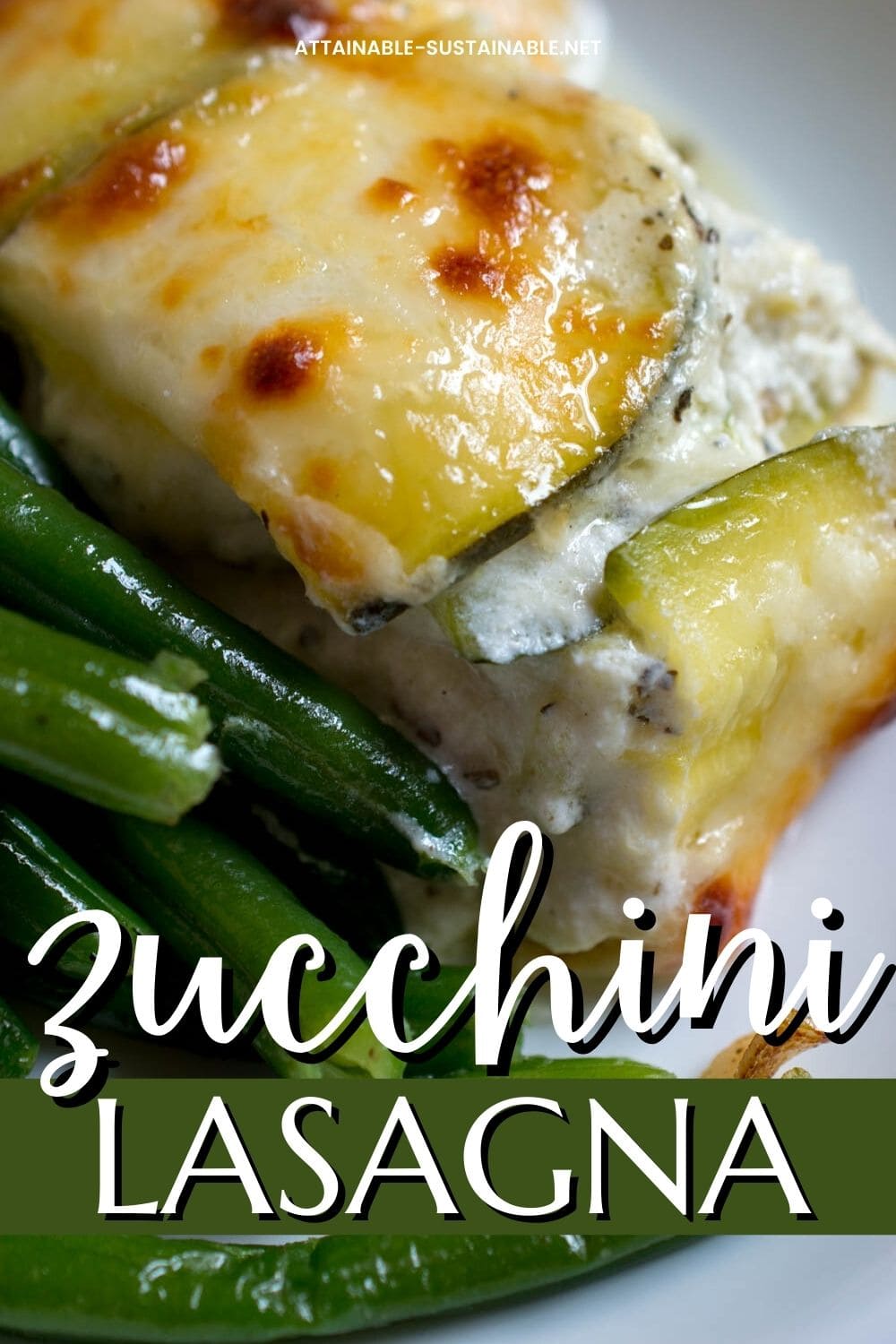 ★ Did you make this zucchini lasagna recipe? Don't forget to give it a star rating below! ★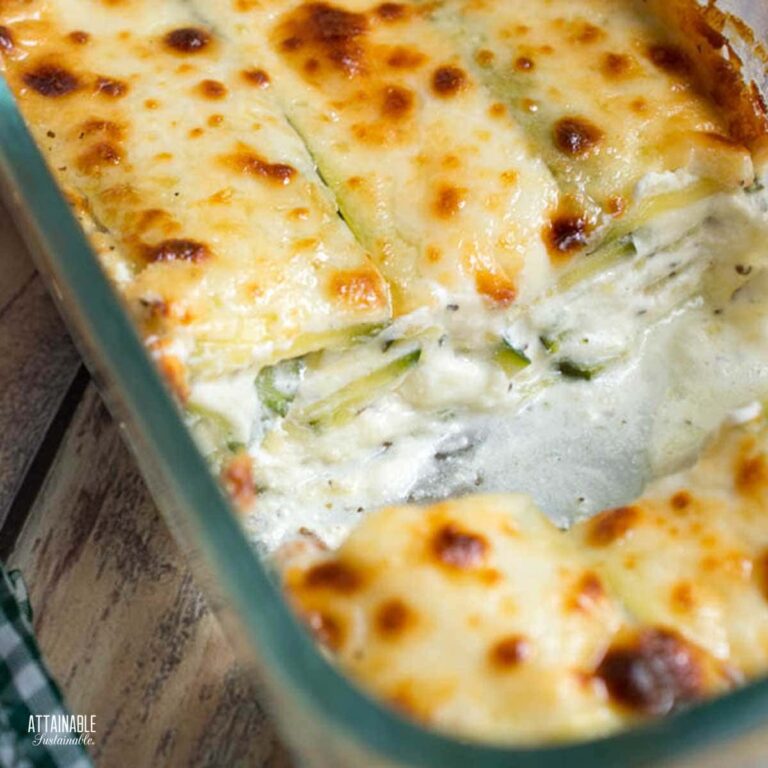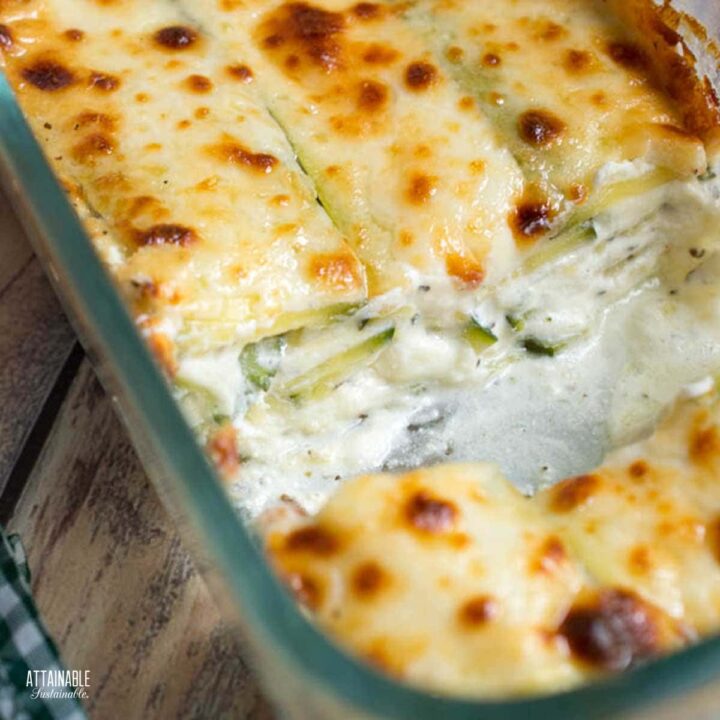 White Zucchini Lasagna
This delicious vegetarian zucchini lasagna recipe is cheesy goodness at its best. It's low carb and keto, too! A perfect way to take advantage of prolific zucchini in season!
Ingredients
1 medium zucchini
1 cup shredded mozzarella
1 clove garlic, crushed
1 teaspoon dried basil
Parmesan cheese for serving (optional)
Instructions
Preheat oven to 350℉.
Wash and dry the zucchini.
Cut the end off the zucchini. Carefully slice the zucchini long ways using a mandoline slicer or a knife.
Sprinkle the zucchini with a bit of salt and place on clean, dry kitchen towels for about 20 minutes. This will help to remove some of the moisture from the zucchini. Pat dry.
Add salt, pepper, garlic powder, and basil to the ricotta and stir until combined.
Use a small amount of olive oil to grease the bottom and sides of a loaf pan.
Layer the lasagna:
Start by placing 2-3 slices of zucchini in the bottom of a loaf pan.
Spread about ⅓ of the ricotta mixture on the zucchini slices.
Add about ¼ of the shredded mozzarella.
Continue layering zucchini, ricotta, and mozzarella in this manner, ending with a layer of mozzarella.
Bake for 20 minutes.
Remove from the oven and allow to sit for about ten minutes to firm up.
Notes
This recipe is made in a loaf pan. Feel free to double the ingredients and bake in an 8" x 8" baking dish.
If you like a zesty lasagna, you can mix a 1/2 teaspoon of red pepper flakes into the ricotta cheese mixture.
Nutrition Information:
Yield:

4
Serving Size:

1 grams
Amount Per Serving:
Calories:

175
Total Fat:

12g
Saturated Fat:

7g
Unsaturated Fat:

0g
Cholesterol:

45mg
Sodium:

291mg
Carbohydrates:

4g
Sugar:

1g
Protein:

12g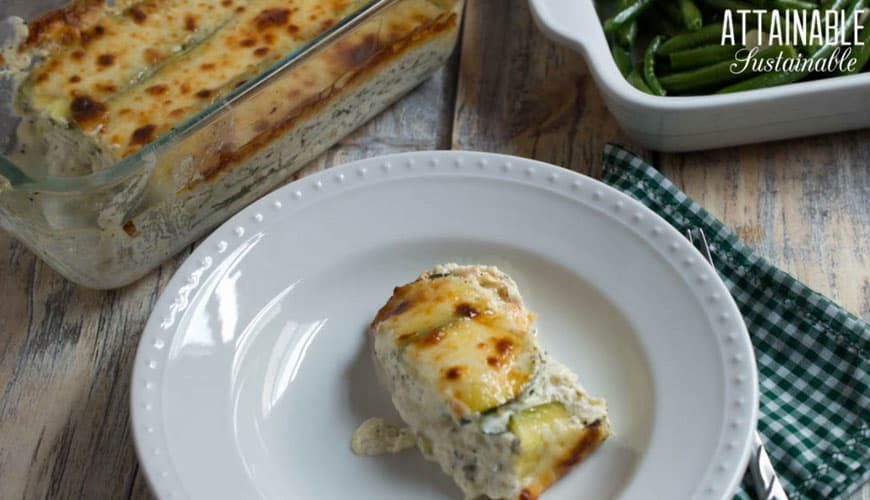 Originally published May, 2018; this post has been updated.