This zucchini relish recipe is a favorite around here. It's good on burgers, but excellent for mixing into potato salad or egg salad for an extra burst of flavor, too.
Got more zucchini than you know what to do with? Try our favorite chocolate zucchini bread, too!
When zucchini season is upon us, it's often a challenge to figure out just what to do with all of that abundance. Zucchini — otherwise known as summer squash — is a crop that just keeps on giving.
When you've exhausted your repertoire of ways to eat it as part of your daily menu plan, consider preserving some of it for the winter with this easy zucchini relish.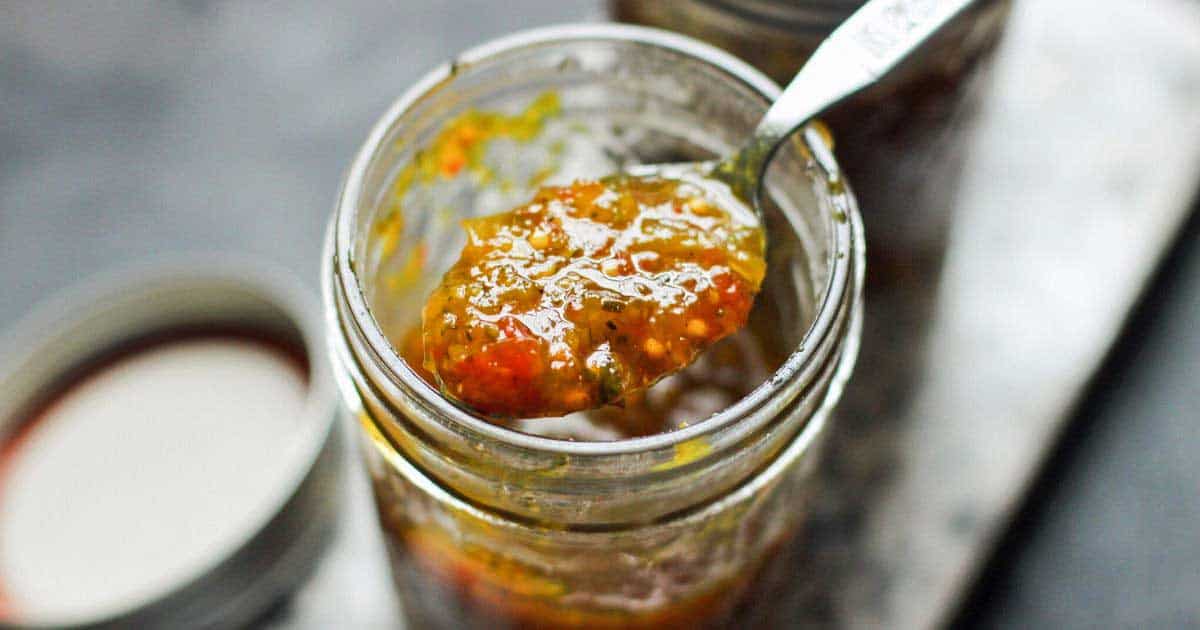 Related: Easy Canning Recipes for the Novice Home Canner
5 Easy Steps to Transform Your Pantry!
Ready to switch from store bought to homemade? Let me help you make some changes! Grab my FREE five-part guide to getting started.
Nostalgic zucchini relish recipe
Remember Del Monte hamburger relish? Talk about a blast from the past. This relish recipe, made from zucchini, tastes just like the Del Monte version. It's sweet and somewhat tangy, but uses only wholesome ingredients that may very well have come out of your garden.
It's great on burgers, of course, but I use it to add extra flavor to things like egg salad, deviled eggs, potato salad, and even mixed into meatloaf.
We're not the only ones who love this zucchini relish recipe, though. Sarah over at Horseradish and Honey gave it a solid thumbs up over on Instagram.
---
The Handcrafted Pantry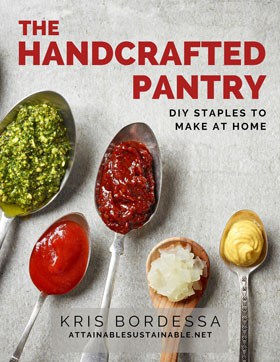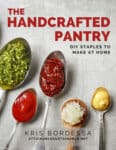 Ready to DIY your pantry with healthier ingredients? Check out my ebook, The Handcrafted Pantry! Filled with delicious recipes for some of your favorite condiments, snacks, and toppings, it's the guide you need to start skipping packaged products and embrace homemade.
---
Making this recipe
You'll make this recipe in two stages. First, chop the zucchini, onions, and peppers and allow them to sit overnight with salt. This causes the vegetables to release some of their natural juices.
The next day, drain the vegetables then cook with the remaining ingredients.
To preserve as a shelf stable pantry item, you'll need to process the relish in a water bath canner. This isn't difficult to do, but you will need some specialized canning equipment.
Canning zucchini relish
Canning this relish in a water bath canner makes it a shelf stable product that can last a year or so in the pantry.
Once the relish is ready, ladle it into canning jars while it's still hot. I have a canning funnel for this purpose, that makes it easier to transfer hot products into the jars without a lot of mess.
Use a damp cloth to wipe the rim of each jar; a little bit of food on the jar rim can prevent the lids from sealing properly. Set the lids in place and screw the bands on finger tight. Use a jar lifter to transfer jars into the gently boiling water. As stated above, the water in the pot should cover the jars by an inch. If necessary add more water to the canner.
Hot tip: Boil some extra water in a saucepan or electric kettle as you're working. If you need to top off the water in the canner, you won't cool down the water too much.
Process jars for the recommended time. (See below.) When time is up, use the jar lifter to transfer jars to a flat surface that's padded with a kitchen towel. Allow jars to cool completely. As they cool, you'll begin to hear a canner's favorite sound: That lovely little tink! that indicates a successful seal.
Once jars of relish are thoroughly cooled, check the seal on all of the jars. The lid should be concave and solid. If it flexes at all, it's not sealed. (Place any jars that didn't seal in the refrigerator and use them first. They are not shelf stable.)
Remove bands from cooled jars and rinse the jars. Store jars without the bands.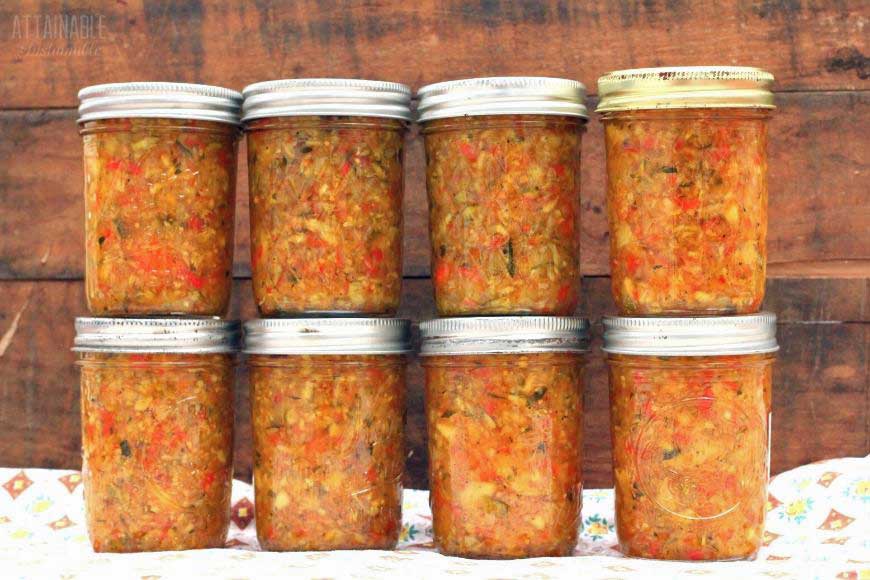 Remove the jars from the canner and cool; you'll hear a little "tink!" as each seals. The lids should feel taut and somewhat concave. These are safe to store at room temperature. Any that don't seal should be refrigerated and used first.
Canning Safety
Canning is an excellent way to preserve food for the pantry, but there are some important safety considerations to keep in mind.
Know the difference between water bath canning and pressure canning. Low acid items must be pressure canned for safety.
Altering ingredients may change the recipe's pH, posing a safety issue. I highly recommend investing in pH paper to test your products for acidity level when canning. Note: The Hawaii Master Food Preservers suggest a pH of 4.2 or lower in the tropics. In other regions, the recommended pH is 4.6 or lower.
Use the proper jars and lids. Never reuse lids, with the exception of the Tattler lids that are intended for such a purpose.
For more on canning equipment, please go here.
The recipes on this site have been made following safe canning procedures by a certified Master Food Preserver.
Related: Canning Recipes to Preserve the Summertime Garden Abundance
★ Did you make this zucchini relish? Don't forget to give it a star rating below! ★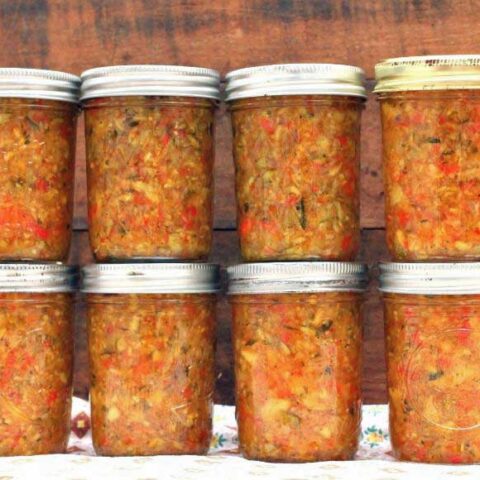 Zucchini Relish Recipe
Total Time:
9 hours
5 minutes
This zucchini relish recipe is a favorite around here. It's good on burgers, but excellent for mixing into potato salad or egg salad, too.
Ingredients
4 cups zucchini, chopped
2 cups onion, finely chopped
1 red bell pepper, seeded and diced
1 jalapeno pepper, chopped
1 1/2 cups granulated organic cane sugar
1 1/2 cups vinegar
2 teaspoons mustard seeds
Instructions
Make the relish:
If you have a food processor you can just toss roughly chopped zucchini, onions, and peppers into the bowl of the processor and pulse until they're a good size. I like mine in about 1/8 - 1/4" pieces. If you don't have a food processor, just chop them finely by hand.
Combine chopped zucchini, onion, peppers, and salt in a large bowl, stirring well. Chill overnight.
Place in a colander to drain; rinse thoroughly and drain again.
Transfer to a large stock pot and add remaining ingredients; bring just to a boil. Simmer for 10 minutes. At this point, the relish is done. You can just put it in jars and then in the refrigerator to use right away or give as gifts.
If you'd like your relish to be shelf stable, you'll need to process it.
Canning the zucchini relish:
While the relish is cooking, fill a canning pot with water, set the lid in place, and heat on high heat until boiling.
Ladle hot relish into pint or half-pint jars, leaving 1/4" head space. A canning funnel makes this easy.
Wipe jar rims to remove any relish that may have spilled. A clean rim is essential to a good seal.
Set jar lids in place. Screw bands on finger tight.
Use a jar lifter to gently submerge jars into hot water in canning pot. Water should cover the top of the jars by an inch. The water will cool somewhat in reaction to the addition of the jars. Return the water to a simmer and set the timer.
Process for 15 minutes 0-6,000 feet altitude; 20 minutes over 6,000 feet.
Allow jars to cool overnight.
Check for seal: the lids should feel solid and slightly indented. If they flex, that are not shelf stable and should be refrigerated and used first.
Wash jars, remove rings, and store in a cool, dry place for a year.
Notes
Important: This is not scary. It takes about an hour to make 3 pints of relish. If you know how to operate a stove and chop veggies, you're good to go.
Nutrition Information:
Yield:

100
Serving Size:

1 tablespoon
Amount Per Serving:
Calories:

16
Total Fat:

0g
Saturated Fat:

0g
Trans Fat:

0g
Unsaturated Fat:

0g
Cholesterol:

0mg
Sodium:

1mg
Carbohydrates:

4g
Fiber:

0g
Sugar:

3g
Protein:

0g
Originally published September 2013; this post has been updated.