This green tomato relish is excellent as a condiment for meats, on hamburgers, and even as an appetizer with crackers. Passed down through generations, my family's favorite chow chow recipe is a fantastic way to preserve end of the season green tomatoes.
If you have an abundance of unripe fruit, try these fried green tomatoes, too!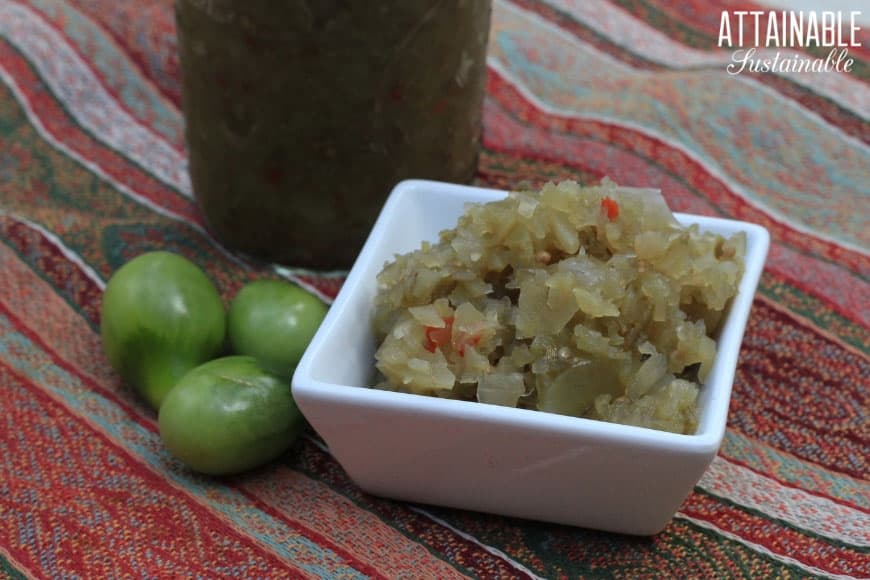 Chow chow recipe, circa 1970s:
The old metal grinder is firmly mounted to my mom's kitchen table, the abundance of our summer garden stacked in bowls and baskets around us. As often as I could, I'd take a turn at the grinder, cranking the handle despite my stinging, watering eyes. I watched as onions, bell peppers, and green tomatoes were pulled into the turning screw, a crunching sound coming to my ears over the noise of the squeaky handle turning.
Mom hovered, sure that with every turn of the handle one of my tender young fingers might join the mix in the pot that was catching the crushed green vegetables. Clear juices, tinted green, dripped from every point of the old grinder, running down to my elbow and then to the floor where a large towel was ready to catch the overflow. The bright green pulp from the unripe remains of a bountiful harvest would be transformed into a relish with the funny name chow chow relish.
Related: Canning Recipes to Preserve the Summertime Garden Abundance

Chow chow recipe, twenty-first century:
As times have changed, so too have my methods for making this chow chow recipe. Nowadays, an electric food processor makes quick work of the unripe tomatoes, peppers, and onions to transform them into my family's favorite green tomato relish.
5 Easy Steps to Transform Your Pantry!
Ready to switch from store bought to homemade? Let me help you make some changes! Grab my FREE five-part guide to getting started.
But while I am feeling nostalgic about the days I spent hand cranking the grinder in my mom's kitchen, I share the details with my boys. I want them to know that this is a family recipe, one that my grandmother and theirs made, salvaging the last of the fruit from the vine before winter relegated them to the compost heap.
Thirty-some years later, the green tomato chow chow recipe tastes the same and my eyes still water, though as I think back to my childhood I'm not sure if it's the pungent ingredients or the memories that cause the tears.
Canning Safety
Canning is an excellent way to preserve food for the pantry, but there are some important safety considerations to keep in mind.
Know the difference between water bath canning and pressure canning. Low acid items must be pressure canned for safety.
Altering ingredients may change the recipe's pH, posing a safety issue. I highly recommend investing in pH paper to test your products for acidity level when canning.
Use the proper jars and lids. Never reuse lids, with the exception of the Tattler lids that are intended for such a purpose.
For more on canning equipment, please go here.
The recipes on this site have been made following safe canning procedures by a certified Master Food Preserver.
Canning green tomato relish for the pantry
Start by reading this post about safely canning fresh tomatoes. There are some important things you should understand before undertaking canning, especially if you're new to it!
So many people pull their tomato plants at the end of the season, tossing the green tomatoes into the compost pile, right along with the rest of the plant. Staaaahhp! If there are still lots of green tomatoes on the vine as the first frost approaches, harvest those tomatoes! It's time to make green tomato relish!
This chow chow recipe uses green tomatoes, fresh onions, and bell peppers as the base, with a few hot peppers tossed in for a bit of spice. (But not too much!)
Related: Zucchini Relish Recipe for Topping Burgers and More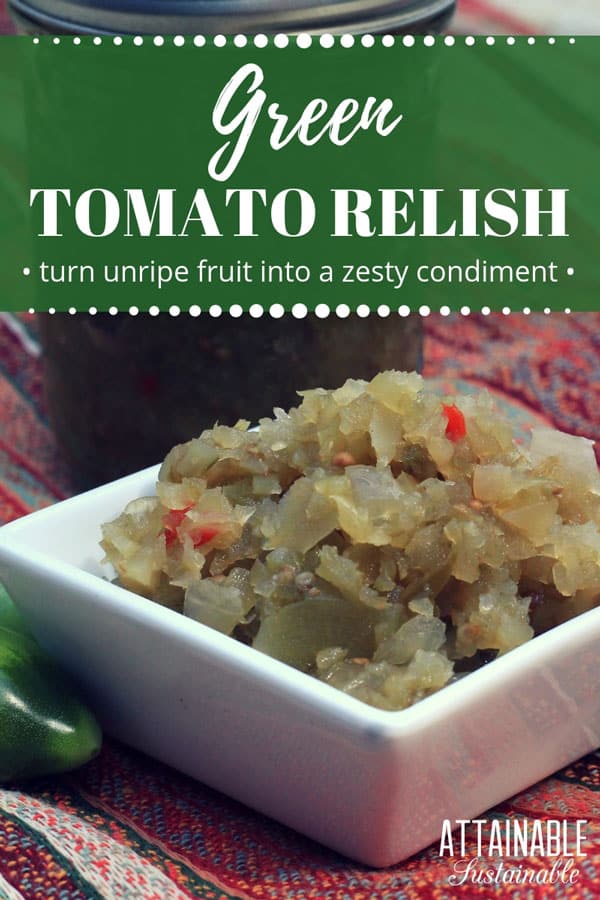 Plan ahead to make this chow chow recipe
This recipe is easy to make, but you will need to plan ahead. Once the vegetables are chopped they need to sit in the refrigerator overnight to release their juices.
Home Canning with Confidence
If you're new to canning but love the idea of filling your pantry with shelf-stable pantry items, consider investing in this Home Canning with Confidence e-course with my friend Melissa Norris from Pioneering Today.
In it, Melissa covers everything from basic canning safety to pressure canning your own meat. (Yes, you can do that!) Head over to Home Canning with Confidence to learn how to embrace this method of food preservation and keep your pantry stocked with homegrown produce!
A food processor makes quick work of chopping the vegetables for this relish. Could you cut the veggies by hand? Absolutely — just aim for less than a quarter-inch dice and allow a bigger chunk of time to accomplish this task.
This chow chow recipe makes about ten pints — plenty for your pantry and some to share with friends if you preserve it with a water bath canning process.
★ Did you make this chow chow recipe? Don't forget to give it a star rating below! ★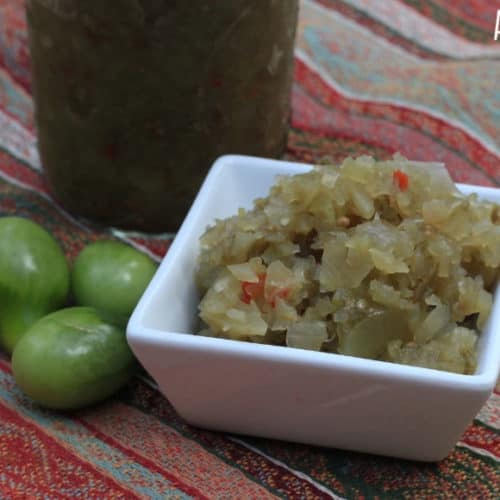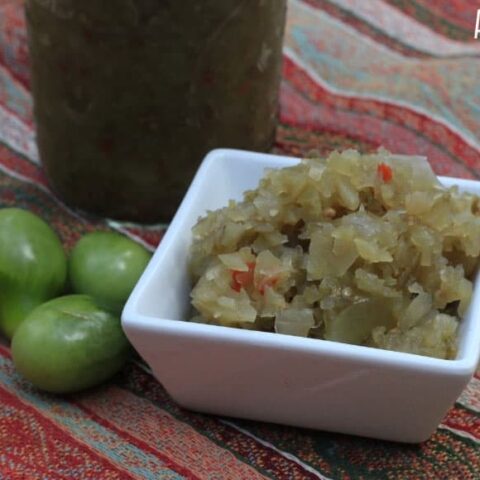 Green Tomato Chow Chow Recipe
This green tomato relish is excellent as a condiment for meats, on hamburgers, and even as an appetizer with crackers.
Ingredients
12 pounds green tomatoes
8 large onions
10 green bell pepper
6 hot peppers
1 quart apple cider vinegar
3 Tablespoons dry mustard
1 3/4 cups granulated organic cane sugar
Instructions
In a food processor, chop tomatoes, onions, and peppers in batches, using the pulse mechanism. Stir together in a large stock pot. Sprinkle with the salt and refrigerate overnight.
Drain off liquid and stir in vinegar, mustard and sugar. Bring to a slow boil; continue boiling until tender (about 15 minutes).
Pack into canning jars and refrigerate, or process according to safe canning methods. Makes about 10 pints.
Nutrition Information:
Yield:

50
Serving Size:

1 grams
Amount Per Serving:
Calories:

70
Unsaturated Fat:

0g
Sodium:

40mg
Carbohydrates:

15g
Fiber:

1g
Sugar:

13g
Protein:

1g