Vinegar is a staple ingredient in most households. When canning our homegrown produce, we want the best quality ingredients. Read how to choose the best vinegar for your recipe below — and what you should beware of.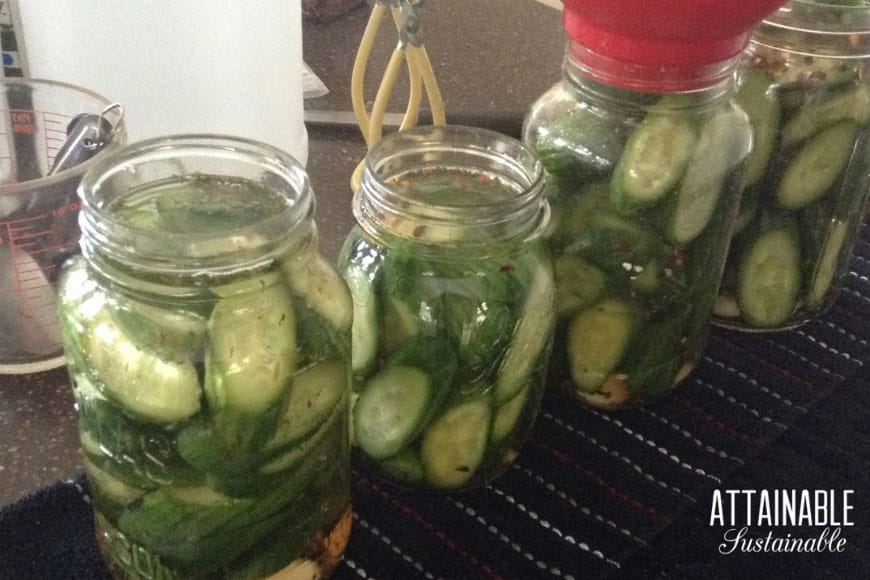 Vinegar is a fermented product, 5-to-20% acetic acid. It's used to preserve pickles in canning recipes, it tenderizes meat when used in a marinade, and gives salad dressings the tangy kick you love. Commercial vinegar is made from apple cider, wine, and grape juice (in the case of balsamic vinegar), but also corn. Be sure to scroll down to read my warning about this.
Your vinegar questions answered
How long does vinegar last?
"Does vinegar go bad?" is a common question. Due to its high acidity, vinegar is actually used to preserve other foods that would otherwise have a short shelf life — think pickles. Stored properly in a closed container, vinegar lasts indefinitely. This is true of apple cider vinegar, distilled white vinegar, wine vinegar, and rice vinegar. Does balsamic vinegar expire? Balsamic vinegar is a higher end product, aged for years. It's substantially more expensive than other vinegar, so you won't want to waste it. Balsamic vinegar also comes in smaller containers than other vinegars, so it's not difficult to use it up in a reasonable amount of time. Even so, while it's at its peak when it's fresh, it, too, will keep indefinitely.
---
The Handcrafted Pantry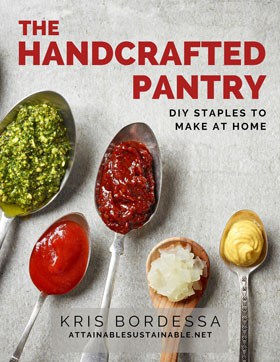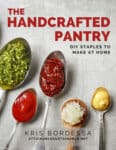 Ready to DIY your pantry with healthier ingredients? Check out my ebook, The Handcrafted Pantry! Filled with delicious recipes for some of your favorite condiments, snacks, and toppings, it's the guide you need to start skipping packaged products and embrace homemade.
---
If it doesn't go bad, why are there expiration dates on it?
Most likely so that you'll think your vinegar has gone bad and buy more. The only food that is mandated by the FDA to have an expiration date is baby formula. Most states have their own requirements, but these vary greatly state-by-state. This article covers this issue in more detail.
What is mother of vinegar?
Have you ever had a bottle of vinegar that developed slimy threads floating in the liquid? Sounds gross, but that's the mother of vinegar. Sometimes you'll see it begin to form on the top of the vinegar. The vinegar mother is entirely edible, but if you don't want to eat it, simply strain the vinegar to remove it.
Mother of vinegar can also be used to kickstart your own homemade vinegar fermentation process.
5 Easy Steps to Transform Your Pantry!
Ready to switch from store bought to homemade? Let me help you make some changes! Grab my FREE five-part guide to getting started.
What's the best vinegar for pickling?
Vinegar is commonly used for pickling vegetables. The most critical thing to know about choosing vinegar for pickling is this: Choose a vinegar with an acetic acid value of 5%. This should be stated on the label. If you don't know the acidity of the vinegar, don't use it.
Different types of vinegar impart a different flavor and color to recipes.
White distilled vinegar is commonly used in pickling. It's got a fairly neutral flavor as vinegars go. It's made by fermenting grains, as stated above. If you prefer to avoid potential GMO ingredients, Spectrum makes a white distilled vinegar that's labeled as non-GMO.
Apple cider vinegar is made by fermenting apple juice. Its flavor is a bit more fruity than white distilled vinegar. This filtered apple cider vinegar is labeled as non-GMO as well.
You can exchange either of these vinegars in pickling or canning recipes, as long as the acetic acid value is the same.
Related: How to Make Your Own Spicy Mustard at Home
Related: Caramelized Onion Jam with Balsamic Vinegar
When is apple cider vinegar not apple cider vinegar?
Truly, is nothing sacred? If you've been grabbing the same vinegar off the shelf for years, not giving it a second thought, it's time to do a little label reading. Surely a product with the words "apple cider" on the label would be made from…apple cider, right? Think again. Depending on your brand, that jug may contain 'apple cider flavored' vinegar.
What's in your jug?
Heinz doesn't address the 'apple cider flavored' option on its site, but here's what they have to say about their clear distilled vinegar:
Heinz® Distilled White Vinegar is made from sun-ripened grain and crystal clear water.
Sun-ripened grain. That sounds nice, doesn't it? But the picture that accompanies that statement shows an ear of corn. And you can bet that corn is transgenically modified. Now, this may not change your buying habits at all. You might not be concerned about the idea of using potentially genetically modified ingredients in your canning. If you are, though, here's what you need to know about choosing vinegar for pickling and canning recipes.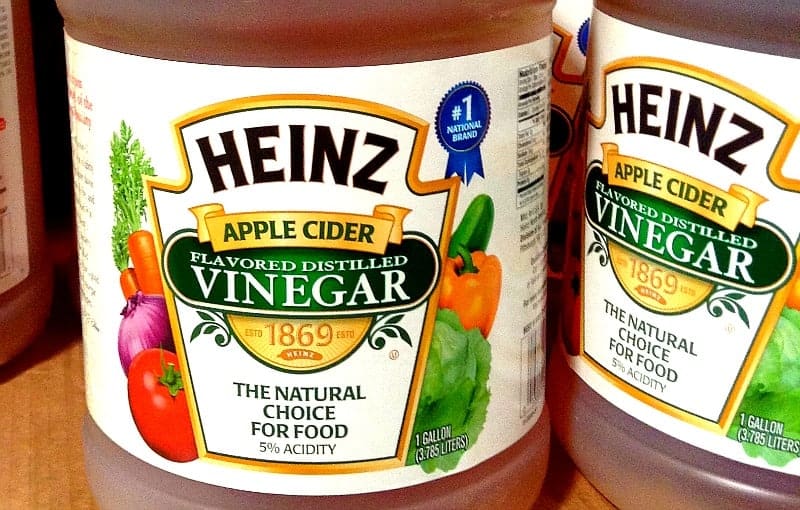 Related: How to Make Infused Vinegar
UPDATE
Heinz now addresses this issue on their FAQ page:

So Heinz has two different apple cider vinegar products; one sourced from apples, the other sourced from corn and flavored to taste like apple cider vinegar.
From what I've seen, the smaller glass containers are the true product, while the gallon size jugs are the "flavored" versions. If you're a home canner planning on pickling, odds are good that you're reaching for the more economical jug of vinegar without giving it a second thought.