This savory sweet caramelized onion jam recipe is a great way to preserve onions from the garden. Use this onion jam as a condiment to spice up meat dishes or slather it on a grilled cheese sandwich for a divine meal.
If you love the flavor of onions, you'll love this easy homemade French onion dip, too!
Contributed by Devon Young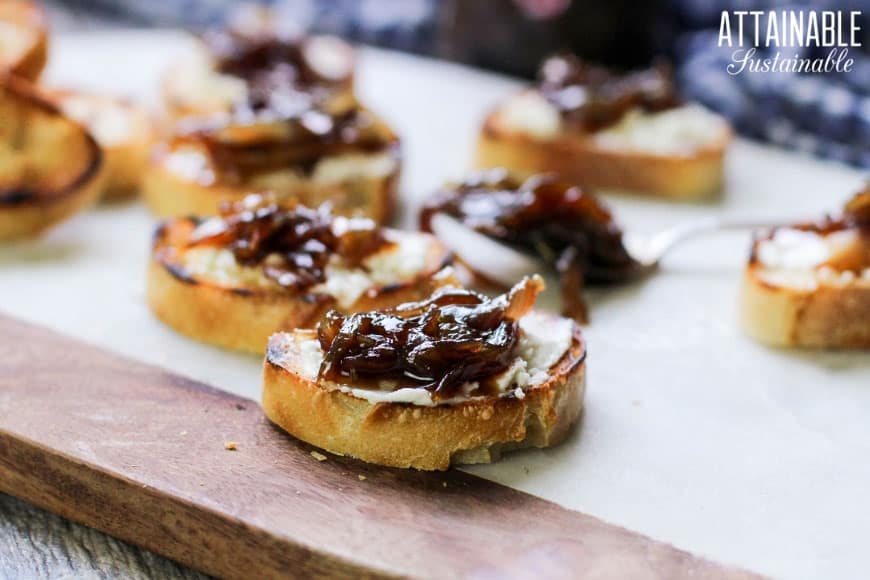 Related: Chow Chow Recipe — Green Tomato Relish
It's no secret in my family that I love onions. I love them in every shape and form – onions make a near-daily appearance in my culinary repertoire. I think that French onion soup is the perfect soup. And a sandwich really isn't a sandwich without the pungent crunchiness of the raw bulb.
But even I can admit that sometimes a slice of that sulfur-y goodness isn't the best flavor choice. The solution is simple really – this caramelized onion jam recipe with balsamic vinegar.
5 Easy Steps to Transform Your Pantry!
Ready to switch from store bought to homemade? Let me help you make some changes! Grab my FREE five-part guide to getting started.
That's right – I said caramelized onion jam.
Caramelized onion jam recipe
Balsamic onion jam recipe delivers a sweet, rich, caramelized goodness with a savory bite. This is definitely the type of jam that elevates an ordinary grilled cheese sandwich to something a bit divine and altogether wonderful.
Top a round of brie with the stuff and wrap it in puff pastry to make the world's simplest, and dare I say tastiest, hors d'oeuvre. Serve some up with these fried red potatoes and you'll wow the dinner crowd. And be sure to try it on this elegant (but easy!) onion mushroom tart.
Related: What's the Difference Between Jam and Jelly?
This onion jam recipe calls for humble onions, a bit of sugar, a few herbs and seasonings, and balsamic vinegar. This isn't the place to break out the expensive imported stuff either – a budget friendly, grocery store balsamic vinegar is perfectly fine to use here.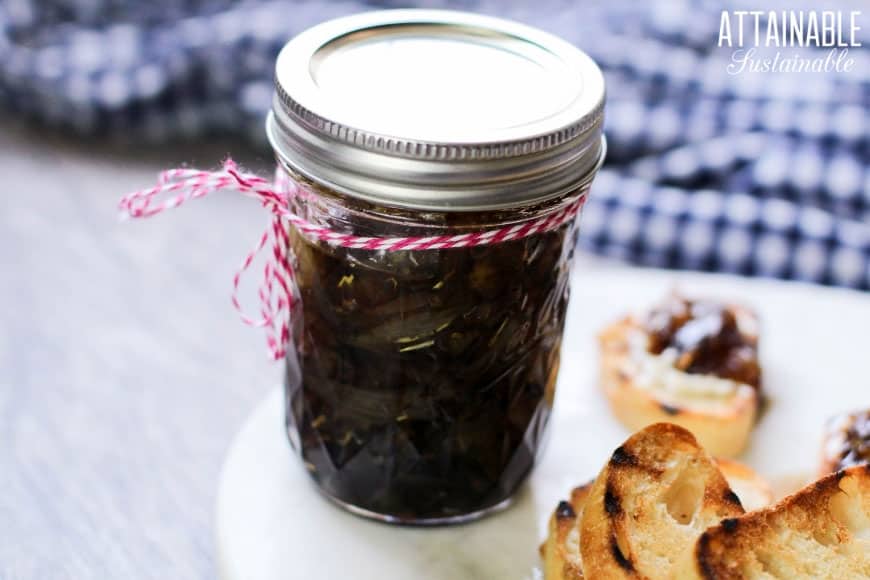 Easy onion jam
Don't get all flustered at the idea of making "jam." This isn't a fussy recipe and doesn't require any special equipment to make.
Essentially, you'll sauté the onions until they're golden, then stir in sugar and balsamic vinegar along with herbs and spices.
Pop it in the fridge and use it up within a week or so.
When you're expecting company, make up a batch ahead of time for an inexpensive but gourmet appetizer. Toast up some baguette slices, spread on some goat cheese, and top with this caramelized onion jam. Easy peas!
Or turn a simple grilled cheese sandwich into gourmet fare. Spread some of this onion jam on homemade potato bread, top it with cheese (maybe Gruyere?), and grill.
It makes for a lovely little hostess gift, too.
Home Canning with Confidence
If you're new to canning but love the idea of filling your pantry with shelf-stable pantry items, consider investing in this Home Canning with Confidence e-course with my friend Melissa Norris from Pioneering Today.
In it, Melissa covers everything from basic canning safety to pressure canning your own meat. (Yes, you can do that!) Head over to Home Canning with Confidence to learn how to embrace this method of food preservation and keep your pantry stocked with homegrown produce!
Preserving this jam
If you want to take it a step further and preserve some of this onion jam for the pantry, you'll need some basic canning equipment. Use a pH tester to make certain that it has a pH of 4.2 or lower. If you don't have one, you can preserve this jam simply by freezing it.
Canning Safety
Canning is an excellent way to preserve food for the pantry, but there are some important safety considerations to keep in mind.
Know the difference between water bath canning and pressure canning. Low acid items must be pressure canned for safety.
Altering ingredients may change the recipe's pH, posing a safety issue.
Use the proper jars and lids. Never reuse lids, with the exception of the Tattler lids that are intended for such a purpose.
For more on canning equipment, please go here.
The recipes on this site have been made following safe canning procedures by a certified Master Food Preserver.
Related: Must-Have Pantry Essentials: 10+ Items to Stop Buying & Make at Home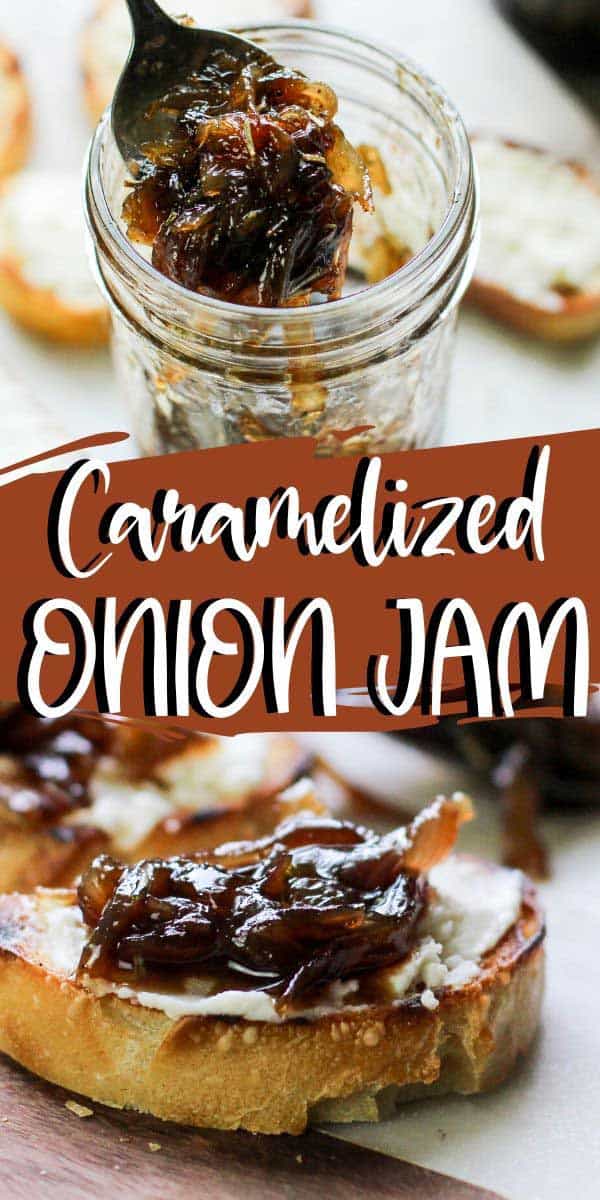 ★ Did you make this onion jam recipe? Don't forget to give it a star rating below!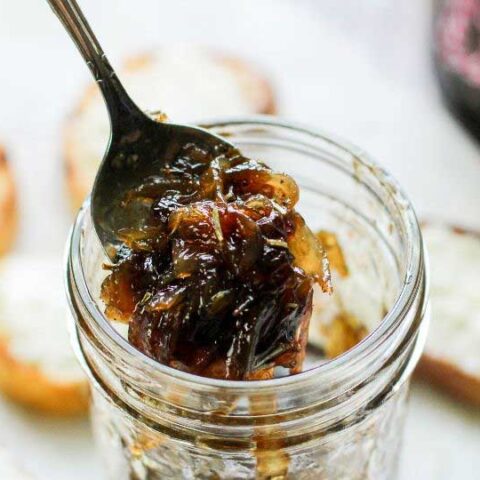 Caramelized Onion Jam Recipe with Balsamic Vinegar
Yield:
3-4 pints of onion jam
Put up a few jars of this yummy caramelized onion jam -- by way of canner or freezer -- to treat your inner allium lover!
Ingredients
2 pounds yellow onions, sliced
2 Tablespoons extra virgin olive oil
¾ cup granulated organic cane sugar
¾ cup balsamic vinegar
1 Tablespoon finely minced summer savory, or try a combination of thyme and rosemary
Instructions
To make the jam:
Put olive oil and onions in a large, heavy bottomed saucepan. Cook over medium-high heat stirring only occasionally; cook until golden, about 10-15 minutes.
Add sugar and balsamic vinegar and cook until thickened and somewhat syrup-y. Add salt, pepper, and herbs.
Cool then transfer to an airtight container. Store in the refrigerator for up to a week.
To freeze the jam:
Cool jam and transfer to a freezer safe container. Be sure to leave sufficient headspace for expansion. Freeze for up to 6 months.
To can the jam:
Test pH. (See notes.)
Ladle hot jam into sterilized half pint jars, leaving about ½" headspace. Wipe rims clean and place prepared lids and rings on finger tight.
Process in a water bath canner at a rolling boil for 15 minutes.
After processing, carefully remove jars and allow to cool undisturbed for 24 hours. Check for seal and store in pantry for up to a year; refrigerate after opening.
Notes
With the addition of ample vinegar, this recipe registers a water bath canning method safe pH of 3.9 with a freshly calibrated pH meter. Food safety guidelines indicate that is safe to water bath can food with a pH of 4.2 or lower; if you do not have a pH meter, it may be wise to freeze this caramelized onion jam due to variation in balsamic vinegar acidity.
Yields 3-4 pints of onion jam.
Nutrition Information:
Yield:

32
Serving Size:

1 grams
Amount Per Serving:
Calories:

35
Unsaturated Fat:

0g
Sodium:

62mg
Carbohydrates:

8g
Sugar:

6g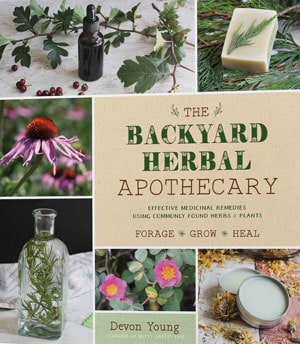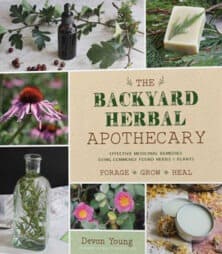 In The Backyard Herbal Apothecary, author Devon Young introduces readers to the medicinal plants lurking in plain sight.
Learn to identify, grow, and harvest 50 common medicinal herbs from your landscape. The herbal profiles detail the benefits of each herb, and you'll discover how best to use each type of plant material in recipes for DIY items like salves, syrups, tinctures, and infusions.
Originally published July 2017; this post has been updated.