This homemade potato bread recipe makes a pillowy soft loaf that's perfect for slicing. It stays soft and fresh for days; make a loaf or two over the weekend and you'll have fresh sandwich bread all week.
Give this family favorite Portuguese sweet bread a try, too!
Contributed by Shannon Stonger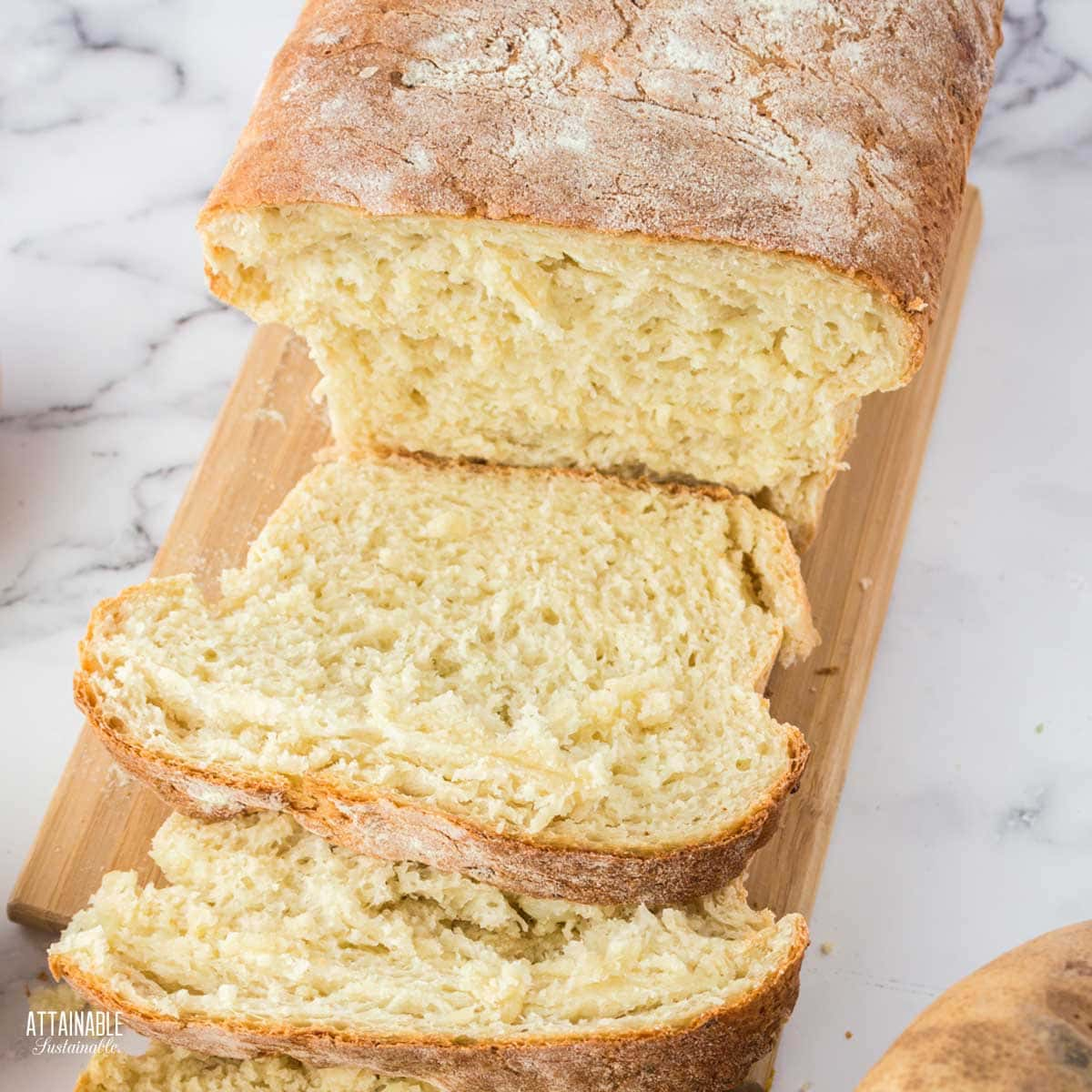 Homemade bread is a wonderful place to start in moving away from consumption and towards production. In preparing this staple at home you can control ingredients, avoid plastic packaging, and enjoy that incredible aroma that will permeate your home.
Whether you want a sandwich loaf or a dinner roll to go with your soup, homemade bread has no store-bought equivalent.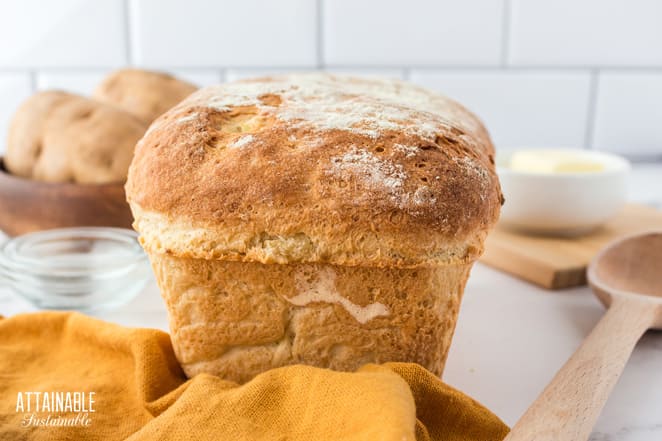 5 Easy Steps to Transform Your Pantry!
Ready to switch from store bought to homemade? Let me help you make some changes! Grab my FREE five-part guide to getting started.
The Handcrafted Pantry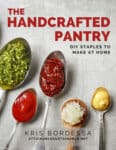 Ready to DIY your pantry with more wholesome ingredients? Check out my ebook, The Handcrafted Pantry! Filled with delicious recipes for some of your favorite condiments, snacks, and toppings, it's the guide you need to start skipping packaged products and embrace homemade.
Homemade Potato Bread Recipe
What we want in a homemade bread is something wholesome and delicious; frugal and sustainable. And if ever there were a soft, pillowy, high-rising bread that is nearly foolproof, it is the potato bread recipe.
Adding this seemingly mundane root vegetable lends a starchy, wholesome element to this loaf that gives it a softness lasting for days.
Potatoes are fairly easy to grow and if like us you plant hundreds of them, you can use them up in breads such as this. While leftover mashed potatoes can be used here, a plain freshly cooked potato is your best bet for purity of flavor.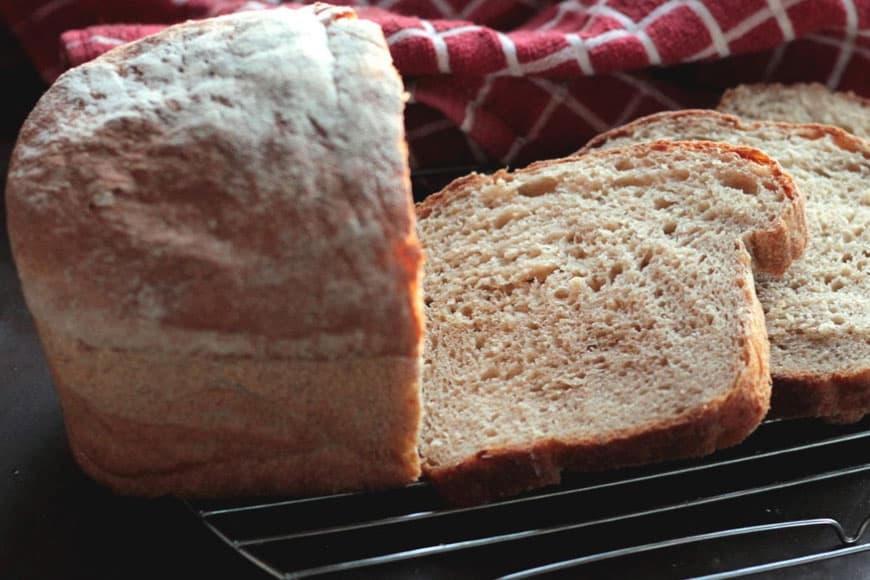 Unenriched by oils, eggs, or milk, this is a frugal staple for a homesteader. Add a potato to the basic flour, water, sugar, yeast formula and you've got a potato bread recipe that just might become your favorite homemade bread. (Though you should try all of these bread recipes to be sure!)
Ingredients
Bread flour — The protein content in bread flour is higher than all purpose flour. That higher protein means lots of gluten, which gives bread its stretch and elasticity. Can you use all-purpose flour instead? You can, but the texture of the bread may be slightly less chewy.
Potato — You'll use a medium sized potato for this recipe. Russet potatoes work well, but you can really use whatever kind you have on hand.
Active Dry Yeast — This is the ingredient that gives the bread loft.
Sugar — Use your favorite brand of granulated cane sugar. I prefer organic.
Sea Salt — Bread baked without salt is terribly bland, so be sure to include this staple ingredient!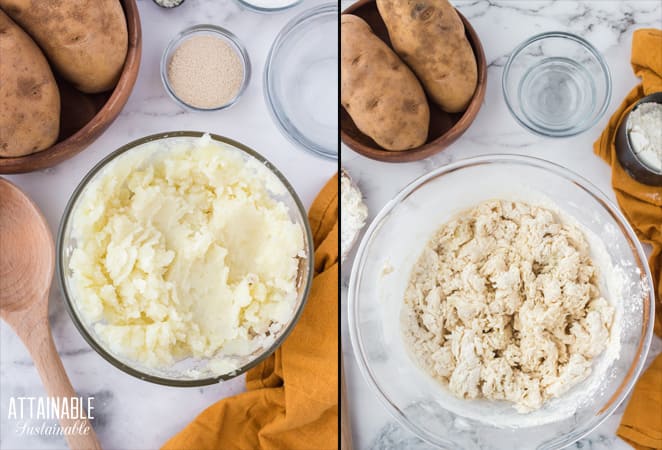 Making this Potato Bread
Start by boiling and mashing a potato. As mentioned above, starting with a freshly cooked potato will net the best results, but if you're frugal and want to utilize leftover mashed potatoes, you won't break the bread! Use about 1/2 cup mashed potatoes to replace the whole cooked potato.
Allow the yeast to proof and combine the ingredients in a large bowl to form a shaggy dough.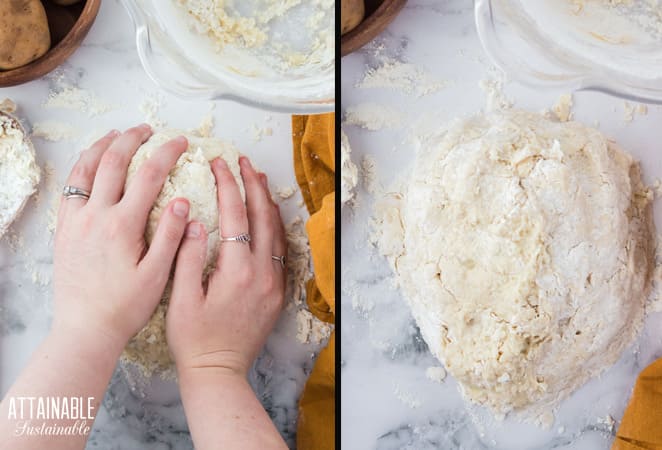 Turn the dough out onto a lightly floured surface and knead for 5-10 minutes. Alternatively, you can mix the dough with a dough hook in the bowl of your stand mixer.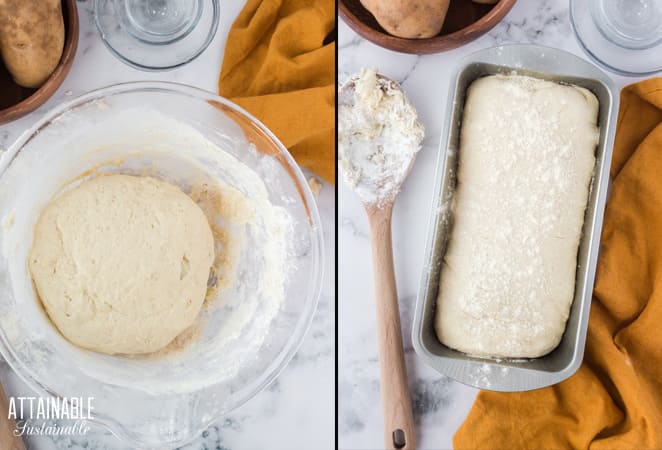 Let the dough rise until it has doubled in volume, which will take about an hour os so. Punch down and transfer dough to a loaf pan and allow to rise again.
Bake until golden and allow to cool before slicing.
Toast this bread for breakfast, make soft sandwiches, or butter it up alongside a hearty soup. Whatever way you serve it, you'll appreciate its soft crumb and wholesome flavor.
Storage
Place cooled bread in an airtight container and store at room temperature for up to a week. For longer storage, you can freeze the bread. It will last a couple of months in the freezer.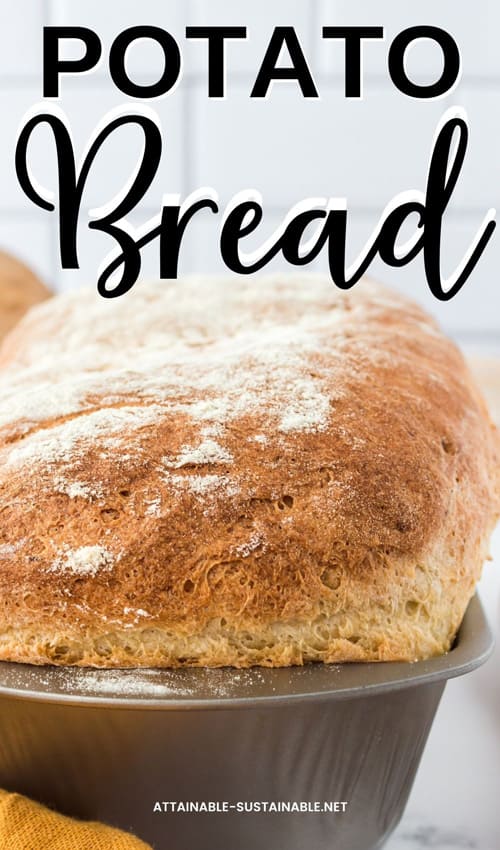 ★ Did you make this potato bread recipe? Don't forget to give it a star rating below! ★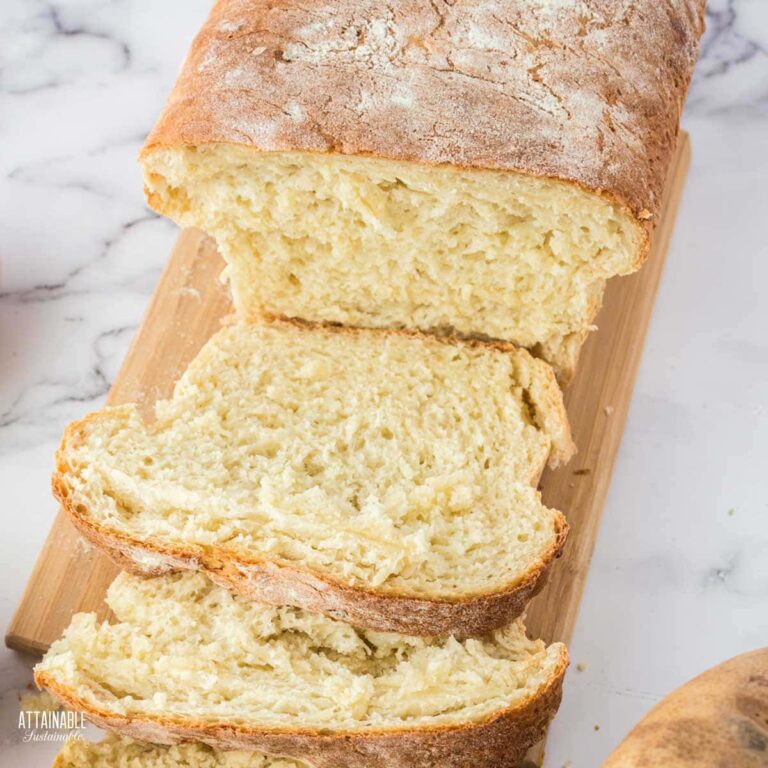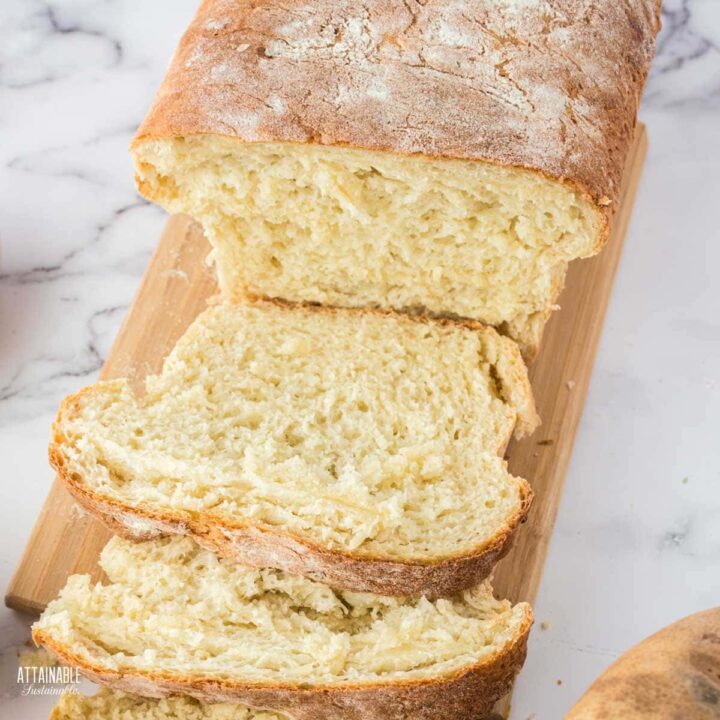 Homemade Potato Bread Recipe
Prep Time:
2 hours
30 minutes
Total Time:
3 hours
10 minutes
This homemade potato bread recipe makes a pillowy soft loaf that's perfect for slicing. It stays soft and fresh for days; make a loaf or two over the weekend and you'll have fresh sandwich bread all week.
Ingredients
1 medium starchy potato (about 1/2 cup)
1/2 cup reserved potato water
3/4 cup warm water
2 Tablespoons sugar
2 1/4 teaspoons active dry yeast
2 teaspoons salt
3.5 cups bread flour, plus more for kneading
Instructions
Peel and chop potato and place in a small saucepan. Cover with water and boil potato until tender, about 10-15 minutes. Allow to cool until warm before proceeding with recipe.
Once potato is cooled down, remove it from the pan of boiling water and mash, reserving cooking water. Mash potatoes until smooth and then measure one cup of that mash.
Place in a large mixing bowl along with 1/2 cup of the reserved potato water, sugar, and 3/4 cup warm water. Mix together until uniform and then sprinkle on the active dry yeast. Stir to combine and allow to proof for 5-10 minutes or until bubbles begin to form.
Stir in the salt and then the flour, starting with three cups. Stir with a wooden or metal spoon until the dough comes together into a shaggy mass, as in the photo. Turn the dough out onto a floured work surface and knead for 5-10 minutes, adding flour as needed to keep it from sticking, until the dough is soft and the gluten developed.
Place back in the mixing bowl and cover with a tea towel, beeswax wrap, or plastic wrap. Allow to rise for about 1-1.25 hours, until doubled in volume.
Preheat the oven to 375 degrees. Grease a 9x5" bread pan and punch down the dough. Flatten the dough on a lightly floured work surface, creating a rectangle. Fold the dough onto itself like an envelope to create a loaf shape.
Gently move the dough to the prepared bread pan and dust with flour. Cover with a towel and leave to rise an additional 30-35 minutes or until doubled in bulk. Transfer bread to the oven and bake for approximately 40-45 minutes or until golden brown. You can find out if the bread is fully baked by turning it out of its pan and thumping the bottom of the loaf. If it sounds hollow, it is done.
Transfer the bread to a cooling rack and leave to cool for at least 20 minutes before slicing.
Notes
If you have leftover baked or boiled potatoes, you may use those in place of the freshly boiled potato. You'll need about 1/2 cup mashed potatoes. Use warm water to replace the cooking water called for in the recipe.
If you wish to double the recipe to make two loaves, divide the dough in half and bake in two loaf pans.
You can also make this dough in a stand mixer equipped with a dough hook or use a bread machine to mix it on the dough setting. (I prefer not to cook it in a bread machine; baking it in loaf pans makes a nicer loaf of bread. That said, you can certainly bake it in the machine if you'd like!)
Nutrition Information:
Yield:

16
Serving Size:

1 slice
Amount Per Serving:
Calories:

131
Total Fat:

1g
Saturated Fat:

0g
Trans Fat:

0g
Unsaturated Fat:

0g
Cholesterol:

0mg
Sodium:

268mg
Carbohydrates:

27g
Fiber:

1g
Sugar:

2g
Protein:

4g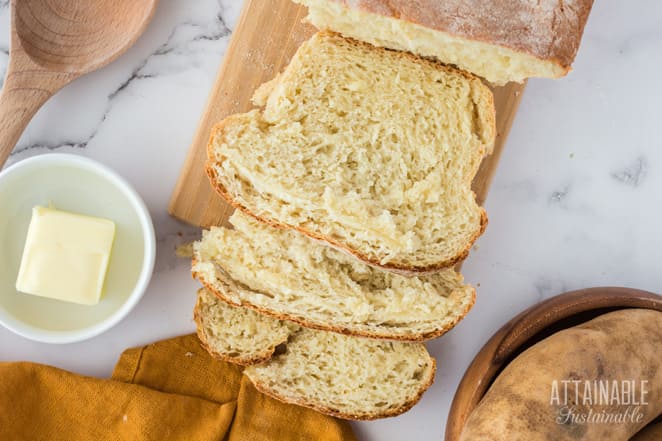 Originally published in February 2019; this post has been updated.