Homemade bread is one of the best places to start saving money and moving towards sustainability in your home kitchen. You eliminate those plastic bags, the gasoline necessary to get to the store, and any questionable ingredients in the loaf itself. This easy white bread recipe will make your whole house smell delicious! It's the perfect sandwich bread.
Try spreading this bread with a smear of homemade fig jam for a winning breakfast.
Contributed by Shannon Stonger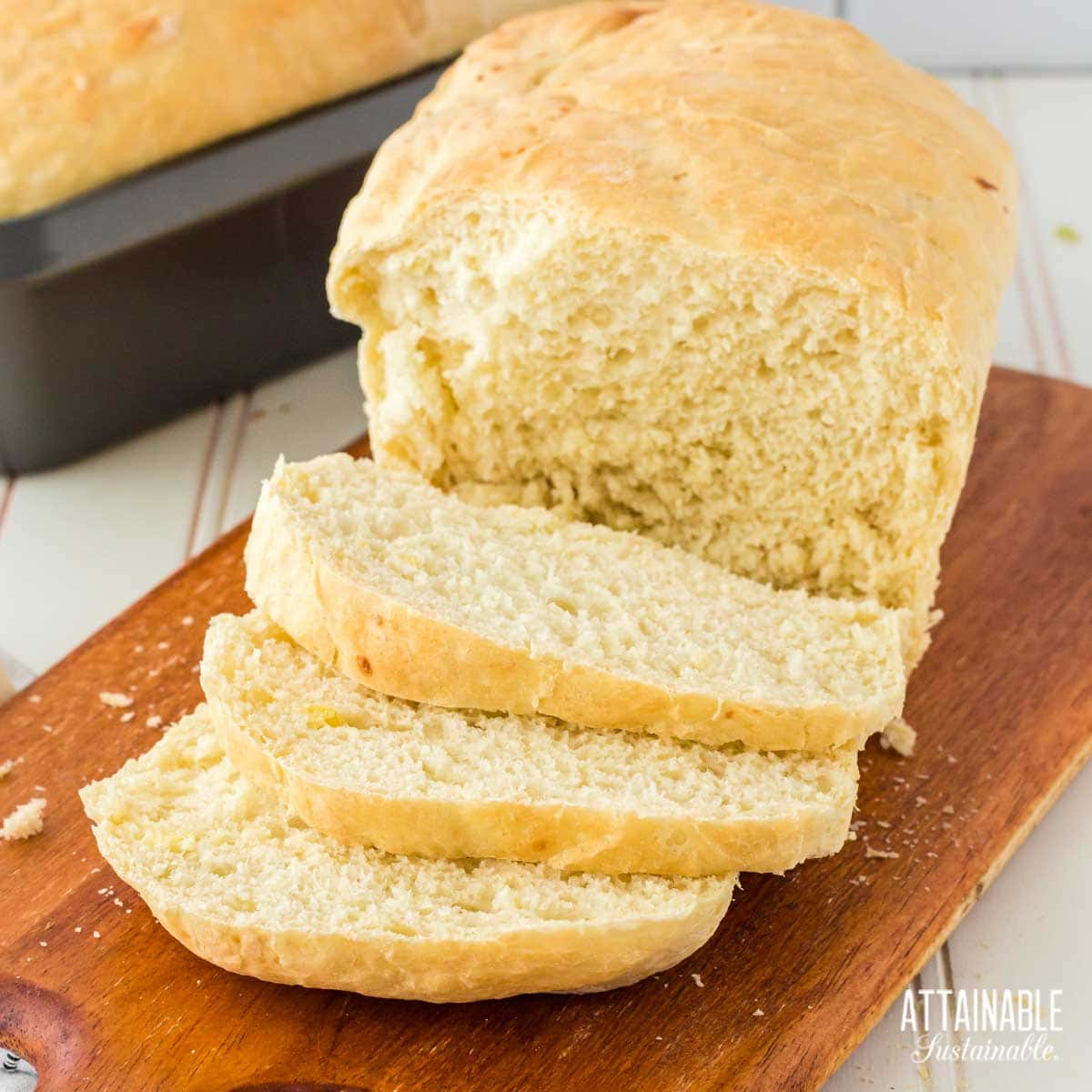 While yeast breads are intimidating to some, they can be fairly simple and straightforward once you get the right recipe under your belt.
Easy white bread recipe
This sandwich bread is a great beginning point and is a foolproof recipe in many ways. For one, it uses instant yeast which doesn't require the proofing phase that active dry yeast needs. So a simple mix of dry and then wet ingredients in a single bowl begins the process to make this loaf of bread.
The other little trick I utilize to make bread baking easier, both for yeast and sourdough bread, is avoiding the intensive kneading period most commonly called for. Kneading is necessary for this loaf, but with a bench rest technique learned from the inimitable Peter Reinhart, far less flour is needed to keep the loaf from sticking.
5 Easy Steps to Transform Your Pantry!
Ready to switch from store bought to homemade? Let me help you make some changes! Grab my FREE five-part guide to getting started.
This results in a lighter loaf, even when upwards of 50% of the flour is whole grain. So yes. While this loaf can be made with bread flour for a basic white bread, you can adjust the ingredients to include whole wheat flour if you like.
Best of all, this homemade white bread recipe slices up clean and thin for sandwiches or morning toast. Make sandwiches or serve it with homemade preserves and a fresh batch of cultured butter for breakfast. Homemade bread is one of the most satisfying recipes to tackle!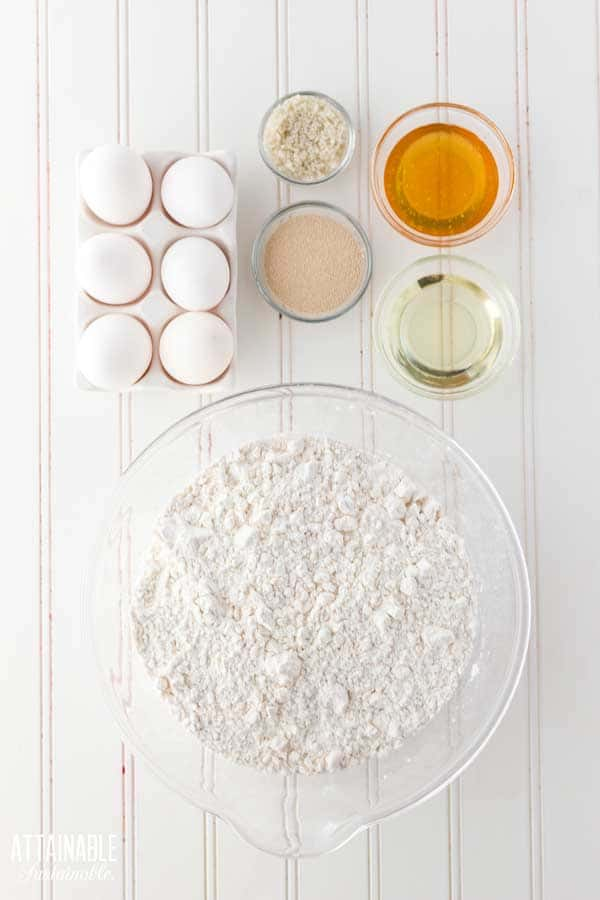 The Handcrafted Pantry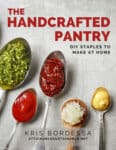 Ready to DIY your pantry with healthier ingredients? Check out my ebook, The Handcrafted Pantry! Filled with delicious recipes for some of your favorite condiments, snacks, and toppings, it's the guide you need to start skipping packaged products and embrace homemade.
Ingredients
Bread flour — The protein content in bread flour is higher than all-purpose flour. That higher protein means lots of gluten, which gives bread its stretch and elasticity.
Instant yeast — This yeast is different from active dry yeast in that the granules are smaller and it's more readily dissolved. It can be added directly to dry ingredients. If you only have active dry yeast on hand, you may substitute that, but you'll need to mix it with warm water before adding it to the recipe.
Salt — Use your favorite table salt or sea salt.
Fat — You can use either butter or coconut oil for this easy white bread recipe. Whichever you choose, you'll need to melt it before incorporating it into the dough.
Honey — Honey both sweetens the dough and provides food for the yeast in the rising process. If you don't have honey on hand, you can substitute granulated sugar.
Eggs — Fresh eggs, store bought, use what you have readily available.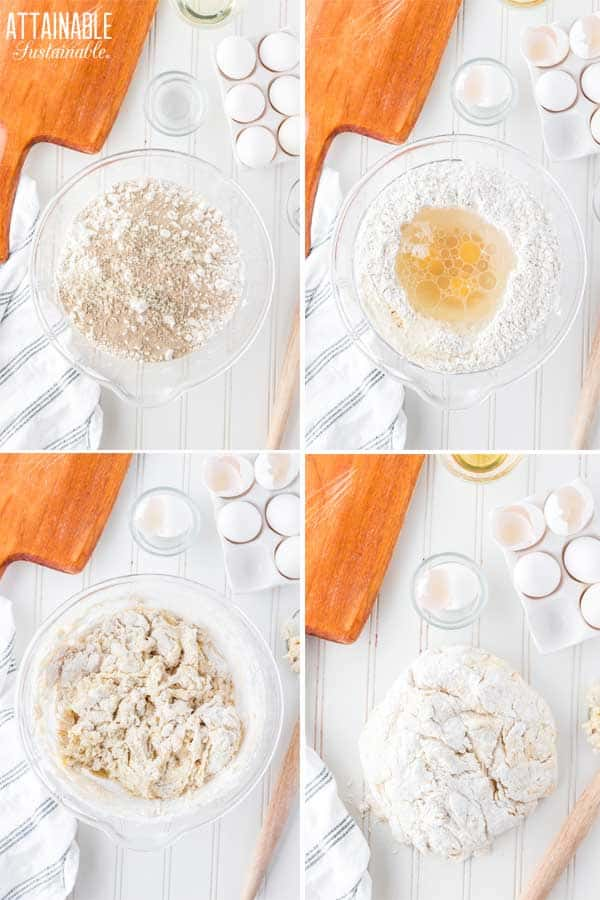 Making this sandwich bread loaf
Combine 6 cups of the bread flour with the remaining dry ingredients in a large mixing bowl. Create a well in the dry ingredients and add the wet ingredients.
Stir the liquid ingredients together, slowly incorporating the flour into the wet ingredients. Mix into a shaggy dough then transfer to a floured surface.
Knead the dough according to the guidelines below, then place in a well oiled bowl to rise in a warm place.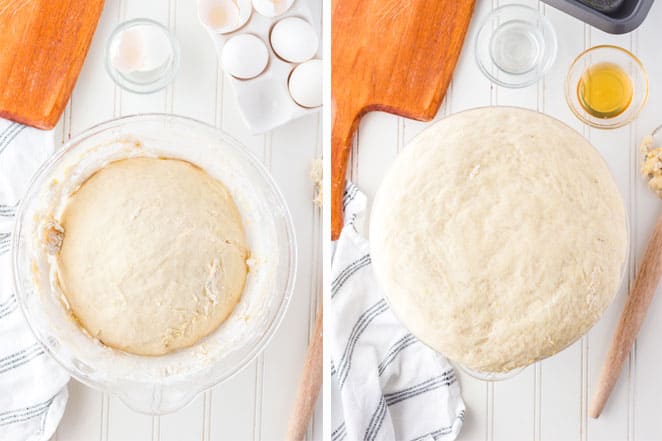 Divide the dough into two equal portions. Press dough into a rectangle, roll into a loaf shape, and transfer to a loaf pan. Repeat with the second portion of dough. Let the loaves rise again and bake until golden brown.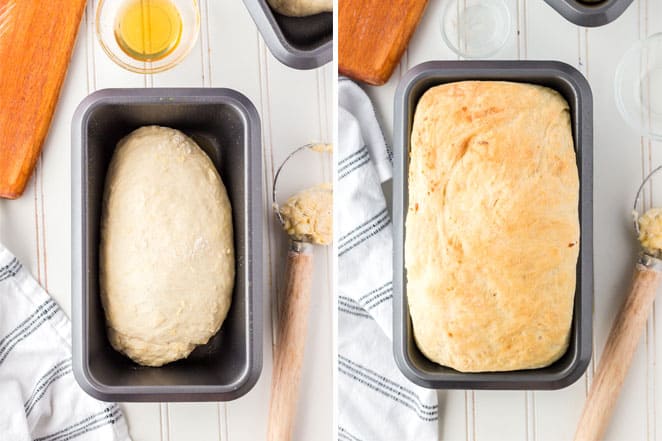 More homemade bread recipes to try: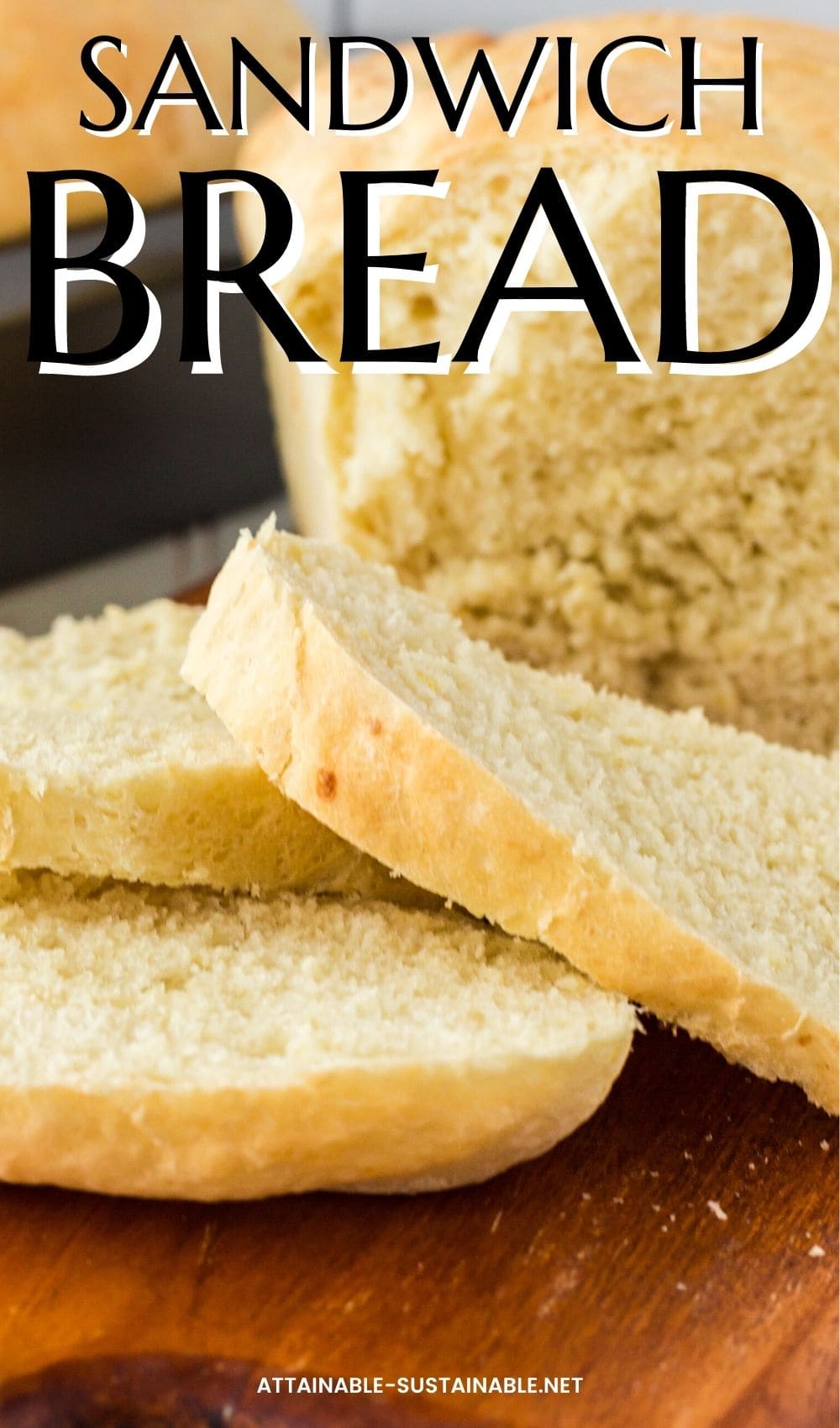 ★ Did you love this recipe? Be sure to give it a star rating below! ★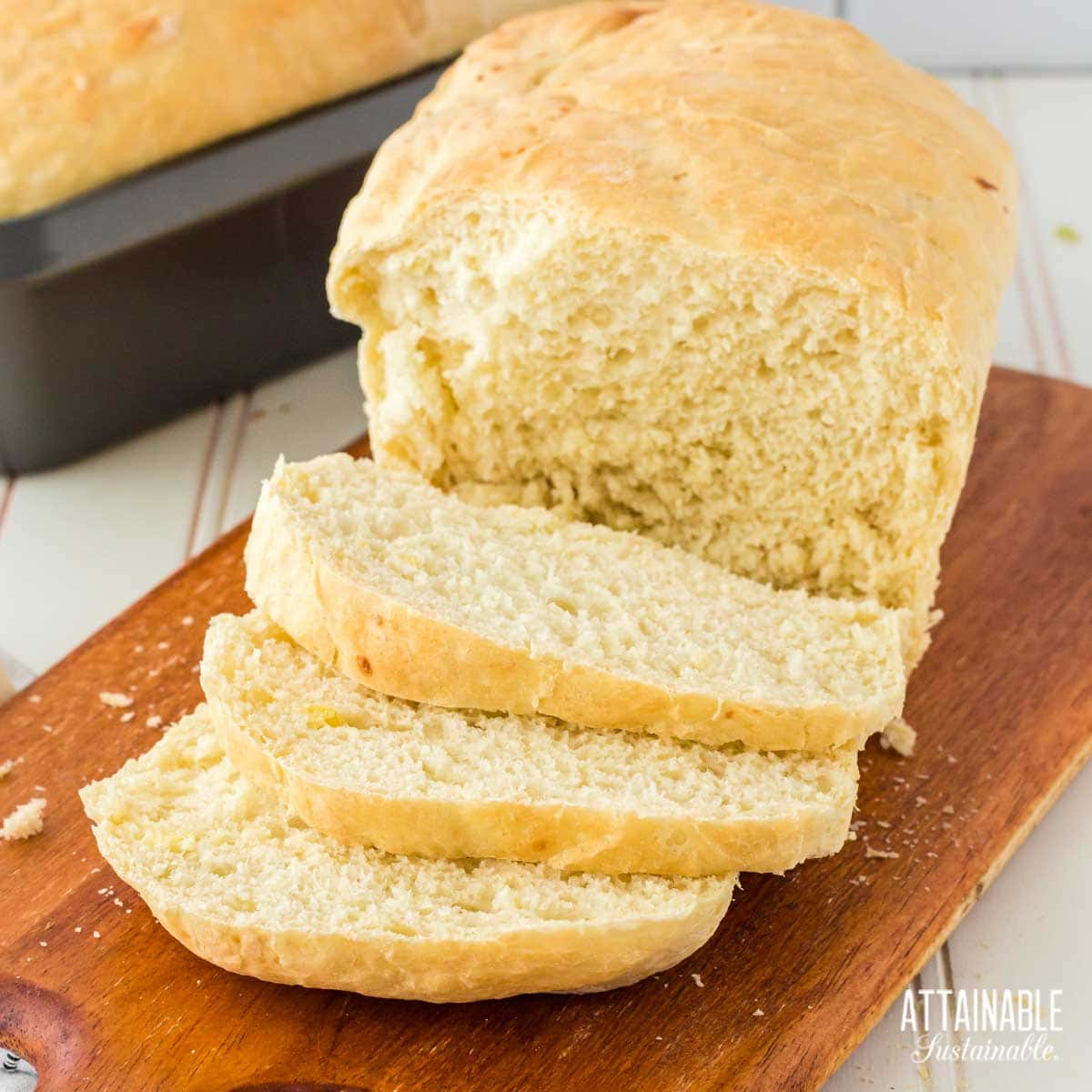 Foolproof Homemade Sandwich Bread
Prep Time:
3 hours
20 minutes
Total Time:
3 hours
55 minutes
Yeast bread may seem intimidating at first, but this recipe will walk you through the basics.
Ingredients
6-7 cups bread flour, divided
2 tablespoons instant yeast
2 cups water
3 tablespoons honey
3 large eggs
3 tablespoons coconut oil or butter, melted
Instructions
Combine 6 cups of the flour with the instant yeast and salt in a large mixing bowl.
Once the dry ingredients are well combined, make a well in the middle of the flour. Pour in the water, oil, honey, and eggs. Beat together the liquid ingredients and then begin pulling the dry ingredients into the wet.
Mix into a shaggy dough and then transfer to a floured work surface.
Knead the dough five minutes, adding flour as needed to prevent sticking. Allow dough to rest on bench for five minutes, covered with a damp towel. Return to the dough and knead two minutes. Allow dough to rest two minutes. Knead dough one more minute, form into a smooth round ball, and then flip the smooth side of the dough over, placing it into a well-oiled large bowl. Move the dough around to coat the top in oil and then turn it over. This prevents sticking.
Cover with a damp towel and place in a warm spot to rise one to two hours, or until doubled in volume.
Grease two 9x5 inch loaf pans using either butter or coconut oil. Uncover the dough and cut into two equal pieces. Punch down the first dough ball and place on a clean work surface (the dough should be oily so no need to use flour). Press dough into a rectangle and roll into a loaf shape, pinching the seams shut. Transfer to bread pan, seam sides down, and repeat with second loaf.
Cover the bread pans loosely with a damp towel and allow to rise in a warm space for an additional 45-90 minutes or until dough is approximately 1/2" above the rim of the pan. Preheat the oven to 350 degrees.
Once the oven is hot, transfer the loaves to the oven and bake 30-35 minutes or until golden brown. You can be sure it is baked through by removing the loaf from the pan and thumping the bottom. If it sounds hollow, it is done.
Allow the fresh loaf of bread to cool for at least 30 minutes before slicing.
Notes
You can substitute up to 50% of the flour volume with whole wheat with little to no change in texture.
To use active dry yeast in this recipe, mix 2-1/4 teaspoons (one envelope) active dry yeast with 1/4 cup warm water in a small bowl. Allow to proof for 10 minutes or until yeast becomes bubbly. Add with the liquid ingredients. Be sure to reduce the remaining amount of water to 1-3/4 cups.
If you prefer, you can knead this easy white bread recipe with a stand mixer equipped with a dough hook.
Nutrition Information:
Yield:

16
Serving Size:

1 slice
Amount Per Serving:
Calories:

220
Total Fat:

10g
Saturated Fat:

4g
Trans Fat:

0g
Unsaturated Fat:

4g
Cholesterol:

37mg
Sodium:

28mg
Carbohydrates:

265g
Fiber:

9g
Sugar:

4g
Protein:

45g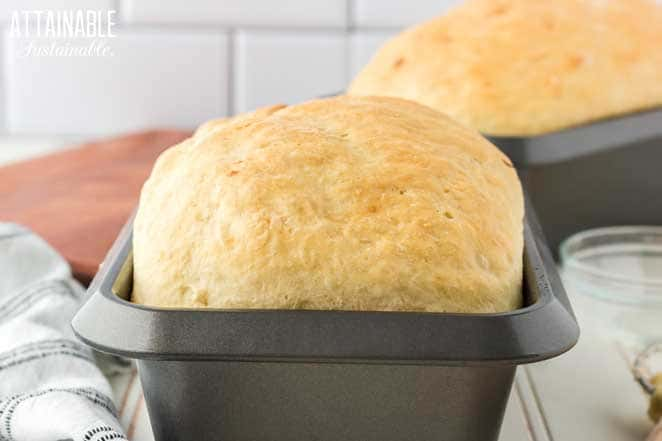 Originally published May 2017; this post has been updated.