There's nothing like a fresh loaf of bread, right out of the oven. Unless it's a super easy no knead bread! This rustic garlic and rosemary bread requires just a little mixing, followed by a long rise time.
This bread would be delicious with some of this caramelized onion jam!
Making this Easy No-Knead Bread
While most yeast breads require a certain amount of kneading, this recipe does not. It's a great starter recipe for people who are hesitant to try their hand at making homemade bread. It's truly easy. And it's delicious, as well.
This savory bread recipe incorporates chunks of fresh garlic and rosemary for a rustic, savory bread that's perfect served with soup. Or simply spread with butter. If you'd prefer to omit the rosemary and garlic, you certainly can; the bread will be just as good.
It takes 5 minutes to stir the ingredients together in a large bowl. Once that's done, let the dough rest. You'll want to let it rest for at least 8 hours, or up to 24 hours. While it rests at room temperature, the dough will rise some and become bubbly. It will not look like traditional yeast bread dough. Despite the sticky dough, it will bake into a lovely artisan bread loaf!
5 Easy Steps to Transform Your Pantry!
Ready to switch from store bought to homemade? Let me help you make some changes! Grab my FREE five-part guide to getting started.
Baking this rosemary bread
To get a nice, crunchy crust, you'll cook this bread loaf in a pan that's been pre-heated. A cast iron Dutch oven works, but so does a nice sturdy — deep — casserole dish with a lid. The red dish you see above is a Pampered Chef stoneware casserole dish that I picked up (brand new!) at the thrift store.
Slide the dough into the hot dish. Using parchment paper makes this step easy.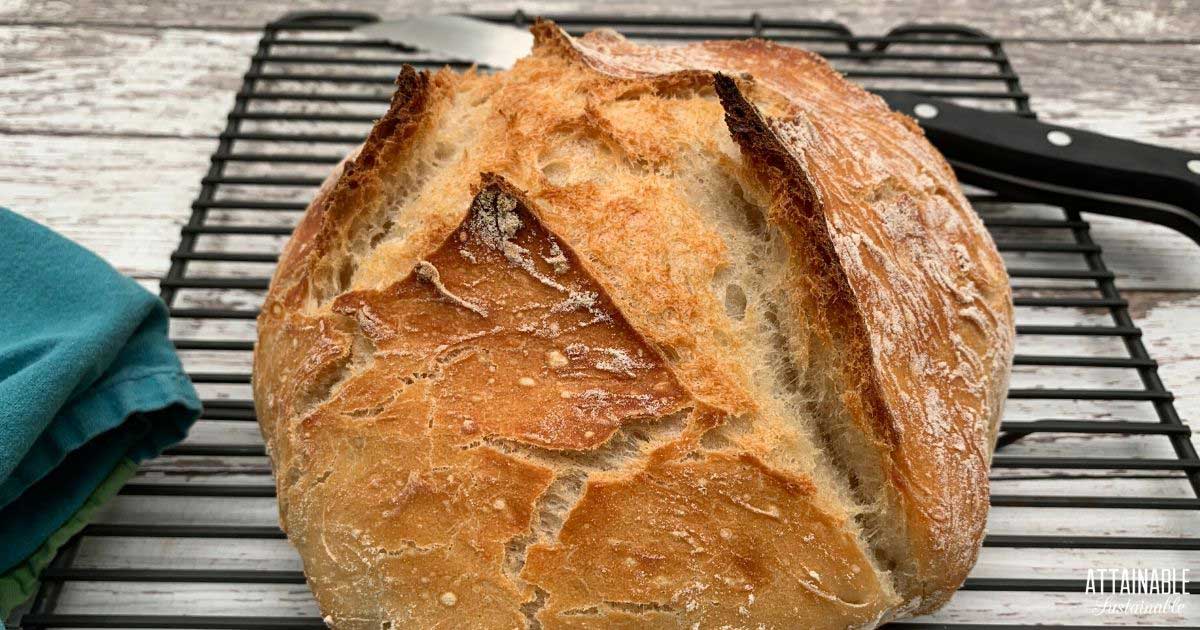 Can you make this without the parchment paper?
Absolutely! The parchment paper is a trick to make transferring the bread dough to the hot dish much easier, but it's not absolutely necessary. You can, instead, use your hands to lift the dough gently into the hot pan.
Bake for 30 minutes, covered, then remove the lid and continue baking for another 15 minutes or so, until the bread is a lovely golden brown.
★ Did you make this no-knead bread recipe? Don't forget to give it a star rating below! ★
Easy Garlic Rosemary No-Knead Bread
Total Time:
8 hours
50 minutes
Mix up a handful of ingredients and let them sit overnight. You'll be ready to bake up a fresh loaf of delicious rosemary bread the next day!
Ingredients
3 1/4 cups all purpose flour, (plus extra for dusting)
1 teaspoon salt
1/2 teaspoon yeast
1 1/2 cups warm water
6-8 cloves garlic, roughly chopped
1 tablespoon dried rosemary
Instructions
Combine water, salt, yeast, garlic, and rosemary in a mixing bowl. Stir in flour.
Cover with a damp kitchen towel and allow to sit at room temperature for 8-24 hours. It will become bubbly.
Dust a sheet of parchment paper with flour. Turn dough out onto parchment paper and form a ball bay tucking the loose "edges" of the dough under. Allow to rest for 30 minutes.
While dough is resting, place a deep, lidded casserole dish or cast iron Dutch oven in the oven and preheat to 450 degrees Fº.
Use a sharp knife to make an "X" in the top of the loaf.
Transfer bread to the hot baking dish and cover.
Bake for 30 minutes. Uncover and bake for 15 more minutes, until the bread is nicely browned.
Remove from oven and cool before slicing.
Nutrition Information:
Yield:

12
Serving Size:

1 grams
Amount Per Serving:
Calories:

128
Total Fat:

1g
Saturated Fat:

1g
Unsaturated Fat:

0g
Sodium:

197mg
Carbohydrates:

27g
Fiber:

1g
Sugar:

1g
Protein:

4g