This easy French bread recipe is great to pair with soup, slice and toast, or for making your favorite sandwich. This French bread loaf is a homemade bread winner and oh, so good slathered with butter.
No time to knead? Try this delicious and easy no-knead bread!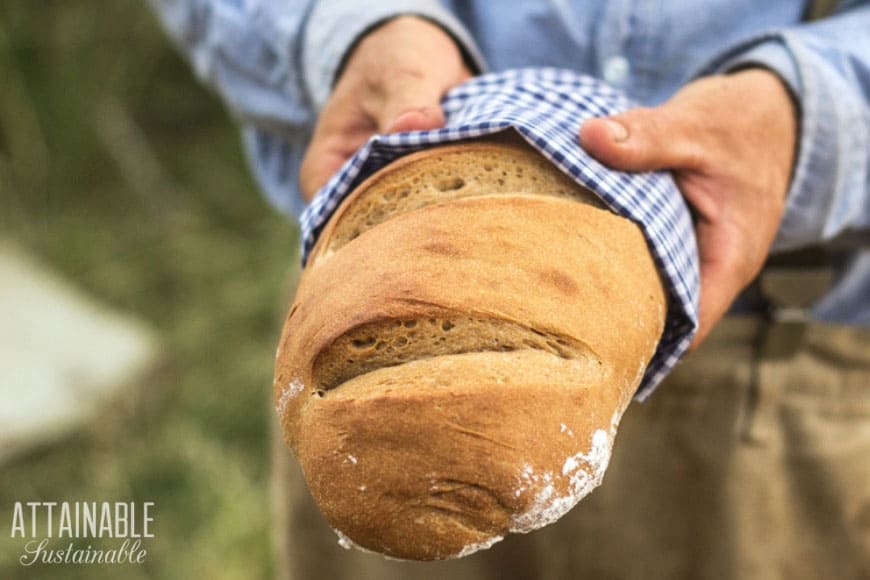 Baking bread by hand, at home, with the simplest of ingredients doesn't have to be complicated. And it doesn't have to be tasteless or boring, either.
This tender French bread ticks all of the boxes: It sits beautifully on the table next to homemade soup — like this creamy pumpkin soup. It cuts easily and butters nicely. It keeps for several days without losing its soft texture. And it tastes so, so good.
Adding a few basic recipes for breads, soups, and fermented foods to your repertoire will give you the tools to go from garden or market to table simply and affordably. And while it tastes better than the store-bought version, the ingredients in this easy French bread recipe are much, much easier to pronounce.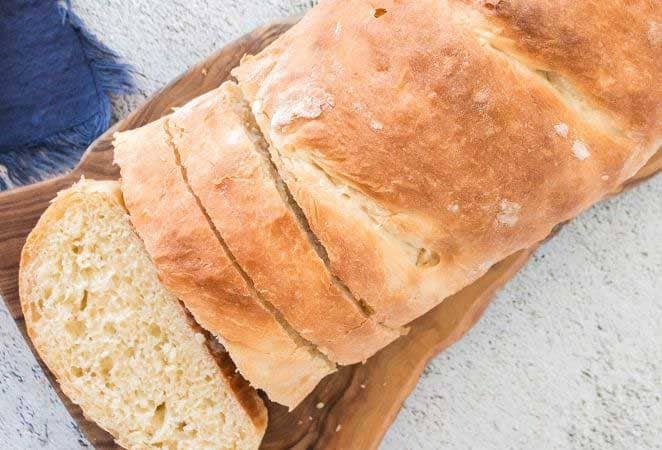 5 Easy Steps to Transform Your Pantry!
Ready to switch from store bought to homemade? Let me help you make some changes! Grab my FREE five-part guide to getting started.
Related:
---
The Handcrafted Pantry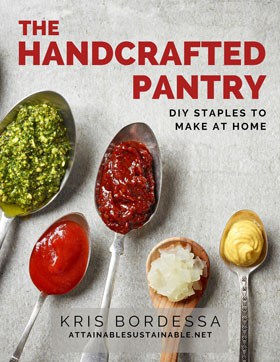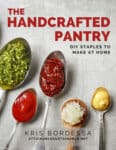 Ready to DIY your pantry with healthier ingredients? Check out my ebook, The Handcrafted Pantry! Filled with delicious recipes for some of your favorite condiments, snacks, and toppings, it's the guide you need to start skipping packaged products and embrace homemade.
---
Try this easy French bread recipe
Making homemade bread is not difficult, but it does require a little bit of hands-on effort — literally. Stretching and folding the dough imparts air bubbles that will make the finished product light and airy.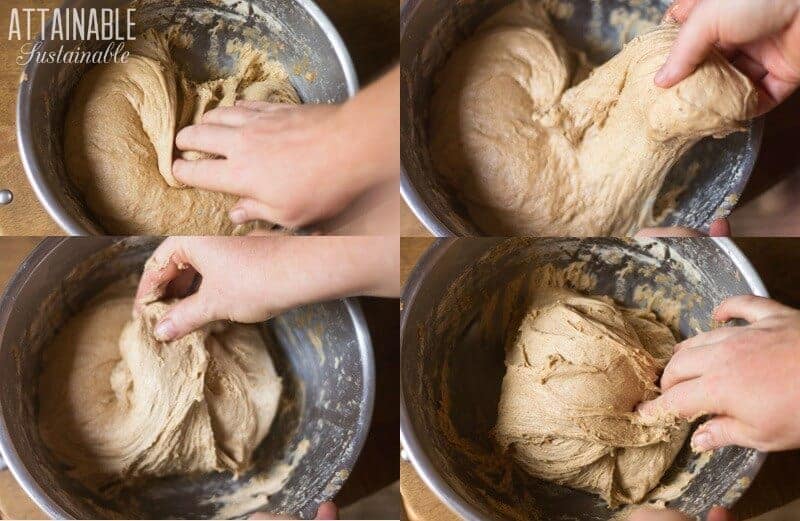 Choose a warm location where your bread can rise. On a warm summer day, the countertop will suffice, but during the winter months, tucking it inside an oven that's been pre-heated for a few minutes works, as does setting it near the wood stove.
This easy French bread recipe is destined to become a favorite at your place! It's great to serve with soup and stew, but it can also be the base of this delicious Blueberry French Toast Casserole.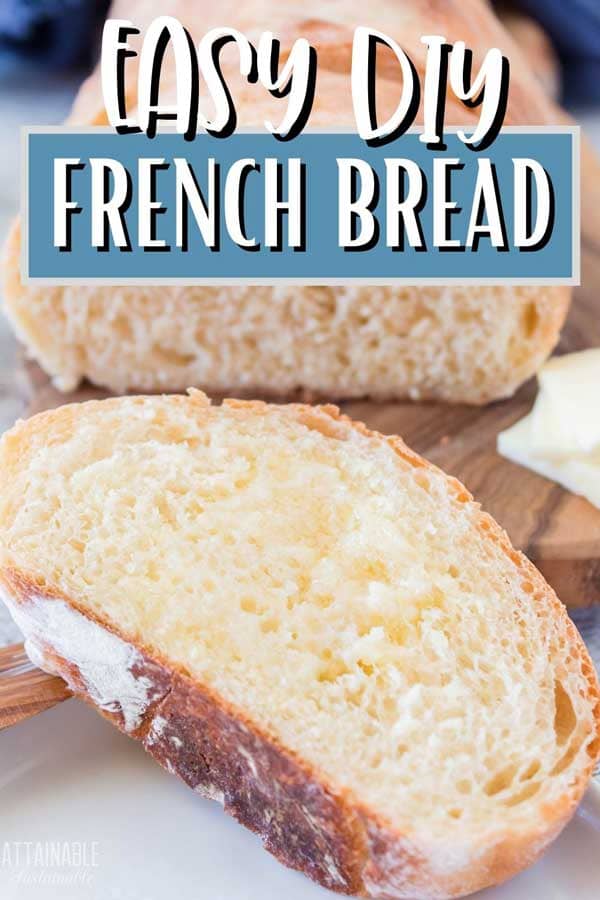 ★ Did you make this easy French bread recipe? Don't forget to give it a star rating below!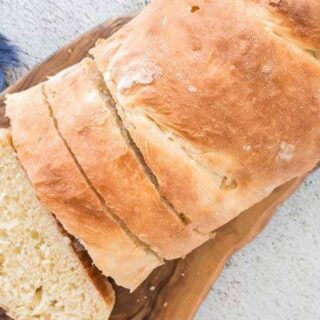 Easy French Bread Recipe
Total Time:
3 hours
40 minutes
Making homemade bread from scratch can sound daunting, but it's mostly a hands-off process and the end result is SO worth it.
Ingredients
2.5 teaspoons active dry yeast
2 Tablespoons granulated organic cane sugar
1 1/4 cups warm water, divided, (around 100 degrees F)
2.5 cups bread flour
Instructions
Combine 1/4 cup of the warm water with the dried yeast and sugar in a medium-sized mixing bowl. Allow to sit and "proof" for 5-10 minutes or until you see bubbles and signs of life in the yeast.
Add the water, flour, and salt and mix until a rough dough forms. Wet your hands slightly and knead the dough for just 2-3 minutes or until a cohesive but still rustic feeling dough forms. Cover and allow the dough to rest for 30 minutes.
Return to the dough and perform a stretch-and-fold by folding each side of the dough onto the mass of dough. Looking down at the dough, imagine it as the face of a clock. Start at the 12 and stretch and pull that corner onto the mass of dough. Repeat with the 3, 6, and 9 edges respectively.
Cover and allow to rise an additional 45 minutes and repeat stretch-and-folds. Cover and allow to rise 30-45 minutes, or until doubled in bulk.
Forming the loaf
Lightly flour a sheet of parchment or a clean work surface. Place the dough on the floured surface and stretch the dough into a rectangular loaf shape as you would a sandwich loaf. Stretch the long ends of the loaf and tuck them under the rectangular loaf. Allow to rest for 3-5 minutes. Return to the loaf and stretch it out to a loaf 12-18" long by rolling it back and forth and elongating the dough. Either transfer the parchment to a baking sheet or transfer the dough to a greased baking sheet that has been lightly dusted with flour.
Letting the bread rise
Once the loaf is formed correctly, cover with a damp towel or plastic wrap and allow to rise for 60-90 minutes or until nearly doubled in bulk. Preheat the oven to 400 degrees when the loaf has risen by 50%.
Remove the towel or plastic wrap and, using a very sharp knife or razor, slash the dough diagonally in three to four places. Place bread in hot oven and bake 30-40 minutes or until browned nicely on the outside and baked through. You can test the loaf by turning it over and thumping the bottom. If it sounds hollow, it is done.
Move to a cooling rack; allow to cool for at least 20 minutes before slicing.
Nutrition Information:
Yield:

12
Serving Size:

1 grams
Amount Per Serving:
Calories:

97
Unsaturated Fat:

0g
Sodium:

320mg
Carbohydrates:

19g
Protein:

3g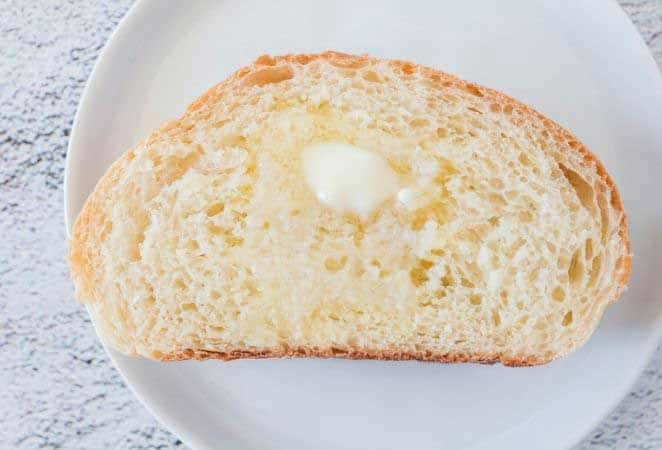 Originally published in May 2017; this post has been updated.