This sourdough English muffin recipe will wow your breakfast crew. You're going to need some butter for these crunchy, homemade English muffins!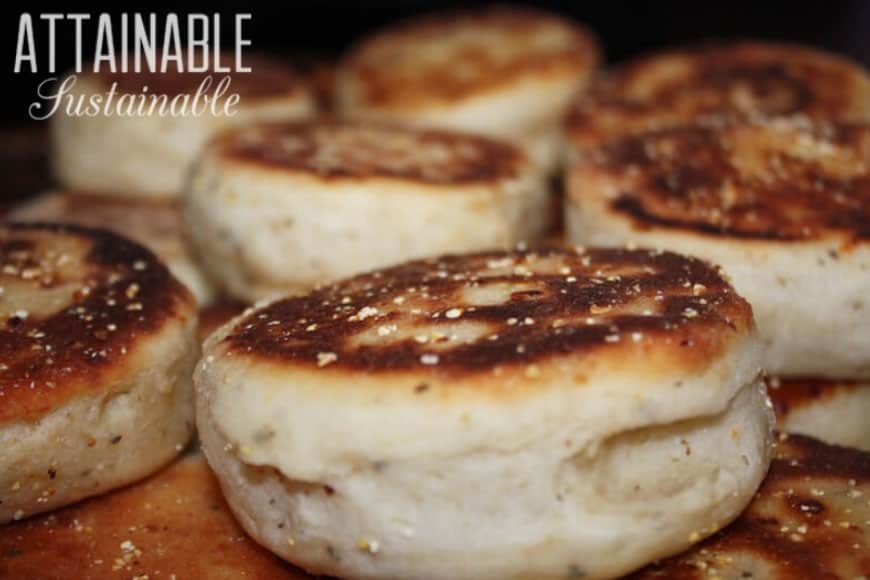 Switching to homemade English muffins
My husband did a little happy dance as he walked in the door and smelled the heavenly aroma of herbs and bread. He may (or may not have) even spun around and high-fived the kids…but I wouldn't want to embarrass him! (Homemade English muffins are a winner.)
Ever since my family changed our diet from a standard American diet to a traditional diet based on the teachings of Weston A. Price, the Hubs has missed many of his former creature comforts, one of those being his beloved Egg McMuffins from the Golden Arches.
Over the years, I've been experimenting with healthier options to replace those long lost favorites and recently I happened to expand on our sourdough English muffin recipe, adding this herb and parmesan version that's become our new favorite!
Because conventional wheat and flour causes us to have digestive upset, we opt for sourdough whenever possible. The fermentation process makes the bread easier for us to digest. We've made sourdough everything: sandwich bread, tortillas and flatbread, Dutch pancakes, chocolate cake, and bagels! We even make some gluten-free sourdough recipes! [Check out Kelsey's other sourdough recipes here.]
5 Easy Steps to Transform Your Pantry!
Ready to switch from store bought to homemade? Let me help you make some changes! Grab my FREE five-part guide to getting started.
Sourdough English Muffin Recipe
You'll need to plan ahead before getting started on these sourdough English muffins. The dough needs to sit overnight. You'll also need an active sourdough starter before beginning. Be sure to feed it 4-12 hours before you're ready to begin!
[Looking for a bread recipe that you can make right NOW? Try this
French bread recipe
or
Grandma's Portuguese sweet bread
.]
I usually feed my sourdough starter in the morning, mix up the dough that evening, and finish up the muffins the following morning. Then we'll enjoy English muffins for a "Silly Dinner," which is, of course, breakfast for dinner!
Related: How to Dry Basil
If you have a stand mixer, set it up with the dough hook and it will make quick work of the dough. If not, you can do it the old fashioned way, mixing by hand.
Related: Homemade Light and Fluffy Dinner Rolls
Turn the dough out onto a floured board and roll to about a 1/2-inch thickness. Cut into rounds with a cookie cutter, a highball glass, or a canning ring.
Related: Simple Sourdough Boule Bread Recipe
After rising, you'll cook them in a frying pan — cast iron is great for this — to get crispy, crunchy browned English muffins. Once done, slice them open and top with butter and your favorite jam. Or drizzle them with a bit of this lemon fermented honey.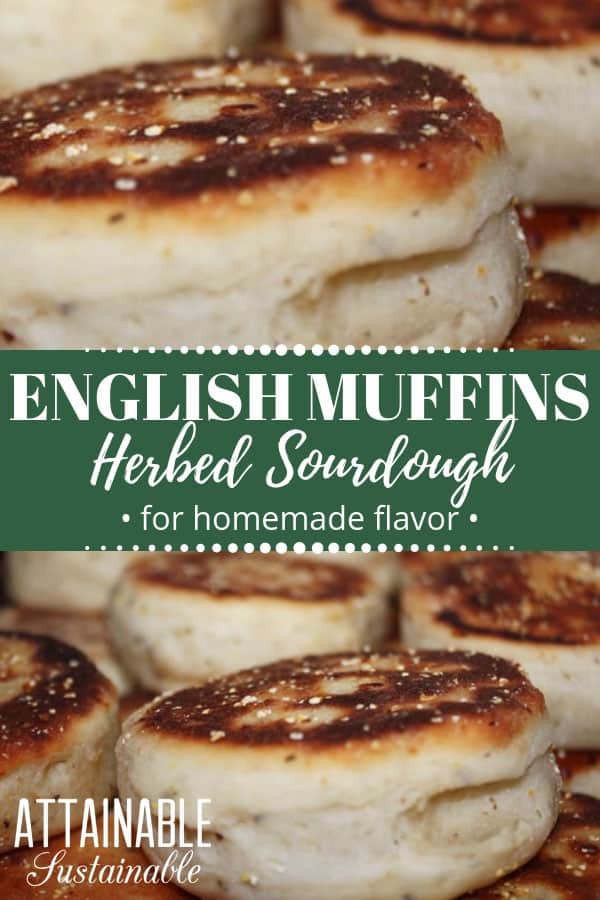 ★ Did you make this sourdough English muffin recipe? Don't forget to give it a star rating below!
Herb and Parmesan Sourdough English Muffin Recipe
Total Time:
1 hour
5 minutes
You won't find this flavor in the store! Learn just how easy English muffins can be.
Ingredients
2 Tablespoons honey
2 cups raw milk
4 cups unbleached organic all-purpose flour, I used unbleached white flour
1 teaspoon baking soda
1 -2 cups additional flour
2 Tablespoons herbs of choice, equal parts oregano, basil, and garlic powder is delicious!
1 cup parmesan cheese, grated
1/4 cup cornmeal, organic or non-GMO, for sprinkling
oil for coating pan
Instructions
Preparing the sourdough English muffin dough
The night before, gather the ingredients for homemade English muffins. Mix together sourdough starter, honey and milk in the bowl of your stand mixer until just combined.
Slowly add four cups flour (one-to-two cups at a time) and mix on low using the dough hook attachment until all the flour is incorporated. Cover bowl with a clean tea towel topped with a plate; allow to soak for 12-16 hours (or overnight).
The next morning, sprinkle baking soda, parmesan cheese, herbs and salt over the surface of the dough and knead dough to combine.
Flour a clean surface or large board with 1/2 cup flour. Knead dough until it is somewhat stiff. You may add more flour if needed. I usually add anywhere from 1/2-1 cup flour, depending on hydration level of your starter. (The dough should be moist, but not sticking to your hands.)
Continue to knead by hand for five minutes until a smooth ball is formed.
Using a rolling pin, roll dough out to about 1/2-inch thickness. Flip dough and add more flour to your work surface as needed to keep it from sticking.
Cut dough with a three-to-four-inch round cookie cutter. (Or use a wide-mouth mason jar lid!)
Line a sheet pan with waxed paper and sprinkle with corn meal. Arrange English muffins on pan, leaving about 1/2-inch between rounds. Sprinkle the tops of the muffins with additional corn meal, pressing into muffins lightly with your hands. Cover with a tea towel. Let muffins rise in a warm place until doubled in size (about an hour).
Cooking homemade English muffins
Heat a cast iron skillet or large griddle over medium-low heat. Preheat your oven to 325 degrees F.
Add one-to-two tablespoons avocado oil to the pan. Gently transfer as many muffins to the pan as will fit.
Cook on one side for five minutes, until golden brown. Flip muffins; cook five minutes more. Use the back side of your spatula to flatten the muffins if they puff up too much.
Transfer homemade English muffins to a sheet pan. Continue with remaining muffins. Finish by baking in the oven for 20 minutes at 325 F. Eat immediately, or let cool completely and store in an airtight container
Nutrition Information:
Yield:

24
Serving Size:

1 grams
Amount Per Serving:
Calories:

122
Total Fat:

2g
Saturated Fat:

1g
Unsaturated Fat:

0g
Cholesterol:

5mg
Sodium:

288mg
Carbohydrates:

20g
Sugar:

1g
Protein:

4g