This post may include affiliate links. If you make a purchase, I'll earn a small fee at no extra expense to you.
This easy sourdough starter recipe is just what you need to get baking!
Sourdough baking is as old as bread baking itself. Before the widespread manufacturing of commercial yeast, nearly all rural bread bakers would have utilized either a sourdough starter or a natural leavening from beer brewing or other sources to make sourdough bread and baked goods.
These natural leavening agents have many advantages over the commercial yeast breads but the primary one is the time and fermentation lacking with modern yeast usage. Naturally leavened breads take time to achieve loft and during that time the bread is imbued with organic acids, the grains are broken down into more digestible constituents, and the sourdough bread is given really delicious flavor.
Sourdough starter recipe without yeast
All that is needed to create your own homemade leavening is flour and water. Many starters are available commercially and can work but I love the simplicity of catching these wild organisms in my own kitchen.
One of the most important things to keep in mind when beginning to delve into sourdough bread baking is that if your starter isn't working well, your bread will be disappointing. Creating a large yeast colony alongside the prolific bacterial colony is critical to well-risen loaves. Choosing the right flours or switching flours is important. Understanding the needs of a sourdough starter and how it can be cared for daily or less frequently are helpful. Everything you need to know about baking with natural leavening, including other forms of homemade yeast and gluten-free sourdough baking, can be found in my book Traditionally Fermented Foods.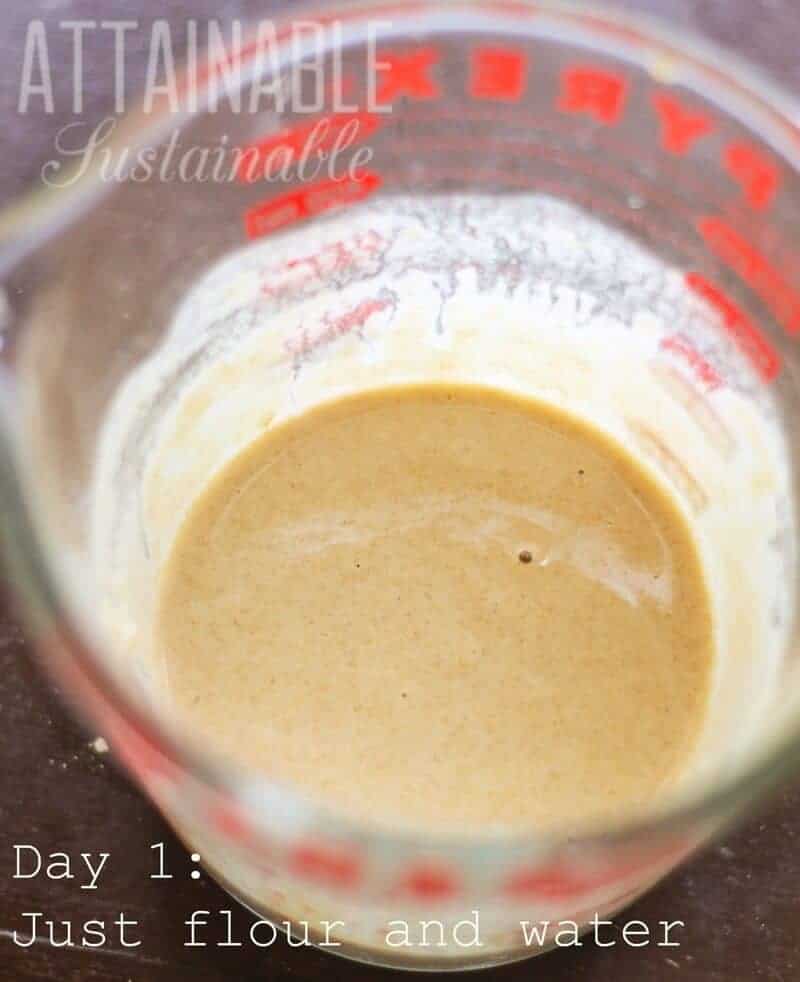 Easy sourdough starter recipe
Day 1: Combine a half cup of flour with a scant half cup of water. Stir vigorously to incorporate air. Cover with a breathable lid and allow to sit in a warm space for 12 hours. Repeat feeding with same quantities of flour and water.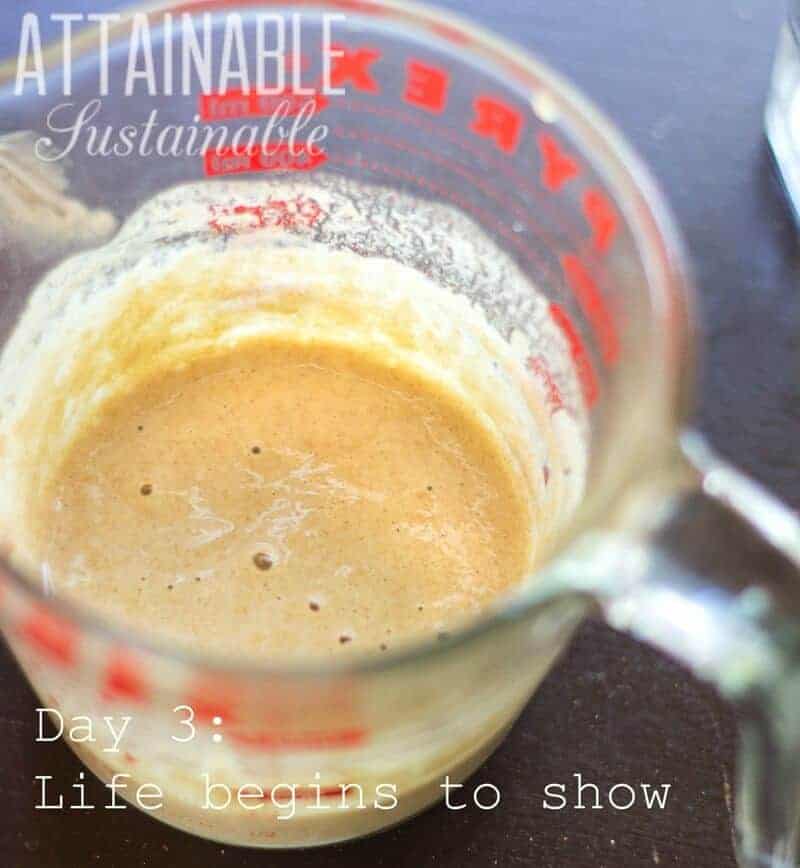 Days 2 & 3: Continue feeding starter as above at the same 12 hour intervals. By the third day a bit of life should show up. There should be bubbles. A sour smell will begin to be evident.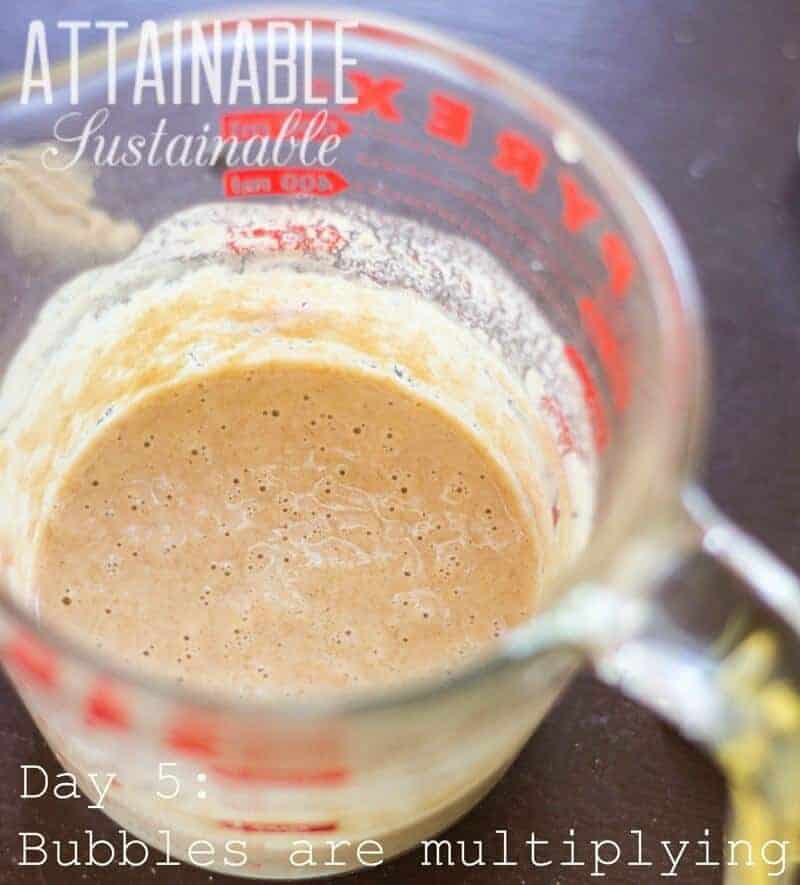 Days 4, 5, & 6: Continue feeding starter as above, but discard all but 1/2 cup of the starter just before you feed it. (There are plenty of good uses for "discarded starter" in the Grains chapter of my book.) You should now see and smell signs of sourdough. More bubbles are forming, the starter is growing in volume in between feedings, etc.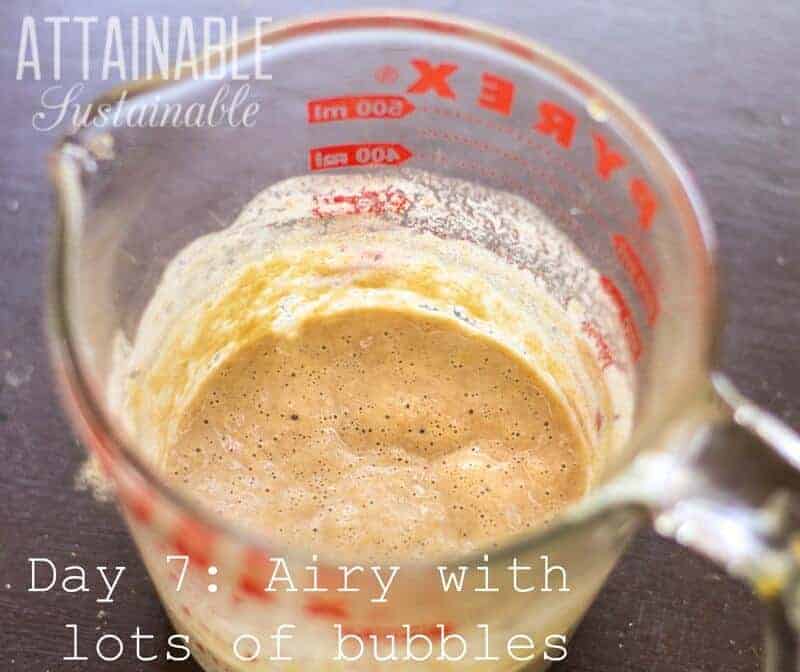 Time for homemade sourdough bread!
Day 7: Your starter should now be very airy when it hits its peak, 4-8 hours after a feed. Continue feeding as on days 4-6 and feel free to start baking! You have successfully made this easy sourdough recipe without yeast.
Continue to feed once per day going forward, if the starter sits at room temperature. Alternatively, you can store it in a refrigerator and remove to bake with it once per week. Just be sure to remove it 24 hours before mixing up your dough so you can feed it and let it come to room temperature.
And if you're looking to get started, these Simple Overnight Sourdough Rolls are an easy first baking project.
You might also like: