These sourdough banana muffins are the perfect start to your morning. It's a bit like banana nut bread, but in easy to pack individual sized muffins.
You could bake fresh sourdough bread every day of the week for that inimitable fresh-from-the-oven flavor.
This post may contain affiliate links; I'll earn a small commission if you choose to make a purchase.
But not everyone can commit to that level of working with sourdough, so it is nice to have a few recipes in your back pocket for using up that active sourdough starter.
Reader Favorites from Attainable Sustainable
Rather than overpowering the sweeter aspect of a quick bread recipe such as this, sourdough starter adds a dimension of flavor that gives unexpected flavor nuance.
That fermented tang imbued by a healthy, active starter actually enhances the other flavors of the muffin.
Related:
We love this banana nut muffin recipe
These muffins in particular are gently sweetened by very ripe bananas and a touch of honey.
Rather than eggs,they employ a bit of flax seed in combination with the binding properties of the sourdough starter itself.
Bake these muffins in a regular muffin tin (this one has a nonstick ceramic surface) or use a mini-muffin tin for fun-sized muffins.
All told, this is a sweet treat and a healthy start to the day (or afternoon snack) all rolled into one.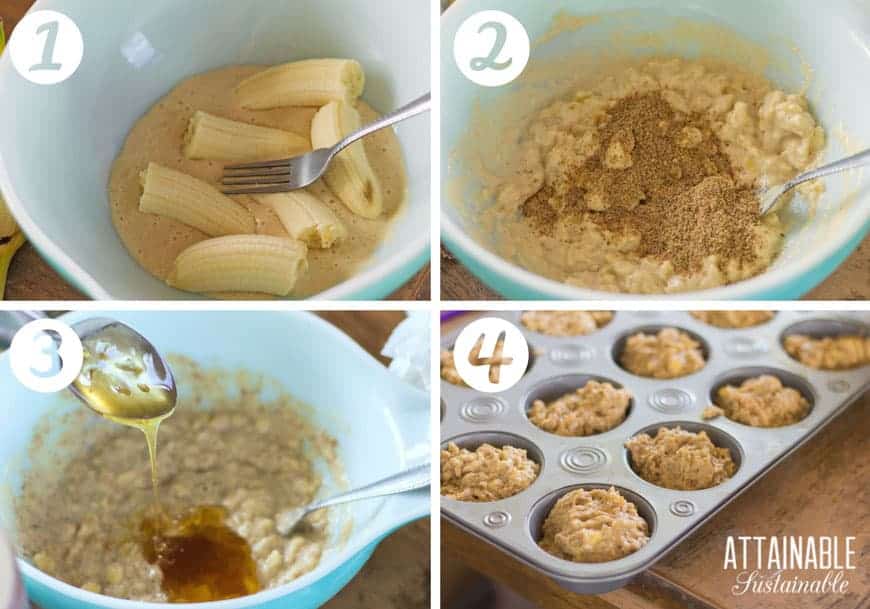 ★ Did you make these sourdough banana muffins? Don't forget to give it a star rating below! ★
Sourdough Banana Muffins
This banana nut muffin recipe starts with a basic sourdough starter. They're the perfect start to your morning.
Instructions
Grease a 12-cup muffin tin and preheat your oven to 400 degrees.

In a medium mixing bowl, mash the bananas with a fork. Mix in the flax, honey, sourdough starter, and melted coconut oil. Mix just until combined.

Add in the remaining ingredients and once all ingredients are in the bowl, gently mix until just combined.

Divide the batter between the 12 muffin cups and place in the preheated oven.

Bake 15-20 minutes or until a cake tester comes out clean when inserted into the center of a muffin.
Recipe Notes
Like all muffins, this recipe hinges on not over-mixing. In particular, be careful not to overmix the liquid ingredients as sourdough starter can also toughen the muffins upon overmixing.