These vegan sweet potato muffins are made with spelt flour and applesauce. So much goodness in one little muffin! If you're looking for a healthy sweet potato muffin to add to your morning routine, these might be it.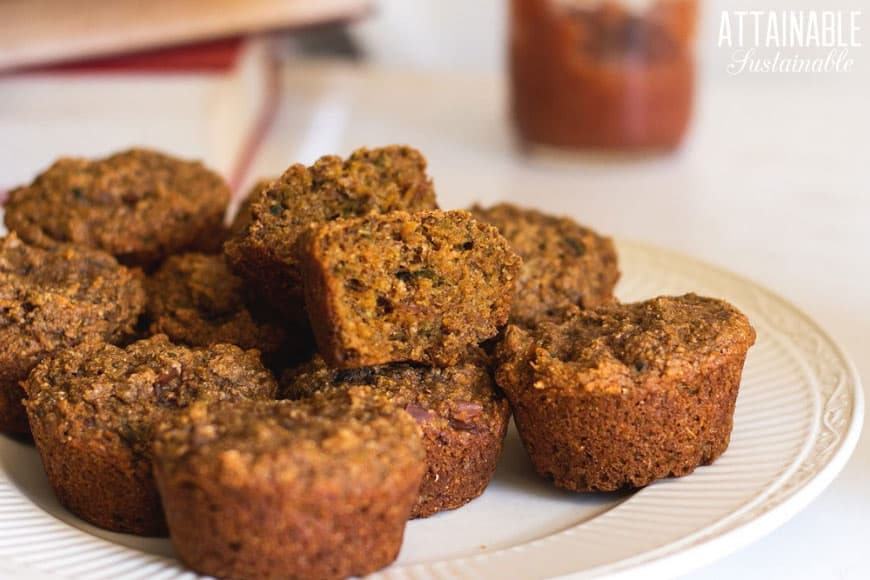 Sweet potato puree, with its creamy sweetness, lends itself well to flavorful baked goods. But if you didn't happen to bake sweet potatoes the day before, or don't have the 45 minutes it takes to bake sweet potatoes until tender, shredding raw sweet potatoes accomplishes much the same thing in less time.
The shredded bits of sweet potato will cook quickly, imparting their sweet flavor in these spiced muffins in just the time it takes the muffins to bake. Healthy sweet potato muffins in less time? Perfect!
Related: Sourdough Banana Nut Muffins
Related: Peanut Butter and Jelly Muffins: Your Favorite Flavors in a Muffin
5 Easy Steps to Transform Your Pantry!
Ready to switch from store bought to homemade? Let me help you make some changes! Grab my FREE five-part guide to getting started.
Wholesome ingredients = healthy sweet potato muffins
Sweet potatoes from the cellar and applesauce canned in the fall give these breakfast muffins a light sweetness. Whole grain spelt flour, an heirloom wheat variety, gives them a lovely nutty undertone reminiscent of a bran muffin.
The batter should fill the muffin cups about 2/3 of the way. More than that and these vegan muffins will overflow as they bake.
Related: Better Than Starbucks Pumpkin Muffin Recipe

Related: Breakfast Ideas to Start Your Day Right
Vegan sweet potato muffins for breakfast on the go
With seasonal ingredients and no eggs or dairy, these vegan sweet potato muffins are perfect to make for snacks or breakfast on cold baking days. They make a great grab and go breakfast for busy days, too. Bake these vegan sweet potato muffins in a regular muffin tin (this one has a nonstick ceramic surface) or use a mini-muffin tin for fun-sized muffins.
★ Did you make these healthy sweet potato muffins? Don't forget to give it a star rating below! ★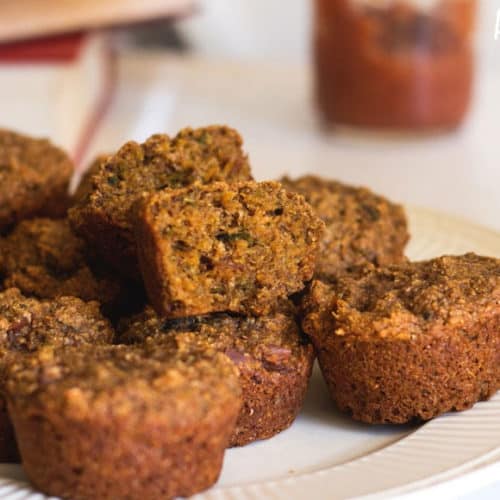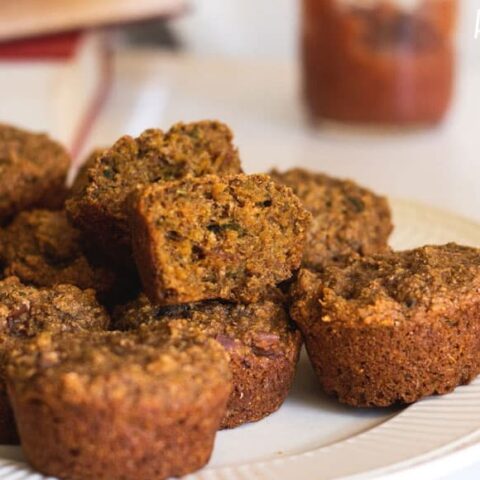 Vegan sweet potato muffins
Made with spelt flour and applesauce, these healthy muffins are great for breakfast or an easy-to-grab snack.
Ingredients
2 cups whole grain spelt flour
1 teaspoon baking soda
1 teaspoon baking powder
1/2 cup granulated organic cane sugar
1-1/2 cup shredded sweet potato
Instructions
Preheat the oven to 400 degrees and grease a 12 cup muffin tin.
Combine the flour, salt, baking soda, baking powder, cinnamon, and ginger in a large mixing bowl.
Whisk well until all dry ingredients are well combined.
Make a well in the dry ingredients and into the well add in the sugar, applesauce, shredded sweet potato, and coconut milk. Stir the wet ingredients together in the well and then begin mixing the dry ingredients into the wet. Stir just until all ingredients are combined.
Divide the muffin batter between the 12 cups and place pan in preheated oven. Bake for 20 minutes or until a cake tester comes out clean.
Allow these healthy sweet potato muffins to cool in pan for five minutes before moving to a cooling rack.
Nutrition Information:
Yield:

12
Serving Size:

1 grams
Amount Per Serving:
Calories:

147
Total Fat:

3g
Saturated Fat:

2g
Unsaturated Fat:

0g
Sodium:

242mg
Carbohydrates:

26g
Fiber:

3g
Sugar:

10g
Protein:

3g