Passion fruit jelly is a staple on Hawaii breakfast tables, but it's easy to make your own! Use fresh juice or juice from the freezer to make this tangy sweet lilikoi jelly. It will bring a tropical flavor to your morning toast, or use it in recipes like shortbread cookie bars in place of lemon.
This lilikoi gingerade is another great way to indulge in the flavor of passion fruit!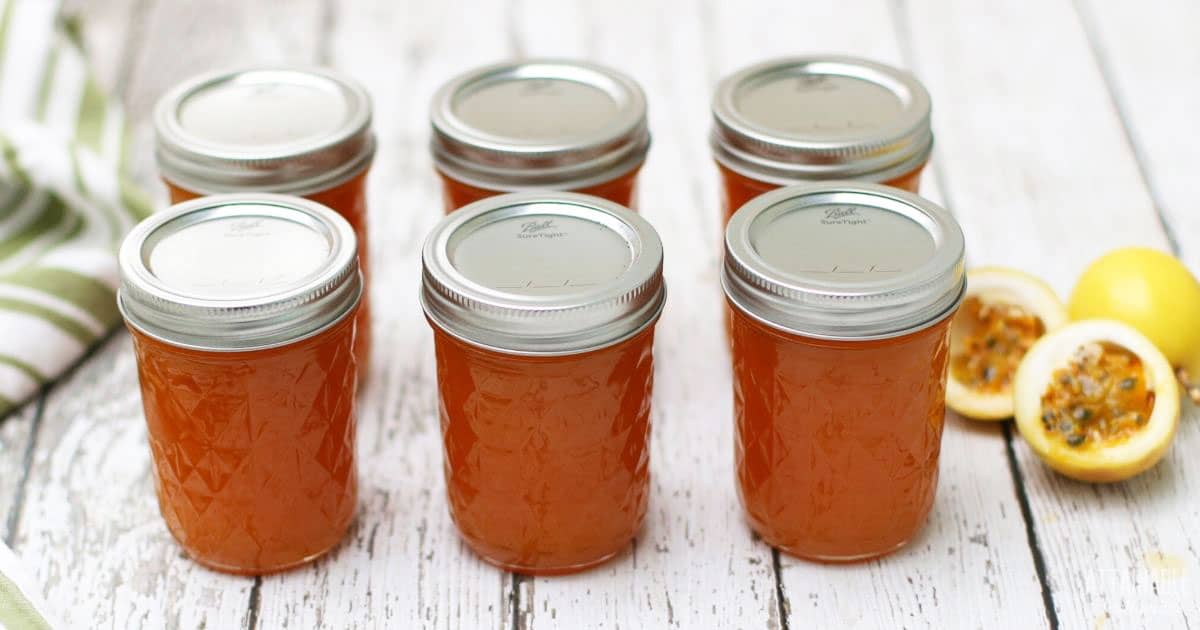 What is lilikoi?
Otherwise known as passion fruit, liliko'i fruit is Mother Nature's answer to a SweeTart. The first sour bite of a liliko'i will jangle all the way back to your jawbone.
Stick with it, though, and you'll catch the tropical sweet undertones if this much-loved fruit. Filled with small black seeds wrapped in a juicy orange membrane, lilikoi grows on a vine that can get rambunctious in this mild climate.
While I'm told there have been attempts to eradicate the vine as a pest, I consider myself lucky to have liliko'i fruit growing in my backyard.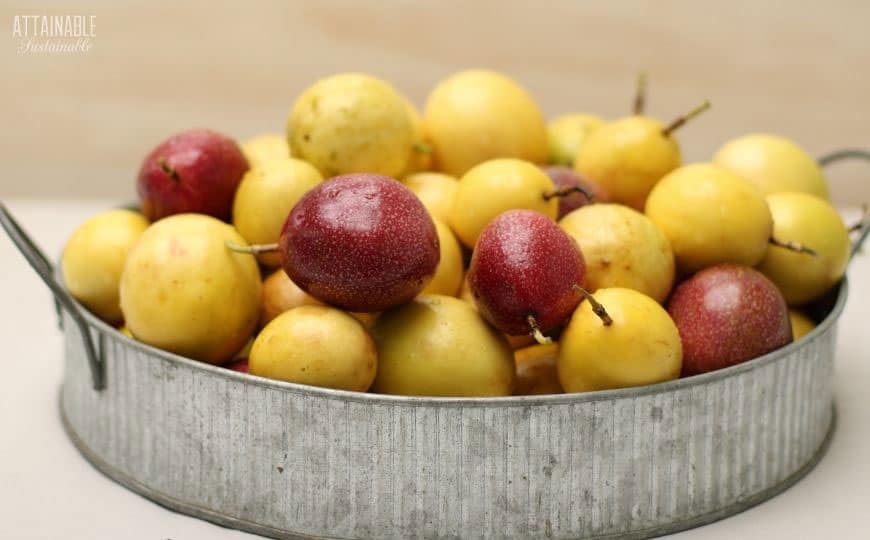 5 Easy Steps to Transform Your Pantry!
Ready to switch from store bought to homemade? Let me help you make some changes! Grab my FREE five-part guide to getting started.
There are a number of different varieties of lilikoi here; some have yellow skin, some have purple skin, and one — often called Jamaican lilikoi or peach lilikoi — has light orange skin that's a bit velvety. It tends to be sweeter than the others.
---
The Handcrafted Pantry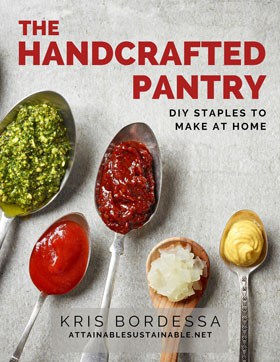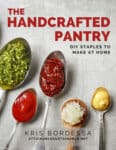 Ready to DIY your pantry with healthier ingredients? Check out my ebook, The Handcrafted Pantry! Filled with delicious recipes for some of your favorite condiments, snacks, and toppings, it's the guide you need to start skipping packaged products and embrace homemade.
---
Passion fruit jelly or passion fruit jam?
If you're not sure which one you're after, go over here to read about the difference between jam and jelly.
Some people make liliko'i jam, retaining the seeds — or at least some of them — in the final product. Passion fruit seeds are really hard. And they're not small. They're about 1/8′ across.
I don't care for them in my passion fruit spread, but if you like crunchy jam, you may like it this way.
Passion fruit jam is certainly easier to make than passion fruit jelly, as you can skip the juicing step. (Which is really the most time consuming step.)
Before you can make lilikoi jelly (no seeds), you'll need to juice the fruit. I've found that using a blender to break up the membranes and a chinois to remove the seeds is the best way to do this. Go here for more on juicing lilikoi. For this recipe, use the processed juice from the fruit — not the drink recipe.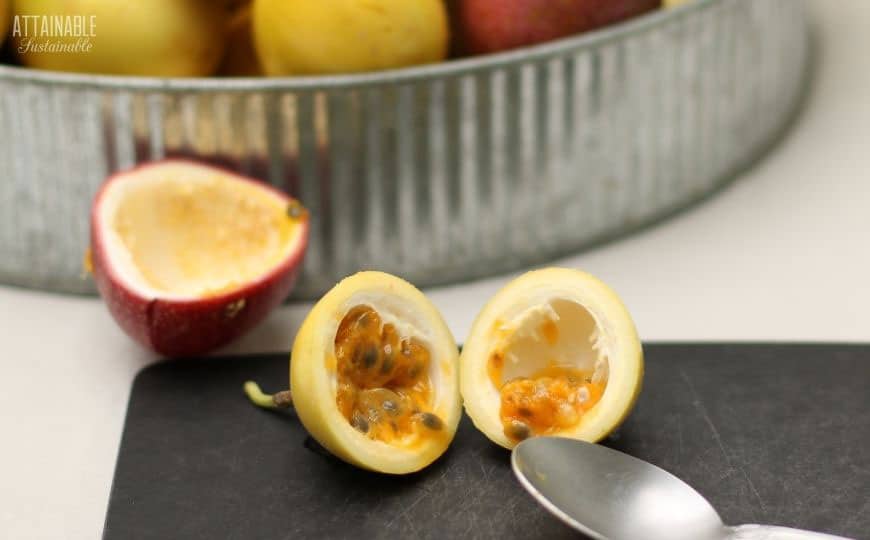 How to use lilikoi
One can only eat so much lilikoi fruit fresh out of hand, so I find myself juicing much of my bounty to turn into this lilikoi jelly and lilikoi bread.
I like to preserve this passion fruit jelly in small jars so that I can take them with me as gifts when I visit family and friends on the mainland.
This is a lower-sugar option than many of the lilikoi jelly recipes on the 'net. I use Pomona pectin, since it allows me to use less sugar than other pectin brands.
You can use rapadura whole cane sugar for this recipe, too, but the resulting jelly will be much darker.
This delicious jam is one of my favorites for spreading on toast, but try adding it to a glass of jam seltzer, too!
🍅 Safety First!
Canning is an excellent way to preserve food for the pantry, but there are some important safety considerations to keep in mind. The recipes on this site have been made following safe canning procedures by a certified Master Food Preserver.
Know the difference between water bath canning and pressure canning. Low acid items must be pressure canned for safety.
Altering ingredients may change the recipe's pH, posing a safety issue. I highly recommend investing in pH paper to test your products for acidity level when canning. Note: For safe water bath canning, the Hawaii Master Food Preservers suggest a pH of 4.2 or lower in the tropics. In other regions, the recommended pH is 4.6 or lower.
Use the proper jars and lids. Never reuse lids, with the exception of the Tattler or Harvest Right hard plastic lids that are intended for such a purpose.
For more on canning equipment, please go here.
Related: Easy Canning Recipes for the Novice Home Canner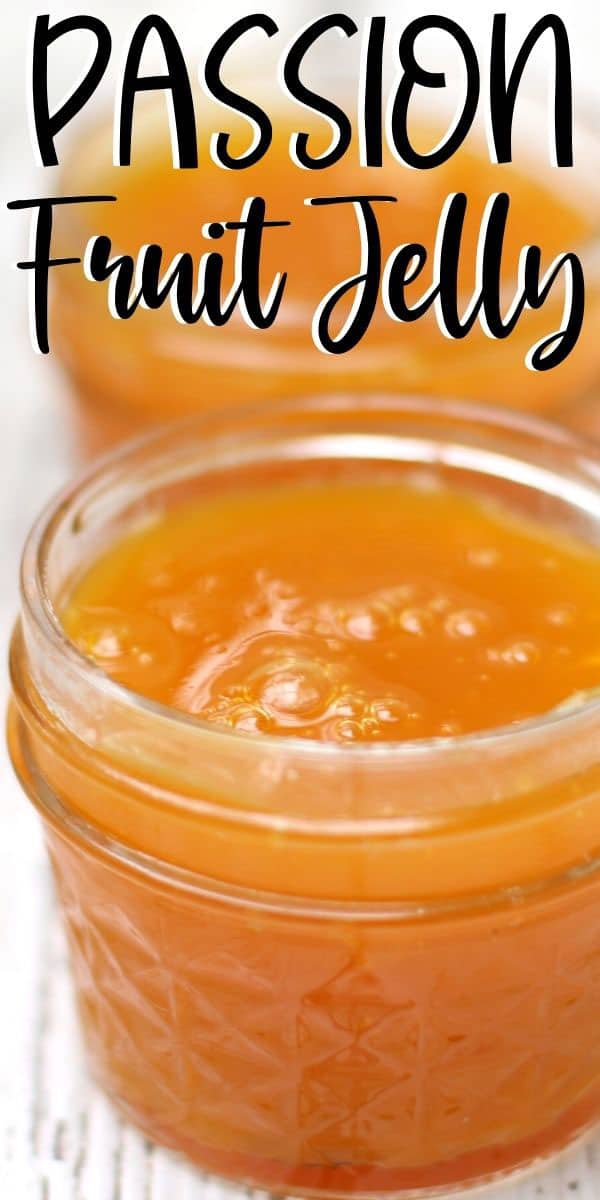 ★ Did you make this passion fruit jelly? Don't forget to give it a star rating below!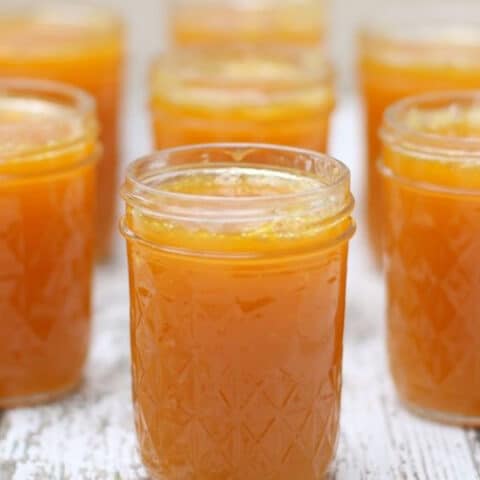 Passion Fruit Jelly
Processing Time:
10 minutes
Liliko'i -- or passion fruit -- has a delicious tropical flavor. Use the juice from this fruit to make a batch of jelly for the pantry.
Ingredients
8 cups liliko'i juice, (how to juice liliko'i)
4 teaspoons prepared calcium water (from Pomona; see below)
4-5 cups granulated organic cane sugar
6 teaspoons Pomona's pectin (measured from the large packet)
Instructions
Prepare calcium water. Put 1/2 teaspoon calcium powder (the small packet) and 1/2 cup water in a small jar with a lid. Shake well before using.
Fill your water bath canner to a level that will cover your jars. This varies depending upon jar size. Bring to a boil. Proceed with next steps while the water is heating.
Wash and rinse jars. Bring lids and rings to a low simmer; turn off heat and let stand in hot water.
Measure passion fruit juice and prepared calcium water into a large stock pot. Bring to a boil, stirring frequently.
Meanwhile, combine sugar and pectin in a bowl. Stir very thoroughly (and I mean thoroughly) to prevent clumping.
When juice boils, add sugar mixture and stir vigorously to dissolve the pectin. Return to a boil (about 5 minutes) and then turn off heat.
If you're concerned about your jelly looking pretty, skim off the foam. It's totally edible, but if you're giving jars as gifts or entering in your county fair, it's just not as pretty.
Fill half-pint jars to within 1/4" of top. Wipe rims clean with a damp cloth. Screw on 2-piece lids/rings, finger tight.
Use a jar lifter to place jars in boiling water bath. Bring water back to a boil (it doesn't need to be a hard boil) and set the timer for 10 minutes.
Remove jars to a towel-covered counter top to cool.
Check seals. Lids should be solid and pulled down tight. (if they flex and pop, the jar didn't seal; put unsealed jars in the refrigerator and use those first).
Remove rings and wash outside of jars. (You shouldn't store the jars with rings.)
Notes
Makes 9 half-pint jars
*You can use rapadura if you prefer, but the resulting jelly will be darker.
To make passion fruit jam with seeds, use 8 cups of passion fruit pulp. For a less seedy jam, combine four cups of passion fruit pulp with 4 cups of passion fruit juice. 
For this recipe, use the processed juice from the fruit -- not the drink recipe linked above.
Nutrition Information:
Yield:

40
Serving Size:

1 grams
Amount Per Serving:
Calories:

414
Total Fat:

0g
Saturated Fat:

0g
Trans Fat:

0g
Unsaturated Fat:

0g
Cholesterol:

0mg
Sodium:

31mg
Carbohydrates:

107g
Fiber:

0g
Sugar:

106g
Protein:

0g
Originally published in August, 2011; this post has been updated.