An icy cold beverage is the perfect way to finish off a hot day in the garden. Even better if that beverage starts with fresh juice like this lilikoi gingerade.
Try this watermelon iced green tea refresher, too!
Fresh lilikoi gingerade
These summertime coolers might be just what you need! And making them with fresh fruit means they're a bit healthier, too. No plastic jugs of "juice flavored" drinks here.
Filled with small black seeds wrapped in a juicy orange membrane, liliko'i — or passion fruit — grows on a vine that can get rambunctious in our mild Hawai'i climate. I'm told there have been attempts to eradicate the vine as a pest. I consider myself lucky to have one growing in my backyard. And hey, don't tell anyone but we're planting a few more!
There are a number of varieties of passion fruit. The yellow liliko'i is the most common, but there's also a purple variety and one known as Jamaican liliko'i or peach liliko'i. I'm working on getting all three varieties (along with a giant passion fruit that is more melon-like) established here. Once they start fruiting, liliko'i vines produce bucketloads of fruit.
One can only eat so much liliko'i fresh out of hand, though, so I find myself juicing much of my bounty to turn into liliko'i jelly and liliko'i bread. I also use passion fruit juice to make a knock-your-socks-off liliko'i gingerade. It's one of my favorite summer drink recipes. You can freeze this passion fruit gingerade so you always have some on hand, too. (It's always a treat for guests who don't have access to fresh passion fruit!) Here are some ideas for freezing it without using plastic containers.
Free Printable Recipe Cards!
Let me send you a collection of recipe cards to help you get started with a homemade pantry! You'll also get my free weekly newsletter, complete with recipes, gardening tips, and a little peek at what's going on around here — both the zany and the mundane.!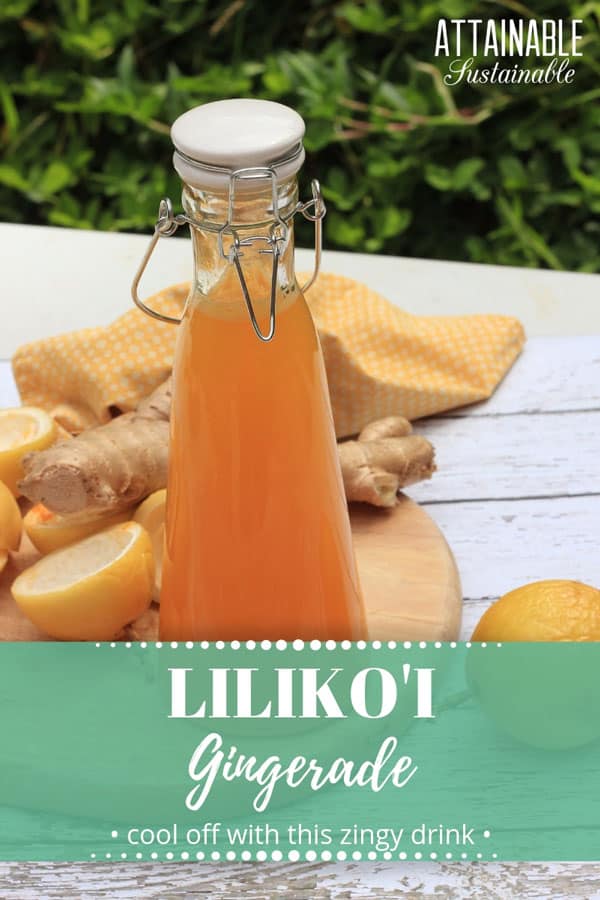 ★ Did you make this lilikoi gingerade? Don't forget to give a star rating below!
Passion Fruit Gingerade
An icy cold beverage is the perfect way to finish off a hot day in the garden. Even better if that beverage starts with fresh juice.
Ingredients
6 cups water
1- 6" piece of fresh ginger
2 cups lilko'i juice, (how to juice liliko'i)
1 cup honey , or organic sugar
Instructions
Wash the unpeeled ginger and cut into 1″ lengths; place in a blender with 6 cups water. Pulse until ginger is chopped.
Strain ginger water into a pitcher or a half-gallon size Ball jar. Discard ginger.
Stir in liliko'i juice and sugar. Chill and enjoy.
Nutrition Information:
Yield:

8
Serving Size:

1 grams
Amount Per Serving:
Calories:

165
Unsaturated Fat:

0g
Sodium:

15mg
Carbohydrates:

44g
Sugar:

43g
Originally published in May 2014; this post has been updated.