Looking for an easy way to make passion fruit juice? After years of trying different methods, I've found that this is the easiest way to juice passion fruit. If you have access to fresh liliko'i, juicing the fruit is a great way to use it in recipes.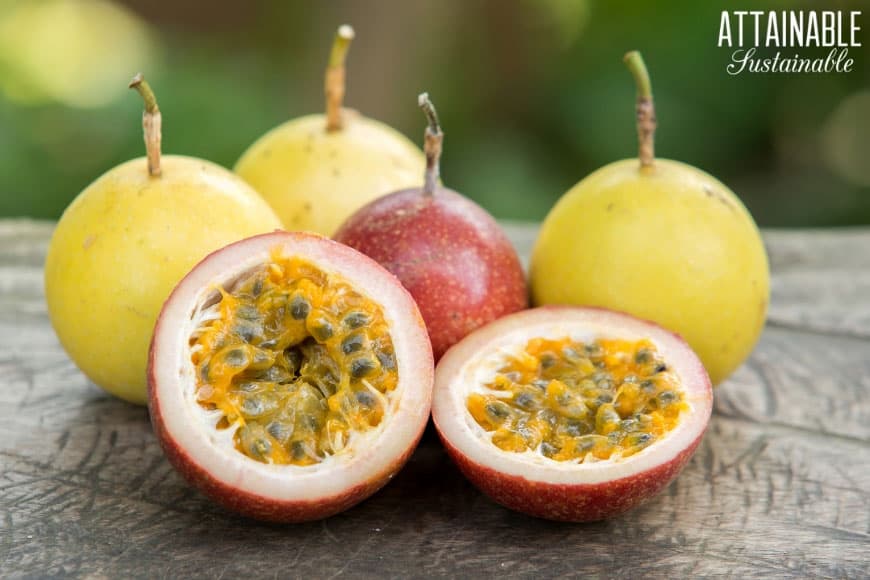 Liliko'i is one of my favorite tropical flavors. It's tart and tangy and sweet all at the same time. There are different varieties, and the skin color can vary. Each passion fruit contains about a tablespoon full of bright orange, seedy flesh. The seeds are edible, and the flesh and seeds are typically eaten together.
This post may contain affiliate links; I'll earn a small commission if you choose to make a purchase.
But if you want just passion fruit juice — for making jelly or bread or liliko'i gingerade — you'll need to remove the pesky seeds.
How to make passion fruit juice
I've fine-tuned my method of making passion fruit juice after years of foraging for liliko'i. The trick is to break the pulp from the seeds. I've found the best way to do this is with a blender or food processor.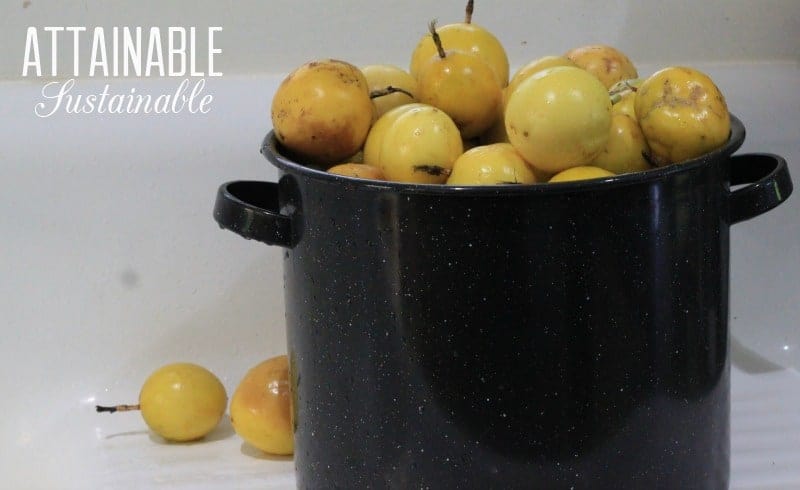 Get prepared to juice passion fruit
Clean your fruit. A liliko'i vine can climb 30 feet or more, making the fruit hard to reach. The sturdy outer shell of the passion fruit protects it from damage when ripe fruit drops to the ground. It's easy to harvest this way, but the fruit can be dirty. Plus, you never know what kind of critter has been crawling around on it.
The first thing I do when I'm ready to juice passion fruit is fill my sink with cold water and toss the fruit in for a bath.
Discard any yucky ones.
If you find any fruit that has a soft spot, use caution. The shell is thick enough that a small soft spot might not impact the pulp inside, but fruit with larger soft spots should be discarded as the inside of the fruit is likely moldy.

Juicing passion fruit
I usually do bags full of liliko'i at a time, so I use a five-gallon bucket for the waste. Set it on the floor next to your work area. Use a cutting board that can catch liquid or, alternatively, a plate. (Some juice invariably spills when cutting the fruit open, and I like to catch that.) Set your blender nearby.
Collect the pulp.
Use a sharp knife (I prefer a serrated one) to cut through the passion fruit shell. You can cut the fruit however you like, but I've found that cutting about an inch off one end is best, rather than cutting each passion fruit in half. If you cut the fruit in half, you'll end up with pulp in each half, and you'll need to handle it twice.
Shifting the knife closer to one end means that the pulp ends up in one half most of the time.
Use your knife or a spoon to pull the pulp out of the shell and into your blender.
Separating the passion fruit pulp from the seeds
Once your blender container is full, run it on medium speed for 30 seconds or so. Your goal here is to break the attachment between the pulp and the seeds without actually chopping up the seeds.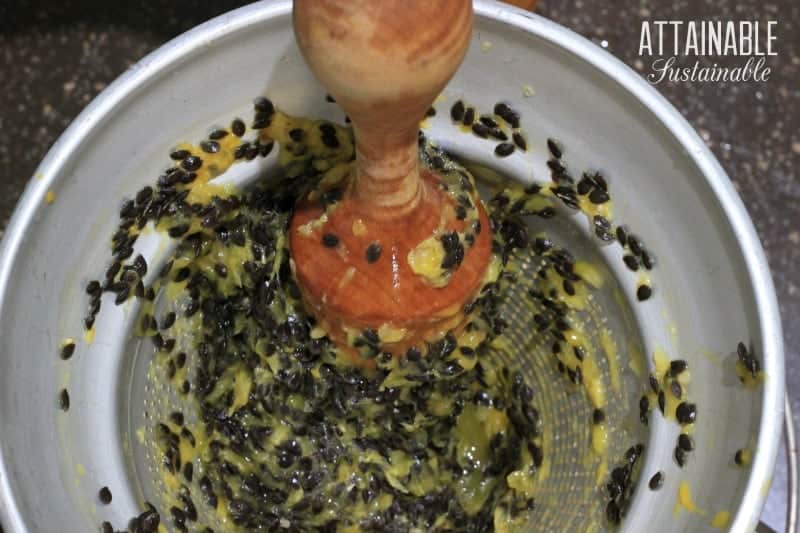 Strain the passion fruit juice.
I use a chinois that my mom gave me years ago. (I totally just learned that's what it's actually called!) Some people might call it a cone sieve. You can use a mesh strainer, too, but they're a bit harder to clean up afterwards. Pour the seedy liliko'i juice into your sieve and press as much juice through as you can.
Do it again.
Passion fruit juice is very strong. I've discovered that I can get more juice by running the seeds through the blender a second time. To do this, put the seeds back in the blender and add half again as much water. If you had a blender full of juice to start, fill the blender halfway with water. Blend for 30 seconds again, strain, and add this juice to the full-strength first batch.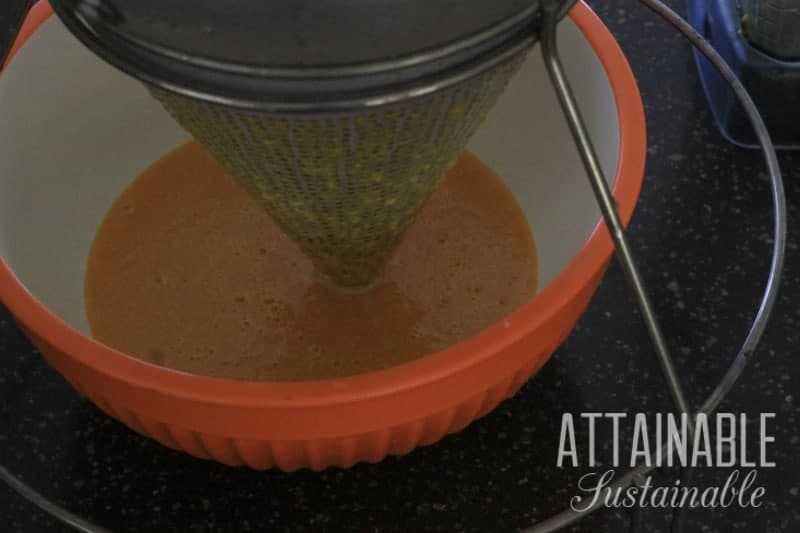 Preserve your passion fruit juice
When liliko'i is in season, the fruit is abundant — if you know where to find it. Even so, it's a coveted flavor and I like to keep it on hand for guests from afar. I preserve it by freezing it. I freeze some in ice cube trays to add to smoothies, and some in larger amounts to bake with or to turn into gingerade.
Passion Fruit Juice Recipe
Passion fruit juice is quite tangy and has a very strong flavor. A little goes a long way! This passion fruit juice recipe is not over-sweet, maintaining some of the tanginess from the fruit. It's a refreshing drink for hot summer days and one of my favorite tropical flavors.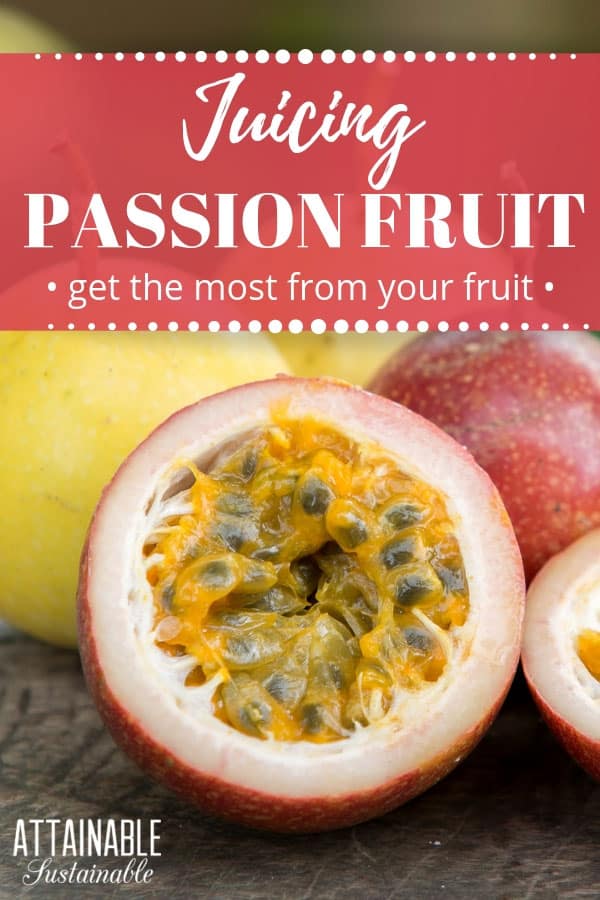 ★ Did you make this passion fruit juice recipe? Don't forget to give it a star rating below!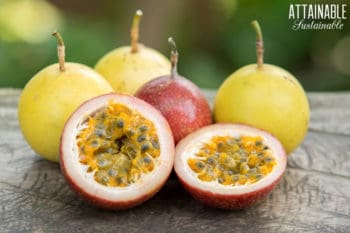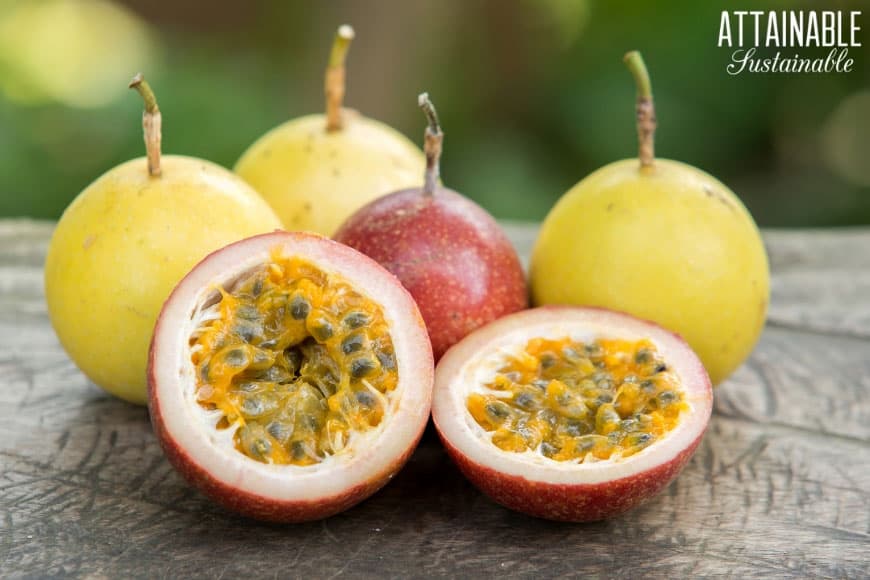 Fresh Passion Fruit Juice
I've covered how to juice the fruit, but you'll also want to know how to make it ready to serve. Juice straight out of the fruit tends to be a bit overpowering. How sweet you like your juice is a personal preference.
Ingredients
6

cups

water

2

cups

lilko'i juice

1

cup

honey

or organic sugar
Instructions
Mix all ingredients in a large pitcher and stir until sweetener is dissolved.