Looking for an easy way to make passion fruit juice? After years of trying different methods, I've found that this is the easiest way to juice passion fruit. If you have access to fresh liliko'i, juicing the fruit is a great way to use it in recipes. Like this easy passion fruit drink that evokes a taste of the tropics!
Once you've made passion fruit juice, give this recipe for passion fruit jelly a try!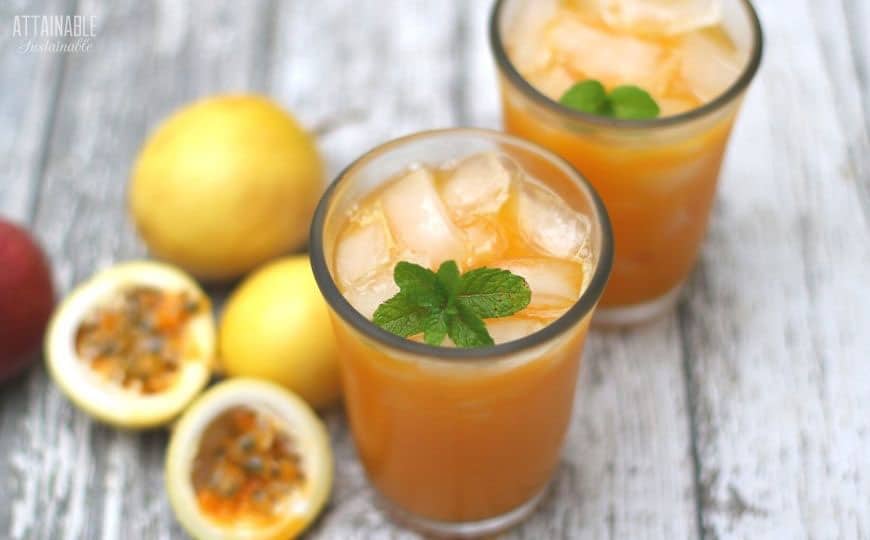 Passion fruit is a tropical plant, a member of the Passiflora family. The hard-shelled fruit grows on perennial vines that can be quite rampant here in Hawaii.
The flowers are beautiful, and can grow up to three inches across. They require pollination, which can be somewhat problematic, since they're so large. Small honeybees don't quite cut it; carpenter bees are good at getting the job done, though.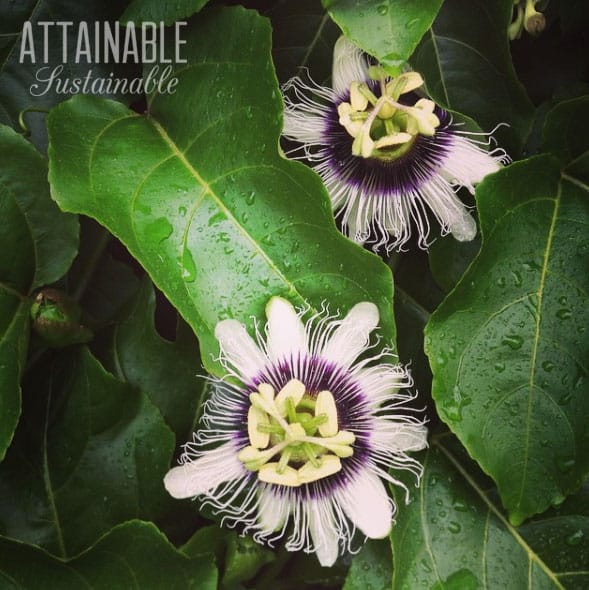 5 Easy Steps to Transform Your Pantry!
Ready to switch from store bought to homemade? Let me help you make some changes! Grab my FREE five-part guide to getting started.
When fruit sets, it starts as a small orb and grows in size until the fruit itself is two to three inches in diameter.
The yellow passion fruit grows most commonly found here, but there's also a purple passion fruit and a fuzzy peach-colored variety that's often called Jamaican liliko'i that has more of a sweet flavor. (There's a giant liliko'i variety that's a bit rare — it's about the size of a cantaloupe and even has a slight melon-like flavor!)
Liliko'i is probably my favorite tropical fruit flavor. It's tart and tangy and sweet all at the same time. The skin color of fresh passion fruits varies, and one — the Jamaican liliko'i — even has a fuzzy surface, much like a fresh peach.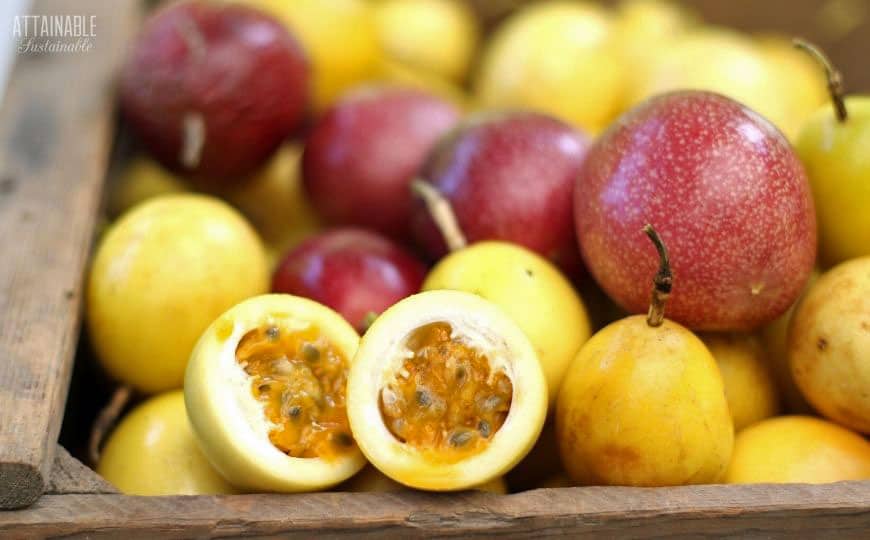 What's inside?
Each passion fruit contains about a tablespoon or two of bright orange, seedy flesh. The passion fruit seeds are edible, and the flesh and seeds are typically eaten together.
You eat the seeds, but they are hard and not exactly chewable. They're usually just swallowed whole, along with the tangy sweet pulp. (Try scooping some over vanilla ice cream for a delicious treat!)
How to eat passion fruit straight out of the shell: Cut hard shell in half with serrated knife. Use a spoon to scoop out the flesh. Put liliko'i flesh — seeds and all — in your mouth and savor the flavor. Don't try to crunch the seeds; just swallow them whole.
How to make passion fruit juice
If you want just passion fruit juice — for making jelly or bread or liliko'i gingerade — you'll need to remove the pesky seeds.
I've fine-tuned my method of making passion fruit juice after years of foraging for liliko'i. The trick is to break the pulp from the seeds. I've found the best way to do this is with a blender or food processor.
Get prepared to juice passion fruit
Clean your fruit. A liliko'i vine can climb 30 feet or more, making the fruit hard to reach. The sturdy outer shell of the passion fruit protects it from damage when ripe fruit drops to the ground. It's easy to harvest this way, but the fruit can be dirty. Plus, you never know what kind of critter has been crawling around on it. (Hello, slugs and rats!)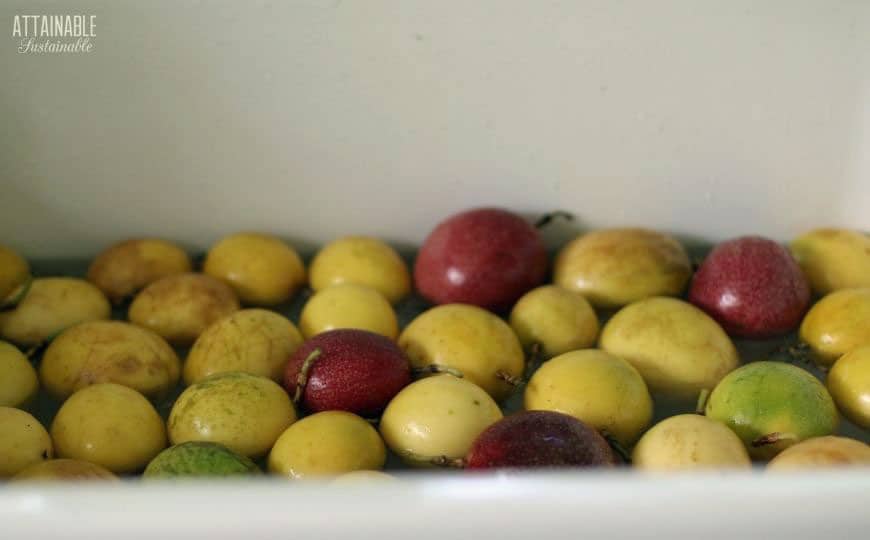 The first thing I do when I'm ready to juice passion fruit is fill my sink with cold water and toss the fruit in for a bath.
Discard any yucky fruit.
Wrinkled fruit like the one below is perfectly okay to use. If you find any fruit that has a soft spot, though, use caution. The shell is thick enough that a small soft spot might not impact the pulp inside, but fruit with larger soft spots should be discarded as the inside of the fruit is likely moldy.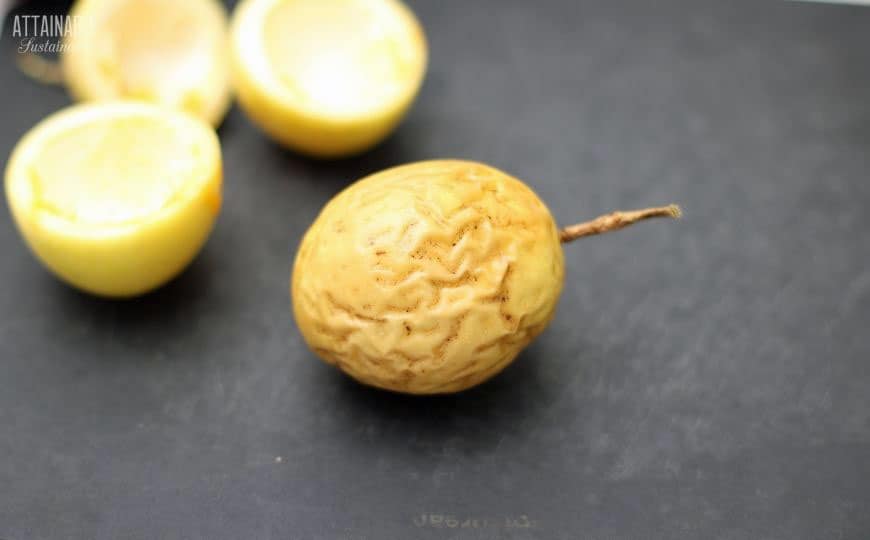 Juicing passion fruit
Use a cutting board that can catch liquid or, alternatively, a plate. (Some juice invariably spills when cutting the fruit open, and I like to catch that. A rimmed plate allows me to do that.) Set your blender nearby.
[adthrive-in-post-video-player video-id="41Zx8h9e" upload-date="2019-08-27T22:26:52.000Z" name="Juicing lilikoi" description="Looking for an easy way to make passion fruit juice? After years of trying different methods, I've found that this is the easiest way to juice passion fruit. If you have access to fresh liliko'i, juicing the fruit is a great way to use it in recipes. Like this easy passion fruit drink that evokes a taste of the tropics!" player-type="default" override-embed="default"]
Scoop out the pulp.
Use a sharp knife (I prefer a serrated one) to cut through the passion fruit shell. You can cut the fruit however you like, but I've found that cutting about an inch off one end saves time, rather than cutting each passion fruit in half.
If you cut the fruit in half, you'll end up with pulp in each half, and you'll need to handle it twice.
Shifting the knife closer to one end means that the passion fruit pulp ends up in one half most of the time.
Use a knife or spoon to scoop the pulp out of the shell and into your blender.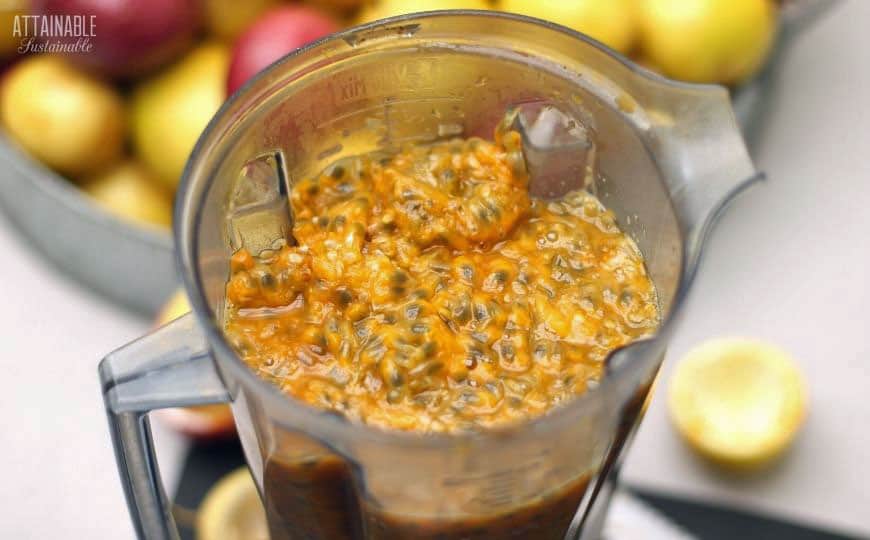 Separating the passion fruit pulp from the seeds
Once the blender container is full, run it on medium speed for 30 seconds or so. Your goal here is to break the fibrous attachment between the pulp and the passion fruit seeds — without actually chopping up the hard black seeds.
Strain the passion fruit juice.
I use a chinois that my mom gave me years ago. (I totally just learned that's what it's actually called!) Some people might call it a cone sieve. You can use a mesh strainer, too, but they're a bit harder to clean up afterwards.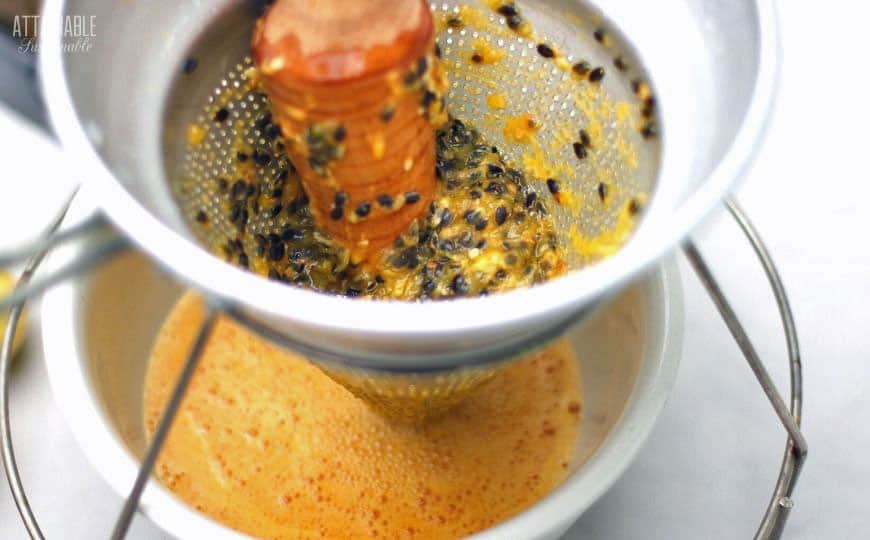 Pour the seedy liliko'i juice into your sieve and press as much juice through as you can using the wooden pestle that comes with and fits perfectly inside the chinois.
Do it again.
Passion fruit juice is very strong. I've discovered that I can get more juice by running the seeds through the blender a second time. To do this, put the passion fruit seeds back in the blender and about twice as much water.
Blend for 30 seconds again, strain, and add this juice to the full-strength first batch. Might as well get the most out of your efforts!
I usually do lots of liliko'i at one time, so I use a large bucket for the waste. Set it on the floor next to your work area.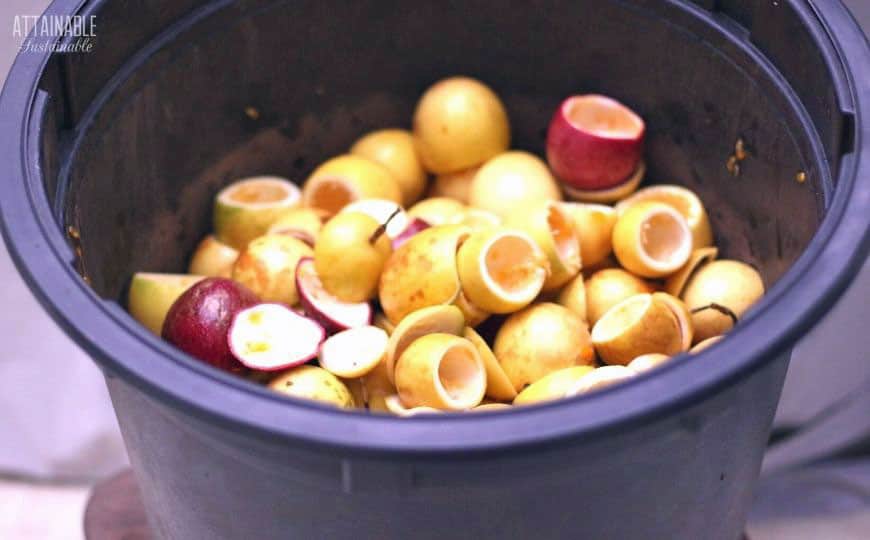 Preserving passion fruit juice
When liliko'i is in season, the fruit is abundant — if you know where to find it. Even so, it's a coveted flavor and I like to keep it on hand for guests from afar.
I preserve it by freezing it, some in ice cube trays to add to smoothies, and some in larger amounts in glass mason jars to bake with or to turn into gingerade.
I find that a pint-size jar is perfect for freezing the juice.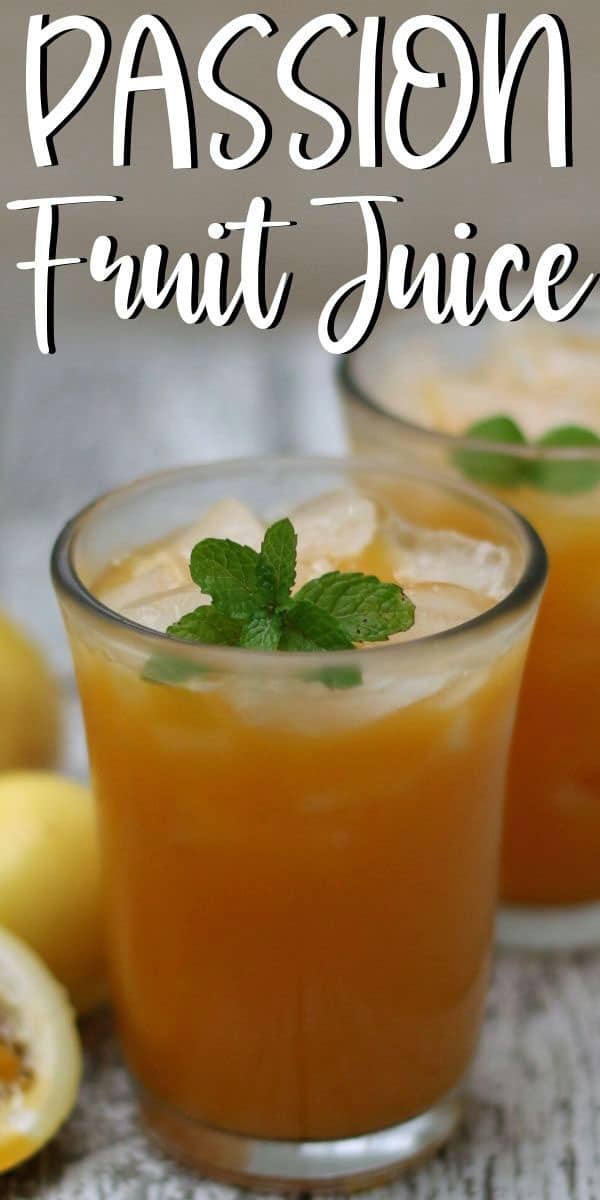 Passion Fruit Juice Recipe
While the juice directly from the fruit is perfectly edible, its juice is quite tangy and has a very strong flavor — a little goes a long way!
Much like making homemade lemonade, you'll combine the fresh liliko'i juice with water and sugar.
This fruit juice recipe is not over-sweet, maintaining some of the tanginess from the fruit. This passion fruit cooler is perfect for hot summer days and one of my favorite tropical flavors.
★ Did you make this passion fruit juice recipe? Don't forget to give it a star rating below!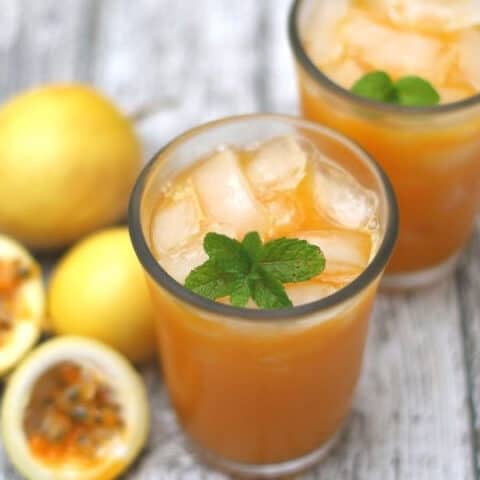 Fresh Passion Fruit Juice Recipe
I've covered how to juice the fruit, but you'll also want to know how to make it ready to serve. Juice straight out of the fruit tends to be a bit overpowering. How sweet you like your juice is a personal preference.
Ingredients
6 cups water
2 cups lilko'i juice, freshly juiced
1 cup honey or organic sugar
Instructions
Mix all ingredients in a large pitcher and stir until sweetener is dissolved.
Serve fresh passion fruit over ice. Store leftovers in the refrigerator for up to a week.
Nutrition Information:
Yield:

6
Serving Size:

1 grams
Amount Per Serving:
Calories:

213
Unsaturated Fat:

0g
Sodium:

19mg
Carbohydrates:

57g
Sugar:

57g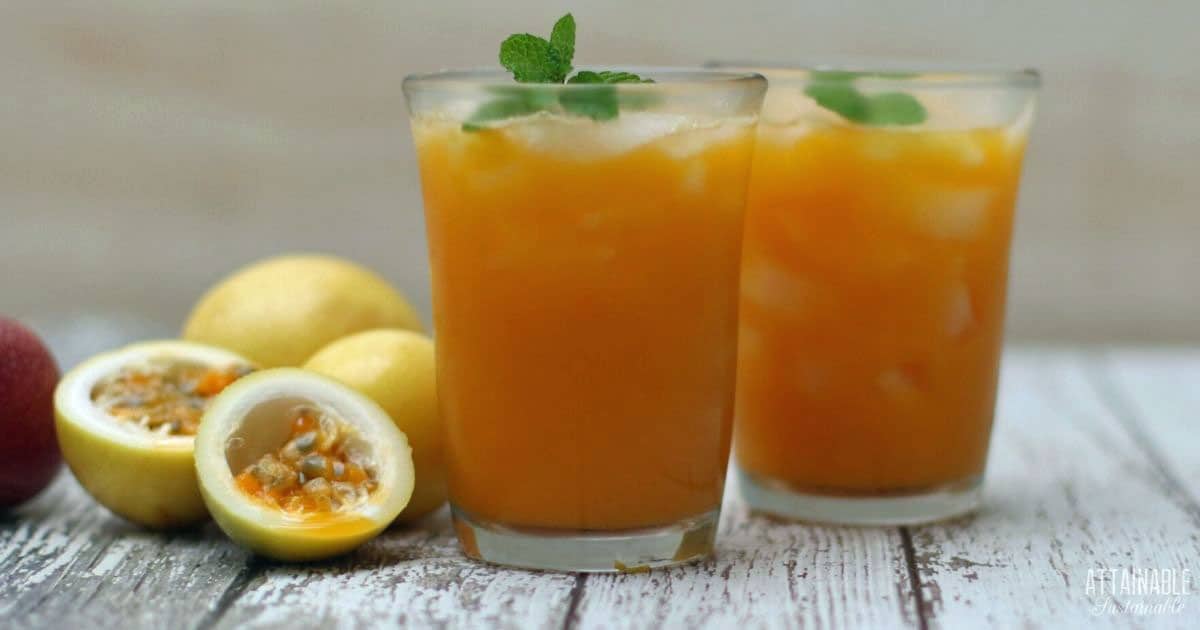 Originally published in October, 2016; this post has been updated.