Oftentimes, the hallmark of a special meal is the basket of fluffy dinner rolls passed from hand to hand. Thankfully, these easy yeast rolls for beginners only require a handful of ingredients. I promise it's a great start to using yeast!
No yeast? Try these easy biscuits!
Contributed by Shannon Stonger
If there's secret to making a meal better, it's this: Homemade bread. These amazing dinner rolls don't require much hands-on time and yield that wonderful aroma that draws everyone to the kitchen.
This recipe, in particular, is one to keep in your back pocket for potlucks or festive occasions alike. A very short kneading time gives them incredible tenderness while a bit of melted coconut oil makes these hand made dinner rolls a rich flavor
These soft dinner rolls are delicious enough to be a treat but easy enough for everyday.
5 Easy Steps to Transform Your Pantry!
Ready to switch from store bought to homemade? Let me help you make some changes! Grab my FREE five-part guide to getting started.
The Handcrafted Pantry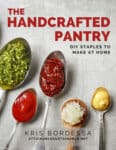 Ready to DIY your pantry with more wholesome ingredients? Check out my ebook, The Handcrafted Pantry! Filled with delicious recipes for some of your favorite condiments, snacks, and toppings, it's the guide you need to start skipping packaged products and embrace homemade.
Ingredients for Vegan Dinner Rolls
Requiring just 5 ingredients, you can pull these rolls together from a well-stocked pantry.
Bread flour – With a higher protein content than all-purpose flour, bread flour provides the stretch and elasticity we all love in bread. If you do not have bread flour on hand, you can substitute all-purpose flour and it's unlikely anyone will notice.
Sugar – The sugar in bread recipes is food for the yeast. When yeast consumes sugar, it expels the gasses that make bread rise. I prefer to use organic cane sugar but use what you have in the pantry. You can also use honey.
Coconut oil – The classic dinner rolls recipe calls for melted butter, but this one uses coconut oil to make a wonderful dairy free dinner roll. But trust me when I say: Even omnivorous diners will love these easy rolls. You can, of course, substitute butter instead.
Yeast – This is the ingredient that gives rise to these soft pull-apart dinner rolls. Use active dry yeast and allow it to proof before adding it to the flour.
Making Homemade Dinner Rolls
As with most bread recipes, the active time for making the dough is much less than the rising time. You'll just need to plan ahead a bit.
This recipe results in wonderfully fluffy dairy free dinner rolls that are also vegan, with coconut oil standing in for butter. (And yes, if you don't have coconut oil on hand, you can use butter instead.)
Fresh out of the oven, these soft rolls will make any dinner look good, but there's nothing like fresh rolls to perk up boring leftovers!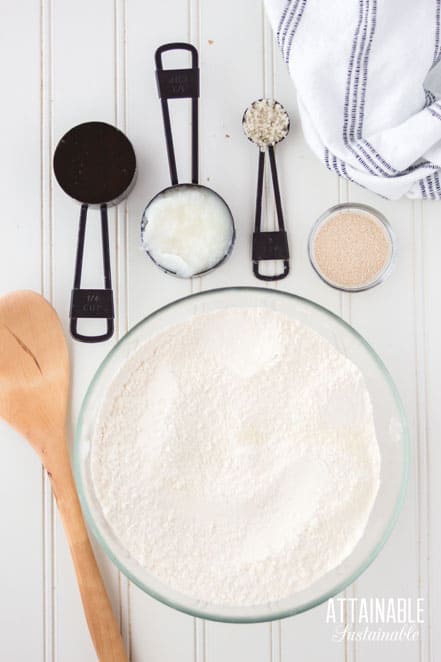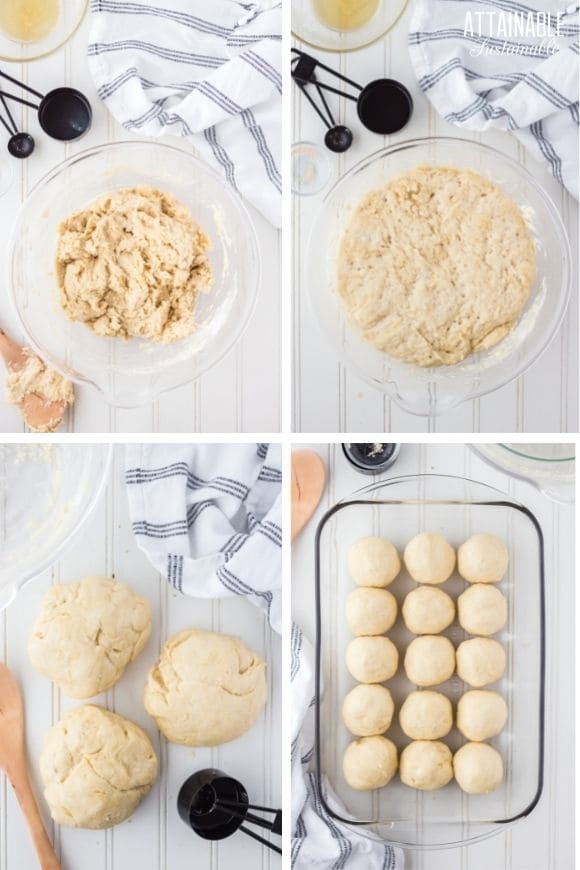 Making the Dough and Forming the Rolls
Allow the sugar and yeast to proof in a portion of the warm water for five minutes. Add remaining water.
Stir in the coconut oil, bread flour, and salt and mix until the flour is hydrated. With oiled hands, gently knead the dough right in the bowl until you have a shaggy dough.
Cover the bowl and let proof until doubled in size.
I find the best way to divide the dough then is to start with thirds, then split each of those into five pieces.
Grease a casserole dish and form each piece of dough into a taught ball. Nestle into the prepared dish.
Again, cover and let rise in a warm place while the oven preheats.
Bake the rolls until golden on top. Let rest in the pan for 5-10 minutes before removing.
FAQs
How do I know my yeast is fresh?
Sometimes we have the best of intentions when purchasing ingredients, and then forget to use them up. This recipe has you proof the yeast on its own, rather than adding it straight to the flour. In this way, you will see if the yeast is active before proceeding. You should see foaming and expansion of the yeast as it consumes the sugar. Then you are ready to proceed.
Are these dinner rolls vegan?
Yup! I love that simple bread can fit into a lot of diets. I used coconut oil, but you can always use softened butter if you aren't keeping vegan. You may also use honey in place of the granulated sugar – it will dissolve nicely into the warm water. Do keep in mind that when using honey in baking the rolls might brown a lot quicker, so keep an eye on them.
What's the best dish for baking rolls?
In these photos, you can see I used a 9×13 baking dish. This allows the rolls to touch, and they will then have soft sides from baking "together" much like when you think of store bought buns or rolls that you have to tear apart. If you prefer rolls with smooth sides all around, you can bake these spaced out on a sheet.
Serving Dinner Rolls
Of course, these are perfect for any dinner, whether it is your average weekday or a special holiday.
I love to serve warm with butter and jam. Another great alternative to jam is a nice thick layer of apple butter!
Once you've mastered these rolls, you'll have the confidence to move on to classic Soft French Bread.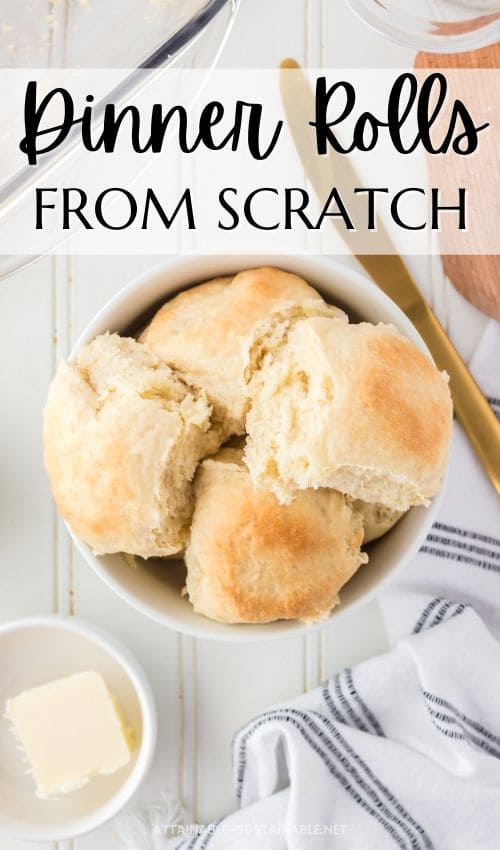 ★ Did you make these homemade dinner rolls? Don't forget to give it a star rating below! ★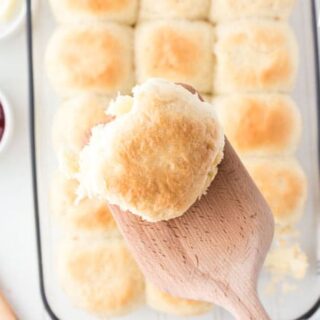 Homemade Dinner Rolls
Total Time:
3 hours
25 minutes
These vegan dinner rolls are light and fluffy and delicious. While you'll need to plan ahead to allow a little rising time, there's minimal hands on effort to make these!
Ingredients
¼ cup granulated sugar (or honey)
1 1/2 cups warm water, divided
2 1/4 teaspoons active dry yeast
1/3 cup coconut oil, softened, but not hot
4 cups bread flour
Instructions
Combine the sugar, 1/4 cup of the warm water, and active dry yeast in a medium mixing bowl. Stir to combine and leave to proof for 5-10 minutes or until bubbles begin to form. Add remaining water.
Stir in the coconut oil, bread flour, and salt and mix until the flour is hydrated. Gently oil your hands and knead the dough in the bowl for 3-5 minutes or until a soft but still slightly shaggy dough forms, reapplying oil as needed to keep dough from sticking.
Cover bowl with a plate, lid, or plastic wrap and leave to rise for 1-2 hours or until doubled in bulk. Punch down the dough and divide it into three equal pieces. Divide each piece of dough into fifths, forming fifteen total pieces of dough.
Generously grease a glass 9x13" pan. Shape each piece of dough into a ball by folding and stretching the dough over itself until a smooth surface forms. Place roll into greased pan and repeat with remaining pieces of dough.
Cover pan a lid or greased plastic wrap and set aside to rise until doubled, approximately 45 minutes. Preheat oven to 375.
Once oven is hot, bake the rolls for 20-25 minutes or until golden on top. Allow to cool for five minutes in pan before removing. Serve warm with butter or homemade jam.
Notes
If you don't have coconut oil on hand, you can use butter instead.
With a higher protein content than all-purpose flour, bread flour provides the stretch and elasticity we all love in bread. If you do not have bread flour on hand, you can substitute all-purpose flour. 
Nutrition Information:
Yield:

15
Serving Size:

1 roll
Amount Per Serving:
Calories:

190
Total Fat:

5g
Saturated Fat:

4g
Unsaturated Fat:

0g
Sodium:

343mg
Carbohydrates:

29g
Fiber:

1g
Sugar:

3g
Protein:

4g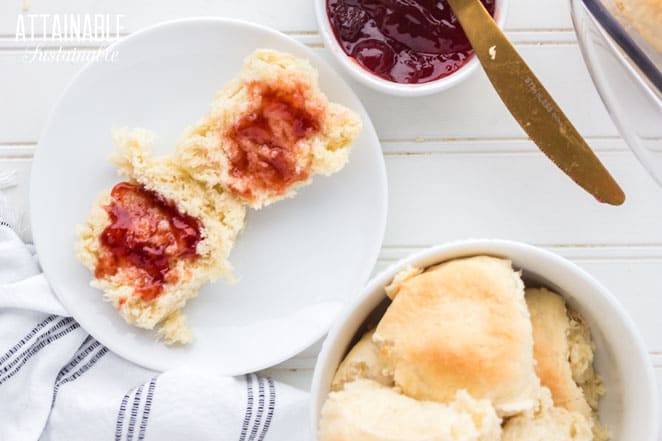 Originally published June 2017; this post has been updated.