When you learn how to make jelly at home — this quick grape jelly recipe can be canned or used to make freezer jelly — you'll save yourself some serious cash, not to mention eliminate some less than ideal ingredients.
Ready to add more jams to your pantry? Try this homemade strawberry jam or this raspberry jam with apricots and honey!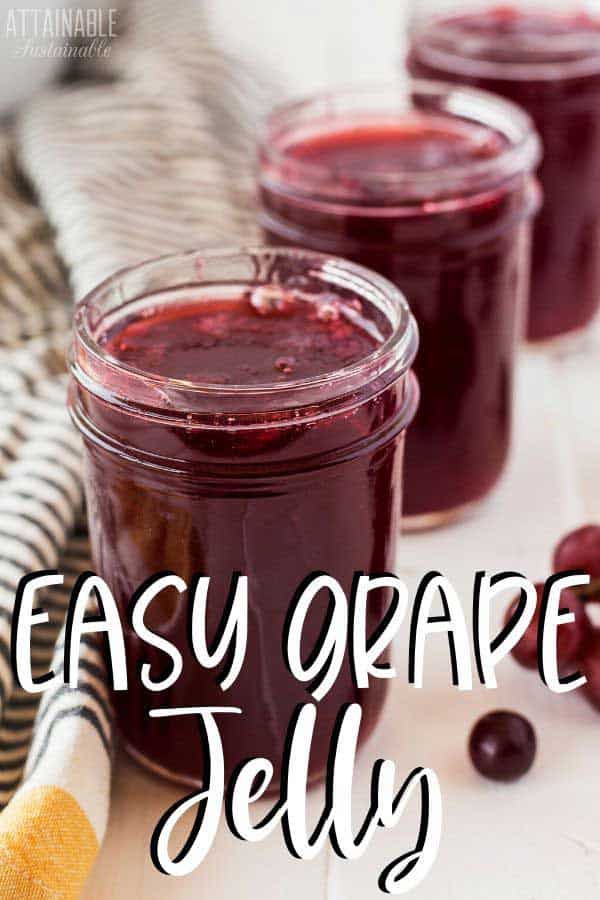 Have you looked at the price of store bought jelly lately? It's expensive! If you use a lot of jelly (hello, PB&J!), the high cost of jelly can add up.
Plus? You can use better ingredients when you make your own grape jelly. Almost every single brand of jelly that my grocery store carries is made with high fructose corn syrup (HFCS).
I don't like that. One local brand does use sugar instead of HFCS and there are organic options, but there again, it's expensive! More than five bucks for slightly more than a cup of jam? This is why I've been making my own jam and jelly for years.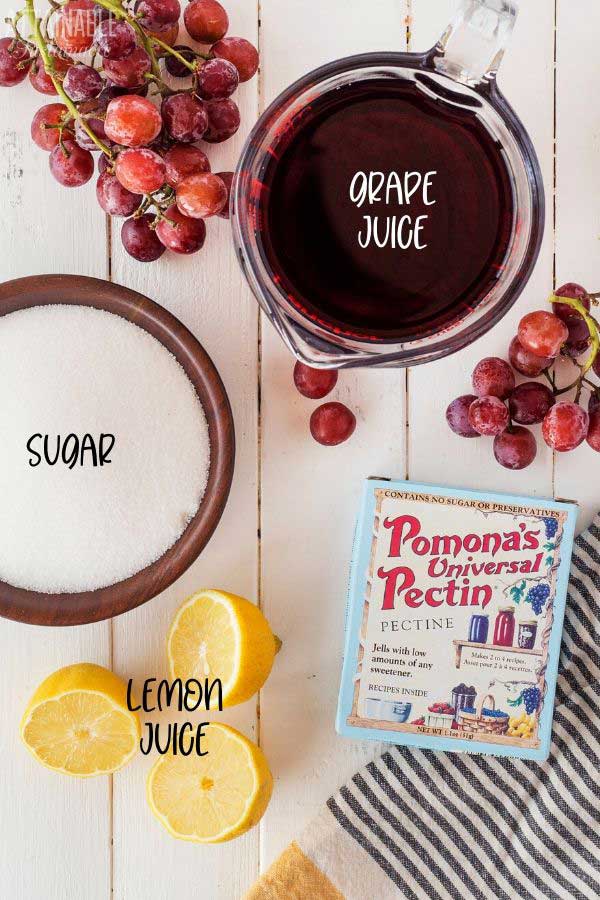 5 Easy Steps to Transform Your Pantry!
Ready to switch from store bought to homemade? Let me help you make some changes! Grab my FREE five-part guide to getting started.
Quick grape jelly recipe
This homemade grape jelly recipe works with freshly-juiced grapes or, for a midwinter jelly emergency, let me let you in on a little secret.
The freezer or juice aisle of your grocery store is your ticket to HFCS-free jelly no matter what's in season. Look for ready-to-serve 100% juice in the drink aisle (you may have to seek out a natural food store) or a frozen concentrate (Welch's is one brand that offers 100% juice).
Home Canning with Confidence
If you're new to canning but love the idea of filling your pantry with shelf-stable pantry items, consider investing in this Home Canning with Confidence e-course with my friend Melissa Norris from Pioneering Today.
In it, Melissa covers everything from basic canning safety to pressure canning your own meat. (Yes, you can do that!) Head over to Home Canning with Confidence to learn how to embrace this method of food preservation and keep your pantry stocked with homegrown produce!
It may not be quite as self-sufficient of you to use store-bought juice, but we're all about small steps around here. Homemade jelly with store bought juice still eliminates icky ingredients and unnecessary shipping of disposable plastic containers.
What kind of grapes are best?
I have a particular fondness for Concord grape jelly, but this recipe works with whatever kind of grapes (or grape juice) you have available to you. You can use purple or white grape juice — it will all taste great!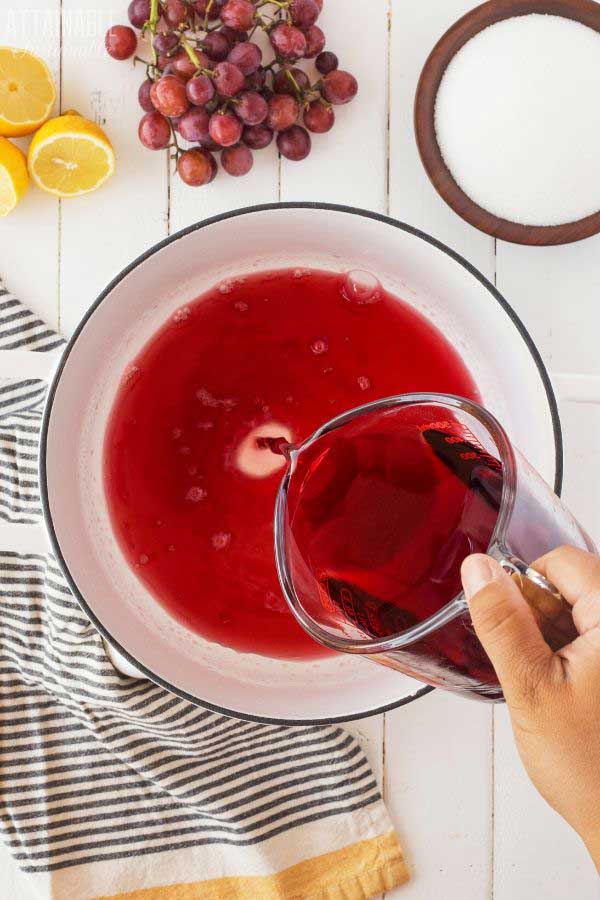 How to make grape juice
If you're starting with fresh grapes, start by cleaning them. Grapes fresh off the vine tend to be dusty. The easiest way to do this is to fill your sink with water and put the grapes in for a soak.
Use your hands to carefully remove the grapes from the stems, swishing them around in water as you do.
Discard any dried up grapes or those that are not yet ripe.
Place washed grapes in a large stockpot.
Use a potato masher to crush the grapes, then heat the grapes over medium heat until the juice begins to simmer. Simmer for 10 to 15 minutes, stirring and mashing the grapes every 5 minutes. Remove from heat.
Place a large, fine-mesh sieve so that it's suspended over a large bowl or second stockpot. You could also line a regular colander with a couple layers of cheesecloth.
Spoon the cooked grapes and their juice into the sieve. Cover loosely with a cloth and refrigerate for several hours or overnight. As the grapes sit, the juice will drain through the sieve into the bowl, leaving behind the grape pulp. If you're using seedless grapes, that pulp can be added to smoothies! Otherwise, compost it.
How to make jelly with less sugar
I've been using Pomona brand pectin (available at health food stores) exclusively because it allows me to use less sugar. Learning how to make grape jelly (or other jams and jellies) with Pomona pectin means you can ditch the guilt about serving over-sweetened spreads to your family.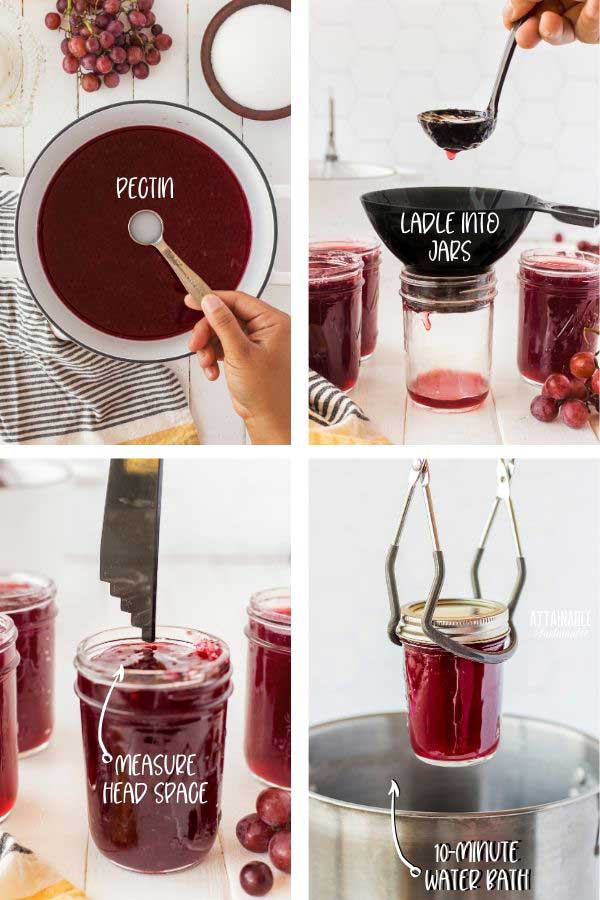 Using Pomona brand pectin requires mixing a batch of calcium water. There will be more than you need for this grape jelly recipe; just keep the excess in your refrigerator for the next time you make jelly. Because c'mon – now that you know how to make grape jelly, you'll want to try your hand at making Lilikoi (Passion Fruit) Jelly, right?
How to can jelly
Preserving grape jelly for a shelf-stable product requires a water bath canner. (More about canning equipment here.) Once you've cooked the juice and added sugar and pectin, transfer the mixture to canning jars, leaving a quarter-inch headspace. Top with a flat lid and canning ring, then process in a water bath canner for 10 minutes.
Here's a more detailed look at canning jam and jelly.
Canning Safety
Canning is an excellent way to preserve food for the pantry, but there are some important safety considerations to keep in mind.
Know the difference between water bath canning and pressure canning. Low acid items must be pressure canned for safety.
Altering ingredients may change the recipe's pH, posing a safety issue. I highly recommend investing in pH paper to test your products for acidity level when canning.
Use the proper jars and lids. Never reuse lids, with the exception of the Tattler lids that are intended for such a purpose.
For more on canning equipment, please go here.
The recipes on this site have been made following safe canning procedures by a certified Master Food Preserver.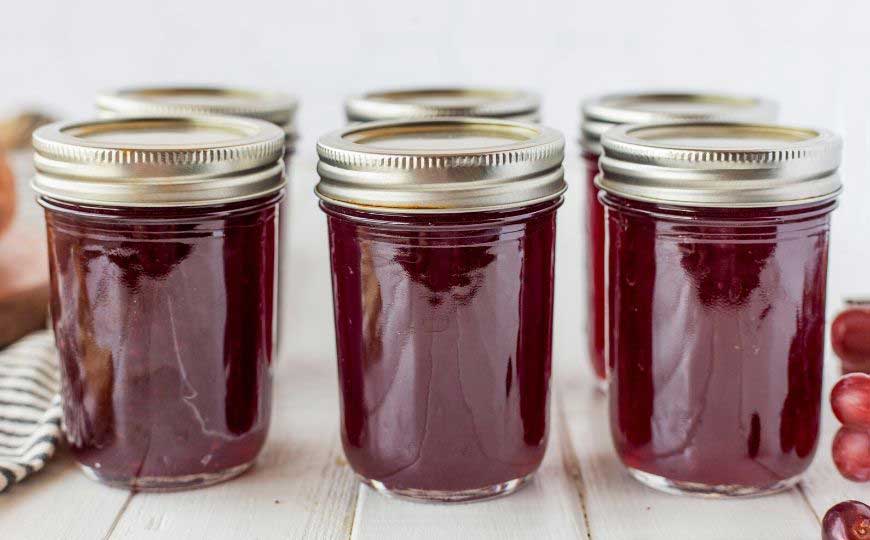 How to freeze grape jelly
Use straight-sided canning jars for freezer jelly and only fill the jars 3/4 full. This prevents breakage. For more information about freezing in canning jars, go here.
Homemade grape jelly is easy!
Making jam or jelly is so easy. It took me less than an hour to make three pints of jelly for around $10. If you're new to this, it might take you an HOUR.
Spread this grape jelly on homemade English muffins (leave out the herbs!) or use it in these fun peanut butter and jelly muffins.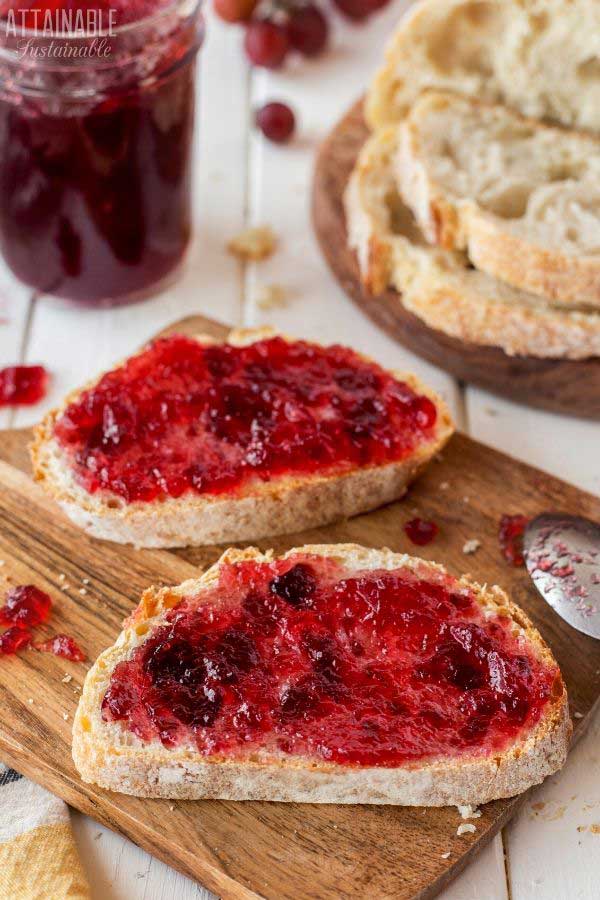 ★ Did you make this quick grape jelly recipe? Don't forget to give it a star rating below!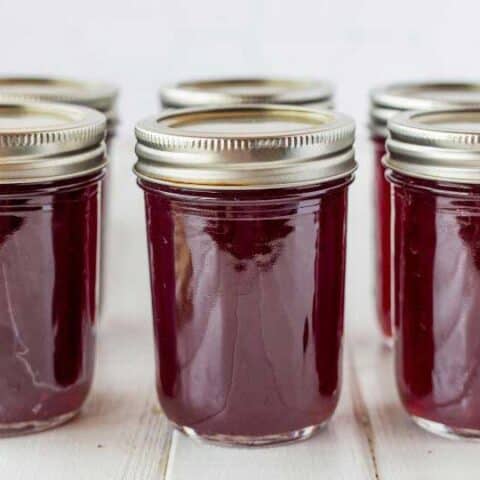 How to Make Grape Jelly
This quick grape jelly recipe works with fresh grapes or, for a midwinter jelly emergency, let me let you in on a little secret.
Ingredients
4 cups 100% grape juice, (if you're using frozen concentrate, reconstitute before measuring)
1/4 cup lemon or lime juice
3/4-2 cups granulated organic cane sugar, (or 1/2-1 cup honey)
1 box Pomona's pectin
Instructions
Prepare ahead:
Prepare calcium water. Put 1/2 tsp calcium powder (the small package in the Pomona box) and 1/2 cup water in a small jar with a lid. Shake well before using.
Wash and rinse jars. For freezer jelly, it's best to use straight sided jars (such as a wide-mouthed Kerr canning jar). If you plan to use the jelly quickly you can reuse any old clean glass jars and keep them in the refrigerator.
Make the Jelly:
Measure grape juice, lemon juice, and 4 teaspoons of prepared calcium water into a large pot. (Save the remaining calcium water in the fridge for a future batch of jelly.)
Measure sugar or honey into a separate bowl. Thoroughly mix in 4 teaspoons of powdered pectin. (The large envelope.)
Bring grape juice to a boil, stirring frequently. Add sugar or honey mixture and stir vigorously to dissolve the pectin. Return to a boil and then remove from heat.
Fill jars:
If you'll use the jelly within a month or so, you can just refrigerate it. In this case, you can fill the jars to within 1/4" of the top.
To freeze, only fill the jars 3/4 full to allow room for expansion when frozen.
Screw on lid and allow to cool before placing jelly in the refrigerator or freezer.
How to make grape jelly for a shelf stable product:
Freezer jelly takes fewer steps, but if you want to make your jelly shelf stable, you'll need to process it as specified below. Jelly has a very short processing time, though, so don't let the idea of canning jelly put you off.
Fill your water bath canner to a level that will cover your jars. This varies depending upon jar size. Bring to a boil. Proceed with next steps while the water is heating.
Wash and rinse jars. Have lids and rings nearby.
Fill jars to within 1/4″ of top. Wipe rims clean with a damp cloth. Screw on 2-piece lids/rings and place in boiling water bath. Bring water back to a boil (it doesn't need to be a hard boil) and set the timer for 10 minutes. Remove jars to a towel-covered counter top to cool.
Check seals. Lids should be solid and pulled down tight. (if they flex and pop, the jar didn't seal; put unsealed jars in the refrigerator and use those first).
Remove rings and wash outsides of jars. (You don't need to store the jars with rings.) Store in a cool, dry place.
Nutrition Information:
Yield:

20
Serving Size:

1 grams
Amount Per Serving:
Calories:

68
Unsaturated Fat:

0g
Sodium:

7mg
Carbohydrates:

17g
Sugar:

14g
Originally published February 2011; this post has been updated.