This homemade raspberry jam recipe comes from my friend Devon, who blogs over at Nitty Gritty Life. Follow her instructions for how to make raspberry jam below and your pantry will sing with fresh, fruity flavor!
Spread some of this jam on a homemade slice of French bread for perfection!
Contributed by Devon Young
Without a doubt, homemade raspberry jam was one of my first food loves. Fresh picked, sun ripened raspberries from my grandparents' garden and loads of sugar, mixed up with pectin and poured into those square tupperware containers for the freezer — it was the taste taste of summer and something even I could do in my childhood.
I stole the role of official jam maker from my mother at a surprisingly young age and looked forward to filling the freezer with loads of raspberry jam that epitomized summer.
5 Easy Steps to Transform Your Pantry!
Ready to switch from store bought to homemade? Let me help you make some changes! Grab my FREE five-part guide to getting started.
---
The Handcrafted Pantry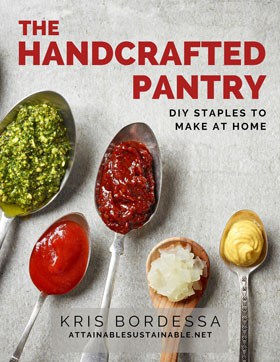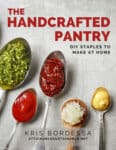 Ready to DIY your pantry with healthier ingredients? Check out my ebook, The Handcrafted Pantry! Filled with delicious recipes for some of your favorite condiments, snacks, and toppings, it's the guide you need to start skipping packaged products and embrace homemade.
---
Raspberry jam experiments
As I aged, my tastes sophisticated and matured, while my desire to make a shelf stable jam increased. I tried the straight-from-the-pectin-box recipe. I was never satisfied.
The raspberries lost their fresh summery essence, always taking on a cooked flavor — not at all reminiscent of the raspberry freezer jam of my youth. I experimented with low sugar recipes, I added rose petals… And still, my homemade raspberry jam recipe was simply "okay." It just wasn't what I wanted.
But I also had no interest in returning to the classic freezer jam recipe because freezer space is always at a premium. And. All. That. Sugar.
I pretty much gave up on ever making a homemade raspberry jam that ticked all the boxes.
Low sugar
Shelf stable
Fresh, fruity flavor
That was until I drew inspiration from the most unlikely of places (for me) – the grocery store. In a jamless pinch (it happens, folks), I picked up a jar of raspberry and apricot preserves. It was incredibly tasty. And that is remarkable, because I am a grade A jam snob. Self-professed and chartered-the-club-level jam snob.
There are embarrassing stories from my youth involving homemade jam level snob. Really, I am pretty easy to please, except when it comes to jam. But I was hooked on this store bought preserve and determined to replicate it in my kitchen.
So, this summer, it was time to try my hand at a low sugar homemade raspberry jam with apricots. Initially stymied by a lack of raspberry abundance from my own young vines, I picked up a half flat from a farm down the road. Just my luck, they had also brought in organic apricots from a warmer part of the state.
Armed with my favorite Pomona's Pectin and honey from our own hives, I set about crafting a batch of this low sugar raspberry jam.
Folks, I was not disappointed and neither were my panel of discerning taste testers.
Raspberry jam with honey & apricots
This homemade raspberry jam with apricots and honey is delicious. The raspberries take center stage with the apricots offering a sunny flavor that keeps the jam tasting fresh (not "cooked").
Pomona's Pectin, which is activated by calcium (powder and instructions provided in the box), allows you to use honey or sugar at lower concentrations than indicated by traditional jam recipes and still get a nice, firm spreadable gel. The resulting raspberry jam is a bright expression of fruit, not overly sweet, and bursting with the flavor of midsummer!
This raspberry jam recipe requires processing in a water bath canner in order to be shelf stable. Follow the directions below.
Here's a more detailed look at canning jam and jelly.
Safety First!
Canning is an excellent way to preserve food for the pantry, but there are some important safety considerations to keep in mind.
Know the difference between water bath canning and pressure canning. Low acid items must be pressure canned for safety.
Altering ingredients may change the recipe's pH, posing a safety issue. I highly recommend investing in pH paper to test your products for acidity level when canning. Note: The Hawaii Master Food Preservers suggest a pH of 4.2 or lower in the tropics. In other regions, the recommended pH is 4.6 or lower.
Use the proper jars and lids. Never reuse lids, with the exception of the Tattler lids that are intended for such a purpose.
For more on canning equipment, please go here.
The recipes on this site have been made following safe canning procedures by a certified Master Food Preserver.
★ Did you make this homemade raspberry jam recipe? Don't forget to give it a star rating below! ★
Raspberry Jam with Apricots and Honey
Total Time:
1 hour
5 minutes
This homemade raspberry jam has a lower sugar content than some recipes. The addition of fresh apricots gives the finished product a fresh, sunny flavor.
Ingredients
6 cups fresh raspberries
2 cups fresh apricots, chopped and pitted
¼ cup lemon juice
½ cup water
1 cup honey or sugar, or up to 2 cups for a sweeter jam
4 teaspoons calcium water, instructions and calcium included in the Ponoma's Pectin package
3 teaspoons Pomona's pectin
Instructions
In a large, heavy bottomed saucepan, add chopped apricots, water and lemon juice. Over medium heat bring to a simmer. Reduce heat to low and cover. Simmer for about 10 minutes or until the apricots are softened. Remove from heat and pass the apricot mixture through a fine mesh sieve or blend until smooth. Return apricot mixture to the pot.
Meanwhile mix the pectin with your honey or sugar and set aside.
Add raspberries and prepared calcium water to the apricots and return the mixture to a low boil over medium heat. Add the honey(or sugar)/pectin mixture to the fruit and return to a low boil for at least 2 minutes.
Ladle into sterilized jars. Wipe the rims of the jars and place prepared lids on jars. Screw rings into place until finger tight. Process in a water canner at a full rolling boil for 15 minute for pints or 10 minutes for half pints.
After processing time is complete, remove jars from canner and allow them to cool complete without disruption. Check for seal and store unopened jars for up to a year. Refrigerate after opening.
Notes
Use 1-2 cups of sweetener, depending upon how sweet you like your jam.
Makes 8-10 half pints
Nutrition Information:
Yield:

155
Serving Size:

1 grams
Amount Per Serving:
Calories:

10
Total Fat:

1g
Saturated Fat:

1g
Unsaturated Fat:

0g
Sodium:

1mg
Carbohydrates:

3g
Fiber:

1g
Sugar:

2g
Protein:

1g
Be sure to try Devon's recipes for
Blueberry Lavender Jam
and
Pineapple Jalapeno Jam
, too!