I'm going to go out on a limb here and proclaim that this is the best homemade salsa recipe for canning. It's the recipe I've used for canning salsa for years. This salsa recipe is full of fresh summertime flavor and is great for stocking the pantry. Use it as a dip with chips, or as an addition to recipes like chili or soup.
I don't peel my tomatoes for this salsa, but if you prefer yours peeled, here's how to peel tomatoes easily.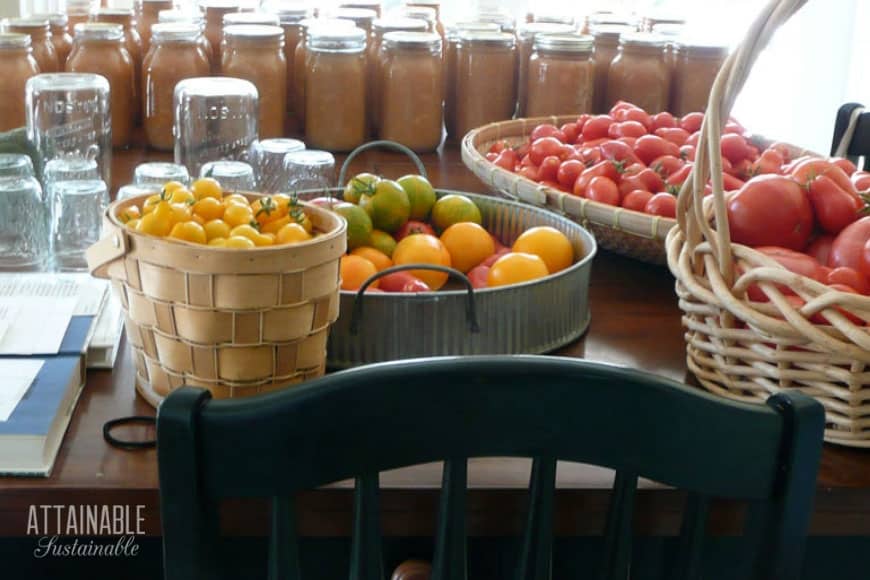 Salsa is one of our favorite home canned goods; we use it not only as a snack, but it's also a staple ingredient that I use in chili recipes and other spicy dishes in lieu of canned tomatoes. Canning salsa is a great way for me to preserve not only the tomatoes, but peppers and onions from the garden, too.
I've tried a lot of recipes over the years; this is our favorite homemade salsa recipe for canning. Note that this recipe for salsa for canning is substantially different from my garden fresh salsa recipe.
I learned the basics of canning from my mom, but I don't ever recall her making salsa. It delights me a little bit that these days when she cans salsa, she uses my recipe. In fact, she sent me the image below last summer after she made a big batch of this salsa from her backyard tomatoes. No more store bought salsa for her!
Canning salsa at home
This recipes uses tomatoes fresh from the garden. I use an assortment of tomatoes, both red and yellow. Roma tomatoes, beefsteak, even cherry tomatoes if I have an abundance. The tomatoes are combined with onions, garlic, fresh hot peppers, lemon juice, and an assortment of spices, then cooked for about 30 minutes.
Note: The recipe calls for two cups of lemon juice. I've been questioned about this a lot. No, it will not make your salsa taste overly sour. Yes, you really do need to add it, as that's part of what makes this recipe safe for water bath canning.
The tomato salsa is then ladled into canning jars and lids are screwed on (more about specialized canning equipment here).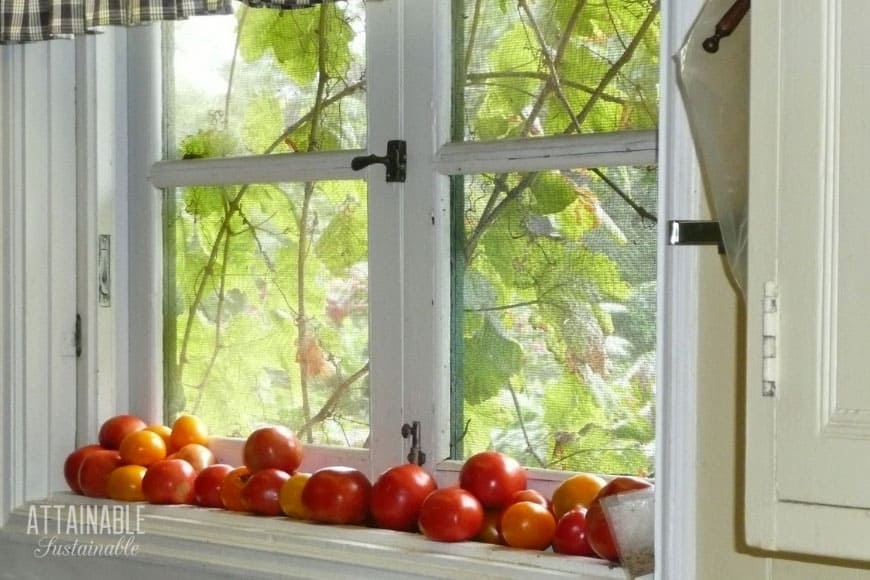 Hot tip: This home canned salsa recipe calls for lots of chopped vegetables. My easy, cheat-y way to do this is with a food processor using the metal blade. I simply core and quarter the washed tomatoes (I do NOT peel them; who's got time for that?) and pulse them in the food processor until they're the consistency I like in a salsa. Once they're chopped, I  measure them directly into the stock pot. I do the same with the peppers, onion, and garlic.
Related: Homemade Chile Pepper Flakes 
If you don't have a food processor, use a knife and aim for a quarter-inch dice on the tomatoes and onions and an even finer dice for the peppers. 
This homemade salsa for canning is a good beginner recipe for novice home canners. (Find more easy canning recipes here.) Canning salsa at home is not hard. It's basically a lot of chopping.
Using this home canned salsa
★ Did you make this canned salsa recipe? Don't forget to give it a star rating below! ★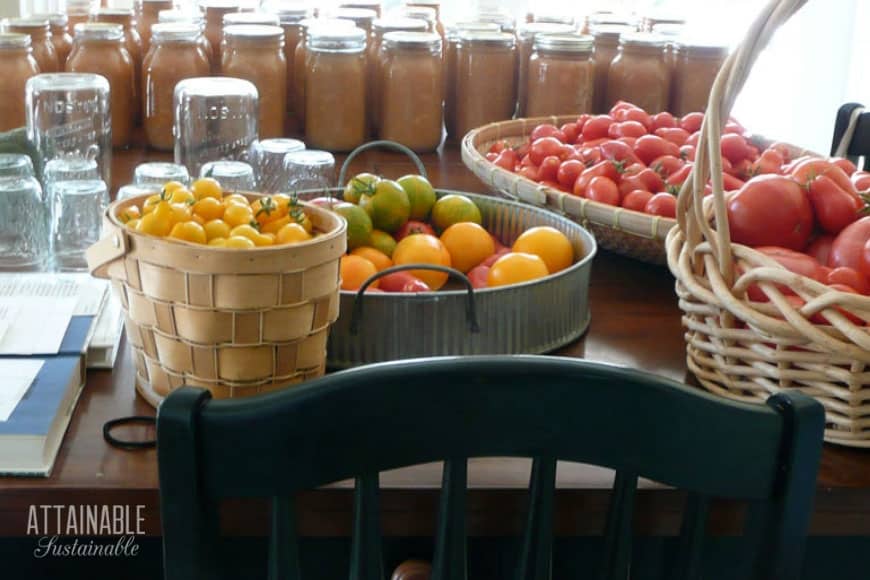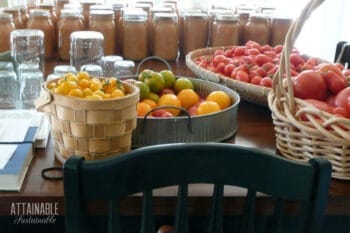 The Very Best Salsa Recipe for Canning
This salsa recipe for canning is a great way for me to preserve not only the tomatoes, but peppers and onions from the garden, too.
Ingredients
14

cups

fresh tomatoes

chopped

3

large onions

chopped

6

jalapeno peppers

diced and seeds removed (avoid touching the seeds if possible, and for goodness sake, keep your hands out of your eyes!)

4

long green chiles

diced and seeds removed (I use banana peppers)

4

cloves

garlic

chopped

2

cups

lemon juice

yes, really

1

tablespoon

sea salt

1

tablespoon

granulated organic cane sugar

1

teaspoon

pepper
Instructions
Combine all ingredients in a large stock pot. Bring to a boil, reduce heat, and simmer for 30 minutes. Stir occasionally.

Following standard canning procedures, ladle hot salsa into pint size jars, leaving about 1/2" head space. Screw on lids and bands, then process in a boiling water bath. 15 minutes, 0-1,000 feet altitude; 20 minutes, 1,001-6,000 feet altitude; 25 minutes, above 6,000 feet.

Recipe Notes
Makes 7-9 pints
Note: If your tomatoes are really juicy ones, squeeze out some of the juice before processing to avoid a thin salsa. The texture of the salsa when it first goes in the pot is essentially what the texture will be in the jar. If you're not happy with it, strain some of the juice off until you are. This recipe for salsa for canning is adapted from one that I found years ago on NMSU's College of Agriculture & Home Economics site, that as far as I can tell is no longer available online.
If you have an abundance of garden fresh tomatoes, hot peppers, and onions, but don't want to delve into home canning, be sure to try my easy five-ingredient fresh salsa recipe! (And if you have green tomatoes aplenty, this chow chow recipe is a great way to utilize those!)
Using your homemade salsa
Of course, you'll serve this up as a snack with your favorite tortilla chips, but if you've got a pantry full of this tasty tomato salsa, how can you use it in the kitchen?
Use it in homemade chili recipes instead of stewed tomatoes.
Top scrambled eggs or omelettes with it.
Mix half and half with sour cream for a taco salad dressing.
Spoon onto tacos, tostadas, and refried beans.
Originally published in August 2011; this post has been updated.