Need to know how to peel tomatoes easily? It's easy, but is it necessary? Read on to find out how to do it (and to hear what I think about peeling tomatoes).
Have plenty of tomatoes? Try this recipe for tomato chutney! (It's delicious!)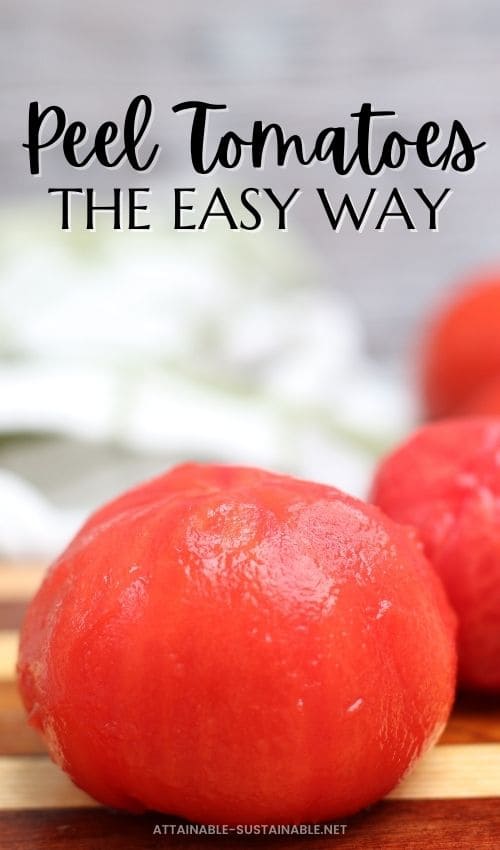 One of the most common questions people ask on my recipes is "do I need to peel the tomatoes?" Here's the deal. I'm the Queen of Shortcuts. If there's a way to cook real food at home in less time, I'll find it. Skipping the chore of peeling tomatoes is one of those shortcuts for me in many cases.
The Handcrafted Pantry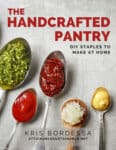 Ready to DIY your pantry with more wholesome ingredients? Check out my ebook, The Handcrafted Pantry! Filled with delicious recipes for some of your favorite condiments, snacks, and toppings, it's the guide you need to start skipping packaged products and embrace homemade.
If I'm making a product that required tomatoes to be chopped or pureed, like salsa or pizza sauce, I'll simply skip the peeling part. For crushed or stewed tomatoes, though, I do remove the peel. Those larger pieces of skin tend to roll up into weird little lengths that I find unpleasant in recipes.
How to peel tomatoes
When you have a large harvest, the easiest way to do this chore is with the boiling water method. Basically, you'll submerge whole, ripe tomatoes in simmering water and then plunge them into an ice water bath.
5 Easy Steps to Transform Your Pantry!
Ready to switch from store bought to homemade? Let me help you make some changes! Grab my FREE five-part guide to getting started.
This loosens the skin of the tomatoes, making it a breeze to just slip them right off.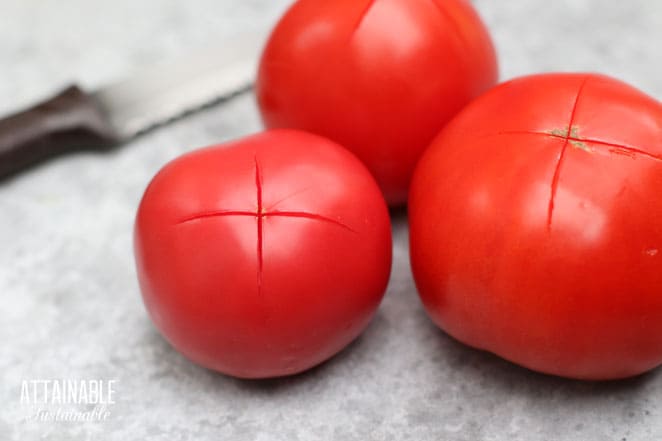 Start by cutting a shallow X in the bottom of the tomato. This step isn't entirely necessary, but the slits in the skin will give the peels a place to start separating from the fruit.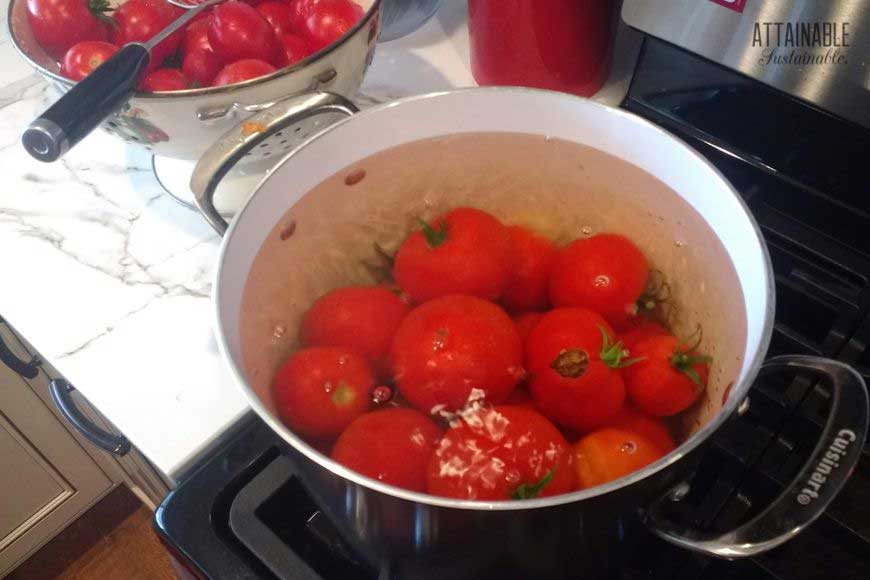 Drop the fresh whole tomatoes into boiling water for 30 to 60 seconds. The skin will begin to appear a bit wrinkly.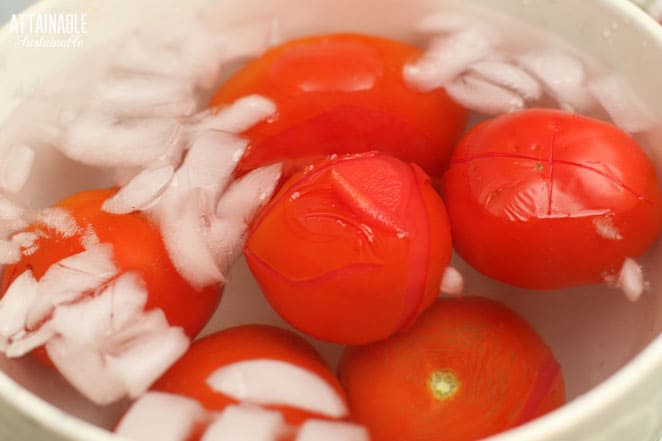 Lift the tomatoes from the hot water with a slotted spoon, transferring them to a bowl filled with ice water. After 30 seconds or so, remove each tomato from the water individually and use your hands to slip the skin right off the fruit.
Once peeled, you can use the fruit in any recipe you like.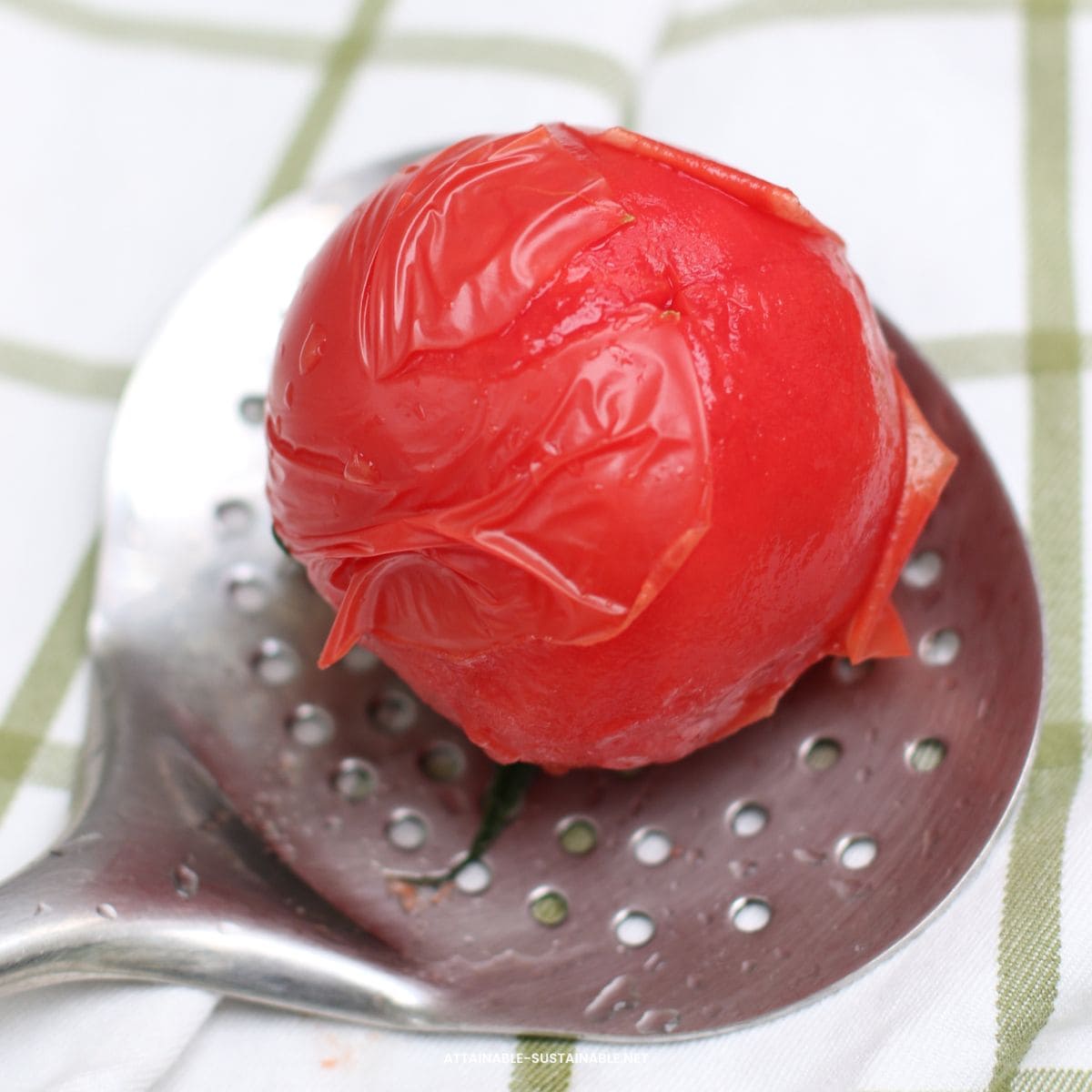 Another way to skin tomatoes
Have you ever frozen whole tomatoes? Yep! You can do that! And a funny thing happens when you do. When you remove the frozen orbs from the freezer and allow them to come to room temperature, the skin just slips right off. You can hasten this by dropping the frozen tomatoes in a sink full of room temperature water. That makes two easy methods for peeling tomatoes!
Tomatoes that have been frozen like this will be quite soft once completely thawed but they're perfectly fine for adding to all of your favorite recipes, like pasta sauce or chili.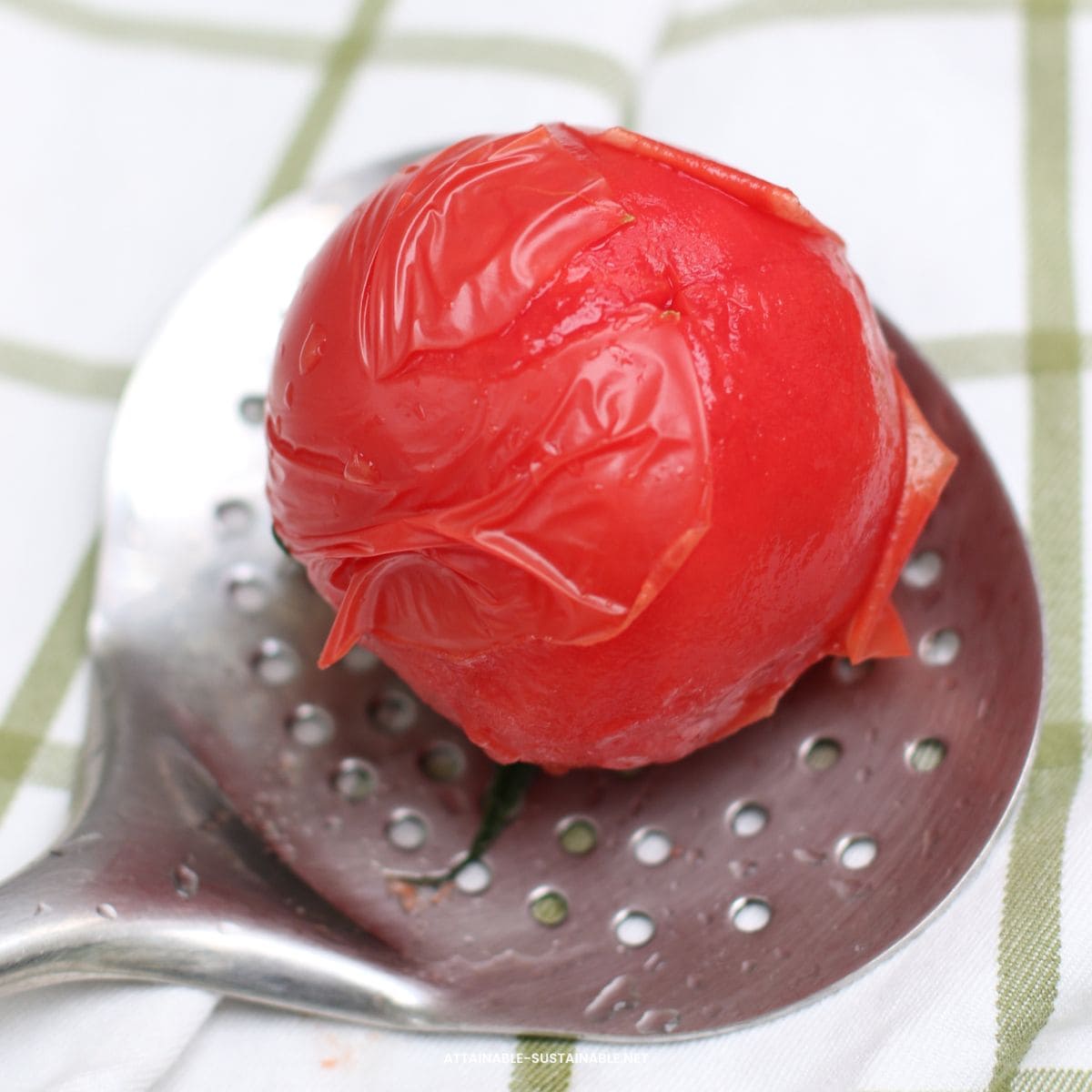 Peeling Tomatoes the Easy Way
Estimated Cost:
varies by product
Try this easy method for removing the skins from tomatoes. Use peeled tomatoes in canning recipes or to make homemade marinara sauce.
Tools
Deep stock pot
Slotted spoon
Instructions
Start by bringing a pot of water to a low boil. Use a wire strainer or large slotted spoon to lower tomatoes into the hot water so you don't burn yourself. Add just as many as will fit, allowing all of the fruit to be submerged.
Leave tomatoes in the simmering water for 30 to 60 seconds, or until the skins appear to be wrinkling slightly.
Use the wire strainer again to lift the hot tomatoes out of the pot and transfer them to a sink or bowl of ice water.
Allow tomatoes to sit for another 30 seconds or so. You'll see the skin begin to visibly fall off of the flesh.
Remove each tomato from the water individually and use your hands to slip the skin right off the fruit.
If you have more tomatoes to skin, repeat the process.
Originally published in October 2019; this post has been updated.