This pizza sauce recipe from fresh tomatoes utilizes your garden crop. Flavored with herbs and spices, it will make your homemade pizza just that much better.
Be sure to try our favorite pizza dough recipe!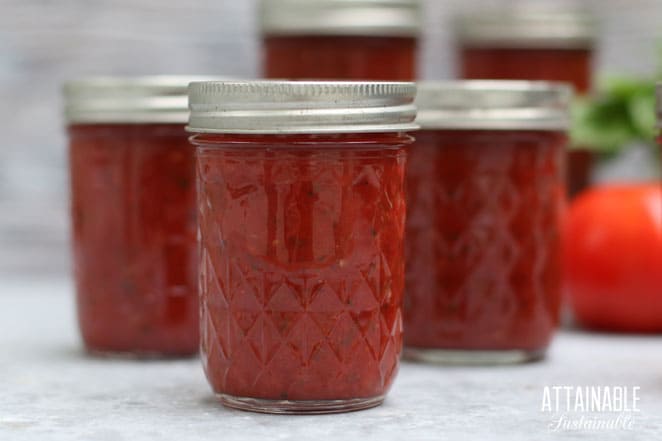 Making pizza sauce from scratch
This pizza sauce recipe starts with tomato puree that's cooked down to the texture and thickness that you like in a pizza sauce. Let's talk first about how to make the puree.
You can use any kind of tomato, but Roma paste tomatoes will result in a thicker puree to start with.
If (like me) you are starting with a juicier slicing tomato, you'll need to cook the mixture down until it reaches the appropriate consistency for topping pizza. My most recent batch required reducing the original amount of tomatoes by about half.
---
The Handcrafted Pantry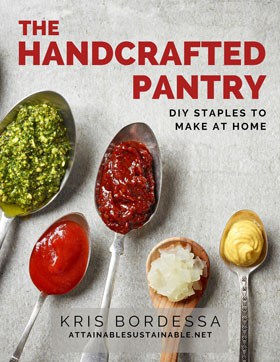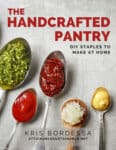 Ready to DIY your pantry with healthier ingredients? Check out my ebook, The Handcrafted Pantry! Filled with delicious recipes for some of your favorite condiments, snacks, and toppings, it's the guide you need to start skipping packaged products and embrace homemade.
---
Preparing the fresh tomatoes
There are a couple of ways to do this. The first thing to consider is if you are bothered by seeds or tomato skins in your sauce or not.
5 Easy Steps to Transform Your Pantry!
Ready to switch from store bought to homemade? Let me help you make some changes! Grab my FREE five-part guide to getting started.
If the answer is no, you can simply puree the fruit in a food processor or blender. If you remove some of the seedy pulp before you do, you'll eliminate a fair amount of liquid. This means it will take less time to cook down.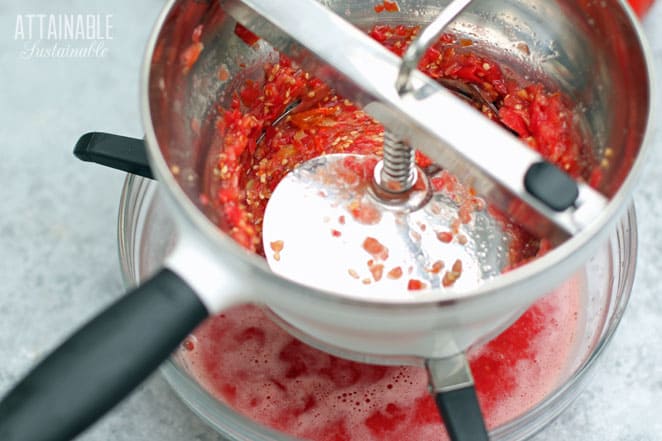 If you'd prefer not to have seeds in the sauce, run the pureed tomatoes through a food mill or chinois. This will remove the seeds and skin.
Once the tomatoes are prepared, you'll bring the mixture to a boil. If necessary, cook the mixture down until it's a good consistency. Depending on how much liquid was in your fresh tomatoes, this can take a couple of hours.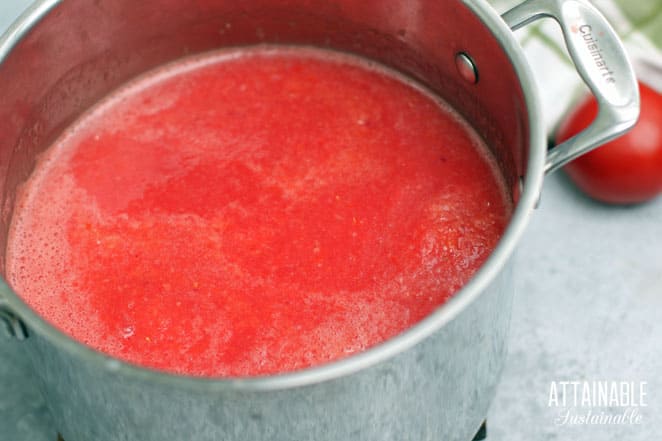 Since I like my pizza sauce recipe to result in a thick sauce, I cook the fresh tomatoes down until the sauce begins to bubble and splatter a bit.
Adding herbs and spices
When the sauce is the right consistency, add the red bell pepper, onion, garlic, herbs, and spices and cook for another ten minutes or so. Note that the "right consistency" is a little subjective. Some people like a thinner sauce, some like it thicker. You do you!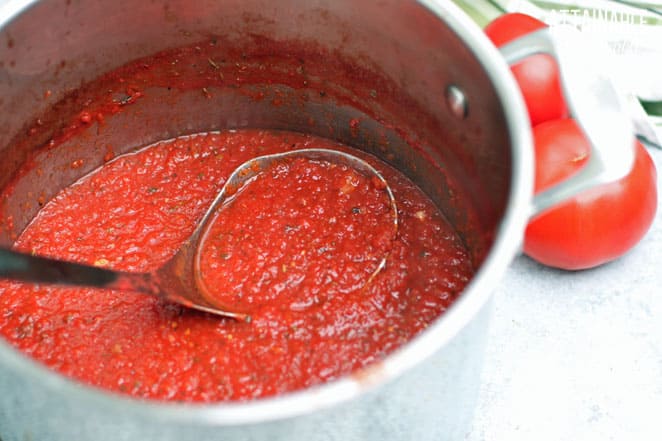 At this point, you have successfully made your own homemade pizza sauce recipe! Use it immediately, refrigerate it for up to a week, or take it a step further to make a home canned pizza sauce.
You can freeze the sauce as well, though you may note some separation upon thawing. To remedy this, reheat the pizza sauce and cook to eliminate excess liquid.
Prepare the canning pot
Fill a large canner with water. Just how much takes a little bit of guesswork. You'll want the full jars to be covered by an inch of water during processing. Adding the full jars to the water will cause the water level to rise; how much depends on how many jars you're processing at once. Most canners will hold seven jars at a time, but you can process fewer than that if you don't have a full load.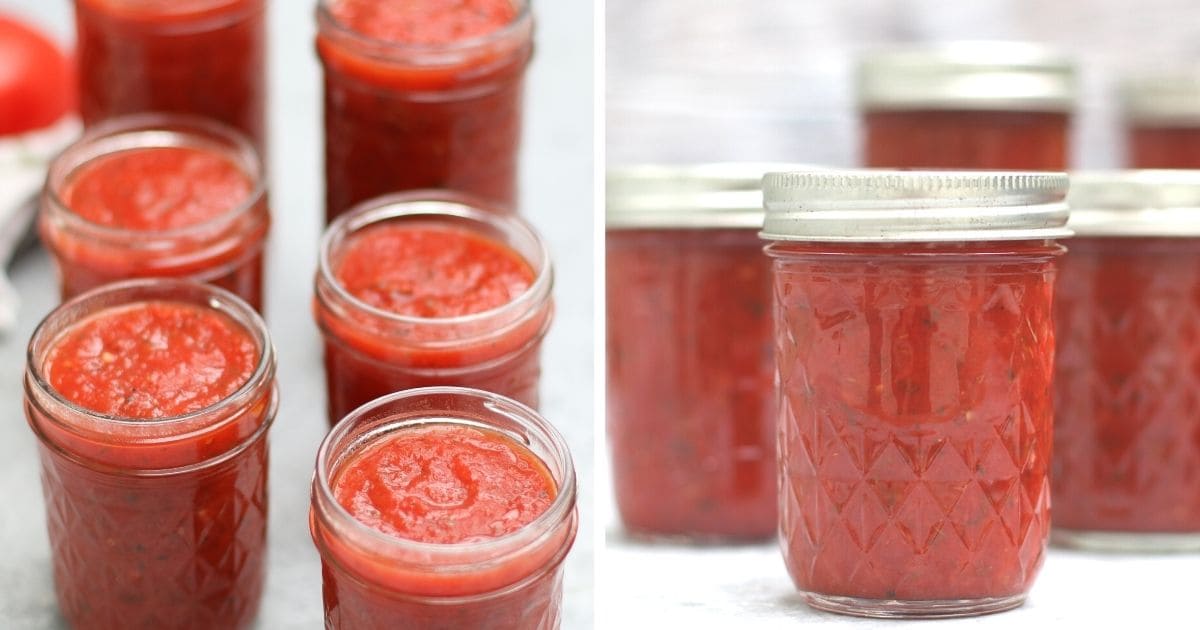 How to make pizza sauce shelf stable
Canning pizza sauce in a water bath canner makes it a shelf stable product that can last a year in the pantry. Be sure to read this guide to canning tomatoes before you start.
Once the sauce is ready, ladle it into canning jars while it's still hot. I have a canning funnel for this purpose, that makes it easier to transfer the sauce into the jars without a lot of mess.
Use a damp cloth to wipe the rim of each jar; a little bit of food on the jar rim can prevent the lids from sealing properly. Set the lids in place and screw the bands on finger tight. Use a jar lifter to transfer jars into the gently boiling water. As stated above, the water in the pot should cover the jars by an inch. If necessary add more water to the canner.
Hot tip: Boil some extra water in a saucepan or electric kettle as you're working. If you need to top off the water in the canner, you won't cool down the water too much.
Process jars for the recommended time. (See below.) When time is up, use the jar lifter to transfer jars to a flat surface that's padded with a kitchen towel. Allow jars to cool completely. As they cool, you'll begin to hear a canner's favorite sound: That lovely little tink! that indicates a successful seal.
Once jars of pizza sauce are thoroughly cooled, check the seal on all of the jars. The lid should be concave and solid. If it flexes at all, it's not sealed. (Place any jars that didn't seal in the refrigerator and use them first. They are not shelf stable.)
Remove bands from cooled jars and rinse the jars. Store jars without the bands.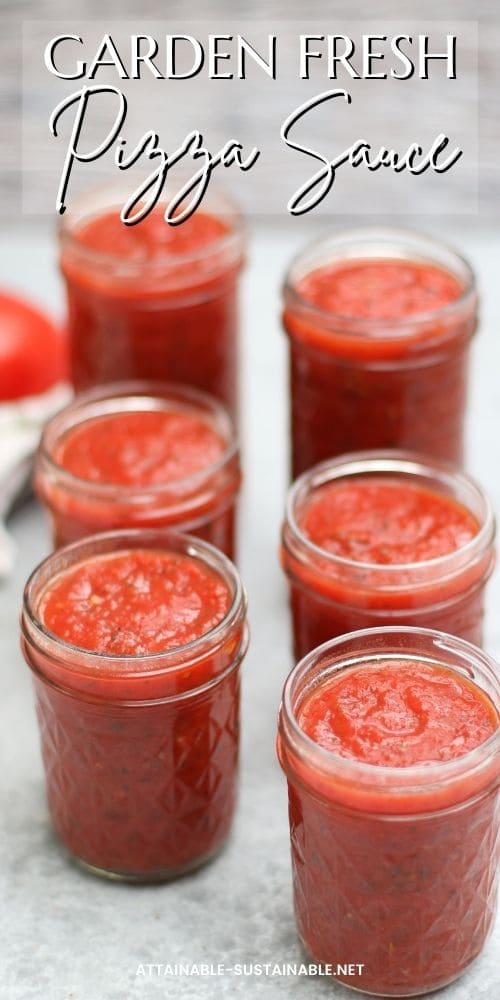 ★ Did you love this recipe? Be sure to give it a star rating below! ★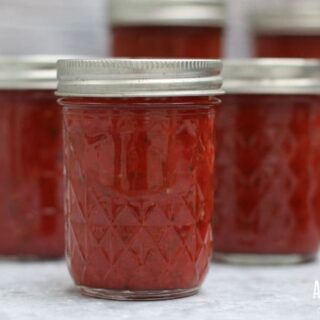 Homemade Pizza Sauce from Fresh Tomatoes
Processing Time:
35 minutes
Total Time:
2 hours
20 minutes
This recipe for pizza sauce starts with fresh tomatoes for a garden fresh topping! Make up a batch and can the sauce for the pantry or use it right away.
Ingredients
9 cups tomato puree (see instructions)
1/2 large red bell pepper, finely chopped
1/2 medium red onion, finely chopped
1 teaspoon salt
1/2 teaspoon pepper
1 teaspoon basil
2 teaspoons oregano
2-1/2 teaspoons savory
1/8 teaspoon red pepper flakes
2-4 tablespoons sugar
citric acid (1/4 teaspoon per pint jar)
Instructions
Make the tomato puree:
Wash and dry fresh tomatoes. Roma tomatoes are a good option, but any type of tomato can be used.
Chop tomatoes and run through a food mill or chinois to remove seeds. Alternatively, use a food processor or blender to puree the fruit.
Cook over medium high heat stirring frequently until the puree reaches desired consistency. This will depend on the level of moisture in the fresh tomatoes.
Make the pizza sauce
Measure 9 cups of the prepared tomato puree, bell pepper, and onion into a large stock pot. Cook at a slow boil for 10 minutes.
Add remaining ingredients and cook for another 10 minutes.
If you plan to can this recipe, I recommend testing the pH of this pizza sauce, as tomatoes can vary quite a lot in their pH. This batch of sauce tested at a pH of 3.5.

Canning the pizza sauce
While the pizza sauce is cooking, fill a canning pot with water, set the lid in place, and heat on high heat until boiling.
Measure 1/4 teaspoon of citric acid into each pint sized jar.
Ladle hot sauce into pint or half-pint jars, leaving 1/4" head space. A canning funnel makes this easy.
Wipe jar rims to remove any salsa that may have spilled. A clean rim is essential to a good seal.
Set jar lids in place. Screw bands on finger tight.
Use a jar lifter to gently submerge jars into hot water in canning pot. Water should cover the top of the jars by an inch. The water will cool somewhat in reaction to the addition of the jars. Return the water to a simmer and set the timer.
Process for 35 minutes 0-1,000 feet altitude; 40 minutes, 1,001-3,000 feet altitude; 45 minutes, 3,001-6,000 feet; 50 minutes over 6,000 feet.
Notes
I started with 8 pounds of slicing tomatoes, which netted about 15 cups of tomato puree. I cooked this down until it was desired consistency, resulting in 9 cups of thick puree suitable for making pizza sauce.
Note that the cook time indicated above will vary depending upon the juiciness of the tomatoes you use.
If you'd prefer to avoid adding the citric acid, you can test the pH of the pizza sauce using a pH tester or pH paper. If the sauce is a pH of 4.6 or lower (4.2 in the tropics) it is safe to can them without the addition of an acid. Do not do this without testing the pH! If you're not able to test the pH, do NOT deviate from the instructions. 
I opted to use citric acid rather than lemon juice to avoid adding excess liquid. If you prefer, you can use 1 tablespoon of lemon juice in each pint sized jar.