This homemade refried beans recipe is excellent, and way less expensive than the canned version. Serve them with your favorite Mexican dinner, roll them up in a burrito, or spoon up a warm bowl of goodness.
Serve them up with shredded chicken tacos for a delicious meal.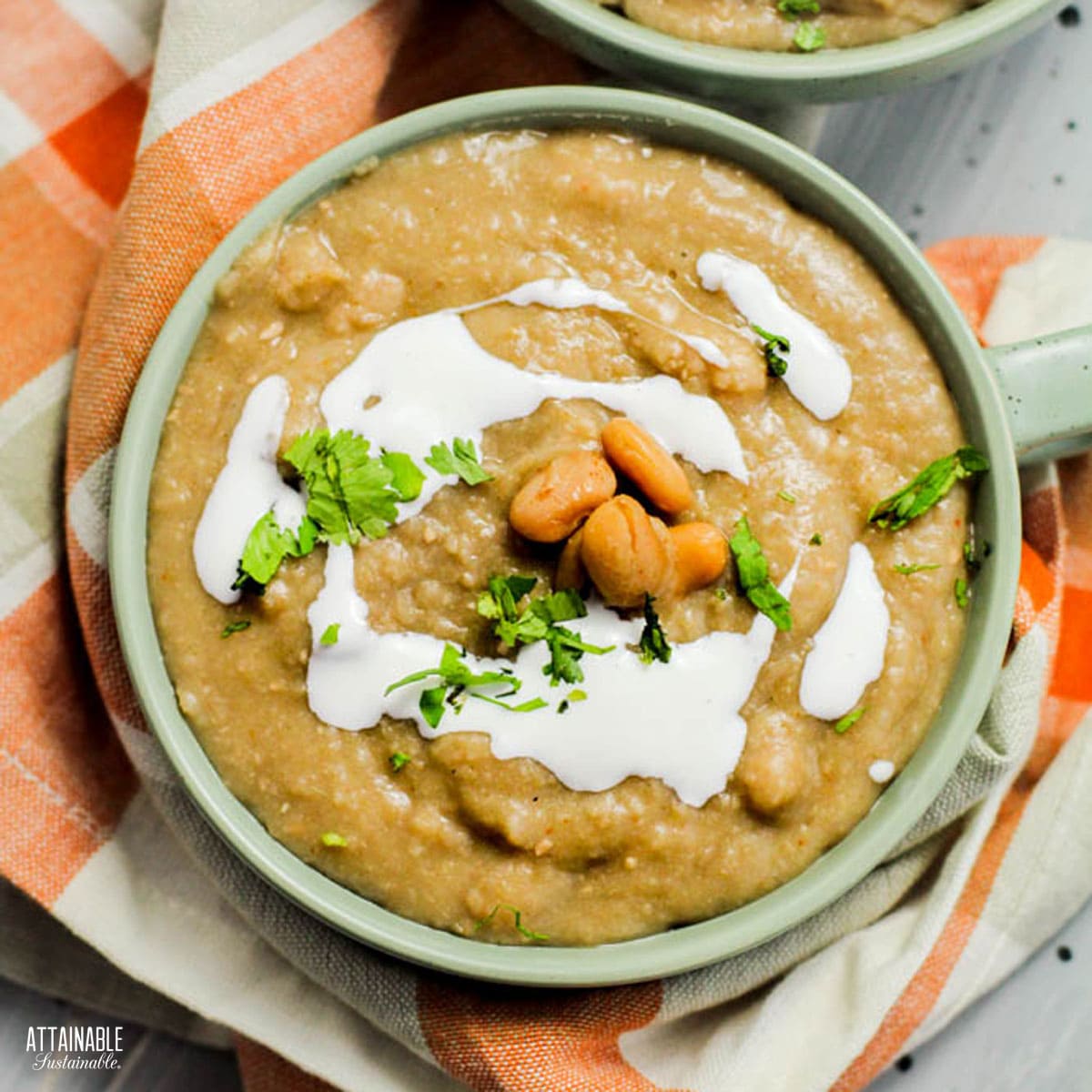 Over the years I've tried repeatedly to make homemade refried beans from scratch, but my family has been only lukewarm about my attempts, preferring their old standby Rosarita brand canned refried beans.
Cooking with dried beans is much less expensive and allows us to eliminate the cans that will end up in the landfill. (There is no way for us to recycle the cans here.) Also, while companies are phasing out the use of bpa in their can linings, the problem persists in some brands.
My friend Jane and I had discussed our inability to replicate our favorite beans at home, so when she told me she'd found a great recipe that made refried beans that her family loved, I had to try it.
Homemade Refried Beans
I changed her homemade refried beans recipe up a tiny bit and increased the size of the recipe so that I'd have plenty left over. I prefer using dried pinto beans, but Jane uses black beans, kidney beans, and small red beans, too.
5 Easy Steps to Transform Your Pantry!
Ready to switch from store bought to homemade? Let me help you make some changes! Grab my FREE five-part guide to getting started.
Let's be honest though: We love them, but these are not authentic refried beans.
---
The Handcrafted Pantry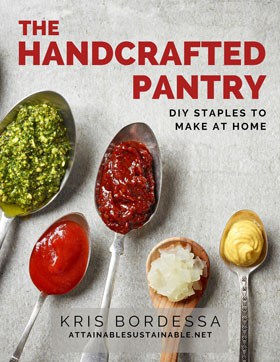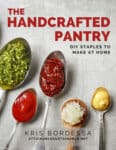 Ready to DIY your pantry with healthier ingredients? Check out my ebook, The Handcrafted Pantry! Filled with delicious recipes for some of your favorite condiments, snacks, and toppings, it's the guide you need to start skipping packaged products and embrace homemade.
---
Ingredients
Dry beans — Pinto beans are our favorite here, as they mimic our favorite canned beans. There's no reason you can't use a different variety of dried bean, though. Refried black beans are delicious, too!
Onion — You can use any kind of bulb onion you have on hand — white, yellow, or red.
Garlic — Peel the cloves and leave them whole. Once cooked, they'll be soft and easy to blend right into the beans.
Red Wine Vinegar — This is a key ingredient in creating the flavor we like in our refried beans. Don't skip it! Lemon juice makes a reasonable substitute if you don't have the vinegar on hand.
Seasonings — Salt, cumin, and chili powder round out the flavors in this recipe.
To Soak or Not to Soak?
When cooking beans, soaking them overnight can really speed the cooking process. There are some other reasons to soak the beans in advance, though. Doing so can help reduce the embarrassing side effects of eating beans. And soaking beans overnight helps to remove the phytates. (More on that here.)
Soaking does require a bit of planning ahead, but there's not really any extra time involved on your part. Just set them to soak and go on about your business.
I always soak dry beans, and I tend to let them soak overnight. When you are ready to start cooking these beans, be sure to drain the soaked beans and use fresh cooking water.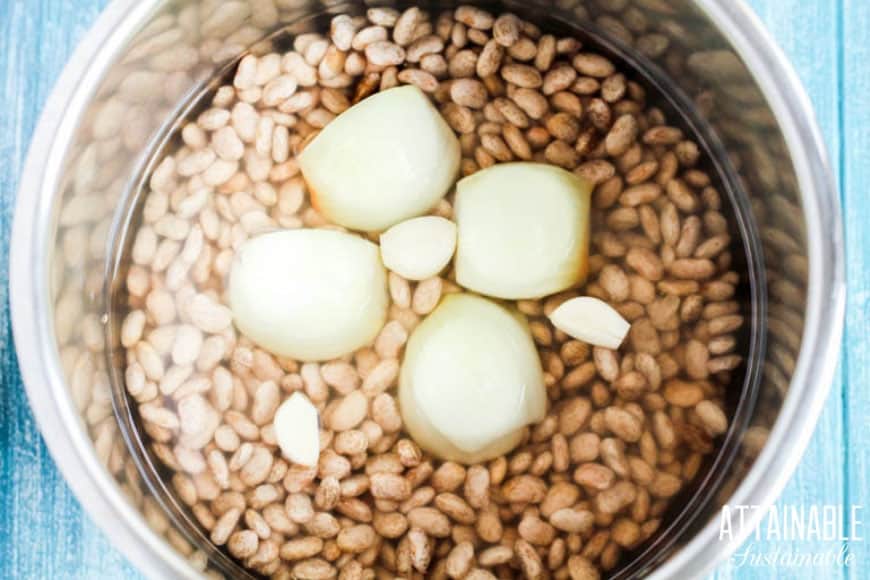 Making Refried Beans
These easy refried beans are made on the stove top. Once the beans have soaked, drain them and return to pot. Add water to cover beans by 3″ and add the onions and garlic. (There's no need to chop the onion and garlic; they'll end up cooked and mashed in the end, saving you precious time.)
Bring beans to a boil, then simmer until tender. This will take about an hour and a half.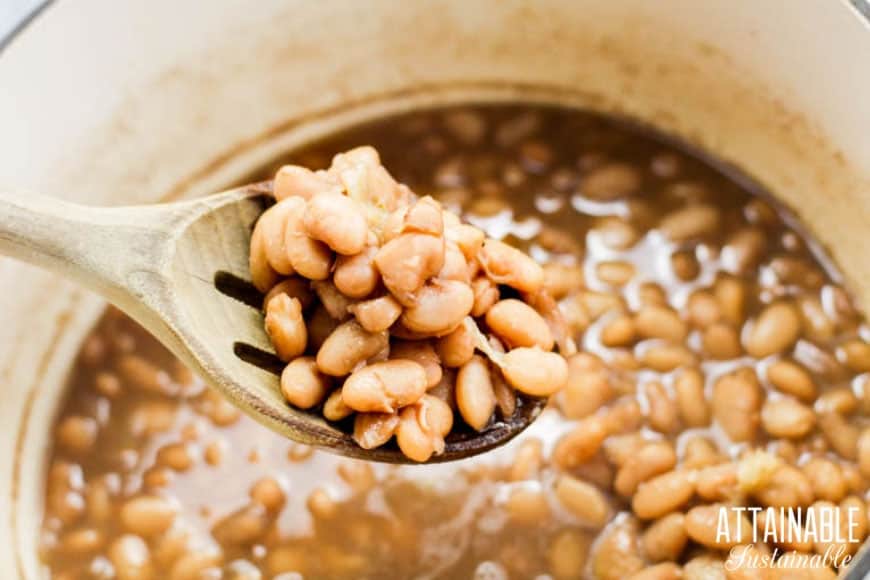 Drain the cooked beans, retaining some of the cooking liquid. Whir the beans, along with the cooked onion and garlic in a food processor. Add some of the retained liquid as necessary to reach desired consistency.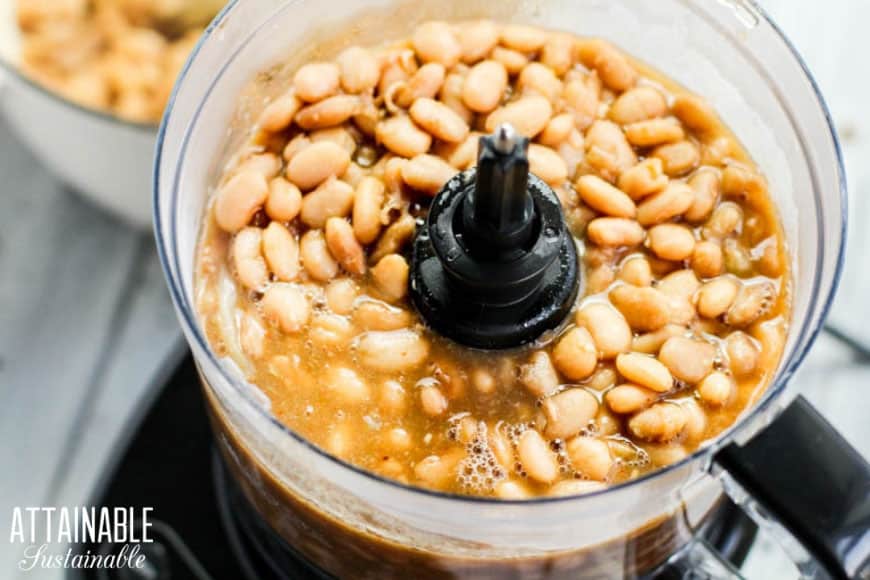 If you have a small food processor, you may need to do this in batches. Add the vinegar and seasonings, stirring to combine well.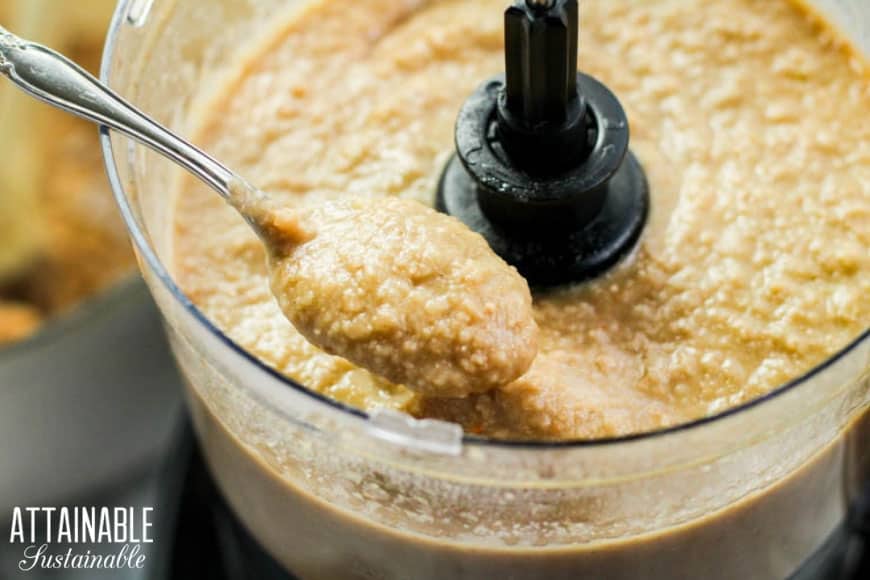 Serving
The simplest way to enjoy these beans? Spoon into a bowl and top refried beans with a bit of sour cream or shredded cheese. For a little spice, spoon on some of these pickled jalapenos.
But they're a favorite here for spreading into quesadillas. Beans and a bit of cheese between two tortillas? It doesn't get much easier than that for a nice hot lunch!
My husband uses these as the base for his favorite seven layer dip. And of course we serve them alongside tacos or wrapped up as burritos.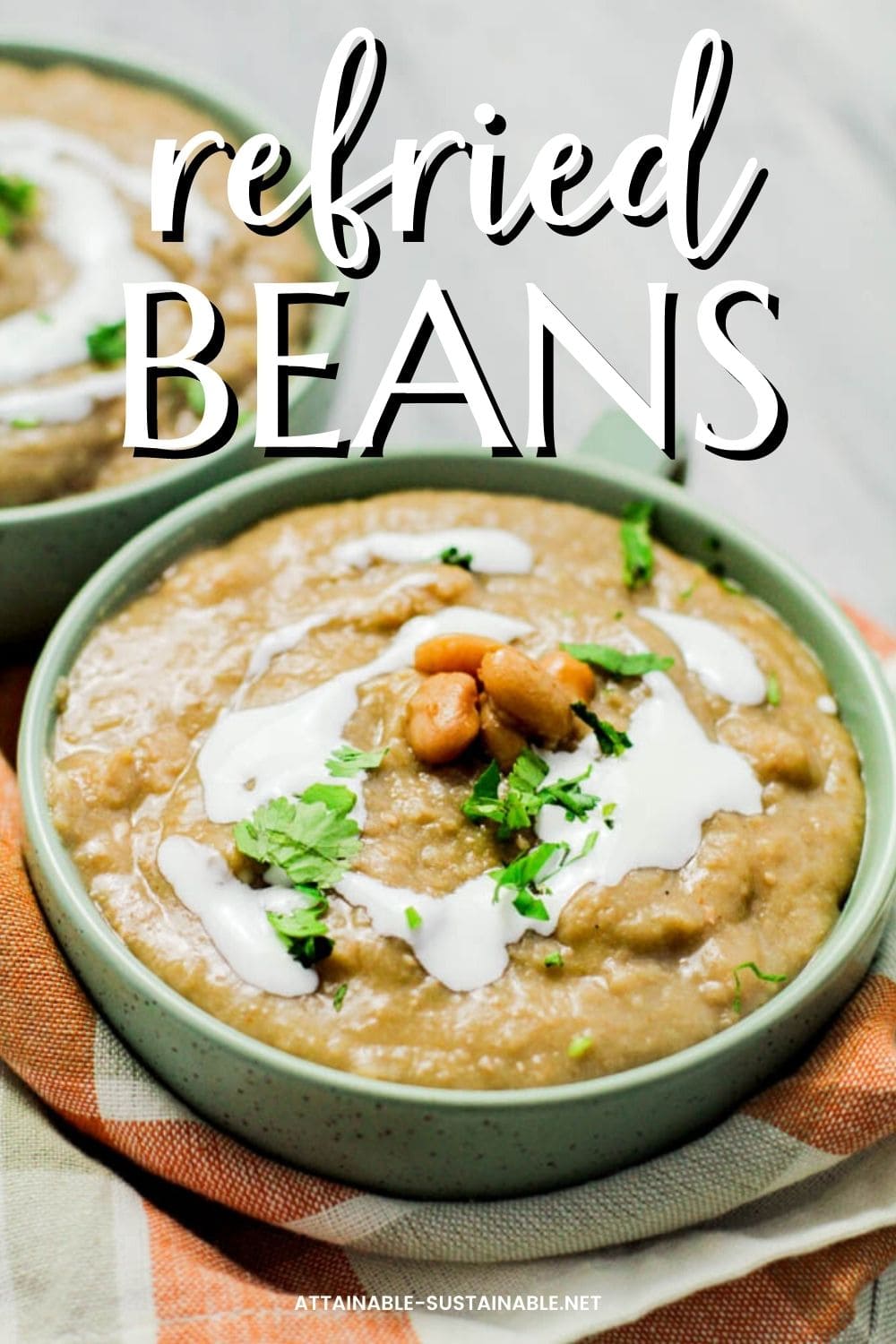 Storing
This recipe makes a big batch! You can halve it if you like, but if you're like me, the idea of having beans at the ready for meal plans is appealing.
For short-term storage, place cooled beans in an airtight container and refrigerate for up to a week.
To freeze, transfer cooled beans to a freezer safe container, leaving about a one-inch headspace to allow for expansion. Store in freezer for up to four months.
Thaw and reheat beans in a saucepan or spread in a casserole dish and heat in the oven.
★ Did you make these homemade refried beans? Don't forget to give it a star rating below! ★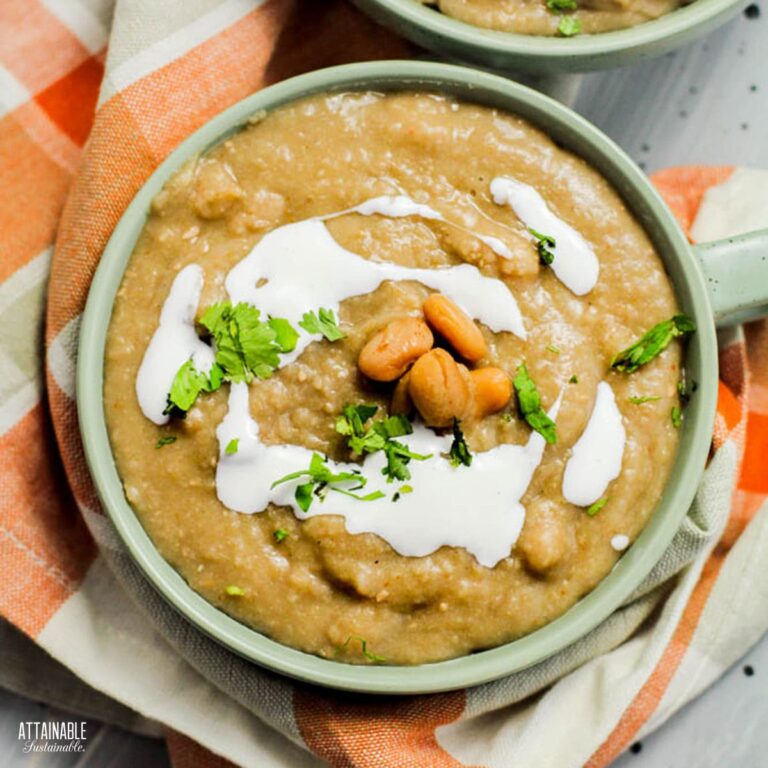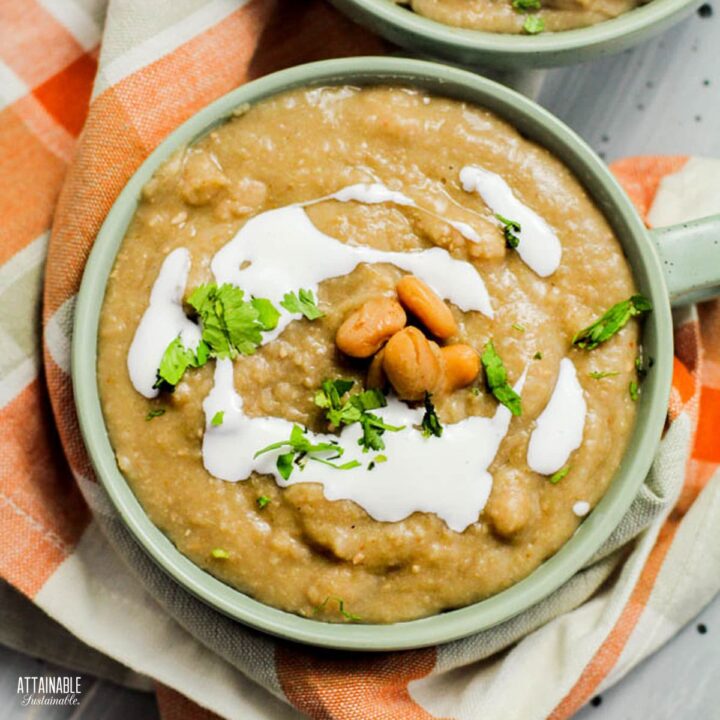 Homemade Refried Beans
Cook Time:
1 hour
30 minutes
Total Time:
1 hour
40 minutes
Make taco night even better with these homemade refried beans! Wrap them up in a burrito, spread them in a quesadilla, or pair them with Spanish rice for a vegetarian fiesta.
Ingredients
6 cups dry pinto beans
3 small onions, quartered
4 cloves garlic, peeled
6 Tablespoons red wine vinegar
1 tablespoon sea salt
1 tablespoon ground cumin
1 tablespoon chili powder
Instructions
Put dry beans in a large pot and add enough water to cover the beans by 4-5" or so. Soak eight hours or overnight. Drain beans then add onions and garlic to the pot. Add fresh water to cover beans by 3".
Cover the pot, but tilt the lid so that air can escape. This prevents boil overs. Bring to a boil over high heat, then simmer over medium heat for about an hour and a half or until beans are tender.
Drain the beans, retaining some of the cooking liquid.
Whir beans in a food processor until beans are a creamy consistency. (I like to leave some beans whole and toss them in at the end.) If the beans are too thick for you, add some of the cooking liquid until you're happy with the consistency.
Stir in remaining ingredients.
Refrigerate or freeze for later use, or serve immediately.
Notes
Makes approximately the equivalent of 10 - 16oz cans of refried beans.
There's no need to chop the onion and garlic; they'll end up cooked and mashed in the end, saving you precious time. 
If you have a small food processor, you may need to do this in batches. If you don't have a food processor, get out your potato masher - that'll work, too. So will an immersion blender. 
To cook in an electric pressure cooker, use the Instant Pot refried bean recipe here.
Nutrition Information:
Yield:

40
Serving Size:

1 cup
Amount Per Serving:
Calories:

104
Total Fat:

0g
Saturated Fat:

0g
Trans Fat:

0g
Unsaturated Fat:

0g
Cholesterol:

0mg
Sodium:

168mg
Carbohydrates:

19g
Fiber:

5g
Sugar:

1g
Protein:

6g
Originally published May 2011; this post has been updated.