This recipe for Instant Pot refried beans is destined to become a family favorite. I've been making a version of this recipe for years now, ever since my friend Jane shared her recipe. I've switched from making them on the stove top to making them in my Instant Pot, though, since it's much faster.
Need more ideas for using budget-friendly beans? There are a dozen bean recipes to try here!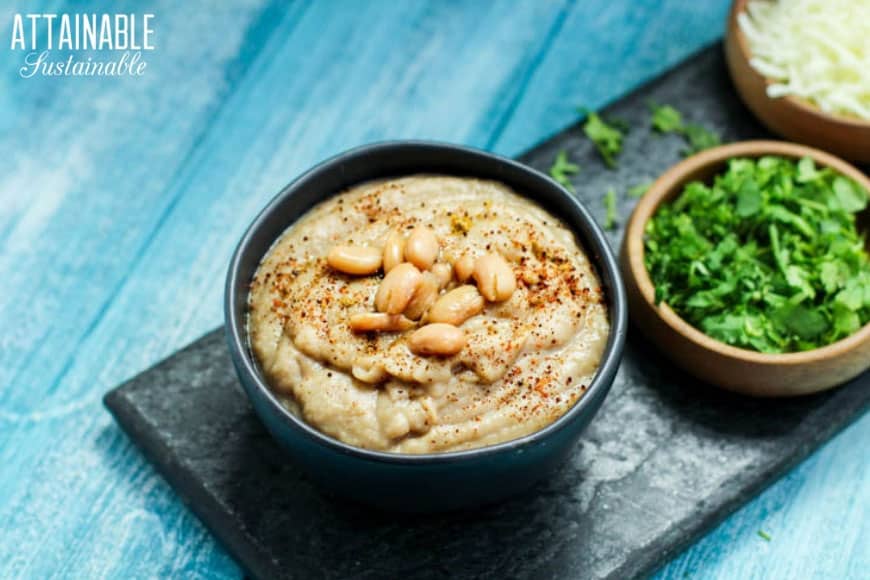 The Handcrafted Pantry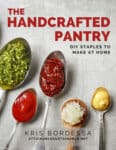 Ready to DIY your pantry with more wholesome ingredients? Check out my ebook, The Handcrafted Pantry! Filled with delicious recipes for some of your favorite condiments, snacks, and toppings, it's the guide you need to start skipping packaged products and embrace homemade.
Budget Beans
There's a lot to love about beans, but the fact that they're so danged inexpensive is a big one. Dried beans can be purchased in bulk and store well. (And of course, they're even less expensive this way!)
I've been making our favorite refried beans for years, but recently modified the recipe to work in my 6-quart Instant Pot. No Instant Pot? No problem! Make my stovetop homemade refried beans.
Are these traditional Mexican refried beans? Absolutely not! They are not technically refried, to begin with. This is a knockoff of my family's favorite store-bought canned refried beans, meaning I can make these at home for less.
The Best Beans
Classic refried beans are made with pinto beans, but this recipe could technically be made with any kind of bean. Why not refried black beans?
5 Easy Steps to Transform Your Pantry!
Ready to switch from store bought to homemade? Let me help you make some changes! Grab my FREE five-part guide to getting started.
I think it's important to note that even though this Instant Pot refried beans recipe is our favorite, it's not going to pass muster as "authentic" refried beans. We've tried a lot of recipes over the years and this is the one that my people ask for again and again, authentic or no.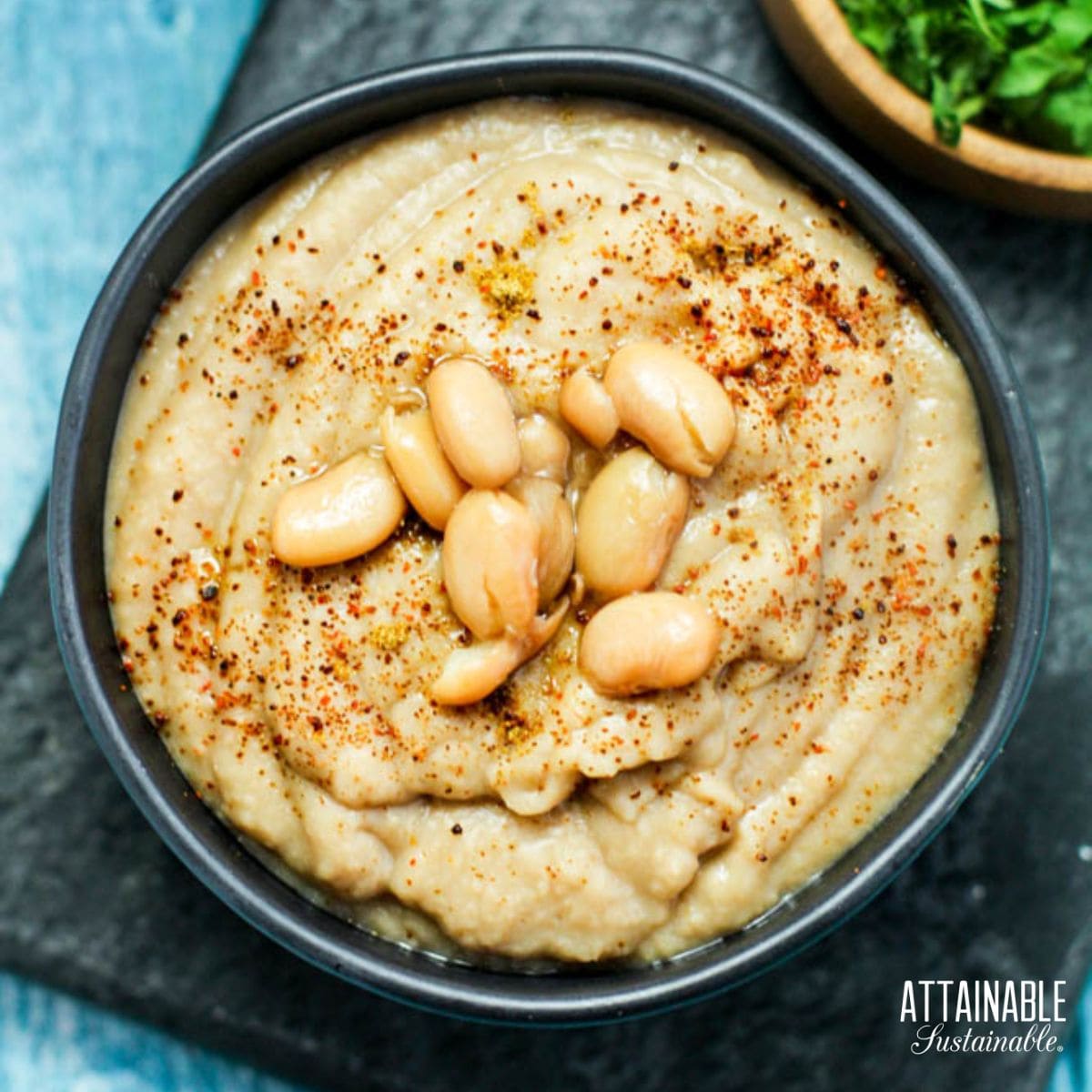 Instant Pot Refried Beans
Now that you know what kind of beans to use and whether or not you'll soak them, you're ready to make Instant Pot refried beans! And folks, it couldn't be easier. Simply combine the beans, onions, and garlic with water in the bowl of the Instant Pot and push a few buttons.
Ingredients
Pinto beans — Dried pinto beans are the basis for this recipe. They're budget friendly and easy to keep in the pantry. Read below to decide if you want to soak them before cooking or not.
Onion — You can use any kind of bulb onion you have on hand — white, yellow, or red.
Garlic — Use whole cloves of garlic for this recipe. You'll cook them in the Instant Pot and
Seasonings — Red wine vinegar gives these refried beans a little tang and is the ingredient that seems to make the flavor for my family. Then, of course, the chili powder, cumin, and salt.
To Soak or Not to Soak
With the Instant Pot, you can easily go from hard, dry pinto beans to fully cooked beans in an hour. But soaking beans before cooking them can make them more digestible. And for many people that means fewer…side effects.
Soaking beans helps to remove the phytic acid from beans, too. Phytic acid is considered an "anti-nutrient" — you can read more about that here. If you do soak the beans, be sure to drain the soaking water off and start with clean, fresh water for cooking them.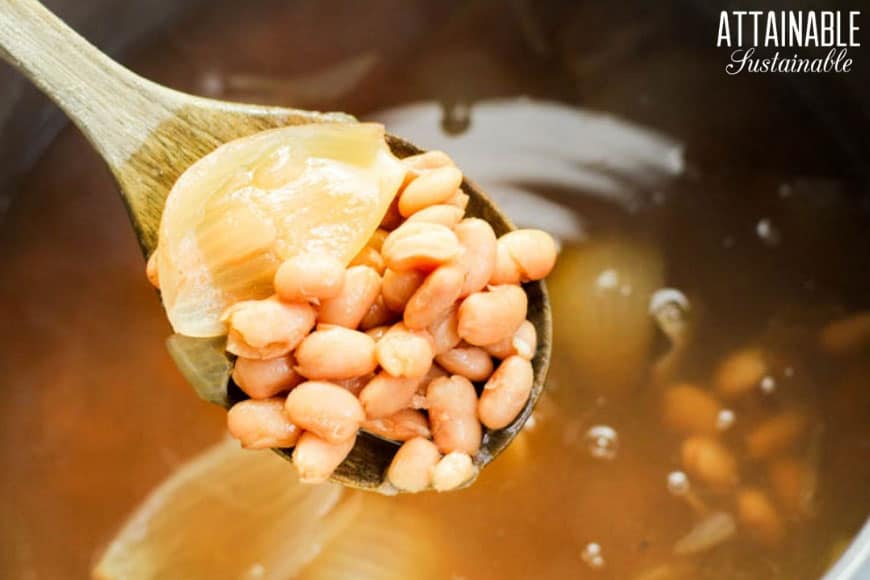 Making Refried Beans in the Instant Pot
Start by putting the dried beans into the reservoir of the Instant Pot. Add enough water to cover by 4″ or 5″. Soak overnight, and drain.
Return soaked beans to the Instant Pot along with the onions, garlic, and fresh water.
Cook on manual for 28 minutes, then turn off the machine and allow the pressure to come down naturally.
Use a slotted spoon to remove the solids from the liquid. (Retain the liquid; you may need it to thin down the cooked beans.)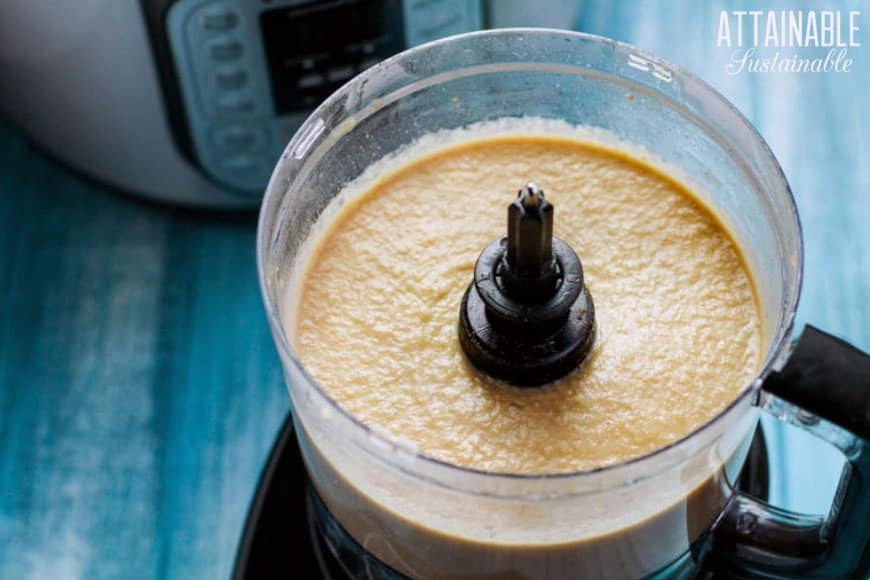 Once the beans are cooked, there are several ways to prepare them. You can simply use a potato masher to achieve the desired consistency. You can use an immersion blender. Or you can use a food processor to "mash" these Instant Pot refried beans. The finished consistency of these beans is entirely up to you.
Add remaining ingredients to the beans and serve.
Serving these Refried Beans
Spoon into a bowl and top refried beans with a bit of sour cream or shredded cheese. For a little spice, spoon on some of these pickled jalapenos.
Spread onto crispy baked corn tortillas to make tostadas.
Add to your next quesadilla.
Fill up a burrito!
Refried beans are an inexpensive meal in themselves, or great for making burritos (with Spanish rice), as a side dish to tacos, or as a hot dip.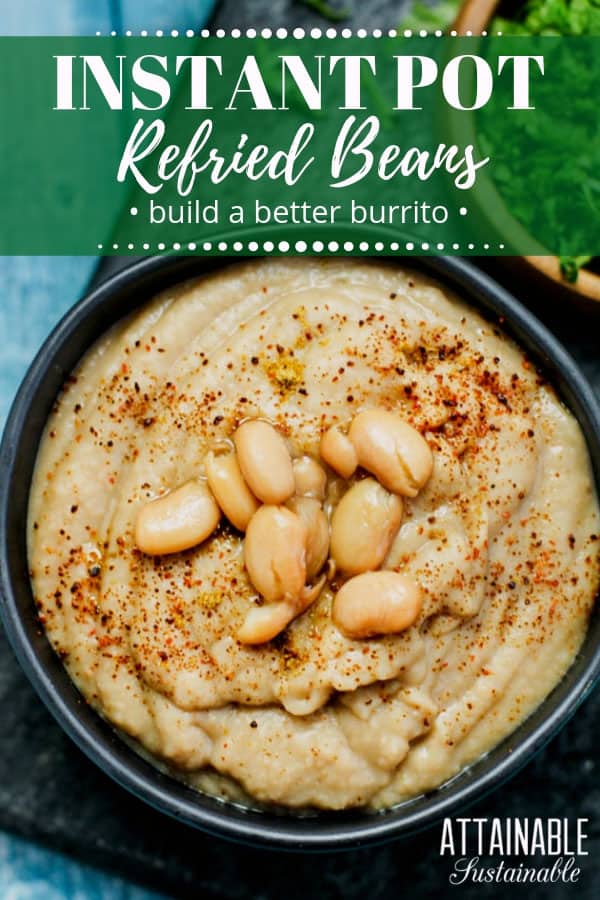 ★ Did you make these Instant Pot refried beans? Don't forget to give them a star rating below! ★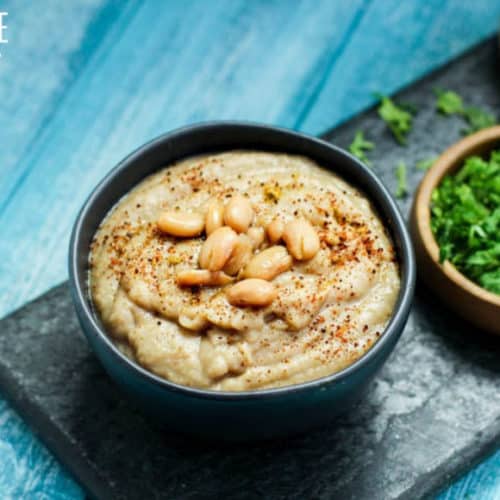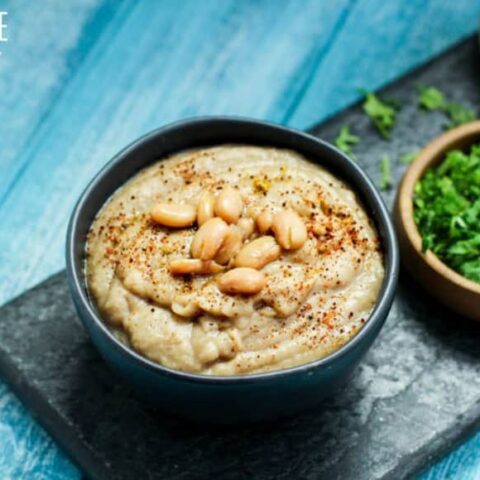 Instant Pot Refried Beans
Total Time:
8 hours
45 minutes
Build a better burrito with these Instant Pot refried beans! Homemade from dried beans, they're budget friendly and a great addition to taco night.
Ingredients
3 cups dry pinto beans
4 1/2 cups water
1 large onion, quartered
3 cloves garlic
3 Tablespoons red wine vinegar, or lemon juice
1 1/2 teaspoons chili powder
Instructions
How to cook pinto beans in a pressure cooker
Put dry beans in the reservoir of your Instant Pot and add enough water to cover the beans by 4-5″ or so. Soak eight hours or overnight. Drain beans then add onions, garlic, and 4-1/2 cups water to the pot. (If you just need cooked pinto beans, leave out the onions and garlic.) Be sure that the ingredients don't exceed the halfway mark in the cooker as mentioned in the Instant Pot manual.
Close and lock the lid, turning the steam valve to "sealed." Using the manual setting, enter 28 minutes and walk away. When the cycle completes, use the natural release method. Simply let the pressure come down on its own until the lid unlocks. (About 20 minutes.)
Instant Pot refried beans
use a slotted spoon to remove beans from cooking liquid, retaining the cooking liquid. Transfer to a bowl to use an immersion blender or the bowl of a food processor. Process until beans are a creamy consistency, adding cooking liquid as necessary to reach desired consistency.
If you don't have either of these tools, get out your potato masher – that'll work, too.
Stir in remaining ingredients.
Use immediately or refrigerate for up to a week.
Notes
Makes approximately the equivalent of 5 – 16oz cans of refried beans.
With the Instant Pot, you can easily go from hard, dry pinto beans to fully cooked beans in an hour. But soaking beans before cooking them can make them more digestible. And for many people that means fewer...side effects.
If you opt not to soak your beans you'll need to use more water. In that case, I'd cover the beans by 3" of water. Just be sure that you don't exceed the halfway mark in the cooker.
Nutrition Information:
Yield:

12
Serving Size:

1/2 cup
Amount Per Serving:
Calories:

175
Total Fat:

1g
Saturated Fat:

0g
Trans Fat:

0g
Unsaturated Fat:

0g
Cholesterol:

0mg
Sodium:

20mg
Carbohydrates:

32g
Fiber:

8g
Sugar:

2g
Protein:

11g
Originally published January 2016; this post has been updated.