We all know the grade school ditty about beans, right? Well, they may make you toot, but beans are something to toot about, too! Different types of beans and legumes can require different cooking methods. Here's what you need to know about cooking dry beans, along with a dozen recipes to try at your place.
Dried beans are cheap, they're easy to store for long-term use, and they're high in protein.
High protein beans and bean recipes to try
Beans are an excellent source of protein and fiber, making them an especially good choice for vegetarians. While the protein content varies a bit depending on the types of beans, they provide about 40 grams of protein per cup.
Get to know beans
Beans are part of the legume family. The dried beans you cook with grew on a plant very similar to the green beans you grow in your garden. Instead of harvesting the pod while it's young and tender, though, the bean pods are allowed to mature, then the seeds (beans) are removed and dried.
You can even grow and dry your own beans for storage right in your backyard, though it requires a substantial amount of room to generate a good harvest.
Different types of beans
There are numerous types of common beans (Phaseolus vulgaris), including white, purple, green, black, brown, and speckled varieties.
Kidney beans: Shaped like a kidney (thus their moniker), kidney beans can be light or dark red in color.  Kidney beans tend to have a somewhat tough skin and retain their shape well when cooked. Toss them into a green salad to boost the nutrient level, use them in chili, make traditional red beans and rice, or add them to bean recipes where a firm bean is desired.
Pinto beans: Commonly used in Mexican dishes, dry pinto beans are a mottled pinkish brown in color and soften substantially when cooked.
Black beans: Smaller than both kidney beans and pinto beans, black beans — frijoles negros — are commonly used in Hispanic dishes.
White beans: Roughly the same size as black beans, we use these small beans to make ham hocks and beans. There are a number of white bean varieties commonly available. I like the smaller ones we call Navy beans.
Garbanzo beans (Cicer arietinum): Also called chickpeas, garbanzo beans are from a different genus than the common bean. These legumes are much more round in shape than kidney beans, pinto beans, or black beans. A light brown in color, garbanzo beans are often purchased in cans, but they're available as a dried bean, too.
Lentils (Lens culinaris): These legumes are, again, different from common types of beans, but I use them similarly for cooking. Lentils are much smaller than beans and shaped like a small, round disk, about an 1/8″ in diameter. Like beans, lentils need to be cooked, but the cooking time required is substantially less than most beans.
Admittedly, the biggest drawback to cooking dry beans is the length of time it takes. Cooking dried beans is not difficult; it just requires a bit of forethought.
Soaking dried beans
Soaking beans for eight hours or overnight is a good idea when making most bean recipes. It can cut cooking time, plus soaking beans helps eliminate some of the phytic acid in beans. Phytic acid is considered an "anti-nutrient." You can read more about that here.
Cooking dried beans on the stove top
To cook dry beans on the stove top, put beans in a large pot. Add enough water to cover the beans by 4-5″ or so. Soak eight hours or overnight. Drain beans and add fresh water to cover beans by about three inches. Cover the pot, but tilt the lid so that air can escape to prevent boil overs. Bring to a boil, then simmer for about an hour and a half until beans are tender.
Drain beans, and then use in one of the bean recipes below.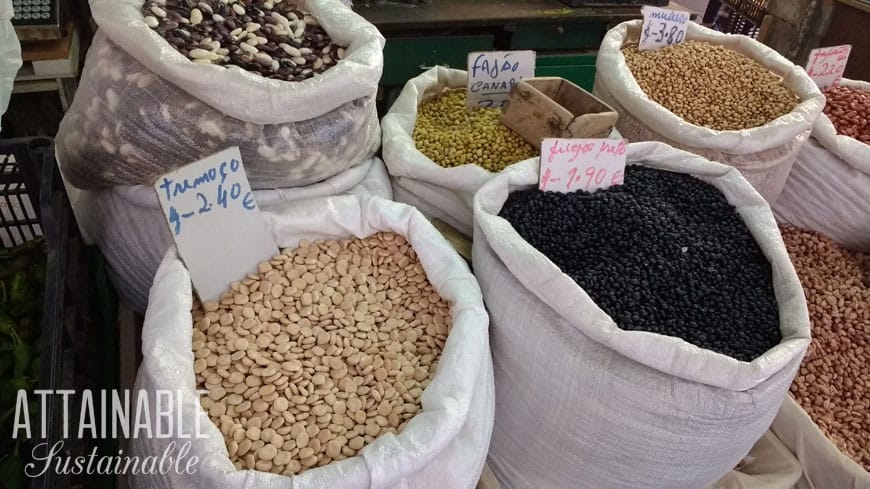 Cooking dried beans in an Instant Pot
The Instant Pot makes quick work of dried beans. This electric pressure cooker can fully cook dry beans in about an hour, even if you opt not to soak them.
DIY canned bean recipe
Bean recipes to try (you'll be glad you did!)
The bean recipes below are a great place to start! Calling for various types of beans, try them as snacks or as a hearty main course meal.
Easy White Bean Chicken Chili Recipe
One of my family's favorite "fast food" meals, this recipe requires only six ingredients and comes together in a hurry.
Homemade Refried Bean Recipe
This family favorite refried beans recipe is excellent, and way less expensive than the canned version. Serve them with your favorite Mexican dinner.
Instant Pot Chili
Comfort food in a hurry! This beef chili recipe has all the flavor you love in a chili, with the speed of fast food. Instant Pot Chili Recipe? On the menu!
Vegan Sweet Potato Black Bean Chili
Make this hearty dish in the Instant Pot or on the stove top, as you like. Serve it with a loaf of crusty French bread and your diners will be happy, vegan or no.
Homemade Baked Bean Recipe
Homemade baked beans are easy to make, and inexpensive, too! Instead of depending on canned options for your favorite barbecue side dish, start with dry beans and some simple ingredients.
Corn and Black Bean Salsa Recipe
This flavorful corn and black bean salsa looks beautiful on a buffet table, plus it's super easy to make. It's inexpensive, too! PLUS, by adapting the recipe a bit, you can transform this black bean dip into an easy and filling black bean salad. Homemade, good food for less and without excess packaging.
Instant Pot Refried Bean Recipe
Build a better burrito with these Instant Pot refried beans! Homemade from dried beans, they're budget friendly and a great addition to taco night.
Sweet Potato Curry
The Instant Pot makes this sweet potato curry a great weeknight dinner, ready in about an hour. You can make this sweet potato curry on the stove top, too. The addition of garbanzo beans ups the protein!
Sausage Lentil Soup Recipe
This easy lentil soup recipe with sausage comes together quickly and uses ingredients that you likely already have on hand.
Vegan Lentil Soup Recipe
Make this vegan lentil stew for a budget-friendly, hearty meal. Your omnivore friends won't even notice it's meatless. (It's ready in about an hour!)
Easy (Garlicky!) Hummus Recipe
This easy hummus recipe is fabulous served with a bit of feta cheese and kalamata olives. It's a great appetizer or light lunch.
Roasted Red Pepper Hummus
Save cash at the checkout line by making your own roasted red pepper hummus. It's a favorite appetizer at picnics and potlucks; serve with veggies or spread inside a wrap for lunch.
Spicy Chipotle Hummus Recipe
This spicy chipotle hummus recipe is easy to make and a great addition to wraps or game day appetizers. So much better than store bought!