This easy white chicken chili recipe is a home cook's answer to fast food. With canned beans, it can be on the table in no time. It will take a bit longer to cook using dry beans, but that's my preference if time allows, as it's so budget friendly. It's the perfect recipe for busy days!
If you're hankering for another budget-friendly fast meal, try my lentil sausage soup.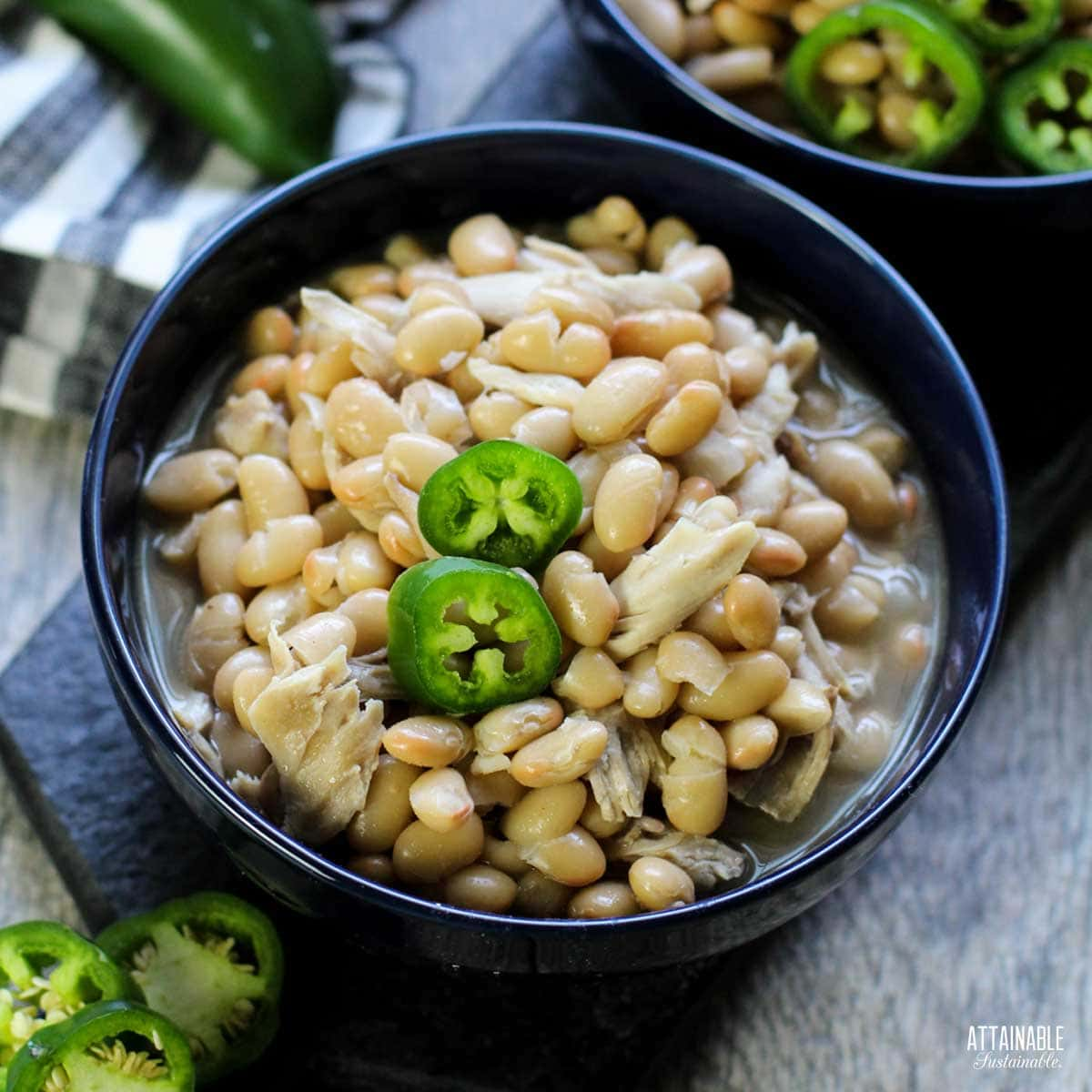 It's been one of those months. Lots to do, not enough hours in the day. Several weeks ago on my way home from a long day of errands and meetings and plate spinning, I ran through all of the options in my fridge for a fast dinner. Short of setting a plate full of random fruits and vegetables on the table, I was coming up with zero. I'd had it, I was spent, I gave up.
I stopped at the local grocery store intending to grab something – anything – that could hit the table in a hurry. A fast idea for dinner. I scanned the shelves and the frozen food section for something that would pass for real food, ready to go. If you're a label reader or at all concerned about excessive packaging—as I am—you know the impossibility of this task.
Easy Chicken Chili Recipe
I came home with canned white beans, thinking I'd make up a white bean chicken chili recipe.
Using canned beans instead of dry beans was my foray into "fast food." (If you use canned beans, look for the Eden Organic brand. Their cans are BPA free.)
5 Easy Steps to Transform Your Pantry!
Ready to switch from store bought to homemade? Let me help you make some changes! Grab my FREE five-part guide to getting started.
We had a good laugh about me and my fast dinner ideas. We also had an excellent dinner.
This chicken chili came together from nothing and while it hit the table a little bit later than I'd intended, it was worth the wait. The family, they raved and it's become a go-to recipe here in my household. You know it's a winner when your mom asks for the recipe!
While traditional chili recipes have a tomato base, this recipe results in a flavorful meal with a light, creamy base.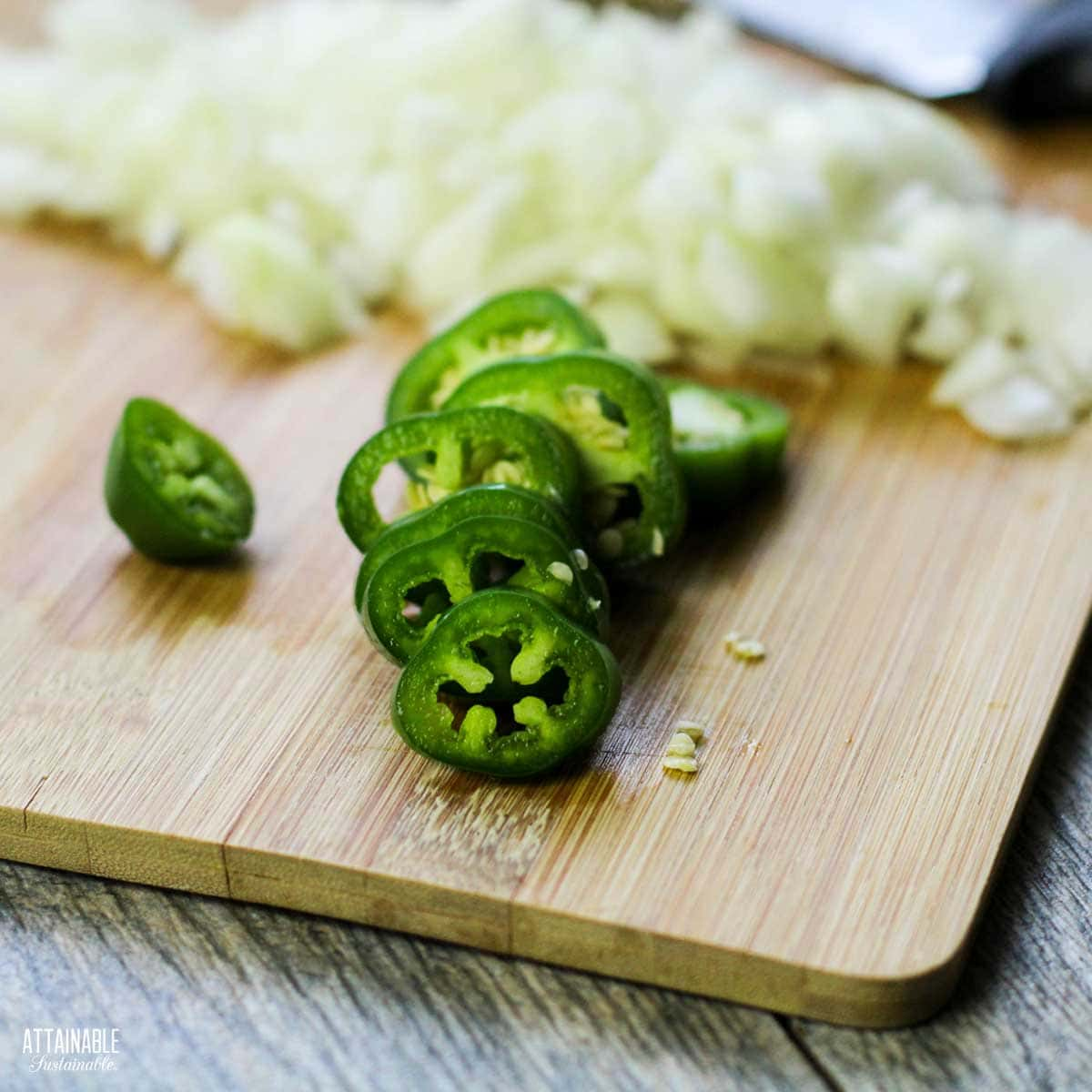 Ingredients
White beans — You can use navy beans, cannelloni beans, or great northern beans, canned or dry. Navy beans are smaller and tend to cook a tad bit faster. Use your Instant Pot to cook the dry beans in a hurry. If you use dry beans, measure the cooked beans and add chicken stock to the recipe.
Chicken — Legs or thighs are the most budget-friendly choices, if you're buying chicken parts. Skinless chicken breasts will work just fine, as will using a whole chicken (the least expensive option of all). If you're in a hurry and succumb to ease, a rotisserie chicken is another option.
Peppers — Any green chilis will work for this healthy chili recipe, depending on how much heat you like. If you don't like your meals spicy, go with mild peppers. If you like a little spice, by all means choose a hotter pepper. Jalapeno peppers are readily available. Shishito peppers are a bit milder. No fresh peppers on hand? Add a can of mild green chiles.
Onion — You can use any kind of bulb onion you have on hand — white, yellow, or red.
Oil — You'll need just a little bit of oil for sautéing. I typically use olive oil or avocado oil, but use what you have on hand.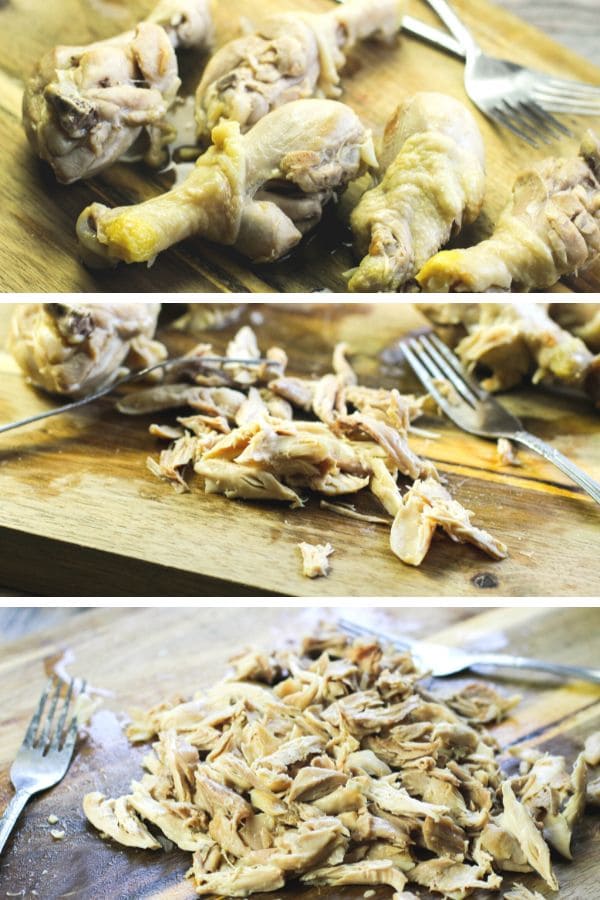 Making this White Bean Chili
Start by sautéing the onions and green chile peppers until they're soft.
Once the veggies are soft, add the chicken to the pot. Cook the chicken until it's done, then remove the chicken from the pot and shred it. Return the shredded chicken to the pot along with the canned (or cooked) beans.
If you opt to use a whole chicken, cook it separately, then add the shredded meat along with the beans and simmer for half an hour or so.
Serving
This easy recipe is perfect served simply, but you can chop some fresh cilantro or green onion if you like, add a dollop of sour cream, or a squeeze of fresh lime juice. Serve with tortilla chips and salsa verde. My son likes extra hot sauce on the side.
Storing Leftovers
This healthy meal is one of those that's even better the next day! Store any leftovers in an airtight container in the fridge for 3-4 days.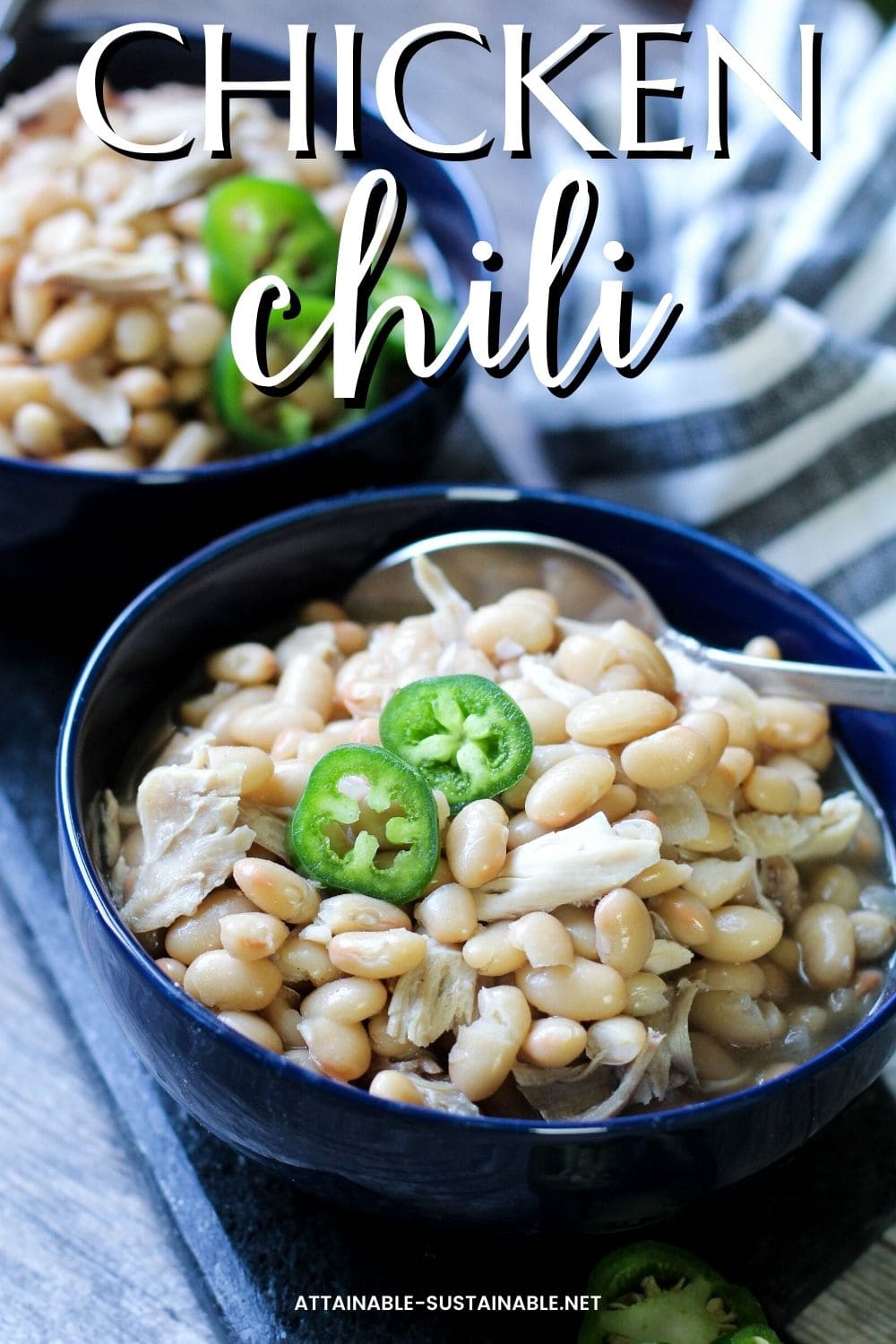 ★ Did you make this white bean chicken chili recipe? Don't forget to give it a star rating below! ★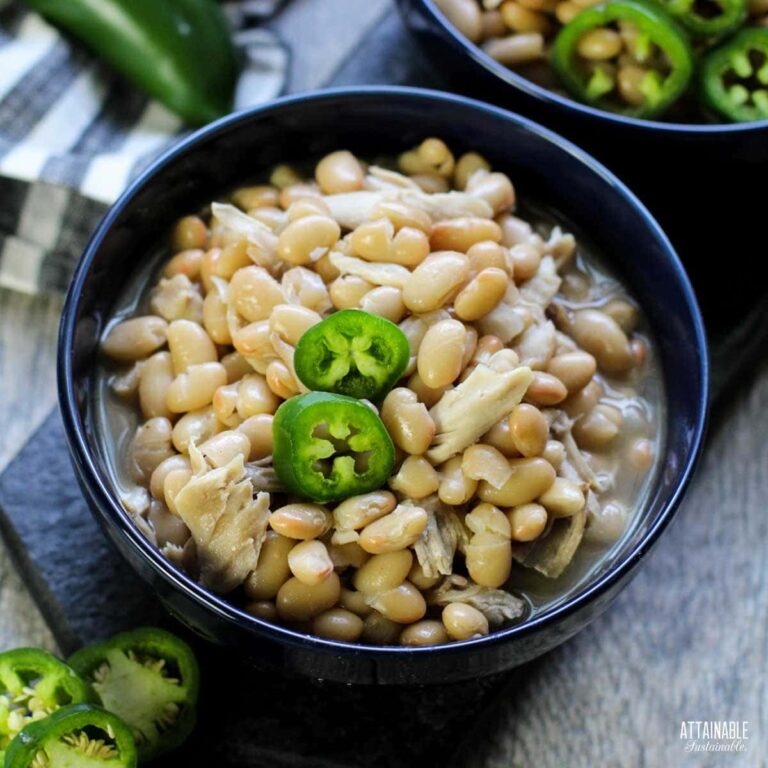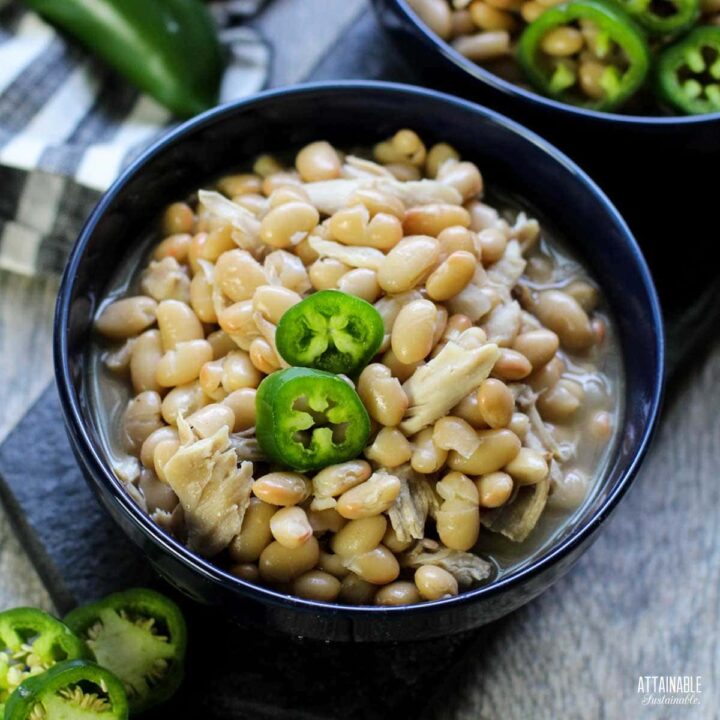 Easy White Bean Chicken Chili Recipe
This easy white chicken chili recipe is a home cook's answer to fast food. With canned beans, it can be on the table in no time, but dry beans make it more budget friendly.
Ingredients
2 medium onions, chopped
2 Tablespoons extra virgin olive oil
6 mildly spicy peppers, sliced*
6 chicken thighs or legs, (preferably organic)
75 oz. great northern beans, (5 cans OR 8 cups cooked small white beans plus 2 cups chicken broth)
Instructions
In a stock pot, saute onions and peppers on medium heat for 5-10 minutes.
Add chicken parts and cover the pot. Cook for about 20-30 minutes, turning chicken occasionally. Remove chicken from pot and shred with two forks.
Return shredded chicken to pot along with canned beans (undrained), salt, and pepper. If you opt to use dry beans, cook them then add 8 cups of beans along with 2 cups of chicken stock.
Continue to cook over low heat for another 10 to 30 minutes (or an hour, if you've got time or you're trying to squeeze in chores).
Notes
*My peppers were from the garden, a plant given to me by a friend; I don't know the variety. We call them Jeannie peppers. They're pretty mild; I put seeds and all in the pot. Hotter peppers? Remove the seeds and use fewer or go for broke. Your call.
You can use cannellini beans instead of the great Northern beans; they're a bit heartier. Navy beans would be fine, too!
If you'd prefer, substitute one pound of ground chicken or ground turkey for the chicken parts.
Hot tip: Double the amount of chicken, holding the extra out once it's shredded. Voila! Chicken for lunches.
*If you use canned beans, look for the Eden Organic brand. Their cans are BPA free. 
Nutrition Information:
Yield:

8
Serving Size:

1. cup
Amount Per Serving:
Calories:

586
Total Fat:

18g
Saturated Fat:

5g
Trans Fat:

0g
Unsaturated Fat:

13g
Cholesterol:

125mg
Sodium:

177mg
Carbohydrates:

64g
Fiber:

20g
Sugar:

3g
Protein:

46g
Originally published in August 2013; this post has been updated.