There's a restaurant here that serves up an amazing platter of hummus with feta and flatbreads. This hummus pizza recipe brings all of those delicious flavors together in one flatbread. Cut into small pieces, this makes a great appetizer.
Make it with my garlicky hummus recipe!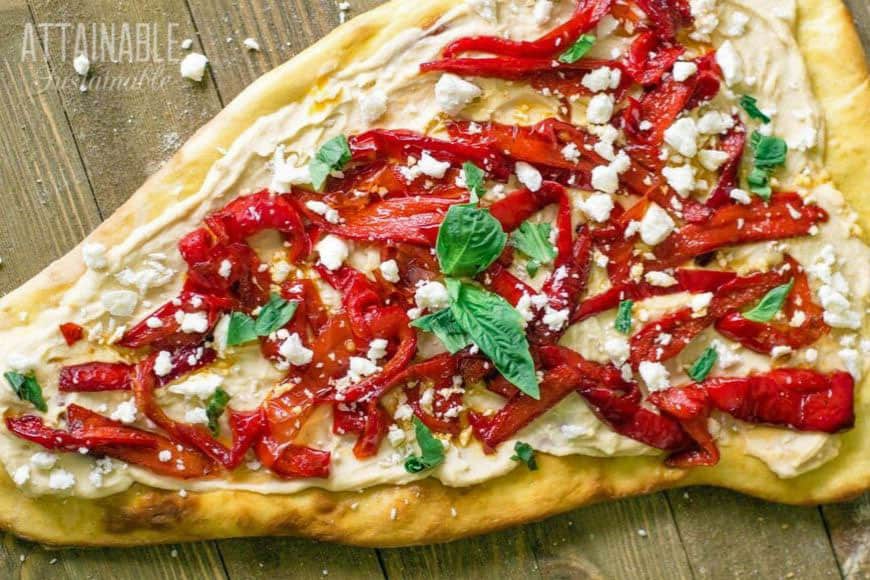 Hummus pizza… flatbread
I'm not exactly sure what to call this! The recipe uses my family favorite pizza dough, cooked without toppings. Instead, once the dough is cooked, spread on hummus, top with red peppers, basil, and feta cheese, and it's done. This flatbread doesn't need to go back in the oven once it's covered with these delicious toppings. And it's perfectly fine served at room temperature, making it a great appetizer if you slice it into smaller pieces.
If you like to plan ahead, you can bake the dough days ahead and assemble this in no time. You could even do as I do and freeze cooked pizza doughs so that they're ready when you need them. This makes it an easy appetizer to pull together in a hurry!
Rolling out the dough
You can roll the dough out in any shape you like, but here's a trick: If you make a long and narrow flatbread, it's easy to cut into small triangular wedges for snacking. Roll the dough out thinly so it will crisp up as it bakes. Too thick and your hummus pizza flatbread will be more like focaccia bread.
Bake the dough on a baking sheet lined with parchment paper, or use a baking stone if you have one.
5 Easy Steps to Transform Your Pantry!
Ready to switch from store bought to homemade? Let me help you make some changes! Grab my FREE five-part guide to getting started.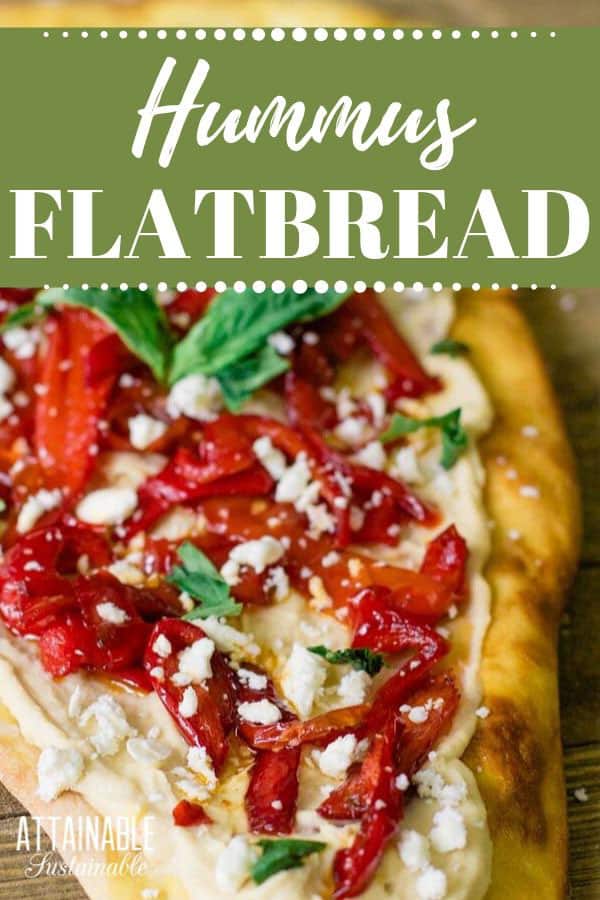 ★ Did you make this hummus pizza? Don't forget to give it a star rating below! ★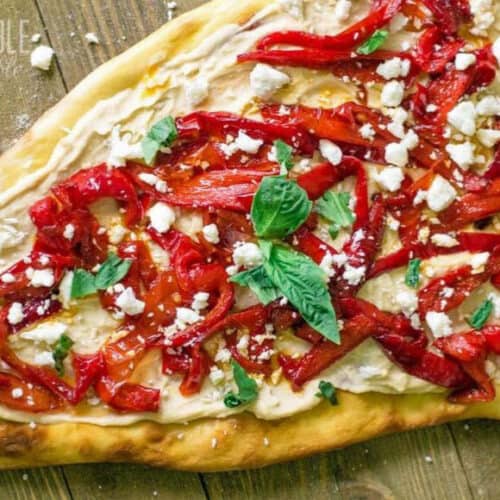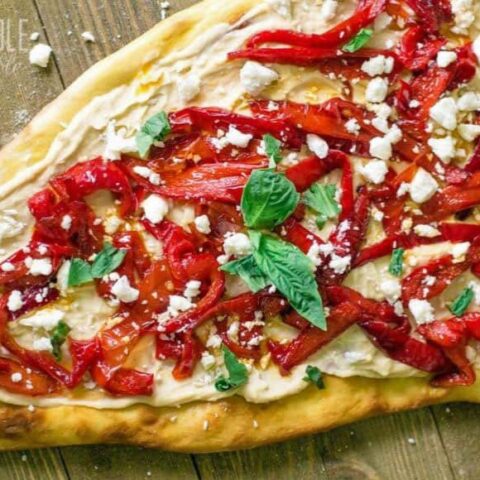 Hummus Pizza Flatbread
This easy flatbread recipe is topped with hummus and red peppers. Eat it warm or at room temp.
Ingredients
2 egg yolks, beaten
2 large red bell peppers, julienned
4 tablespoons olive oil
2 teaspoons salt
1 teaspoon black pepper
1/4 cup basil, chopped
1/2 cup feta cheese, crumbled
Instructions
Preheat oven to 425 degrees Fahrenheit.
Divide pizza dough in quarters.
Roll each ball of pizza dough out to fit on a baking sheet, roughly a ¼-inch thick.
Brush the top of dough with egg yolk. Score the top of the dough with a fork to keep it from forming an air bubble while baking.
Transfer dough to a parchment paper lined baking sheet or hot baking stone.
Bake dough for 12-15 minutes, or until it is cooked through and a beautiful golden color. Repeat with remaining dough.
While pizza dough is baking, heat oil over medium high in a pan. Add red peppers, salt, pepper to pan. Cook for 6-8 minutes, or until peppers soften and begin to wilt. Remove from heat.
Once flatbread is cooked, remove it from the oven. Allow it to cool slightly.
Spread one-fourth of the hummus over each cooked flatbread.
Divide the roasted peppers, feta cheese, and basil leaves between the cooked pizza dough flatbreads.
Serve.
Notes
Serves 12 - 16 as an appetizer, less as a main course
Nutrition Information:
Yield:

12
Serving Size:

1 grams
Amount Per Serving:
Calories:

222
Total Fat:

12g
Saturated Fat:

3g
Unsaturated Fat:

0g
Cholesterol:

38mg
Sodium:

851mg
Carbohydrates:

23g
Fiber:

3g
Sugar:

3g
Protein:

7g